AT&T Stadium
Arlington

,

TX
Arlington (Dallas)
Monster Energy AMA Supercross Championship
Eyebrows raised when team J-Star JDR KTM, Australia's factory KTM team, decided to make a move to the U.S. last year and take aim at American supercross and motocross. Running two teams at once—one down under and one out of a California race shop—seemed like a strange move, but in the team's second year here, the results are starting to come. Matt Moss delivered J-Star JDR's first U.S. podium with a third-place finish in San Diego's Lites race, and now the team is hoping for more on the East with Malcolm Stewart and PJ Larsen.
We talked to JDR team owner Jay Rynenberg about the progress they have made.
Racer X: You guys got on the podium! What's that like?
Jay Rynenberg: It's a good feeling, man! It's just so rewarding, and everyone has worked so hard to make it happen. It has come from hopes and dreams, and then goals, and then we kept at those goals and now we're on the podium. We're steaming along pretty good right now.
And, it was an Aussie who put it up there for you.
Yeah and that's the sentimental part. We're an Australian-based team and an Australian rider got the first podium, so it's fitting.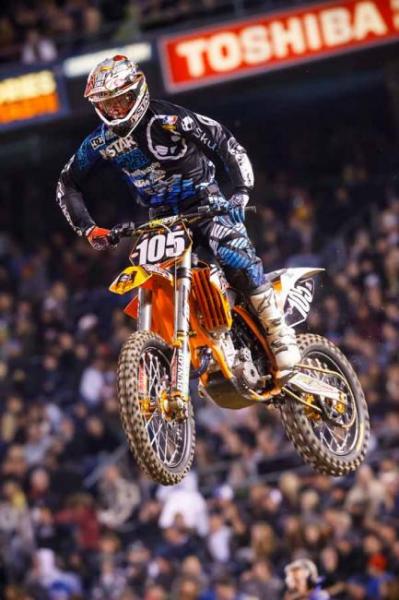 Matt Moss lead the J-Star JDR KTM team to their first podium last weekend in San Diego.
Photo: Simon Cudby
And, Mossy was a guy you signed to race in Australia last year. Was this the plan all along, do a good job for us down under and we'll bring you back to the U.S.?
Yeah. Matt was here in 2010 and had a really bad year [note: Moss raced for the Rockstar Makita Suzuki team in the U.S. as Ryan Dungey's teammate in 2010, but missed nearly the whole season with injuries]. He was kind of down in the dumps, and we picked him up and said, "If you do the job in Australia, which is win two titles, we'll get you back into America." I think for me, as well, it proves the Australian program works. We can work with a guy down there and build him up and then bring him over here and be successful. It's even a pat on the back to the Ozzi guys.
At the beginning of the year, though, the results were not coming for the team. How did everyone keep their morale up and realize they could do this?
I think that [Team Manager] Nate Ramsey and everyone on this team are great talent scouts. They saw Mossy ride and they knew he could do it. I think, also, coming from Australia and moving over here, there is a huge culture shock. You have to buy a car, rent a house, and sort out your social security number before you can even get paid. So there's a whole lot going on, and then on the track, in Australia, he's raced those guys his whole life. He knows their strengths and weaknesses, he knows where he can pass them, but here he has no idea. It takes a few months or a few races to get into the swing of things.
Take me through the development of this team. It's now your second year here—can you point at specific areas where you have improved?
Well, we're pretty much a different team this year!
Really?
Yeah, we have our own engine guy and suspension guy this year. Our destiny is kind of in our own hands, now. KTM does a great job for us, but instead of completely relying on them, we can rely on our own resources. It's more of a time thing—we can make changes faster, we can make setting changes faster, and that obviously helps. It's not just that, either. Just having a year under our belt, we just know what to expect.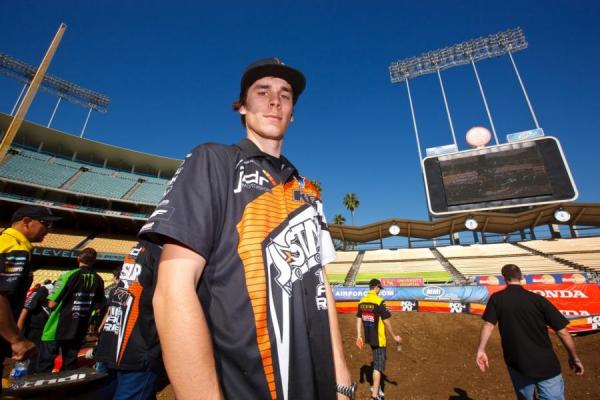 Jay Rynenberg and the J-Star JDR KTM team are expecting big things from PJ Larsen and Malcolm Stewart in the East Region.
Photo: Simon Cudby
What about you? You're out here living the California motocross dream. How has that been?
It's been a lot more work than I anticipated! I kind of thought we could come here and win straight away, and last year I thought PJ [Larsen] and Tye [Simmonds] were on the level to do it. I guess I didn't realize all the work that has to go in, all the little details that have to come together to make the team whole. Those are the lessons we learned from year one, so we put them in practice for year two, and the dividends are being paid now.
How about the East?
Man, I go to every race to win. That's what I try to tell the guys every week—we don't want to be satisfied until we do that.
So you think PJ and Malcolm [Stewart] can get that done? You're aiming high?
Yeah! I try not to put too much pressure on the riders, but for the team, I think if you have that mentality, then you're going to build a solid program, and then those results are going to come.
Are your riders good to go? No injuries or anything?
They're great. PJ has been riding really well, I think the little bit of time off he had with his injury actually really helped. And Malcolm, he's going super fast. He definitely has that Stewart blood!
So there could be more good things to come?
Man, I'm hoping this just gets the ball rolling.