Angel Stadium
Anaheim

,

CA
Anaheim II (A2)
Monster Energy AMA Supercross Championship
Here's something I wrote last August:
Sometimes we break it down with a simple word—speed—which is essentially the complete work of a racer. Speed may be one thing, but it requires a multitude of things—natural talent, desire, bike and bike setup, mental focus, strength, fitness, etc—to be complete. We know that speed, in motocross terms, isn't just measured on a radar gun. Neither is being "fast." It's something that carries over week-to-week. You don't see someone be 40th fastest one week and fastest the next. Normally. In the old era of MC, RC, and Bubba, you knew that if these guys were the fastest one weekend, they were probably going to be the fastest the next weekend.
And, really, not just with MC, RC and Bubba. When I first became a fan of this sport as a kid, it didn't take me long to figure out that Rick Johnson was going to be the man to beat each time he lined up. A generation before that, I think Bob Hannah was the same way.
So we have become programmed to think that way. See it once, you'll see it again the next week. It's this usual pattern that makes this 2011 season so darned hard to understand. It's not following the pattern!
So now here comes 2012, and here comes the same pattern as last year! The stats help prove how crazy this season has been—in these circles, you're going to hear the term "four winners in the first four races" so often this week that you'll think the Superbowl isn't getting enough hype.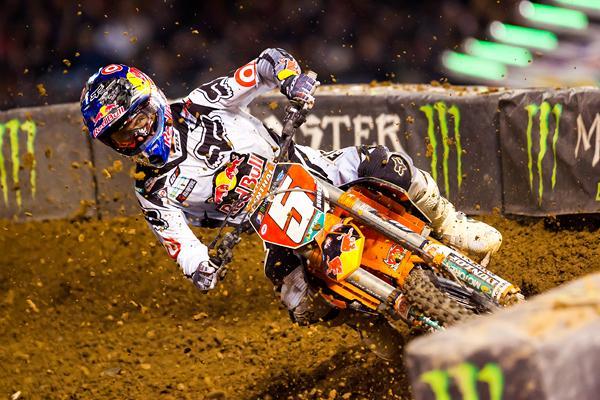 While Stewart and Villopoto have grabbed the headlines, Dungey has grabbed a share of the points lead alongside Chad Reed.
Photo: Andrew Fredrickson
And four winners in four races is a pretty crazy stat. This last happened in 1976, when the series was very much in its infancy. How long ago was 1976? Put it this way: one of the four brands to win in '76 was a Can-Am.
But even that's not really the point. The stat may be impressive, but like a Ryan Dungey interview, it doesn't tell you enough. The impressive thing is not who wins the races this year, but how they won them.
Through these four races, Villopoto, Dungey, Reed and Stewart have swapped not only wins and points leads, but also the coveted "who is faster" card. I'll give you an example: At Anaheim 1, Dungey caught Reed not once but twice. He challenged Reed early, fell, then came back and nearly got him again at the finish. Then Dungey won Phoenix while Reed struggled to fifth. At that point you'd think Dungey had Reed covered. But the very next week at Dodgers Stadium, Dungey tucked in behind Reed at the halfway mark, and Reed just walked away.
Okay, okay, we should know better than to judge things based on two races. But through the years of 2006—2009, we were consistently watching Stewart go just a little faster than Reed in every practice, every heat and every main. We have become conditioned to think things won't change, no matter how many variables each week produces. As proof, keep in mind that we've only seen four winners in four races two times ever. This is not a sport where we expect parity!
But we know The Dunge and The Chad will be close. Reed needs to get it over with and just put the "Hi, Ryan" butt patch on his pants. A bigger shakeup is Ryan Villopoto, who sure seemed like the fastest/baddest/strongest/meanest machine out there after the first few races. Villo did come from last to pass Reed and score a podium in Phoenix, right? Surely once he started avoiding the early-race troubles, he'd prove to be the man again.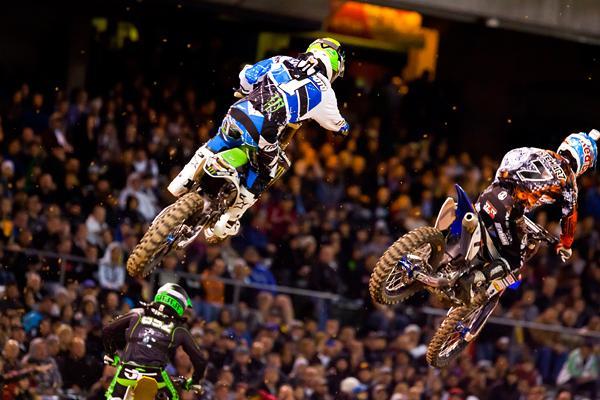 Can Villopoto find the winning formula again and close the gap on Dungey and Reed at A2?
Photo: Andrew Fredrickson
But he had his shot in Oakland, and couldn't deliver. Reed and Stewart walked away from him….wait, James "freaking" Stewart? Where did this come from? A week ago Stewart rumors ran the gamut from, "He's outta' shape" to "He doesn't have it anymore," but they did not include "He will beat Reed and Villopoto straight up next week."
But he did. Villopoto even had him on missile lock in the heat race, seeming to further drive the point home about who was the new fastest man on the...you know. But Stewart later explained that he tried the wrong setup in his heat race, but got the right one in the main event. That statement, folks, sums up how close these guys are. A few suspension clicks one way or another, a good choice on a tire or even a bad line choice during the main can change everything. I'm sure in Carmichael's prime he made the wrong set up choice at times, but you never knew because he won anyway. And back when Stewart seemingly packed "seven tenths per lap quicker than anyone else" in his gear bag, he probably gambled wrong at times, too, but you didn't notice because he was still fastest rider out there.
But today, these boys are closely matched. I am not at all pointing holes in the Villopoto program—just because Reed and Stew got the better of RV this time does not mean RV can't come right back and blow everyone out this weekend. Remember that last year in Atlanta, Stewart and Reed seemed to regain their solitary spots at the top, but only a few weeks later Villopoto was sitting on a win streak and a big points lead. Things change quickly when the pack is this close.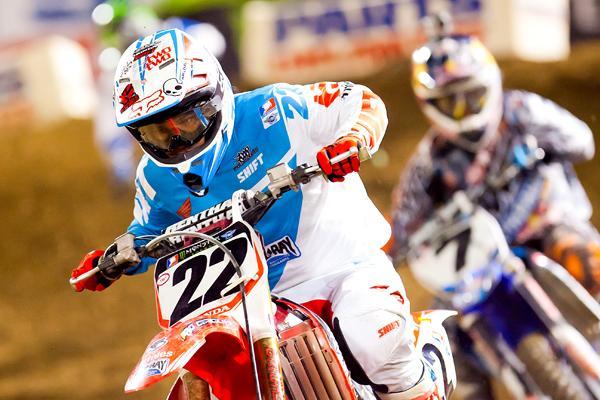 Reed is hoping to walk away from A2 with sole possession of the points lead.
Photo: Andrew Fredrickson
This isn't just the case for the top four riders. Just two weeks ago, Jake Weimer was actually threatening to leap up to the lead pack. In L.A., he battled with Reed (and Stewart, you may have noticed). But things didn't go Weimer's way in Oakland. Andrew Short ended up with the soon-to-be-coveted Best of the Rest award by taking fifth in Oakland, with Kevin Windham not far behind. Brett Metcalfe was the fifth-place guy in L.A. And Justin Brayton was fourth at Anaheim 1 but has since gone 14-DNQ-9. Throughout the entire top ten, we're seeing a ridiculous level of parity, and while the lead four have broken away, things are no easier to predict behind them. Subtle differences are making a massive impact in the results column.
The good news about the front pack is, the closer the boys have gotten on setup, the closer they have gotten on the track. It's pretty clear now that Villopoto and his Monster Energy Kawasaki team were pretty much on their game by Anaheim 1, while guys like Reed and Stewart needed a few weekends to find their window. Now that they are there, things seem to be pretty close. It may just come down to subtle differences in starts, set up and luck from here on out—and even with last year in the rear view, we're just not used to seeing things that close up front.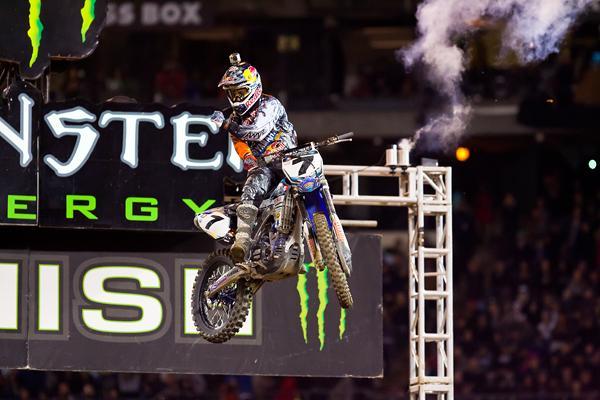 Stewart is looking to grab back-to-back wins to further cut into his points deficit.
Photo: Andrew Fredrickson