Dodger Stadium
Los Angeles

,

CA
Los Angeles
Monster Energy AMA Supercross Championship
Levi Kilbarger - Injured Back
Comment: After injuring his back at Milestone MX in mid-January, Kilbarger will be out of action for three to four weeks.
Jimmy Albertson - Broken Teeth, Mild Concussion, Sore Shoulder
Comment: Despite breaking six teeth, suffering a mild concussion, and banging his shoulder up in Phoenix, Albertson will be racing tomorrow night in Dodger Stadium.
Tommy Hahn - Broken Fibula
Comment: Hahn broke his left fibula in Phoenix, and is expected to be out for eight weeks. Hahn is hoping to return for the last few supercross races of the season.
Josh Hill - Broken Tibia
Comment: Hill suffered a broken tibia (lower leg) in his first turn crash at A1. The injury is not related to Hill's previous leg injury that kept him away from the races last year, and is expected to sideline him for four to six weeks.
Wil Hahn - Fractured Right Hip
Comment: Hahn suffered a fractured right hip at the Honda test track on Wednesday, Jan. 11, and will be out of action for three to six weeks.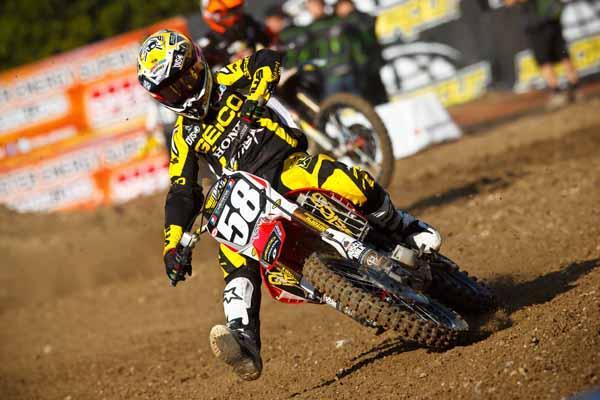 Wil Hahn is expected to miss three to six weeks with a fractured hip.
Photo: Simon Cudby
Austin Stroupe - Sore Jaw
Comment: Stroupe crashed hard enough in Phoenix that he knocked himself out, and was not cleared to continue racing for the night. The team has been monitoring Stroupe's condition, and is unsure whether or not he will race in Los Angeles.
Nico Izzi - Sprained Wrist
Comment: Izzi's wrist is still sore from his crash in Phoenix, but he is expected to race this weekend in Los Angeles.
Michael Byrne - Broken nose and C-6 in Neck
Comment: Byrne will spend four weeks in a neck brace, and if his recovery progresses well, he expects to be back soon after the brace comes off. Byrne Tweeted the following message earlier this week: "Well my neck is healing but it's still not ready. 4 more weeks then more X-rays should be good to go then!"
Ken Roczen - Broken Arm
Comment: Roczen plans on racing the Eastern Regional SX Lites season.
Jimmy Decotis - Multiple Fractures in Feet
Comment: Jimmy D is hoping to be ready for the start of the Eastern Regional SX Lites season.
PJ Larsen - Broken Hand
Comment: Larsen should be ready for the beginning of the Eastern Regional SX Lites season.
Jared Browne - Broken Ribs and Torn Spleen
Comment: Browne originally hoped to be back by Phoenix, but will miss several more rounds while he waits for the tear in his spleen to heal.
Christian Craig - Wrist Problems
Comment: Craig will be sitting out most of the remaining Western Regional SX Lites rounds. Due to a broken wrist suffered at Southwick, Craig has not been at 100 percent, and has opted to undergo surgery to fix the problem.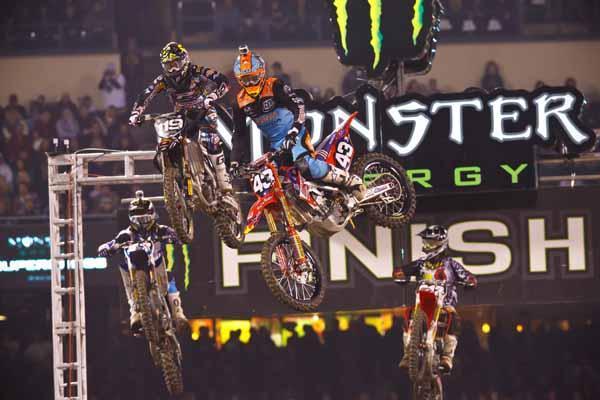 Craig (#43) will miss most of the Lites West series with wrist problems.
Photo: Simon Cudby
Jeremy Girard - Broken Bones in Left Foot
Comment: Girard broke his heel bone, and two other bones in his left foot. Girard hopes to make his return to racing by San Diego.
Jason Potter - Broken Collarbone and Scapula
Comment - Currently, there is no timetable on Potter's return.
Joey Peters - Broken Left Wrist
Comment: Peters plans on entering the Eastern Regional SX Lites series.
Dakota Tedder - Broken Right Wrist
Comment: The injury occurred in December, and there is no scheduled date for his return yet.
Colin Jurín - Dislocated Shoulder
Comment: Jurin underwent surgery in December and will attempt to contest the last few Western Regional SX Lites rounds.
Taylor Futrell - Badly Broken Collarbone
Comment: Futrell underwent surgery for the injury, and is unsure when he'll be back on the bike. Futrell is hoping to be back by the first round of the Eastern Regional SX Lites season, but says it will be a game time decision.
Ryan Clark - Broken Right Arm
Comment: Clark says he will most likely make his return tomorrow night in Los Angeles.
Broc Schmelyun - Broken Hand
Comment: Schmelyun underwent surgery and is hoping to be 100 percent by the Eastern Regional SX Lites season opener.
Know of an injury we've missed? Email our man Aaron Hansel, aaron@racerxonline.com, and he'll handle it.