Dodger Stadium
Los Angeles

,

CA
Los Angeles
Monster Energy AMA Supercross Championship
Two years ago at the Phoenix supercross,
Ryan Dungey
captured his first career AMA SX win, with
Ryan Villopoto
and
Josh Hill
rounding out the podium. That '10 PHX SX was headlined as much by Dungey's great night as the terrible ones for perennial favorites
James Stewart
and
Chad Reed
. Stewart crashed in his heat race and broke his wrist, then he and Reed collided in the main event, sending Reed to the sidelines with a broken hand. One night produced double injuries for Reed and Stewart, while three relative newcomers swept the podium. Guards don't change much more clearly than that.
To be fair, Reed and Stewart weren't exactly done after that, as both have returned to get more wins. But the numbers don't lie. In the two previous seasons (2008, 2009), Reed and Stewart swept the four major AMA Supercross and Motocross titles (Stewart won the 2008 AMA Motocross and 2009 AMA Supercross Championships, Reed won the 2008 AMA Supercross and 2009 AMA Motocross Championships). They won 40 of 58 races in that two year stretch, about 70 percent, which is amazing when you consider Reed didn't race outdoors at all in 2008, Stewart didn't race outdoors at all in 2009, and Stewart missed most of the '08 SX tour with an injury. And they still won 70 percent of the time!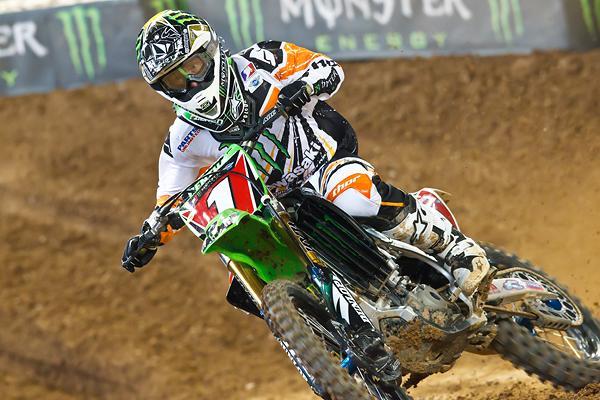 Villopoto is ushering in a new regime to stand atop the supercross world.
Photo: Simon Cudby
But the last two seasons, Dungey and Villopoto have swept the championships. They have combined for 37 of 58 wins, which means they have come awfully close to matching the win percentage of Stewart/Reed '08 and '09, and they did it while racing against Reed and Stewart at times.
I'm not suggesting the end is here for Stewart and Reed. There's just too much credibility and respect for their abilities to declare them done, and seeing either (or both) reel off some wins soon won't be a surprise. But the numbers are starting to bear out that the guard has changed—and we're not even taking into account that the Ryans have won both races thus far in 2012. What's happening is the Ryans are already great, and they keep getting better.
Villopoto may have won both titles last year, but he is dangerous on a whole different level so far this year. His Anaheim 1 ride was lethal. He won A1 in 2011, but you could have argued at that race that Stewart was the fastest rider that night, but just suffered a bad start. But last weekend, there was no doubt—RV was the man, pure and simple, and I think he could have won the race even if he had started pretty far back. And almost to prove that point, he logged an unbelievable come-from-behind ride at Phoenix. He slashed through the field to go from last to third, and he ate up Reed in the process. He may have caught Stewart, too, but we'll never know since Stewart went down. Still, RV's third was just as impressive as his win at Anaheim, and I think he's another notch better than he was in 2011, and oh by the way, he won the championship that year.
And Dungey? Well, won the race! I never expected this KTM deal to come together this quickly, but Dungey already seems on at least the level he was last year, and surely there's more to come since that bike and program are so new. I got some good insight from the KTM folks over the weekend regarding how they were able to develop it so quickly. As far back as last spring, the team was sending notes and drawings back to Austria to design the exact 450 they wanted, using knowledge gained from the 350s and 450s they raced with Andrew Short and Mike Alessi. You would think this is standard protocol for every brand, but in reality there's often little connection between production development and racing development at some companies. But the connection was direct, and this KTM 450 was pretty much built around exactly what DeCoster and company ordered. The good news for them is that it's, ahem, ready to race from the get go. The bad news? Well, if you're expecting massive improvement from here, both Dungey and DeCoster told me they're pretty much where they want to be. This isn't as much of a work in progress as you would expect, and from here on out they'll just be doing the same fine-tuning everyone else is. But you've still got to imagine they can keep moving onward and upward.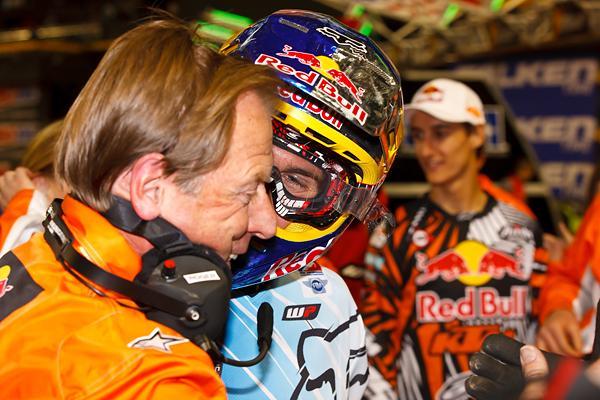 What do RD and Rd has left up their sleeve?
Photo: Simon Cudby
And DeCoster does feel the Phoenix win helps in one way.
"Until you get that win, no matter how good you feel, there's always that little bit of doubt until you get that win," said The Man after the race (The Race?) "Maybe there was that little bit of doubt there for Ryan's confidence to know the bike was capable of winning a supercross."
Of course Dungey never let on that there were any doubts at all (he never lets on to anything). He just rides and works, press play and repeat. Now, was he as fast as Villopoto? Would he have won if Villopoto had not crashed? Who cares? He won, that's a huge accomplishment for Dungey and the team. We'll have 15 more races to hash everything else out.
Also Dungey got the holeshot and man that must have felt good. He really had his starts dialed in his 2010 championship season, but he just couldn't seem to get them last year (in fact, he got one holeshot, in Toronto, and that's the race he won. Coincidence? I think not). Last year's field was so close that starting a few positions further up could have changed everything. Knowing how frustrating it must have been for Dungey to routinely start behind his main competitors last year, and knowing how many times he has been stuck behind
Chad Reed
unable to make a pass, he must have been thrilled to round turn one Saturday with a clean track ahead of him.
While I'm going on about new blood and new machines and changing guards, etc., we've finally got Jake Weimer showing what he can do on a 450 as well. Listen folks, it's easy to write columns saying everyone is great all the time. This way you'll never look bad when a rider has a breakthrough race. But that's too easy, and I write what I think, so I'll readily admit I did not see these rides coming from Jake this year. As evidence, I present the 2011 season, which delivered nothing of note for Jake. Not outdoors, not at the Monster Energy Cup, not at Bercy. I just didn't see that flash of brilliance that said, "This dude is on it, he just has not had it come together yet." And after the race, Jake admitted to me that even he was having a tough time believing this was coming after a tough 2011. He credits his team for never getting down on him. Now it's starting to come around, and fast. Seriously, Jake's ride on Saturday (and his come-from-behind fifth at Anaheim) showed me that he could do this at any time, not just in a race where Villopoto and Stewart go down. I think he's the real deal.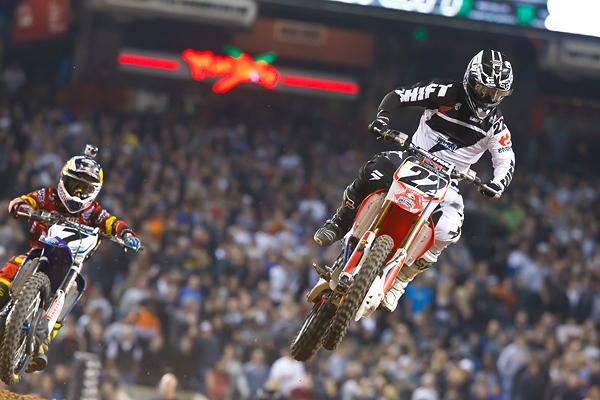 Reed (front) and Stewart (rear) are far from done.
Photo: Simon Cudby
It's too early to declare Reed and Stewart over and done. Reed didn't have a good night by his standards (rare is the night where Reed doesn't crash but also doesn't land on the podium). And I left the building thinking Stewart was really in trouble this year, which prompted me to write this column. But after watching the race back on TV, I saw hints of the old James Stewart, the one who, at times, is just so darned fast that no one can do anything with him. And Reed is smart, he'll figure out a way. But Villopoto just showed he could salvage a strong result even when disaster strikes. It's early in the season, yes, way, way early, but it's not too early to say Villopoto looks to have the total package.
And Trey Canard was back and rode well considering how little supercross prep time he has had. It wasn't long ago that Canard and Weimer were battling in the Lites class (often with Dungey). And they all at one point had to chase Villopoto around. This is supposed to be the next group, and they're here and they're ready. In fact, the numbers say they're not next—they're now.