Chase Field
Phoenix

,

AZ
Phoenix
Monster Energy AMA Supercross Championship
Kevin Windham, GEICO Honda, fourth place in SX Class
In this darkest day as a New Orleans Saints fan, you still did great and almost made the box.
Almost made the box. Which, almost making the box is worse than not even coming close to making the box. But I'm more and more bummed for the GEICO Honda team. They've just been working so hard and I'm really frustrated with myself. I mean you do the interviews, you talk to people, and it's this old thing. And I really went into A1 not believing that I was ready which is, you know, really BS because I finished eighth in Anaheim which is not good but my times were decent. And then I come here and back it up with a ride where, once again, my times weren't perfect, but they were in the mix. And that's all I can ask for at this point. I hate that I didn't give myself credit. What I find from this is building blocks for, hopefully, a successful season. We've got 15 rounds to go. I normally get better later and I don't think I'm that bad right now. But tonight's bittersweet.
You did mention that you did think about RV coming up. Obviously you all mark each other out there, so you thought about him a little bit. Tightened up?
Yeah. And, no disrespect to any other rider, but I've been behind Villopoto, I've been behind the best in the world, and that guy is railing corners like no other and I saw him with five laps to go and I made the dumbest rookie mistake you could make where I just knew that, I was sitting there watching him with five laps to go. You know, I wasn't really in a race. Weimer was a decent amount in front of me and I sat there and I watched him and just rode myself into the ground. He was faster than me, but I think I could've stayed ahead of him. And on the 18th lap, I made a silly mistake in the rhythm section and wasn't able to make 3-3 like I'd been doing just before the first triple. That was the difference. That gave him the ability to smell blood in the water and he was close enough to do a good block pass on it. I mean, it was aggressive but he came in clean, didn't hit me and he was respectful in his pass, which I was appreciative of that. But definitely wish I could've gotten on the box.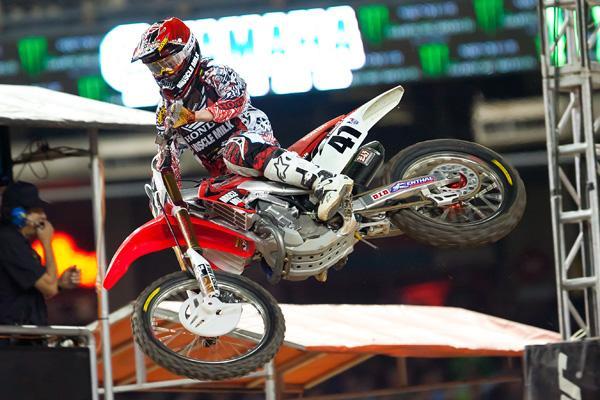 "I'm happy to leave here safe and I'm happy to get 20 laps under my belt." - Trey Canard
Photo: Andrew Fredrickson
Trey Canard, Team Honda Muscle Milk, seventh in SX Class

What exactly are you doing right now?
Trey Canard: I'm drinking an ice cold Muscle Milk. Shaken well and it's delicious.
Helps recovering?
Oh, it's refreshing and nutritious.
It's your first race back. What'd you think? I thought it was pretty good.
I mean, I thought it was good. I'm happy to leave here safe and I'm happy to get 20 laps under my belt. And for eight days on a supercross track since St. Louis, it was a success. But the racer in me is disappointed in that I don't like getting beat, you know? And I think that's a good thing, so I think that'll be something that drives me in the coming weeks. So hopefully I can channel that and take control of that and turn it into a positive thing.
Not that I'm an athlete or anything, but it did look like you got a little winded out there. Would you agree with that?
It wasn't more getting winded, it was more me trying to stay comfortable. Because you do get tired in a 20 lapper and obviously my fitness isn't as good as it could be. I rode five days this week on a supercross track, so obviously the fitness isn't where we'd like it to be, but I thought I did pretty good. I think I regrouped pretty good and was able to push it in, but I think the biggest thing was when I started to get even a little bit tired, I tried to back it down, just to be smart with it.
You and Andrew Short were going at it!
Yeah, he passed me and it's just like, "Man, I don't wanna get passed!" Same thing with RV in the heat race. He passed me and I had to at least show him that I have a little fight in me. I went for it. I did the best that I could. I think I can be happy with that.
Chris Blose, MotoSport.com TiLube Foremost Insurance, 15th in SX Class

Hometown race. You had a pretty good race going until a little off-track excursion.
Yeah, me and Hanny [Josh Hansen] kinda came into it. I was running ninth and I don't think he really meant to come into me like that and at the same time he hit me, he said sorry. But he's a good friend of mine so I knew it wasn't on purpose. It's just kind of bad luck, but I got into the main event from the heat race, so I was happy about that and we'll just move on to the next round, try and do better.
You didn't only get into the main from the heat race, you also did really good in the heat race, coming all the way from the back.
Yeah, I think I got into Kyle Partridge. I think he pushed me out kind of high on a tuff block and I started out pretty far back, almost dead last, and I just put my head down and charged forward. I knew once I got into 11th, I knew I could get in. And that's what I did.
Going on the new team, how's the bike? How's the adjustment? How's everything going?
The new team is awesome. Alan Brown came to me about two and a half weeks before Anaheim and we put something together real quickly and I'm really happy. We've only been testing for about two weeks and I'm starting to get the bike where I want it. We're moving forward in the right direction and that's what's positive. Alan's been awesome to work with and my mechanic's awesome, so I can't complain.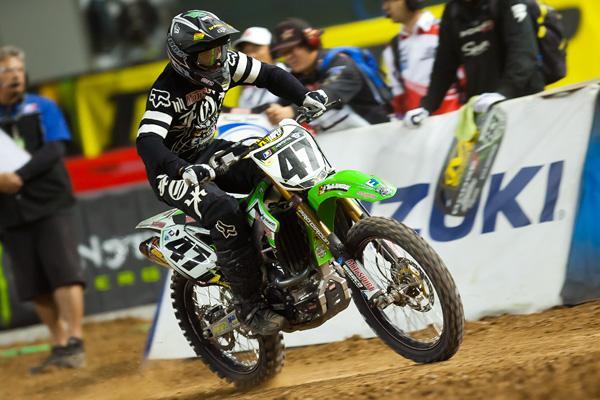 "Last year was the most stacked field and this year it's even worse." - Chris Blose
Photo: Andrew Fredrickson
And it's a stacked field. Some heavy hitters have missed the main event.
Last year was the most stacked field and this year it's even worse. It's definitely worse this year. You've got a lot of past champions, Lites guys coming up who are just unbelievably fast and, you know, to make the main event, it says you're a bad dude on the bike. So far, two for two. Hopefully we can keep the ball rolling and hopefully look forward to the next round.
You might be the lowest salaried rider in the main event.
Definitely. No salary. No salaried riders making the main event, but it is what it is and I just gotta make the best of it and do what I can and that's all I can do.
Zach Osborne, Team Bike It Yamaha, sixth in SX Lites Class

Good ride. Sixth place and right there in the pack.
Yeah, it was better than last weekend. I got a good start. I feel like I kinda blew a podium, to be honest. I should have made a more stern move on Rattray to start with. I think it's something to build on. Last week I was ninth, fourth in the heat race. This week sixth, third in the heat race. So if we keep that progress going, we're on for some good finishes. But, like I said, if I would've made that move earlier, it might have been a different result. But still, that's the best I've ever done in supercross. So it's something to build on, but you've got to be happy with that.
Where do you think those guys had you a little bit? Were you having problems with any sections or corners?
No, like when I was behind Tyla, I just felt like I kinda freaked myself out because he's so smooth, I thought we were going slow, to be honest. I was like, we're about to get blown away if I don't pass this guy soon. And then it kind of put me to sleep. I started lulling around and he got away from me a little bit and they caught up to me a little bit and then they both put it on me at the same time and then I came back a little bit. But I felt really fit and I just feel like I should've made a more stern move.
Two rounds in, you went nine and six. You happy?
Yeah it's good. It's all something to build on and I think I'm turning some heads with my speeds in the practices and heat races and stuff. I'm starting to feel like I belong again, you know? Like I belong in the front. So it's good. Honestly, I'm enjoying it so much. I'm just having so much fun. Since I've turned pro, this is the most fun I've ever had at these two races.