Chase Field
Phoenix

,

AZ
Phoenix
Monster Energy AMA Supercross Championship
Welcome to Racerhead, coming to you from Phoenix, where there's actual racing to talk about again! The 2011 Monster Energy AMA Supercross season is up and running. The series opener was a fantastic show, start-to-finish, and the packed house was treated to a lot of great racing, razzle-dazzle pyro, very cool pit and hospitality areas, and much, much more. It was a great start to what is shaping up to be a fantastic series. Be sure to tune in to SPEED at 9:30 p.m. Eastern tomorrow to watch round 2 of Monster Energy AMA Supercross live from Phoenix.
So let's cut to the chase: Ryan Villopoto is a badass. What he did on Saturday was something of a jaw-dropper for fans, and a collective "uh-oh" from the rest of the pack. We have all witnessed RV going very, very fast before, but this time it was almost overwhelming in its completeness. His start-to-finish runaway was reminiscent to me of his transcendent performance at the 2007 Motocross of Nations, where he showed the rest of the world that, while they may finally get to quit worrying about one fast redhead in the retiring Ricky Carmichael, they had a whole new red storm rising.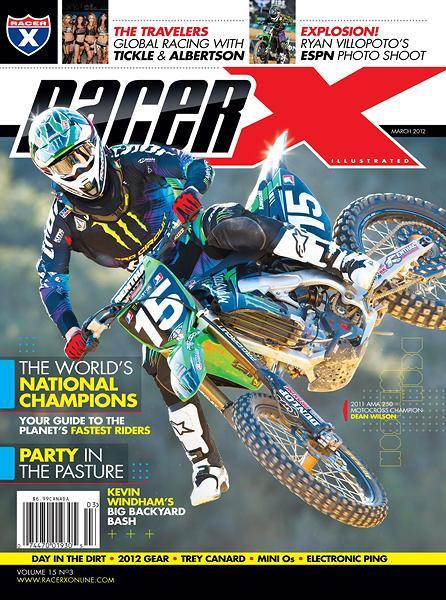 Lucas Oil Pro Motocross Champion Dean Wilson graces the cover of the latest issue of Racer X Illustrated.
Photo: Simon Cudby
But it hasn't always come easy for Villopoto, and while he's won some titles, he lost the better part of two seasons with injuries. Now he's perfectly healthy, his bike looks amazing, he's got star-shaper Aldon Baker working with him, and he's the reigning champion of everything. Yet still, this ride at Anaheim 1 caught me a little off-guard. RV has been mostly hidden since another MXoN runaway in September, getting married and getting ready. Most of the off-season chatter has been about the team-switching (and now tire-switching) James Stewart and Ryan Dungey, not Villopoto.
So when he grabbed the holeshot and just checked out, it was a reminder that he really is the baddest man on the moto planet right now. Sure, he will lose some races, but Villopoto has always been a "good" loser in the sense that he never beats himself up over a race-gone-bad, nor does he gloat over wins big and small. He looks faster than ever, and that spells trouble for everyone else.
Someone posed the question on one of the forums as to whether or not his getting beat all the time by Mike Alessi as an amateur was a good thing in the long run. I think it was. It's like a story I just read in Sports Illustrated about how Tom Brady struggled to be the starting quarterback when he was in college at the University of Michigan, the fans wanting to start local wunderkind Drew Henson instead, and how that challenge shaped him into the future Hall of Fame QB he is now. Well, Villopoto, with five major titles, 4-0 in the Motocross of Nations, and the first man ever to win a $1 million SX prize at the Monster Cup, probably doesn't think back on all of those losses as a kid anymore. But if he did, he might see how it helped drive him to succeed at the level where it counts most. What the SI writer said of Brady then and now could work for Villopoto too: He was never a phenom, but he has been phenomenal.
As always, be sure to check out the Thor Racer Center for all the content your appetite can handle. Also be sure to check out live timing and scoring from Phoenix and follow Racer X Online on Twitter for all the breaking news from Phoenix (@racerxonline), and again be sure to tune into to SPEED at 9:30 p.m. Eastern for live coverage of Monster Energy Supercross from Phoenix.
Now let me turn it over to Matthes:
Well, one down, sixteen to go in Monster Energy AMA Supercross. The circus is heading off to Phoenix for round two, and if you're anyone but Ryan Villopoto or Cole Seely, you're thinking that the work you just put in is going to be enough for you to get better. If you're RV or Seely, you're full of confidence and hoping to keep the roll going.
Phoenix is always a pretty good track with a crowd that seems way into it, and one of my highlights is seeing the walking stereotype that is Chuck Franklin of Chuck Franklin Law Firms get on up on the podium and talk about his business. It's so awesome and provides me with a lot of giggles. Anyway, who can forget when Tim Ferry, on his #15 Chaparral Yamaha, led for about six laps before fading to the back in 2000? Weege writes about David Vuillemin hunting Jeremy McGrath down, but to me, I remember Ferry leading more than anything.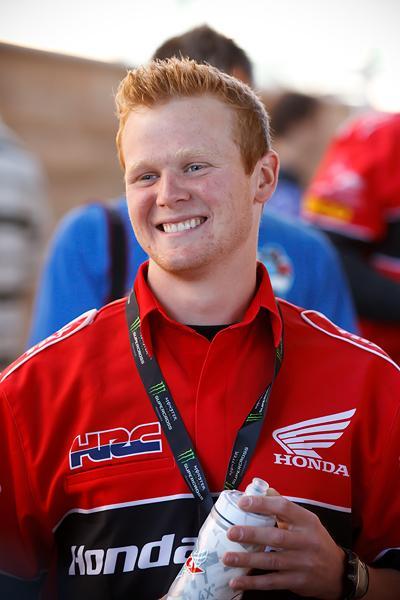 Trey Canard announced yesterday that he will be racing Phoenix.
Photo: Simon Cudby
Speaking of Tim Ferry, his prize pupil Trey Canard is back this weekend. The Muscle Milk Honda rider tweeted that he's back after missing one round from a broken collarbone suffered awhile back. Canard won three races last year and will immediately jump into the front of the pack and do well. I'm not claiming wins right away, but a guy like Canard isn't coming back if he's not ready to run the pace. Should be great for the series to see him back, and what it means is one more quality rider is going to miss the main event.
We get one 450 guy back and lose one 450 guy as Hart & Huntington's Josh Hill will be out four to six weeks from a broken tibia. Hopefully Hill gets back ASAP and, as of right now, there are no plans by the H&H guys to fill his spot.
Also a bummer deal for GEICO Honda's Wil Hahn, as he'll be out of action for a while with a busted-up hip. Last year he injured himself at the first race and this year he made it one extra. It's got to be tough for Wilbur and hopefully he heals up quick and gets back on it soon.
I've exhausted my brain on "TireGate," although I will be interested to see what is on JGR Yamaha's #7 bike this weekend. I have a feeling it will be Pirellis, and let's keep an eye on James Stewart and how he rebounds from an off opening weekend. This isn't that big of a deal, folks. No one is cheating, and even though Dunlop isn't happy about JS running a Dunlop rear, the press they got out of Stewart turning his fastest time with it on will be whispered around to everyone and anyone. JGR itself comes from a NASCAR background where this kind of stuff is just generally accepted. Everyone chill.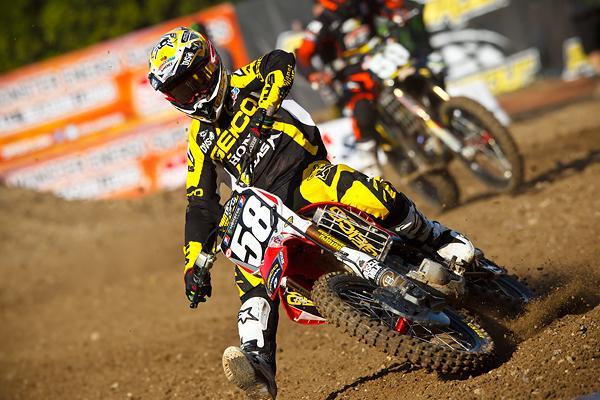 Another tough break for Wil Hahn as he is expected to miss three to six weeks with a fractured hip.
Photo: Simon Cudby
I went out to the Hart & Huntington test track yesterday and caught up with Kyle Partridge, who was in good position to make the main until catching his front brake lever on the Tuff Block and going down. Kyle was looking good to make it to the main and looked pretty good on the test track. With Hill going down, Partridge is looking to capitalize on his chances.
Over on Pulpmx.com, we have a Partridge podcast, a James Lissimore photo gallery of some cool whips off the FMX ramp by Partridge, a look at the riders who just missed out on the main event by Moser, an article on Zach Osborne by Paul Quesnel, and much more. Go check it out after you've read everything on here.
Oh, and there are a couple more days for you to submit a T-shirt design to win a trip to Anaheim 2, all expenses paid, courtesy of Kawasaki and the Pulpmx Show. More info over on Pulp.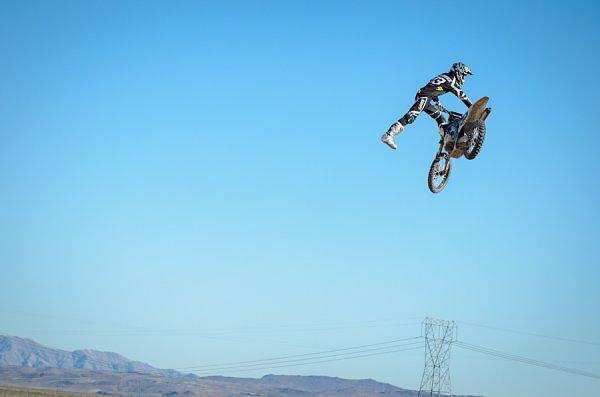 Kyle Partridge is hoping to rebound from a tough crash in the LCQ at Anaheim.
Photo: James Lissimore
Now here's Weege:
Ryan Villopoto put a whipping on the field, but two of his chief competitors, Chad Reed and James Stewart, are probably hoping for a do-over on a different track. Neither of them liked the Anaheim 1 course, which eschewed the hallmarks of a traditional supercross track—whoop sections and rhythm lanes—and replaced it with other stuff. This week, I was talking to former Yamaha factory rider David Vuillemin about track design while we were going over This Week in Yamaha History and highlighting the Phoenix 2000 SX.
"Two thousand was the peak for technical tracks," says DV. "The whoops were huge. By 2001 the tracks got a little less technical. The whoops were not as big and more round, but the way it was in 2000, you were pinned fourth gear wide open. It could be scary; you really had to be ready. And the jumps, they were big, and you had big rhythm lanes, and if you came up short it was really bad."
Vuillemin likes the technical stuff (he won four main events in 2000), but he enjoyed watching the Anaheim 1 track this year, too. "I think the track was great—you could see the guys struggle in the slow sections," he explained. "And after that big double, the three out of the turn, where Bubba wheel-tapped in his heat race, that was pretty technical, not too many of them were doing it. There were no whoops, but who cares! I saw great racing. I stayed in my seat with my kids until the checkered flag. I got into my car and said, "That was great racing!" And I saw them all last year as a team manager, and I didn't say that too much. I think it's good to change the tracks a bit. I'm sure the first round has been easy for the first few years now, and I'm sure they got some criticisms. I think it was good, but Phoenix will be different."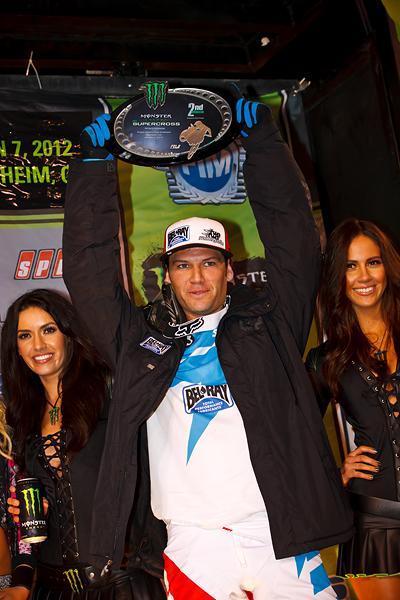 Can Reed challange Villopoto at Phoenix?
Photo: Simon Cudby
Sure will be. I checked in with a couple of people who rode press day in Phoenix on Thursday, and they identified that the track has two long rhythm lanes and more whoops than Anaheim. You can sort of tell by looking at the Red Arrow on our track map, below, but the map and the real thing often vary. I don't think Phoenix will be the most technical track ever, but it should be more technical than A1. But will that actually change the results?
We've reached a new level in the replacement-rider sweepstakes. Last year, the very second a rider hit the dirt and screamed "ouch" the rumors of who will fill-in for that injured rider started to swirl. But at least it was just the rumor mill. Yesterday, when GEICO Honda announced that Wil Hahn had busted his hip, half of the press release was devoted to explaining why a replacement rider hasn't been named yet. Well, I'd say it's because Wil got hurt on Wednesday and the race is on Saturday. That's not a lot of time! The guy just got hurt—we should be bummed on this instead of all pumped up about what privateer could get a bump.
I'm going to give the team the benefit of the doubt and assume they're trying to calm the nerves of sponsors who will be wondering why there's only one GEICO Honda rider in the Lites class this weekend. I can't think of any other reason why the news should be about anything but Wil Hahn getting hurt. Let's save the replacement news for next week, at the earliest.

Here's Ping:
We always talk about how the first round of the series isn't always a good indicator of what we're going to see all year, but it's difficult to not draw a few conclusions from what we saw Saturday.
First, Ryan Villopoto is in the driver's seat. There are probably only a few people who would disagree with that, and their last names are Reed, Dungey, and Stewart.
Also, James Stewart still isn't quite there with his setup. He was chasing traction all weekend long and he eventually lost enough of it that he hit the ground in the main. My guess is we will see a different rider in Stewart when we get to the east coast rounds. But how many points can he give up to RV before that point?
Reed and Dungey will be there all year. They might be a few ticks off Villopoto's pace, but they will be right there, solid as a rock, all year long. But you probably already knew that.
There is going to be a great title fight in the 250 class. Seely, Rattray, Tomac, Wilson, and Musquin are going to fight every weekend for every point. Hahn would have been there too, if he hadn't gotten hurt.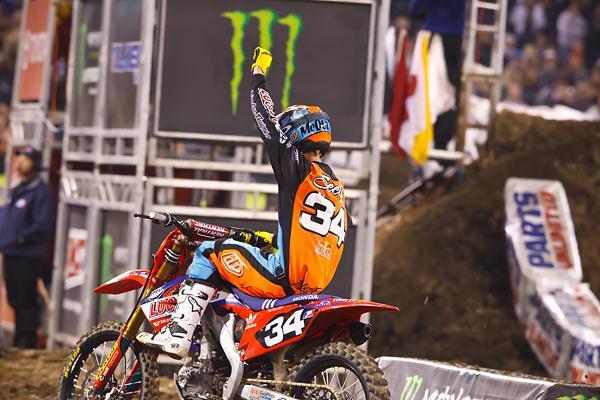 Can Seely go back to back at Phoenix?
Photo: Simon Cudby
There was a fairly big flub at the opener and it came in the seconds before the 250 main event … about fourteen seconds. The lovely gal with the 30-second board decided to turn the board and run when there were still "10" seconds left on the electronic board as compared to "0." The guy pulling the trigger in the doghouse was watching the AMA official in front of the girl, not the girl herself, so instead of dropping the gate at about four seconds after the board went sideways, as it's always done, he dropped it at 14. The confusion definitely had an impact on results for some of the riders. The JDR KTM riders reportedly had clutch problems (as in no clutch) for the entire main event. That will happen when you wind a race bike up to the moon, in gear with the clutch in, for nearly 15 seconds.
And both Ryan Sipes and Jason Anderson finally broke their concentration and looked up, thinking they would wave that start off and reset everyone. The gate fell as Anderson was still looking around, and he would start last. It's amazing we didn't see engines or riders' heads explode into vapor during the longest 13 seconds of the night. A similar thing happened not too long ago at Budds Creek, and because it fell too soon, by 23 seconds, the race was red-flagged. Since the A1 race went later than usual, no red flag came out. Can we please, for the love of God, make sure our 30-second girls can count all the way to 30? It's kind of a big deal.
Shawn Norfolk and the crew at Ironclad are new sponsors to the Supercross.com Honda team and the Jeff Ward Racing team. They put together a behind-the-scenes video from A1 for you to check out here. They make some pretty sweet stuff!
The Braaap Energy Bar crew was at Anaheim supplying their wildly popular product to riders and teams. Owners Todd and Shauna Sledge came out from Colorado and were thrilled that two of the podium finishers in the 250 main event use their product. Braaap Bars are the cleanest endurance bar on the market (they will dissolve in a glass of water), they are gluten free and they taste amazing. Check out their website at www.braaapbar.com and look for them to be at more races all year. They have four flavors available: Original, blueberry, cranberry and chocolate chip.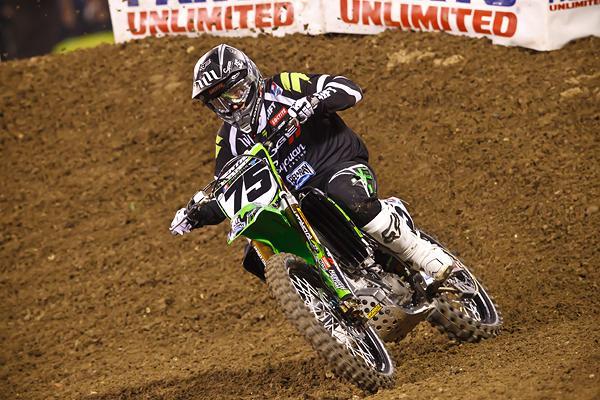 Josh Hill is expected to be out four to six weeks with a broken tibia.
Photo: Simon Cudby
Bad news for TLD rider Christian Craig, as he will be sitting out for most, if not all, of the West Region supercross series healing an injury. Craig broke his wrist last summer and apparently the surgery to repair it was unsuccessful. He will undergo another surgery to have it fixed and begin the healing process once again. Heal up quickly, Christian.
I also want to wish a speedy recovery to Josh Hill, who broke his leg last weekend. That guy has been through a lot lately. Good luck, Josh.
I'm also excited to hear that Trey Canard will be racing this weekend. If needed, I'm there to make sandwiches for you, Trey. Just let me know.
Now over to Aaron Hansel:
Well, another A1 has come and gone, and just like last year, James Stewart came out of the first round looking very human. Yes, he crashed, and while it's true that at this point a crash from Stewart isn't exactly shocking, it's still surprising to me that he didn't even make it into the top five—especially when you consider the fact that both Chad Reed and Ryan Dungey had crashes of their own yet still ended up on the podium. If you watched the television broadcast, you saw Stewart lose a few positions as he struggled to rip off a radiator shroud that was left hanging after his crash, which partially explains his sixth-place finish. Still, in years past, Stewart has been so far ahead of the second group that a small crash like that wouldn't have made a huge difference. It just goes to show you how much faster the rest of the field has gotten.
Of course, none of that drama meant anything to Ryan Villopoto, whose lead was so large it should have been measured in miles, not bike lengths. The funny thing about RV is that while you know he's always going to be fast, he never hints at just how fast he's going to be until the gate drops for the main event. On Saturday, he wasn't the fastest in practice, and he finished third in his heat behind Reed and Mike Alessi. But when the main event came, he lit the afterburners and trounced nineteen of the fastest men on the planet!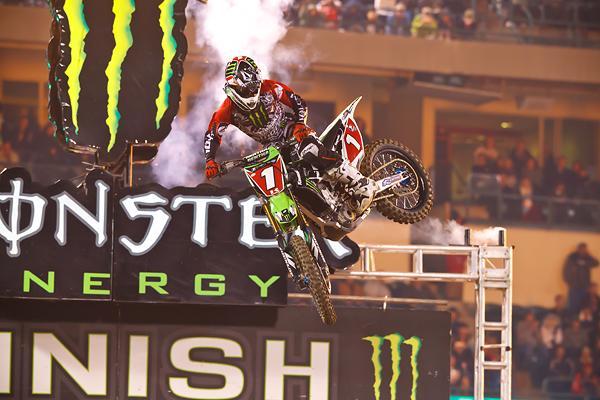 Can Villopoto dominate the field again in Phoenix?
Photo: Simon Cudby
Another thing I find interesting about RV is the way he rides. There are some guys out there who just seem to float around the track, and every move they make is so smooth it's almost mesmerizing. Villopoto isn't one of these guys. The guy just hunkers down and smashes! When I watch him ride, I get the feeling that he's angry at the track, and he's doing his best to punish it. Whatever the case is, I think it's pretty safe to say it's working for him.
Speaking of guys who had exceptionally good rides, how about Justin Brayton and Jake Weimer? Brayton didn't get the best start, and spent several laps in ninth place, but by the end of the race, he had worked his way up to fourth place. Weimer, who was competing in just his third 450 supercross, had a similar race, coming all the way from eleventh to round out the top five. Those are pretty impressive rides, especially in a field this deep!
The Lites class was fantastic as well, and as awesome as Seely's ride was, the result I'm most intrigued by is the #968 of Jackson Richardson, who finished in eighteenth place. Who is Jackson Richardson, you ask? I have no idea. The only thing I know about him is that he's from Cairns, Australia, and the only reason I know that is because I read it on the results sheet. An eighteenth-place finish may not cause too many heads to turn, but the fact that nobody seems to know who this guy is definitely makes it noteworthy. As far as I know, he's never raced here before, and for him to come out and qualify for the first main event of the year right out of his heat race is impressive. I'm definitely going to keep my eyes on this guy to see if he can follow it up in Phoenix.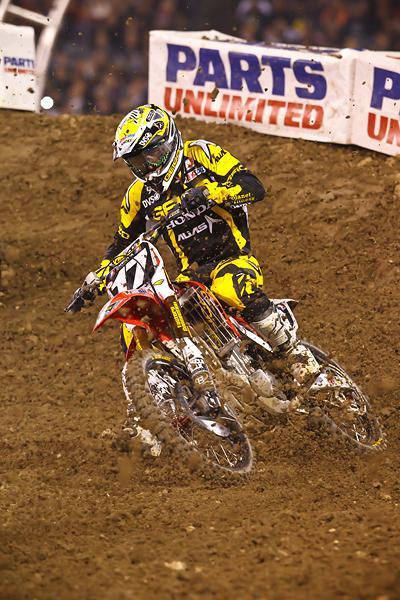 Eli Tomac is looking to claim his first victory of 2012 at Phoenix.
Photo: Simon Cudby
Lastly, how about that track? During the morning track walk I found myself feeling excited about how different it was, and I couldn't wait to see what lines the guys were going to come up with. Unfortunately after the first practice, it became evident that the track was going to be very one-lined in places, and that there wasn't going to be a whole lot of passing opportunities. Still, you have to give credit to the track builders for trying something new, even though it wasn't a raging success. They take a lot of flack from the fans when lap times are low, and even though this track wasn't a hit with the riders, it did at least produce lap times that never fell below one minute. If you absolutely hated the track in Anaheim, don't worry, Phoenix will feature a much more traditional track, complete with longer sections, more complicated rhythm lanes, and fewer winding turns.
Now onto Haley Whisennand:
Well, the opener has come and gone. And let me start by saying this was my first Anaheim 1 to see live. Ever. It was fantastic. In comparison to the only other supercross race I've been to in the flesh (Seattle 2011), it was a whole different experience. Not only was the stadium completely, 100 percent packed, but so were the pits! It was crazy to stand at the GEICO Honda rig - which was right by the entrance to the pits - and see everyone waiting for them to open. I'm pretty sure that the amount of people that were in the pits around 3 o'clock was WAY over the typical capacity. In short, the morning was amazing and busy. Honestly, the best part about the morning is the track walk. I know it seems silly. I mean, you're just walking around a bunch of dirt jumps. But I find it fascinating to watch how each of the riders interacts with the track. Some of them study it very slowly and carefully, while others seem to just kind of, well, walk it.

Anyway, other than that, the rest of my day was comprised of running around the pits on assignment, spending time at the GEICO Honda rig to launch the new EliTomac.com, and hanging out in the press box with Weege, Hansel, Matthes, and the rest of the Racer X crew! Let me just say that they're a bunch of characters to be in the box with. It was a blast. But there is one thing I noticed while I was at the race that kind of bothered me.
I can't believe how much more attention the Supercross class gets in comparison to the Lites class. I mean, I understand that the riders in the Supercross class have been around longer and are more experienced and all. But sometimes the Lites have the better races to watch. I know they're closer to my age and what not, but I really do think that - all biases aside - the Lites class deserves a little more attention than what they get. There's some awesome talent in that class that a lot of people don't recognize and should. The third and fifth best lap times of BOTH the 250s and 450s were Lites riders. There's some real up-and-coming talent and I'm intrigued to see where these guys will be once they come up to the more popular Supercross class.
I wish I could go to every race every weekend. But, sadly, I don't have that kind of money. However, this college student isn't super poor, so I will be going to A2 in three weeks! If you're there, shoot me a tweet (@heyitshales), or find out where I am by checking out my live Twitter updates for MX Insight (@mxinsight). Otherwise, I highly suggest forming a watch party for all of the races. After all, racing is a lot more fun to watch with friends.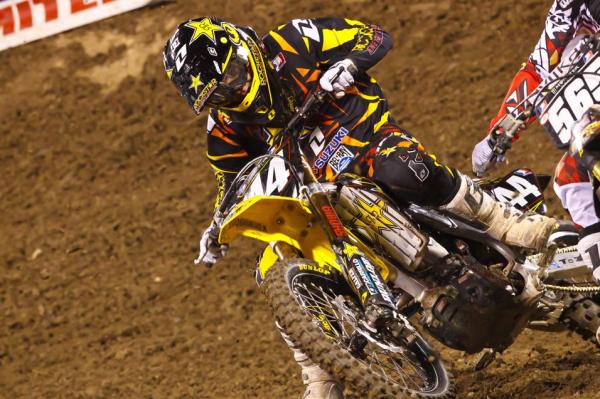 Can Jason Anderson improve on his seventh place finish at the season opener?
Photo: Simon Cudby
And now back to DC with some random notes:
As we continue to kick off Monster Energy Supercross season in style, don't forget about the 3rd Annual Ricky Carmichael Daytona Amateur Supercross coming up March 11-12 at Daytona International Speedway. This unique event was created around the campfire one evening at Loretta Lynn's as Ricky, Jeff Emig, Tim Cotter and DC reminisced on amateur motocross stories from back in the day, including the old Daytona Amateur SX of the eighties. The suggestion from Carmichael himself, a native of Florida, was to bring the amateur event back to the oldest Supercross race of all. Why not let youth, amateur and vet racers come out and watch the Ryans, the Chad Reeds and the James Stewarts battle it out on Saturday night, and then get out on a world-famous Supercross track the very next day?
Well, here we are, three years into the event and it's only getting bigger. The inaugural event was a success, pushing the races to expand under the lights of the Daytona SX track and after last year's entry numbers, the Ricky Carmichael Daytona Amateur Supercross is turning it into a two-day event, with racing on both Sunday and Monday, and a huge pit party on Sunday night featuring RC and friends.
"I remember as a kid, I always wanted to race at Daytona but I never could because I wasn't sixteen," recalls Carmichael. "Now you don't have to be sixteen to race there; you can be any age!"
Unfortunately, the expanded schedule leaves no time for RCU, but it seems like Carmichael has his mind set on taking the school elsewhere this year and plans to announce that as soon as the details are worked out (and it's going to be incredible). Ricky is really enthusiastic about this event, not because his name is in the title, but because he grew up on the very same amateur racing scene that makes up the core of American motocross, and it means a lot for the 15-time AMA Motocross and Supercross Champion to stay involved. He's pretty passionate about giving amateur racers new and exciting opportunities that weren't possible when he was coming through the ranks. Information on the RCSX can be found at www.mxsports.com and here's a direct link to the registration page.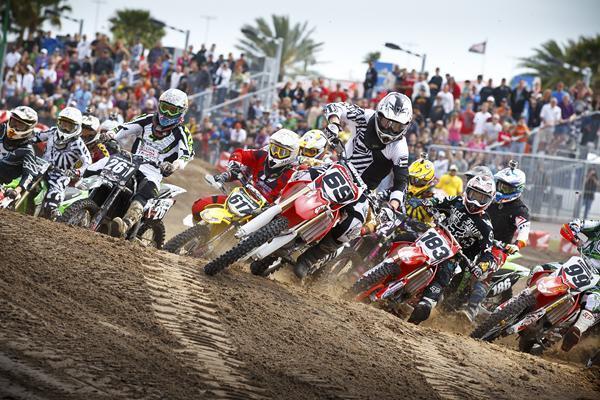 The 3rd Annual Ricky Carmichael Daytona Amateur Supercross will take place on March 11 and 12.
Photo: Simon Cudby
Okay, the AMA Pro Motocross preliminary rules went out and with it the news that the WMX would be going to a one-moto format due to the time constraints of fitting them into a one-day program with the 450 and 250 class. Needless to say, I got some grief over the decision, which is what we needed to do to get the girls back on TV where they belong.... Here's what I posted on the Vital MX forum:
It's no surprise that this is a polarizing issue, and I accept full responsibility for the change. There are several reasons why we made the decision:
- The day is too long for the TV production crews, well over 60 people, and when it pushes into overtime, it goes into five-figures over budget. So they quit showing the WMX all together because they couldn't afford to stick around for the last moto, because when you add in set-up, camera distribution, satellite time, lack of track maintenance time, and the crowd leaving before the girls ran the last moto, it just wasn't working. And the track was at its most brutal, which was not a proper showcase for the girls anyway.
- In my opinion, one twenty-minute moto on TV (with some lifestyle features) makes more sense than two 15-minute motos not on TV. And the idea of pushing the first moto into Friday means no TV as well, plus limited time to get the track ready for the actual national -- the main event for the vast majority of the fans and sponsors.
- For those who wish Miki Keller was still in charge, I am with you. But back then the girls used to race on Saturdays during the men's qualifying, when there was hardly any crowd there, and they got zero TV. Now they will have the center-of-the-program moto, and a TV show. It was good enough for the several girls I spoke to and their sponsors, but obviously not everyone here or in the pits.
- The idea of adding a consolation race for the 250 and 450 class to give everyone a chance to actually race and the top three a chance to go onto the main with the 37 guys who transfer through time training was also an important change for the majority of the fans and many of the privateers who otherwise don't get a chance to be behind a starting gate at all.
Finally, if this doesn't work, we will go back to the drawing board. We will not stop trying to improve this championship for everyone, nor will we stop making the hard decisions that not everyone will be pleased with. If you have any questions or suggestions, my email is DC@mxsports.com.
Our friends over at Unadilla had a very big announcement this week. In case you missed it, click here to read it. The announcement is an all-new vintage event that is planned for the first weekend of June (June 1-3), and should be very cool. The event, called MX Rewind, is modeled after other successful vintage events such as Barber and Mid Ohio, but instead will have more of a focus on the sport of off road and motocross.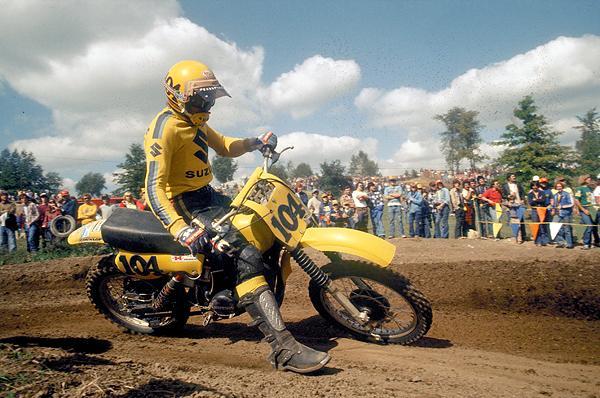 While they are planning plenty of racing, with both MX and cross-country, the Robinsons (owners of Unadilla) are planning lots of other activities, with the goal to make the weekend a laid-back and fun weekend where fans can celebrate the sport of Motocross, even if they don't race. Racer X will be involved with this event, and we are working on some cool plans that should be fun and entertaining for everyone!
And yes, the other side does suck!
Okay, that's it for Racerhead. Thanks for stopping by. See you at the races.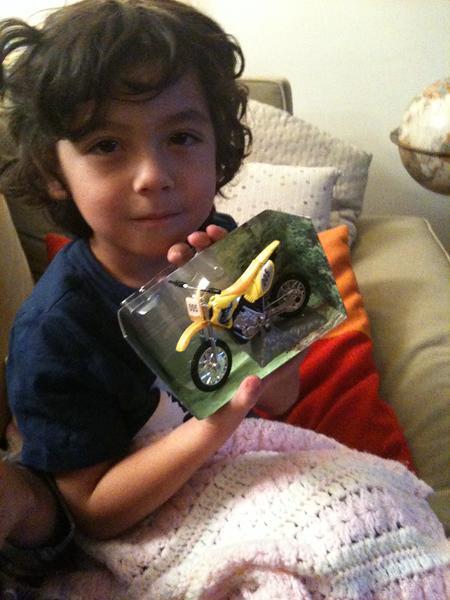 Phoenix Rodriguez