Chase Field
Phoenix

,

AZ
Phoenix
Monster Energy AMA Supercross Championship
Author: Georgia Lindsay
After seeing his share of struggles throughout his rookie season, former AMA Horizon Award winner and current Rockstar Energy Suzuki rider, Jason Anderson is looking for redemption. A bizarre start to the Lites West main event last week (the gate failed to drop within the 15-sec time period) at the season opener in Anaheim left the New Mexico native dead last to begin the 2012 season. But Anderson was able to carve his way through the pack on a tough passing track to finish the night seventh—salvaging his season. We caught up with Jason earlier this week to talk about the season opener.
Racer X: Good job at A1—great way to start the season. Talk us through the heat races to start off with.
Jason Anderson: It was kind of a mess. I got a decent start, I was in fourth, then the dude next to me fell into me. I hit that pileup, got around the track, hit another pileup, was hitting dudes' bikes the whole lap. I made my way up to seventh. I was running pretty good lap times and was content with the seventh from where I started off from. Then in the main event I got real messed up on the start, was held a lot longer than usual, and I was dead last but just put in my laps and made my way up to seventh.
Everyone has been talking about the start and riders putting their heads up, thinking there was something wrong. Did that confuse you?
Well, yeah. I was pinned the whole time. You look at the TV coverage—you see Sipes look up, Tomac look up.... I was just chilling at the gate when it dropped. I thought they were going to red flag it, and it jacked me up. I mean, I was dead last. I kind of chilled all the way until the finish because I thought it was going to be red flagged, but it wasn't, so after that I just had to put my head down and charge up to seventh.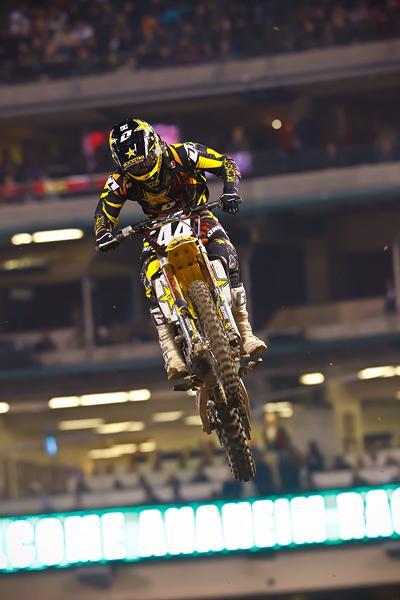 Anderson charged back from a last place start to finish seventh at Anaheim.
Photo: Simon Cudby
The Lites class is pretty packed, and you came from last to seventh. Did you expect these results before the season?
Yeah. I mean, I know my fitness is good and I could put in fast laps; I just needed to put it all together. Honestly, seventh is good for me, but I know the way I can ride, and it was better than seventh. Coming into it I would have been okay with seventh, but after the night, I was not okay with seventh. But all in all it was good.
You've been working hard with your trainer, Randy Lawrence.
Randy is awesome. He started with me at my lowest point of my career; he stuck with the whole way through. We just kept building and building and building. I'm pretty excited to be where we're at. We're just doing work right now, and hopefully we can improve on that and come out with some top-fives, maybe step onto the podium. I would be more than happy with that. I try and be eager every time I go out and ride and I'll be real happy.
After winning the Horizon Award, do you feel added pressure to make it to the top like other guys who have won the award?
It's definitely not going to be easy. Being a motocross rider, you have to give up a lot. Especially being 18, it's pretty tough living in California by yourself, the whole scene ... it's just tough. You kind of have to give it all up, and if I'm going to give up, I'm going to give 100 percent. I'm going to put my all in it and not stop, keep charging, be eager, and do everything I can.