Phoenix, AZ
Phoenix
Monster Energy AMA Supercross Championship
At one time, Billy Laninovich was a hot prospect on factory teams radar. He has ridden for Factory Connection Honda, Factory KTM and the last time he raced he was a fill-in for Factory Kawasaki. Turning pro in 2002, he has had many ups and downs with injuries, but many people might not remember that in 2005, he won the San Francisco Supercross
—
in the 125cc class! Billy most recently made his return to supercross as a privateer and qualified for Anaheim 1, finishing a respectable fourteenth. We tracked down Billy to find out where he's been and how things are going.
Racer X: Billy, welcome back to supercross! Where have you been?
Billy Laninovich: Thank you. I've just been in SoCal doing my LanoMX training schools for the past year.
How has that been going?
It's been going really good. It's hard out here because there are so may people that train kids, but I was able to stay really busy with my kids.
I think I read somewhere that you we're a Kawasaki test rider?
Yeah, I was a test rider in 2009 and a little in 2010.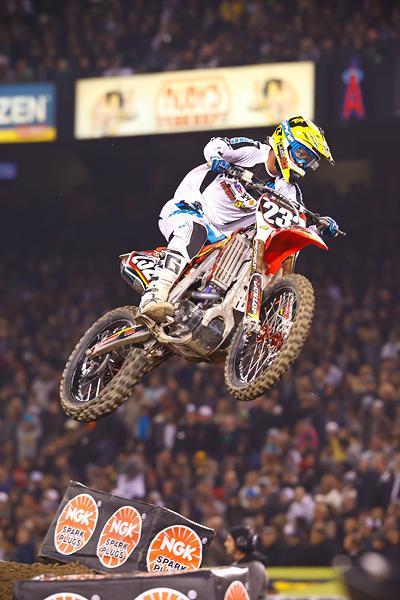 Laninovich made his return to racing last weekend at Anaheim.
Photo: Simon Cudby
So what made you decide to come back to racing? The only thing I've seen of you is some pictures of big whips while free riding.
Well I had no idea I was going to race again till about three weeks before Anaheim 1. I had been riding a lot with my riders and going to the hills and play riding. Playing riding is what I love to do. I got a call and was asked if I was interested in racing again. So I went and tested the bike and I loved it. It was a full Pro Circuit bike. Then I started putting in a lot of laps at the SX track trying to get in the best shape I could before the first race.
How long has it been since you raced supercross? Didn't you fill in on Factory Kawasaki?
Yes. I filled in for Tim Ferry back in 2009. I did five races for them, then in practice in Vegas I had a crash and broke my collarbone. So it's been two and a half years since I've raced.
So how did it feel and how did your day go?
It feels so good to be back racing. You have no idea how excited I am to be out there! I have a really good group of people around me and helping me out. I'm taking this opportunity as a second chance, I'm putting everything I possibly can to succeed and get my career back on track. I'm doing what I love most, riding my dirt back and having a blast at it!
That's great to hear! What kind of support are you getting?
Jentronics racing is paying my entire racing expenses and getting my bikes all dialed in. I don't have any factory help, but my bikes are really close.
Where have you been riding and training?
I've been riding at Milestone and Starwest. Don't really have a big selection to ride.
You have been on a lot of great teams, how different is it coming back as a privateer and competing against the top guys?
It's a lot of hard work. The only thing we are missing is testing; when you're on a race team you are testing for weeks to get your bike working at its best. I've been given a bike to ride and that's it. I have to say my race bike is damn good though for no testing.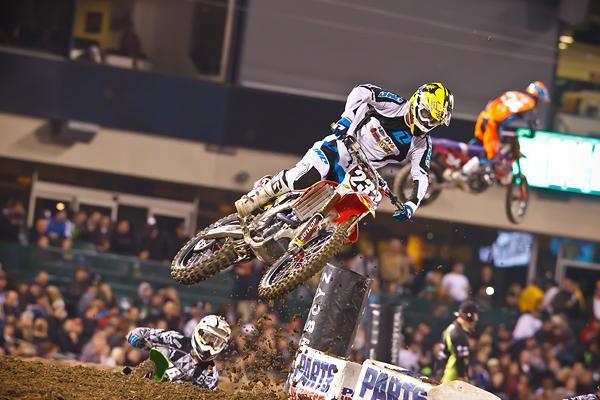 Laninovich finished a respectable fourteenth in his first race in two and a half years.
Photo: Simon Cudby
You have pretty much been a factory rider your entire pro career. How do you like it at the races now that you are doing your own thing?
It's different for sure. When you are factory you have every resource out there to make you better on the track. You have a suspension guy, motor guy, and many different parts if you need. Now I have my bike and I have to make it work the way it is.
I mean at the races, how much different is that?
The only difference is we don't have a semi and lack of resources that factory riders have. Other then that I love it. It's low key.
Sounds good. So what's your plan for the rest of the series?
My plan is to have fun and get better and better every race. My goal is to get on the podium by the end of the year.
I hope to see that! Thanks for your time. Is there anyone you'd like to give a shout out to?
Thank you Chris. I would like to thank Jentronix racing, everyone that is part of our team has been working so hard for me. VIP all access energy drinks, ONE Industries, Garne, Spy Optics, Truth Soul & Armour, Dunlop, Maxima, Pro Circuit, Leo Vince, Ap Designs, and my Lord and Savior Jesus Christ for this opportunity and all his blessings with it!