Bevo Forti Joins Forces With 100%
As previewed exclusively by industry insiders in the Anaheim pits, 100% is proud and excited to announce that Bevo Forti is joining the new goggle venture.

Regarded as one of the most recognizable and respected men in motocross, Bevo has amassed 40 years of experience in the industry.

Forti bought his first motorcycle, a Suzuki Savage, in 1970 and has been hooked ever since.  He quickly hit the amateur racing circuit before becoming a mechanic for privateer John Savitski in 1972.  Beginning in 1978, Bevo worked as a mechanic for Factory Yamaha until he joined Scott USA in 1981.

Bevo has spent the last 30 years in the development, sales and race support of Scott USA's goggle line.  Throughout his tenure, Bevo has worked closely with the likes of Bob Hannah, David Bailey, Jeff Stanton, Mike Larocco, Jeremy McGrath, and Chad Reed, to name just a few.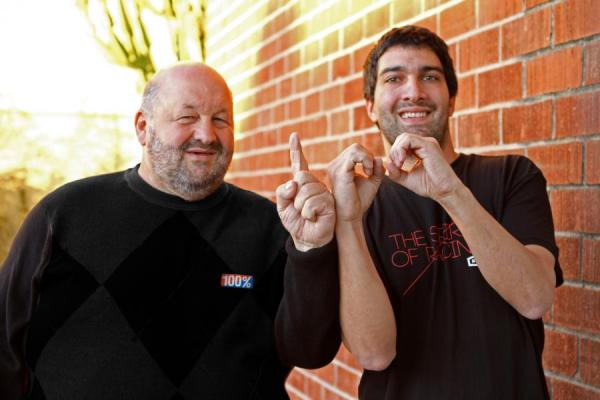 As 100% launches a new line of premier motocross goggles this month, Bevo brings a wealth of experience to the team.  He will play an integral part in the brand positioning, dealer and rider relations, and the development of new products.

Bevo understands what it means to give 100% as evidenced by his longtime passion for motocross.  He has logged nearly 2 million miles in the air and countless hours on the road, attending over 1500 motocross events throughout his impressive career.  His dedication has been recognized with the SFX Supercross Lifetime Achievement Award.

Bevo's son, John Kuzo, who has grown up on the circuit and has built years of experience in rider service and support is taking the position of Rider Support Manager for 100%'s pro and amateur athletes.

National Sales Manager Chris Favro rounds out the team and will apply his experience to execute a successful relationship with Parts Unlimited, which will serve as the exclusive U.S. distributor of the new product line.

Some of the collection can be viewed online now, with a fully enhanced and interactive website to be launched on February 1st in conjunction with worldwide product delivery.

About 100%:

The 100% brand has always been synonymous with motocross Americana and has been linked to many iconic moments that have built the roots and history of what is modern motocross.

The roots of the 100% brand date back to the early 1980's when the popular logo graced the factory racing equipment of the biggest names in motocross.

Thirty years later the passion for the spirit of racing remains.  Today, 100% is about to inspire a whole new generation of racers and ask them the original tag line, "How much effort do you give"?

The new Spring 2012 collection of 100% premier motocross goggles and accessories will be available worldwide February 1st.

100%.  The Spirit Of Racing.

For more info, contact info@ride100percent.com

www.ride100percent.com