Stewart on Dunlops at Anaheim?
Chase Field
Phoenix

,

AZ
Phoenix
Monster Energy AMA Supercross Championship
Earlier this evening our colleague Steve Matthes posted a developing news story on ProMotoTalk.com
http://promototalk.com/rumor/last-year-it-was-traction-gate-year-its-tire-gate
regarding the rumors that Pirelli-backed
James Stewart
had experimented with Bridgestone and Dunlop tires during practice at Anaheim 1. Matthes promises more details in his Observations column later this week, but we have uncovered more details in the story tonight.
Racer X has obtained photos that prove Stewart was indeed running a Pirelli front tire and a Dunlop rear tire in the third practice, where he set the fastest qualifying time of the day. [Note: our original report stated that the photos were supplied by Dunlop--that is not the case, Matthes sourced the photos himself]. He also ran a Bridgestone front tire in an earlier practice. Stewart went back to using Pirellis for the night show, where he won his heat race but finished sixth in the main event.
Sources at JGR explained to us that the tire switch was done to eliminate one major variable in set up. The Anaheim track was far different from anything the team had tested on, so when Stewart thought the bike set up was off, they were willing to put him on a familiar tire (Stewart has run Dunlops and Bridgestones in past seasons) to make sure the Pirellis were not the problem. Consider the familiar tire brands a constant in the equation. After the practice, the JGR team willingly returned the tire to Dunlop (after Dunlop asked for it back), and ran Pirellis on the front and rear during the night show. And even though Stewart did log the fastest practice lap on the Dunlop, the team insists the different rear tire was not the magic bullet that saved his lap time—if it had been, the team says they wouldn't have been so willing to return the tire to Dunlop after the practice session. Also, while Matthes' original report did state that Yamaha's Keith McCarty returned the tire to Dunlop, the JGR team says the decision to try the Dunlop was entirely theirs. McCarty was not involved in that decision.
As you would expect, Glover and the Dunlop crew aren't happy because Stewart's tire was a works tire, which is the official property of Dunlop, and since JGR is not sponsored by the brand, they're not supposed to have access to that tire. How did Stewart get the tire? Most probably, it was one he had from 2011.
Today, Stewart tested tires in California with technicians from JGR and Pirelli.
We'll have more on this story if any further news develops.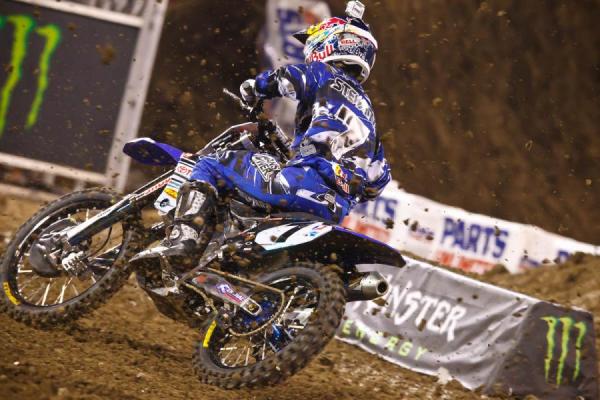 Stewart in the Anaheim 1 main event.
Cudby photo