The dance is the same every year. Everyone is pumped. Everyone is excited. Everyone is hyped up. Anaheim 1 is Christmas Day, New Year's Eve and the first day of school all wrapped into one. Everyone is excited as hell and can't take it anymore!
Except for the most important people in the room. They are not excited at all. Amidst all the hype and super pumped-ness, the top riders in the series march up to the stage for a pre-season press conference. And then, the event becomes a snoozefest. Doesn't matter who  is up there, the riders just never buy into the hype. They always downplay it.
Then people bag on them for it. "Why can't these guys get more pumped up?" you'll hear. "Why are they so afraid to talk trash?" they'll say. "They need to have media training," is repeated.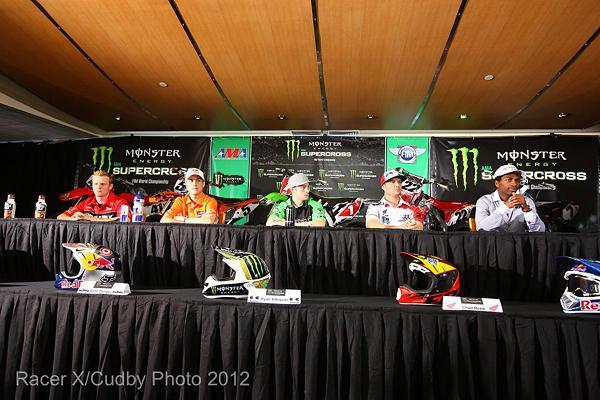 All the top riders usually downplay the significance of A1 during the pre-season press conference.
Photo: Simon Cudby
Well, here's the situation. The riders are not anti-hype because they don't care about the race, because they don't have a personality or because they want to drive us crazy. They do it because it's their job to not get excited about this race. For them, it's a long season. For them, hype equals nerves and stress. Better to downplay everything, pretend the first race doesn't matter, and make sure anyone who thinks otherwise is too dumb to understand.
For those of us on the outside, we see Anaheim 1 as an explosion, a line shooting straight up. For the riders hoping to win a title, they need to see the season as a straight horizontal line—you don't want to get too high or too low during a long championship slog.
But those who aren't racing for a championship don't want to hear about a long slog. We want our answers quickly! We want them by Saturday night at Anaheim! But the racers can't have that. They know their season will actually be defined by rounds 2-17, just the same, and they can't afford to grab the mic at A1 and say "it's win or go home in 48 hours." Because what if they get beat? Imagine, if  Ryan Dungey, Chad Reed or James Stewart said Anaheim 1 was a must win? How bad would you look now? Instead, it's hey, Ryan Villopoto dominated? Who cares? We already told you the first round was just hype, and it didn't really matter in the first place.
The push and pull continues. The more the fans and media ask for hype, the more the riders try to douse it. At one point, press conference host Jeff Emig started describing what the Anaheim supercross meant to him as a racer, and how special it was to be a part of it. When he described watching the 2003 event from the stands, knowing he'd be a spectator for life and a supercross racer never again, he began to tear up. Then he lost it—pausing to keep the tears back. Looking back, Emig knows how special it was. And make no mistake, it's a special event for today's riders too. Deep down, they know there is nothing else like Anaheim 1. But while they're still racing, the goal is to take the emotion out of it. Better to tamp down those nerves and uncertainty by saying it's just another race. So the dance begins. They give us nothing, we ask for more, and they give us less.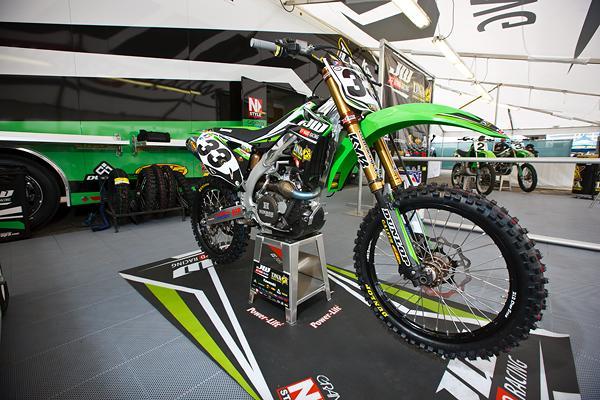 Josh Grant made his debut for JWR at Anaheim 1.
Photo: Simon Cudby
More new teams keep entering the field, even though there is less money to go around. And for these new teams—or even old teams with new staff or riders—Anaheim delivers something they could not prepare for. Many teams admitted that they don't really know what they have until they're in the trenches together. We all know that when it comes to testing and training, the practice track is one thing, and the race track is another. But that's just the riders and the bikes. Team personnel also has to gel when it really counts, when time is of the essence. It's easy to swap parts around in October when you have 10 hours of daylight and another test day tomorrow, but this is race day, part 1, and compared to a test day, this is a fire drill.
You could see it all around. Paul DeLaurier, Team Manager for the Jeff Ward Racing/DNA Energy Kawasaki team, told me how pressure changes everything. Chad Reed, the owner of, well, his team, explained how much he learned seeing his new team members Mike Gosselaar and Sergio Avanto in the trenches together for the first time. Reed has been working with his new hires for months, and he'd even worked with Goose before. But it's always different when you're working as a collective unit on race day for the first time.
And over at the JGR truck, man, was there a scramble. On Friday, especially, that truck was a beehive of activity, with parts and people and bikes everywhere. Lot's to do over there, and then on Saturday, the whole place had a different atmosphere than 2011 because of the absolutely massive autograph line piled up for James Stewart.
DeLuarier and the JWR team have actually been working together for quite some time—this was the team known as L&M racing last year (only now minus Larry Brooks). Reed only added two staffers to his team, and they're both experienced hands. And both JGR and James Stewart have been racing plenty of times before. But it was a new mixture all around for these squads, and the first race was a real test for how everyone will perform when the pressure mounts. I'm sure the story was the same for any other team with big changes, like the new L&Mc racing (the official name of Brooks/McGrath's supercross.com team), or the revamped MotoConcepts outfit, or the merged Rockstar Valli-Star Yamaha team. The riders can deny the pressure of Anaheim all they want on Thursday, but when it comes to crunch time, for the first time, everything changes.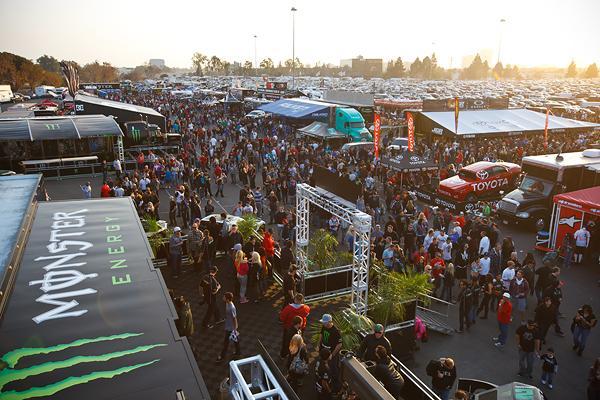 The atmosphere at A1 is quite a bit different than at the local test track.
Photo: Simon Cudby
And that's the irony of the whole dance we dance at every season's pre-season press conference. As much as the riders try to deny the hype, nerves and pressure, the reality always hits the same. This is not just another race, and the results prove it. Ryan Villopoto absolutely kicked ass on Saturday night. But he and his team have proven best at ignoring things like pressure and hype. They have a huge advantage there. Villopoto is never one for mind games. He doesn't have highs and lows, he just does his thing. He's the perfect specimen for Anaheim 1 success, and he's won the race two years in a row. There wasn't much new to mesh over at the Monster Energy Kawasaki rig, anyway. Even the new Team Manager, Dan Fahie, has been working with the team for the last few years anyway, so that squad has experience in the trenches together.
The riders want to downplay the Anaheim hype and Anaheim results, because less hype means less pressure, and less pressure makes for better results. But the real reason to shrug off everything you saw on Saturday is because of that pressure. Because try as they might, it's still there, and it does effect the results. Those who handle the atmosphere best do the best, but by as early as this weekend in Phoenix, things will be back to normal, the hype and pressure won't be as big a factor, and we'll be off to the races with more realistic results.
But then again, the "first day on the job" excuse won't be there for anyone anymore, either. Hmm. Maybe there's some pressure that comes with that, too.