Angel Stadium
Anaheim

,

CA
Anaheim I (A1)
Monster Energy AMA Supercross Championship
10. Anaheim 1983/1984:
How can you pick a winner between two years where the same thing happened? In 1983, Honda kid David Bailey wins his first career supercross by snagging the Anaheim 1 opener. He then held on for the championship. In 1984, Johnny O'Mara would win his first career main event at the Anaheim opener, and also go on to claim the SX title.
9. 1990: Newbies shock the establishment. Rookies Bradshaw and Matiasevich, the '89 champs of 125 East and West SX, respectively, immediately establish themselves on 250s by dueling for the win. Imagine how crazy it would be if Tickle and Barcia ran away with Anaheim 1 on 450s this Saturday night! Then, later in the 1990 race, Jean-Michael Bayle gets in the mix for the win, and the Frenchman is also beginning his first full season of AMA 250 SX competition. Bradshaw, JMB and Chicken go 1-2-3. Superstars Johnson, Ward and Stanton are non factors.
8. 1977: Hurricane warning! Bob Hannah blitzed the 1976 AMA 125 Nationals, then sets his sights on the '77 250 SX Championship. He wins the Atlanta opener and goes on to take the title, his first of three straight.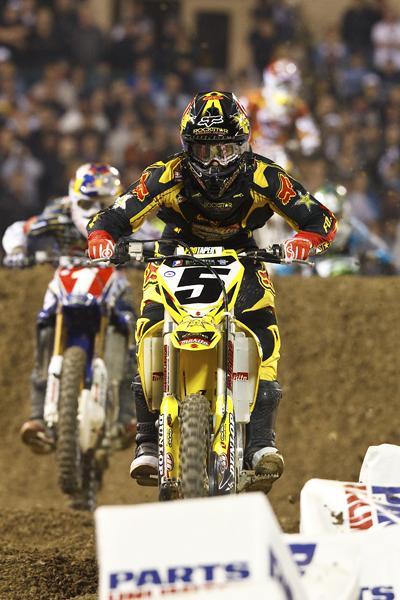 Dungey and Stewart engaged in an epic duel in 2010.
Photo: Simon Cudby
7. 2010: A superb 20-lap duel between defending SX Champ James Stewart and 450 rookie Ryan Dungey. What is it about rookie riders at the opener? Dungey leads most of the way, Stewart passes him late, then Dungey launches a last-lap charge and almost gets him at the finish. Stewart holds on by a few bike lengths.
6. 2002: A highly-anticipated McGrath versus Carmichael showdown ends badly for both. Carmichael's AMA SX debut on a Honda ends on the Asterisk Mobile Medics' cart after a hellacious endo, while McGrath struggles with arm pump and finishes way back. The winner? David Vuillemin. And James Stewart almost steals the show in the 125 class in his first pro race, coming from way back. Up front in the 125s, Chris Gosselaar pinned it in the whoops hoping to pass Rodrig Thain, only to rear-end him and knock them both down. Travis Preston would win that race.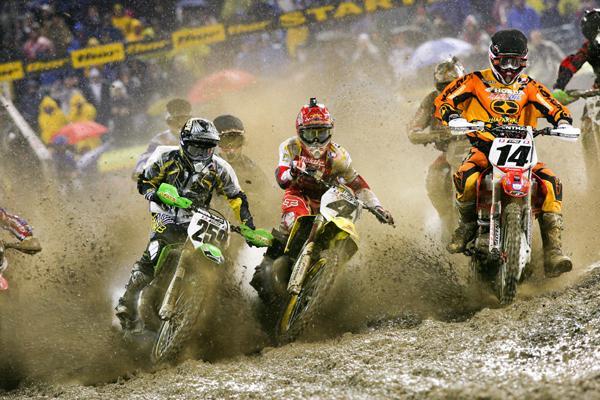 Kevin Windham won the opener in a mud-fest in 2005.
Photo: Simon Cudby
5. 2005:
The Perfect Storm has a perfect ending when
Kevin Windham
of all people emerges as the winner after big, sloppy crashes and problems by RC, Stewart, McGrath, Pastrana, etc. A epic group of talent on the gate that night.
4. 1997: Jeremy McGrath switches from Honda to Suzuki about a week before the race. Gets run into by his ex-teammate Steve Lamson in the main and finishes way back. But another Suzuki gets the race win, with Greg Albertyn taking his first and only career W in SX. As the Cycle News cover blurb says "A Night of Surprises!"
3. 2009: Josh Grant wins after a big crash in the whoops between Stewart and Reed that also takes Windham down. Grant has a tuff block cover trailing from his bike and it almost causes him to seize up. It's the first-ever (and so far, only) SX win for Grant and the JGR Yamaha team.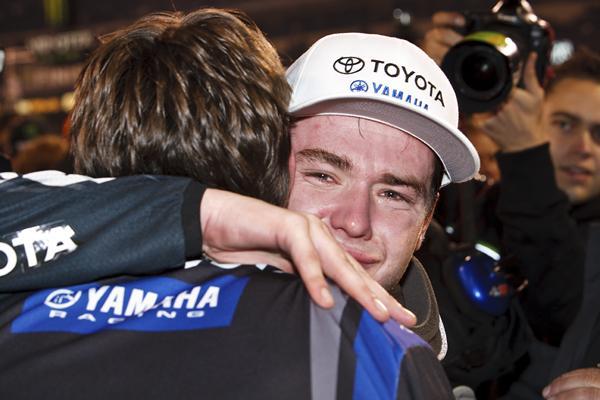 Grant celebrates after an improbable win in '09.
Photo: Simon Cudby
2. 1998: An even bigger shock than '97! On a muddy night in LA, Sebastian Tortelli comes from so far back to win that TV announcer Art Eckman thinks he's a lapper! Doug Henry leads most of the race on in the production YZ400F's maiden voyage until stalling it late--and those four strokes could not be restarted quickly back then. Like Albertyn a year earlier, this would be Tortelli's first and only SX win.
1. 1986: The epic David Bailey versus Ricky Johnson duel. Many say this was the best supercross race ever, and it was so good that the SX folks recreated it with an Anaheim retro night in 2008. One-on-one battes don't get any better than this.