Angel Stadium
Anaheim

,

CA
Anaheim I (A1)
Monster Energy AMA Supercross Championship
Yesterday we ran down the status of the wild card pack of 2012 Monster Energy Supercross. Today, we look at the dark horse contenders. If you were buying stock right now, they may be a notch below the group of riders who have an AMA Supercross title to their name. But the potential is there to do grab some podium hardware if things go right.
Today, Dark Horses Part One: Andrew Short, Jake Weimer, Justin Brayton and Trey "Wish we could have put him on the list of contenders" Canard. Tomorrow, part two, starring Kevin Windham, Brett Metcalfe, Ivan Tedesco and Davi Millsaps.
Two surprising facts here. 1.) Justin Brayton has risen from obscurity in the AMA Arenacross Series all the way up to a factory ride on the most revered team in the sport. There's now a direct link between Brayton and the O'Mara/Bailey/Johnson/Stanton/Bayle/McGrath/Carmichael superstars of the past. (And Trey Canard, Chad Reed and Kevin Windham have proven the modern-day Honda is solid, too). 2.) Brayton has not only risen to Team Honda status, he also appears to be many people's pick as the "next guy" behind the fast pack of champions out front. Just yesterday, Speedtv.com listed him as their number-five pick for the new season. And a guy like Brayton has to be really good to become a pre-season favorite, because he doesn't do anything to generate extra hype and attention. Belief in Brayton is based totally on what he does on the track, and usually guys with that kind of persona get overlooked. This was a rider who even wore a "quietly" buttpatch last year after we media types continually used the word to describe his rides.
Not this time. There is buzz for Brayton. The Honda/Brayton situation seems to mesh because he's a rider that will try and do anything to get better, on a team that will do the same. Plus, he has improved so much from his Arenacross roots that it's easy to believe he'll keep climbing. He's routinely one of the first riders to put a number up on the fast lap board in qualifying. He's won a couple of heat races. He picks up tracks quickly. He's in great shape. And his desire makes him fairly immune to pressure—he won't lock up under 2012's expectations. Now he needs to pick up his starts, and put the pieces together.
What to watch for: In this sport, you win races because you want to win. You also finish fifth because you want to win, but there are just four really good guys in front of you. Brayton is not entering the season looking to finish fifth in points, he's aiming for wins and podiums. As a reference Brayton actually finished fifth (quietly) in the 2010 SX standings, and although he made huge strides in speed for 2011, he also crashed more and finished further back in points. Brayton knows this is his best chance ever, so if his first career win is in sight, he's not going to yield to anyone—he'll push over the limit if he has to. This could be a really good. Or really bad. - Jason Weigandt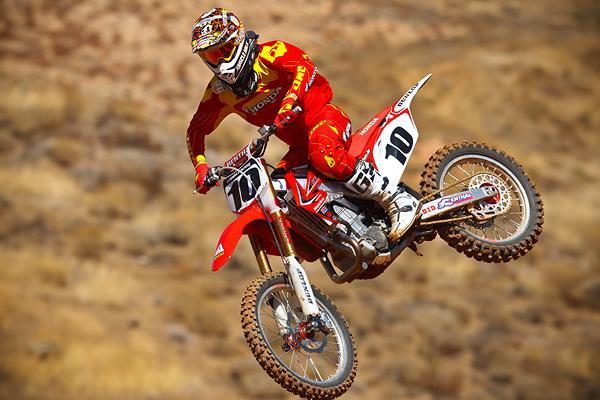 Brayton enters 2012 with high expectations. Can he live up to the hype?
Photo: Simon Cudby
In an ideal world, Trey Canard wouldn't be on the Dark Horse list. In an ideal world, the 2008 Lites East Champion and owner of three victories in his rookie SX season—against a field of past champions—would be headlining the premier class alongside Dungey, Stewart, Reed and Villopoto. In an ideal world, Canard would be on the starting gate for Anaheim 1. But we don't live in an ideal world. We live in a world where, sometimes, bad things happen to good people.
After overcoming not one, but two broken femurs in 2011, Canard was back on the bike preparing for his sophomore season in the premier class. But on a fateful day in early December Canard went down hard while testing, breaking his collarbone—his third major injury of the year—thwarting any chance of a title in 2012.
Canard is resilient and will push for a quick recovery, but will it be too late? Ryan Villopoto was able to overcome missing a round—DNQ at Jacksonville—to win a title in 2011, but it's hard to say how many races Canard will miss. And against this field, spotting everyone even one race is probably too much to overcome. This is just the latest in a long line of tough breaks for the young Oklahoman, but this one has to sting the most—as Canard is essentially out of title contention before the season even begins.
What to watch for: Although no timetable has been set for his return, and a shot at his first career premier class title seems out of the realm of possibility, expect Canard to pick up right where he left off whenever he returns—contending for race wins. Remember, he finished third at Spring Creek in his first race back after breaking his femur in supercross. – Chase Stallo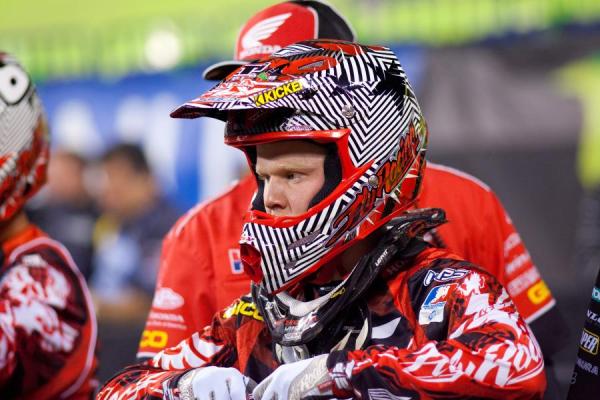 Expect Canard to contend for race wins when he returns from injury.
Photo: Andrew Fredrickson
Jake Weimer definitely hauls ass in supercross, of this we can be sure, but he's a dark horse this year because he has yet to show us what kind of an impact he can make in the premier class. During his last year on a Lites bike in 2010, Weimer cleaned up, winning four of eight regular season races on his way to the title, and capped the year off by dominating the Dave Coombs Sr. East West Shootout in Las Vegas. As a result, Weimer's name was mentioned frequently in the weeks leading up to A1 as a guy people were expecting to make waves. Then, he broke his arm just days before the season opener.
When Weimer returned to supercross that year with just two races remaining, he posted some pretty good results; a seventh in Salt Lake City, and a sixth in Las Vegas. That's not bad at all, especially for coming off the couch, and it's not crazy to assume that had he been running at race pace with the rest of the guys all year long, he could have done even better. This year, we finally get to see what kind of results a healthy Weimer can produce.
Working against him is the fact that 2012 is ridiculously stacked. Working for him, in addition to his talent and skill, is the fact that he's on the same bike with the same team, so a lot of the data that he gathered last year can be put to good use this year. That gives him a jump on some of the guys that are in completely new situations, like Josh Grant, Kyle Chisholm, Tommy Hahn, Andrew Short, etc.
What to watch for: It's funny how when a rider is on top of the world (like Weimer was after his 2010 supercross season), how quickly their good results are forgotten when they have a string of bad races (like Weimer was during a sub-par 2010 motocross season). After missing almost the entire indoor series last year, Weimer is coming into this season with a little less attention on him, and I think he's going to remind everyone just how good at supercross he really is. Look for Weimer to be consistently breaking into the top five, with the possibility of stealing a podium or two if some of the aliens at the front have problems. – Aaron Hansel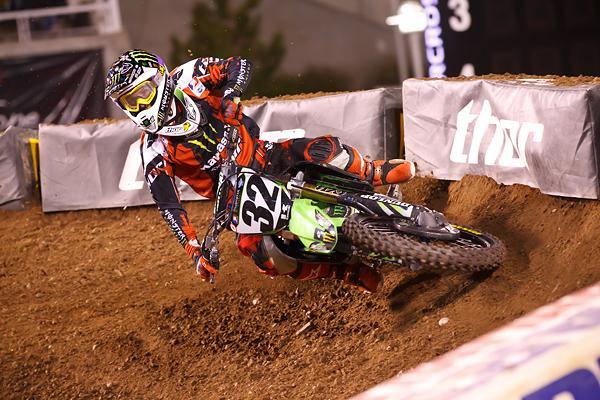 Can Weimer rebound from an injury plauged 2011 season?
Photo: Simon Cudby
Andrew Short is hoping to prove wrong the old saying about not being able to go home again. After a season that most thought was terrible but really wasn't (he was sixth in supercross points, which was more than respectable on a bike that was 100cc down to everyone but Mike Alessi), Short's got that familiar red fender in front of him once again. Riding for the Supercross.com Honda team, Shorty's got a full-factory Honda and hoping to return to the glory years when he was a podium threat every weekend. Short's got a bit of adversity facing him in the form of a bad crash in the motocross season that leaves him not quite at 100 percent going into the year. He probably hasn't had the time to get ready that he would have liked but sometimes that works in a riders favor.
One thing that is going to help out Short is the presence of team manager/owners Larry Brooks and Jeremy McGrath. McGrath's not going to be a factor every single day like Brooks but he'll be there for Short to bounce an idea off of. But Brooks, that's another story. Larry lives, breathes and eats the sport and with only one rider to focus on, I look for Brooks to get Andrew fired up and instill more of that fire that some say Short's been lacking.
What to watch for: It may not start the way he wants it to but look for Short to get stronger as the season goes on and make some podiums along the way. He might not get that elusive SX win in 2012 but he'll more than make up for his off-year. Plus, he'll be able to clear all the jumps on his 450! – Steve Matthes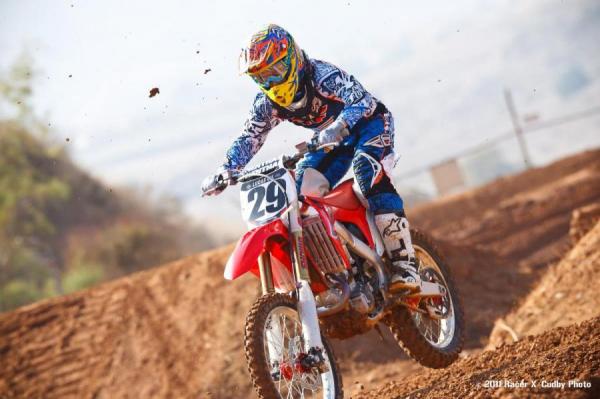 Can Short pick up his first career Supercross Class victory in 2012?
Photo: Simon Cudby