Welcome to Racerhead. I am writing this column while sitting in the Pittsburgh airport, getting ready to fly down South to check out some more possible new motocross facilities. The 2012 Lucas Oil AMA Pro Motocross Championship schedule is now out, and there is not a date or location for a return to the Southeast. Obviously, a lot of fans will be disappointed, but there's much more that goes into moving an outdoor national from one part of the country to the other, as I am finding out.
First, there's the basic facility requirements. The track needs to be about a mile long, preferably with some elevation changes, though flat has worked well before at the Freestone National in Texas and even the old Kenworthys round in Ohio, which some folks really liked but others did not. Good soil is also a must: If it's too rocky, like Unadilla once was, it can mean years of literally picking rocks off the track. My dad once picked a track called Appalachia Highlands in Keyser's Ridge, Maryland. It was a great natural amphitheater, and he found it in the winter of '75-'76, when there was snow on the ground. Much to his later regret, he did not take a shovel and dig down into the soil. It was practically a stone quarry. It lasted less than a year.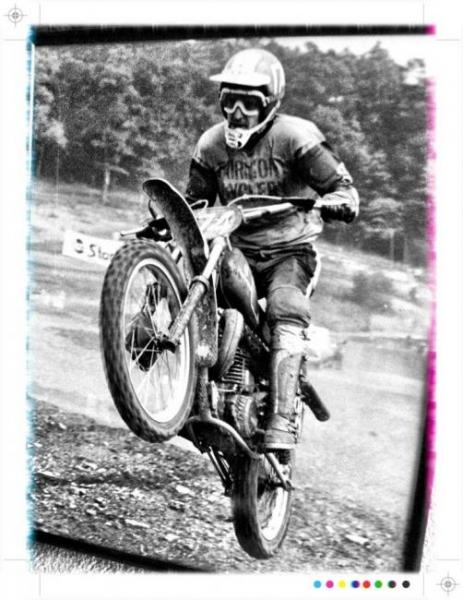 "Big Dave" Coombs, racing his Husqvarna back in '74 or '75. We honored him on our countdown to the kickoff of American Motocross as Day #174. You can see more on the American Motocross Facebook page.
Today's pro pits require 10 acres of flat parking; nothing gets the semi drivers more worked up than uneven parking. The drivers also prefer a decent, wide road to get to the track. Among their least favorite drives on the current schedule is High Point Raceway, which happens to be my hometown race, because the roads leading there from Morgantown, West Virginia, are all tight and twisty. Same goes for Spring Creek in Minnesota, though it's not nearly as sinewy as the roads to High Point.
As far as spectator amenities go, paved parking, flush toilets, and decent cell-phone reception are preferred, but that can all be difficult considering that motocross by its very nature is a rural sport. Tracks have a better chance of surviving if they aren't next to a housing project or a neighboring business that hates noise or dust. But you don't want it to be out in the middle of nowhere either.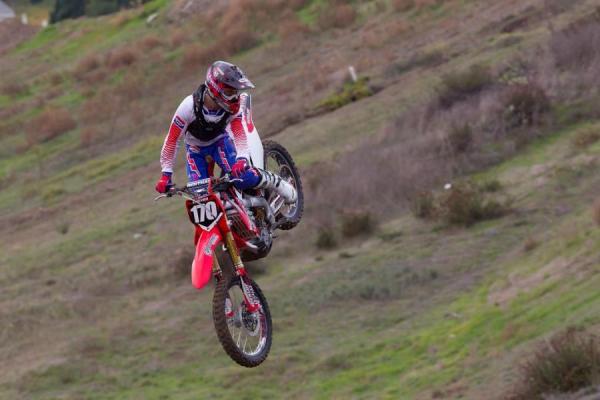 My friend Michael Leib was #170 on the countdown this week on American Motocross FB.
Photo: Carlos Aguirre
Weather is also a consideration, both for Monster Energy AMA Supercross and Lucas Oil AMA Pro Motocross. By contract, the SX tour runs from early January to the first weekend in May, and that means the threat of winter snow or spring rain in much of the northern part of the country. So the series is run primarily in the southern half of the country. Motocross, on the other hand, must take place between the end of May and the beginning of September, and that can make for a long, hot afternoon in the deep summer. That means any new national in the South would preferably be early in the schedule like Freestone, which can be very hot.
And finally, there is the matter of limitations. There is only room for twelve rounds in the series, and many of the rounds—Hangtown, RedBud, Unadilla, and Southwick, for instance—have been going strong for more than three decades. It takes a lot of investment in resources and manpower to make a major motocross race work for that long, and that in turn requires the security of a longterm outlook.
No one wants to give up their events for the sake of new territory. Race dates have been sold before—Thunder Valley in Colorado bought out Kenworthys, and Broome-Tioga dealt their event to Freestone—but rarely has anyone just given up a race (Glen Helen is the only one that comes to mind, and that was to host GP races instead).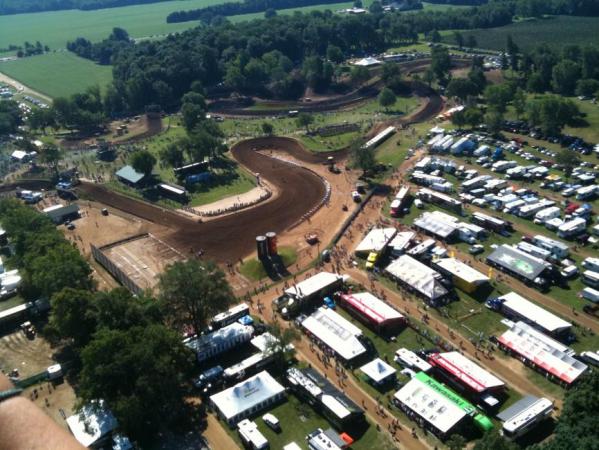 Motocross tracks like RedBud require lots of room—and a specific type of room.
There's more: permits, restrictions, ingress/egress, nearby hotels and restaurants, local traffic flow, multiple T1 lines for the TV and satellite trucks … it's really too much to list. The point is that it takes a big area and a lot of considerations to build an event of this magnitude—certainly more than I thought when I set out to move a race to the Southeast. We can't move a race until one goes away or decides to sell or move. Nevertheless, we are still trying. Barber Motor Speedway in Alabama, Durhamtown Plantation east of Atlanta, Bremen on the west side, Paradise Park near Macon, Silver Dollar, Atlanta Speedway, Aonia Pass—I've been to them all, and more. Things are bound to work out with one of these places to become the new home of a pro national in the Southeast. It's only a matter of time now.
On the schedule today? Tom Brinkman's Monster Mountain, near Auburn, Alabama. It's a track I have heard rave reviews about and have always wanted to visit, and Tom has been patiently awaiting a chance to show us what he's got going on down there. I may even get to do a little riding. I may also be visiting a spot Alan McWilliams has in mind nearby.
After a month of voting, we're excited to announce all four finalists of the 2011 GoPro/Racer X Amateur Film Festival. Week 4 winner Brandon Biro joins finalists Robert Slate, Nick Gust, and Ian Gutierrez, in one last battle for all the marbles. And by all the marbles, we mean some pretty awesome prizes from GoPro, Answer, MSR, Pro Taper, and Racer X. Your votes will determine the finishing order. Go to the GoPro/Racer X Amateur Film Festival page and vote for your favorite video today. Remember, you can vote once per day.
One thing I missed was yesterday's sneak preview of the new Lake Elsinore MX Park in Southern California, but I have already been there a few times to see the astonishing amount of work Marc Peters and the Nanci brothers have put into this potential new mecca for motocross. It's less than a mile off Interstate 15, smack-dab in the epicenter of the Southern California motocross industry. It's also an iconic name in our sport, having been featured in the film On Any Sunday when Malcolm Smith and his pal "Harvey Mushman" (Hollywood legend Steve McQueen) raced there in the film's climactic scene. I will let Ping discuss it more later on, but here's a gallery shot by our man Matty Fran.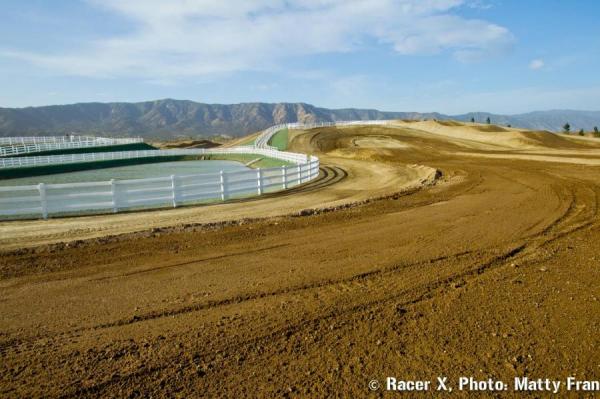 The new Lake Elsinore MX Park.
Photo: Matty Fran
In other news this week, the Loretta Lynn's class structure was announced and it finally has a Two-Stroke class for those who prefer smokers (this means you, Newmann and Burn). I'm not sure how the class will do, but I hope it either gives the movement a boost or at least provides a fun, exciting class. I know I'm going to try to qualify in it!
The lack of a separate class for +45 and +50 Seniors and Masters came with a less positive response from my older racing brethren. There simply aren't enough folks out there to justify two separate divisions for those men, nor is there enough time in the runs-like-clockwork Loretta Lynn's weekly schedule, so a staggered gate (30 Seniors, 20 Masters) is the best we can do right now. Maybe we can get just a "Vet" week going down there or something and really give the vet riders all they want, including a class for ex-pros in the 25-to-40-year-old range. Maybe that will keep my fax machine from running out of paper (vet riders tend to still use nineties ways of communication, though there are now Facebook pages dedicated to a push for split 45/50 classes).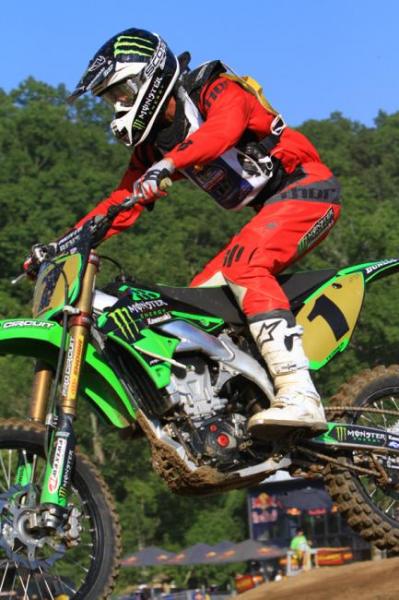 What to do about fast gentlemen like Matt Tedder, who used to be a pro but is over 50 years old?
Photo: RaceDayPix
Here are the complete classes.
You may have also noticed that Pala Raceway is not on the national schedule after just two years, just as Glen Helen is not on the Grand Prix schedule after just two years. Organizing major motocross races is not easy, and it can be quite a risk for everyone. About Pala, I can only say that I really enjoyed working with Kirk Chandler and his crew the last couple of years out there, and I rank him among the most passionate and hardest-working motocross people I have ever known. I really hope we get to work on another project in the future.
Pala did host A Day In The Dirt last weekend, and it looks like it was an amazing event. Doug Henry was among the many legends there at this annual event that brings the movie industry together with their motocross brothers. VitalMX's GuyB got with the three-time AMA Motocross Champion to talk about this unique motorcycle his limitations and his never-ending desire to improve. Check it out.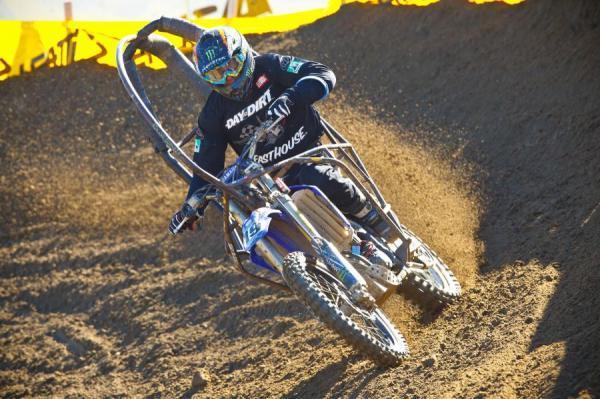 Doug Henry has the heart of a lion, and that's no exaggeration!
Photo: Simon Cudby
Okay, plane landing, time to get on Interstate 85 and head west. May even try to make it over to the crossroads in Mississippi where Robert Johnson sold his soul to the devil to learn how to play the blues.
Let's turn it over to Ping right here:
The Lake Elsinore Motorsports Park reopened its doors this week and everyone was pretty much blown away. No, literally, the wind was really blowing hard and they didn't even open the main track. But you didn't even have to ride the main track to get excited about it. Marc Peters has really outdone himself with these courses, and the owners are making sure that this facility sets the standard for motocross venues around the world. It is, without question, a national-caliber racetrack and facility.
I was one of the only people who really got to ride the main track because a couple folks needed some photos, and I can tell you that the track is fun. They have actually created elevation out of what had been for years a flat, godforsaken piece of land. Now there are uphills, downhills, massive step-ups, and one of the biggest off-camber turns I've seen on a track since they took the one out at Budds Creek. The dirt is sandy material that Peters found deep in the ground when they were digging out the Lucas Oil off-road truck facility, which sits on the north end of the property. The vein of sand was big enough to basically cover the entire track with two feet of the soft soil.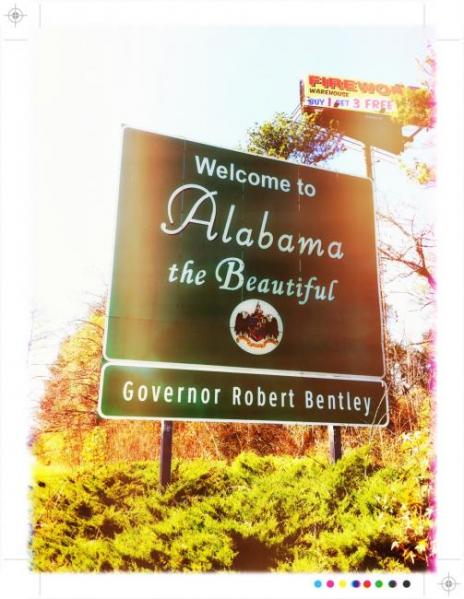 The bottom line is that this place is going to be great and I can't wait to get out there with some other bikes and see how it works in. The grand opening is this Saturday, so if you live in the area, come and check it out. You won't believe it.
If you live in the Denver area, you probably won't make it to Lake Elsinore, but there is an event for you this weekend. The Mustache Bash is a fundraiser for the Rider Down Foundation. There will be a silent auction, raffle, and products to purchase with 100% of the proceeds going to the charity. Braaap Bar is sponsoring the event and they will have jerseys from Justin Barcia and Eli Tomac up for grabs. I think there might even be one of my jerseys you could pick up cheap. Probably incredibly cheap, in fact. Hey, every dollar counts. Here's the information:
Date: Dec 3 2011
Location: 100 Octane Bar and Club
23 Old Town Square Fort Collins, CO
Purpose: The Mustache Bash 2011 is being held for two reasons.
1) To donate a ton of cash to a great organization
2) To party and have a great time showing off our mustaches
Check it out if you can!

Do you feel like you've done it all? Bored with life? Have an amazing life-insurance policy and want to hook your family up big-time? Get out your road race leathers and get ready for the Isle of Mann TT. I've heard of this race before but never seen this footage. At around the 1:30 mark some poor bastard goes flying out into a sheep pasture, and I have to believe they just covered him with rocks and left him. Check this out.
Here's MATTHES:
Not much going on this weekend in moto unless you count the Geneva Supercross with Justin Brayton, Kyle Chisholm, Broc Tickle, and some others are taking part in over in Switzerland.
The test tracks are busy these days with a day (or maybe two) off for Thanksgiving and the riders and teams are shaking everything down. Just about now is when the top teams are done with testing, have ordered what they need for Anaheim, and the riders are let go to get ready for the monumental mountain that is the supercross season.
A little while ago Team Star/Valli Yamaha's Austin Stroupe tweeted that former factory racer (and winner) David Vuillemin was helping him out in a coaching role this year. I checked in with DV this week to see how it was going and he's not going to be with Stroupe this year after all. Both parties were seeing how it was going to work, and for whatever reason, it didn't.
You've got to listen to the BTOSports.com Racer X Podcast this week as David Pingree tells us a story about how he once got Rick Johnson's number as a kid and would just call RJ's house to hear his answering machine or to hear RJ himself just say "Hello?" into the receiver. Good (and creepy) times.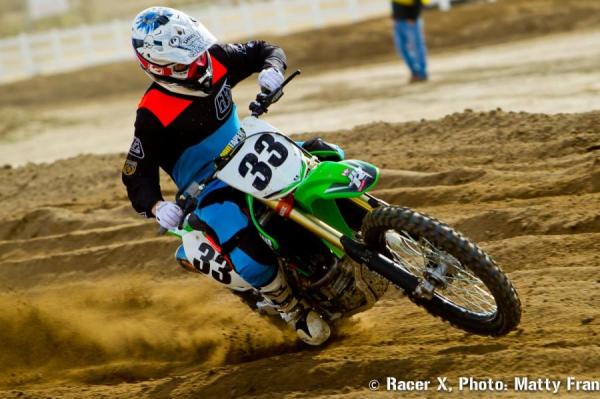 Grant throwing down some laps at Lake Elsinore MX Park.
Photo: Matty Fran
Good to see that my buddy "Gothic" Jay isn't going to remain in-house at Honda and is going to be Justin Brayton's mechanic for the upcoming season. Always nice to see Jay at the races.
Did you guys check out Josh Grant's interview that Weege did? In it he says that he didn't want to ride for the Brooks/McGrath team because he didn't want to be second fiddle to "someone who I could go out and could beat." Which means he's talking about Andrew Short, who is on the team and has the works Honda while Josh would have been the guy on the modified production bike. While I love the confidence JG shows here, the facts don't simply back him up. Nice to see the two years of injuries and struggles Grant has been through have humbled him.
Here are some links to things that I've written this week on some other various sites if you're in the reading mood.
First up is a Pulpmx Point/Counterpoint of two vs four. Next up is a feature about helping yourself out if you're a rider still.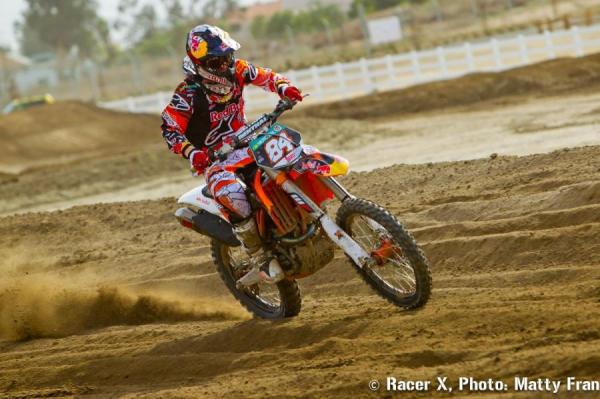 Herlings also made an apperance at Lake Elsinore.
Photo: Matty Fran
And finally, Alex Gobert has a nice site about racing in Australia and covers a lot of other racing. Check out my monthly column over there about how there is no off-season.
Thanks for coming out, check out Pulpmx when you can, and remember, everyone, crack kills.
Here's Weege:
Gonna be a fun weekend in Morgantown as the Can-Am Grand National Cross Country people file in for the annual GNCC Nights of Champions, aka the series awards banquet. Tonight is ATV night and Saturday night is for the bike folks. Over the years, a few top riders have Ironmanned this series racing an ATV at a GNCC on Saturday and a bike on Sunday. That equals up to five hours of super gnarly racing in two days. However, that task is not nearly as tough as trying to tackle both banquets in a weekend. Only the strong will try to party with the ATV people after Friday night's show and then come on back for more on Saturday night with the bikes. And the host facility, the Waterfront Hotel in downtown Morgantown, is just a few blocks away from plenty of other Motown hijinks. It could be a really fun weekend.
Seems like it's 2012 poster shoot time for quite a few teams, and that has to be as stressful as getting to Anaheim 1. Every logo, sponsor and part has to be set in stone this week, because the photos shot now will still be seen on posters handed out at Steel City next September. Think about that. Of course, sometimes the riders aren't always ready due to injuries, and there's quite a few stories of one rider throwing on a different jersey and subbing for him in the poster shoot. Now that I think about it, we may have stumbled on a cool little story here in the future.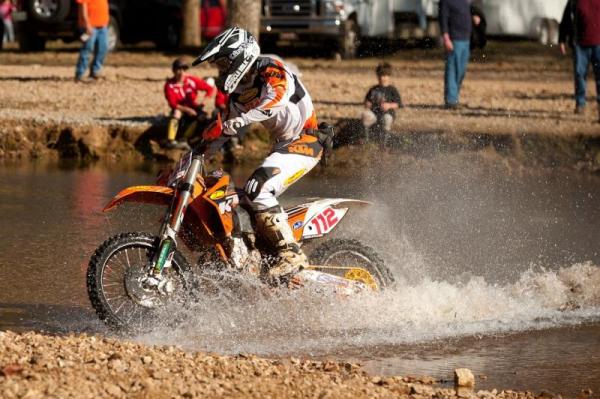 XC1 champion Charlie Mullins is sure to be in the running for some awards at the GNCC Nights of Champions.
Photo: Shan Moore
We talked to Josh Grant this week for our Monday Conversation. JG tore his ACL at the Phoenix Supercross last February, then tore his other ACL making a comeback outdoors, leading to another ACL surgery in July. ACL recovery is usually pegged at around six months, which would actually push Josh into January. He's back on the bike now and starting to get a feel for everything, but Josh admits that if he's not feeling it, he may sit out the first few supercross rounds. I say you can pretty much count on JG riding Anaheim 1, but I think it's cool that he's thinking patiently now. Too many times we've seen him it the deck, get right back up and try harder, and then hurt himself some more. Sounds like he's taking a different approach right now.
Also on a different approach is Rockstar Suzuki's Jason Anderson. I was pumping this kid up all year last year expecting him to shred in his rookie season, but it never happened. The 2010 AMA Horizon Award winner (given to the rider who performs best at Loretta's) is now locked in with trainer Randy Lawrence and looking to make 2012 the year 2011 should have been. Look for a Monday Conversation with Jason here next week. Most probably on Monday, I would say.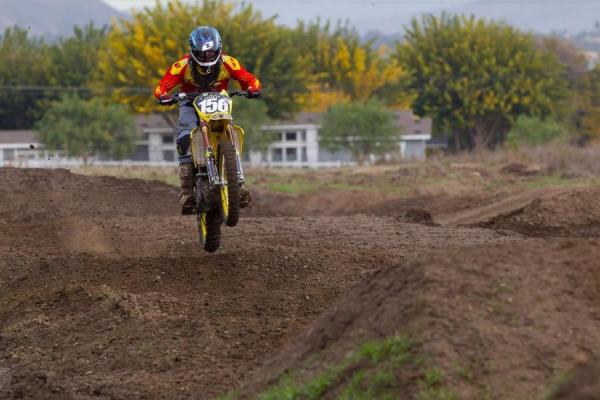 Be sure to check back on Monday to hear what Jason Anderson has planned for next year.
Photo: Carlos Aguirre
MISC:
Ricky Johnson, the seven-time SX and MX champion, has a signature wine hitting the market called Bad Boy Red. Only 400 bottles of this limited-edition Sonoma Valley red will be released and is available exclusively online at www.nexternal.com/gos for $40/bottle. Order now to get your hands on a bottle of Bad Boy Red!

Carly Rauba is an aspiring journalist in California who blogs about all things motorcycles. This week's work is about the very cool and fast Tania Swtchwell of WMX fame.
Racer X reader Tony Doshier passed along this unfortunate news coming from Colorado this week:
"Our sport has lost people in the past on the track, but we also lose people off the track. Today I am sad to say that we have lost a really good guy here in Colorado. He was very inspiring to a lot of racers and touched everyone he knew. I would love to pay my friend and fellow racer some respect by this action today. I made this as a tribute to his life for his three sons he left behind at an early age. Please if you could help me pay my dear friend some respect by posting this picture for him. Rest in peace, Pete Bannister! You are and will forever be missed!"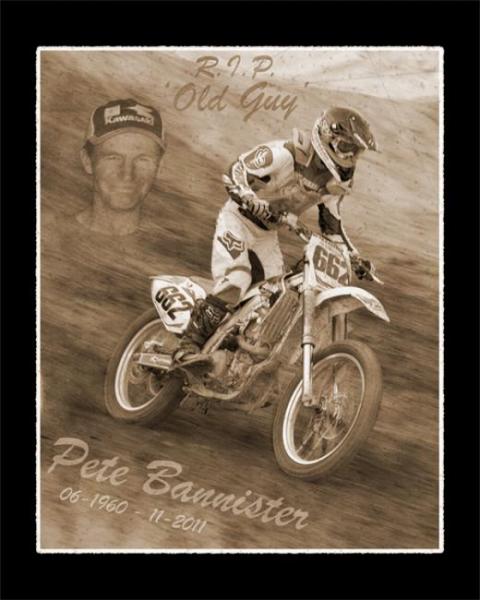 Anyone who has been to major vintage gathering lately, or even a supercross in Indianapolis or the trade show there, has probably spotted former NBA All-Star Rik Smits out and about. He's probably the world's tallest motocross rider at 7'4", and he's certainly one of the most passionate about the sport. But this week that all somehow got lost in translation when the Dutchman was interviewed for a Yahoo Sports article and the reporter somehow confused "motocross" with "bicycle motocross," even though there's a photo in the feature of Rik on his new Husqvarna. Oh well, at least it's a positive story about the man's love of bikes.
Here's a get-well-soon for David Clabaugh, the owner of Thunder Valley Motocross. Why? I will let him explain:
"On Sunday I was riding and we were running the track backwards so you go over the finish line back wards left turn then jump into the ravine. Well I pulled a Doug Henry and over jumped and landed in the bottom of the ravine and fractured my left wrist in two places and fractured my right wrist in one place. No surgery required just two splints for six weeks. Dumb move!"
Okay, that's it for this week. Enjoy your weekend, and we'll see you at the races.