For the first time in history the Can-Am Grand National Cross Series would conclude its season with a double-header. A make up round was needed after rain washed away round 6 of the series back in the spring. The series embarked on the prestigious Loretta Lynn Ranch with Charlie Mullins looking to wrap up his first career title, and become the first American since Rodney Smith in 2004 to walk away with the GNCC XC1 Championship.
Mullins looked in complete control at the Ranch on Friday as he jumped out to a commanding lead with championship aspirations dancing all around. Then with just one hour to go in the three-hour event Mullins' bike broke, ending the FMF/KTM riders day. Paul Whibley would take the win on Friday drawing that much closer to Mullins in the standings.
With the season hanging in the balance Mullins would once again jump out to a commanding lead on Sunday. Whibley would give it everything he had but was not able to make a real challenge to Mullins' lead. Mullins' teammate Kailub Russell then came on strong to move into second, with Whibley taking third.
In the XC2 class Steward Baylor Jr. put the clamps on his first career pro title on Friday with a second place finish. Jordan Ashburn won the race. On Sunday, Andrew Delong took his first career XC2 win.
Now onto the lap charts, brought to you by Motion Pro, to see how it all broke down.
GNCC
XC1 Pro Class // Friday

| | | | | |
| --- | --- | --- | --- | --- |
| Lap Rank | Finish | Best Lap | In Lap | Rider |
| 1 | 14 | 23:00.343 | 2 | Charlie Mullins |
| 2 | 2 | 23:01.344 | 7 | Cory Buttrick |
| 3 | 1 | 23:02.156 | 7 | Paul Whibley |
| 4 | 3 | 23:04.766 | 7 | Josh Strang |
| 5 | 4 | 23:11.406 | 5 | Kailub Russell |
| 6 | 13 | 23:22.062 | 2 | Thad DuVall |
| 7 | 10 | 24:03.610 | 2 | Toby Price |
| 8 | 6 | 24:13.672 | 2 | Nathan Kanney |
| 9 | 5 | 24:19.297 | 2 | Russell Bobbitt |
| 10 | 15 | 24:25.438 | 2 | Jimmy Jarrett |
XC2 Pro Lites Class // Friday

| | | | | |
| --- | --- | --- | --- | --- |
| Lap Rank | Finish | Best Lap | In Lap | Rider |
| 1 | 1 | 23:29.812 | 3 | Jordan Ashburn |
| 2 | 5 | 24:13.469 | 2 | Roman Dumontier |
| 3 | 2 | 24:15.984 | 5 | Steward Baylor Jr. |
| 4 | 3 | 24:23.219 | 2 | Andrew Delong |
| 5 | 4 | 24:47.859 | 2 | Jason Thomas |
| 6 | 7 | 24:50.984 | 2 | Dustin Gibson |
| 7 | 10 | 24:51.297 | 2 | Justin Bonita |
| 8 | 21 | 24:52.187 | 2 | Cody Gragg |
| 9 | 13 | 24:53.609 | 2 | Steven Squire |
| 10 | 6 | 24:53.703 | 2 | Ted Mullins |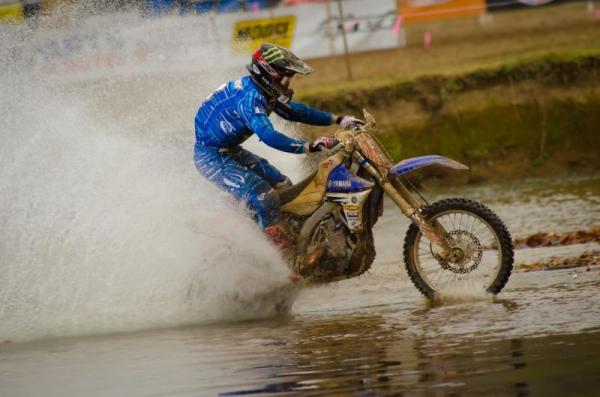 Whibley would take the win on Friday, but it was not enough to stop Mullins.
Photo: Shan Moore
GNCC
XC1 Pro Class // Sunday

| | | | | |
| --- | --- | --- | --- | --- |
| Lap Rank | Finish | Best Lap | In Lap | Rider |
| 1 | 1 | 26:48.672 | 2 | Charlie Mullins |
| 2 | 2 | 27:19.953 | 5 | Kailub Russell |
| 3 | 3 | 27:34.103 | 2 | Paul Whibley |
| 4 | 11 | 27:34.438 | 2 | Cory Buttrick |
| 5 | 4 | 27:35.344 | 3 | Toby Price |
| 6 | 5 | 28:58.125 | 5 | Jesse Robinson |
| 7 | 7 | 28:58.328 | 2 | Scott Watkins |
| 8 | 8 | 29:01.343 | 2 | Cody Webb |
| 9 | 6 | 29:05.266 | 5 | Jedediah Haines |
| 10 | 12 | 29:35.641 | 2 | Thad DuVall |
XC2 Pro Lites Class // Sunday

| | | | | |
| --- | --- | --- | --- | --- |
| Lap Rank | Finish | Best Lap | In Lap | Rider |
| 1 | 1 | 27:27.297 | 6 | Andrew Delong |
| 2 | 4 | 27:36.953 | 6 | Steward Baylor Jr. |
| 3 | 3 | 27:52.641 | 2 | Jordan Ashburn |
| 4 | 2 | 27:57.172 | 6 | Jason Thomas |
| 5 | 5 | 28:10.656 | 2 | Morgan Moss |
| 6 | 18 | 28:42.031 | 2 | Jase Lewis |
| 7 | 14 | 28:46.859 | 3 | Ted Mullins |
| 8 | 6 | 28:56.719 | 3 | AJ Stewart |
| 9 | 8 | 29:03.360 | 3 | Justin Bonita |
| 10 | 10 | 29:11.000 | 2 | Rory Mead |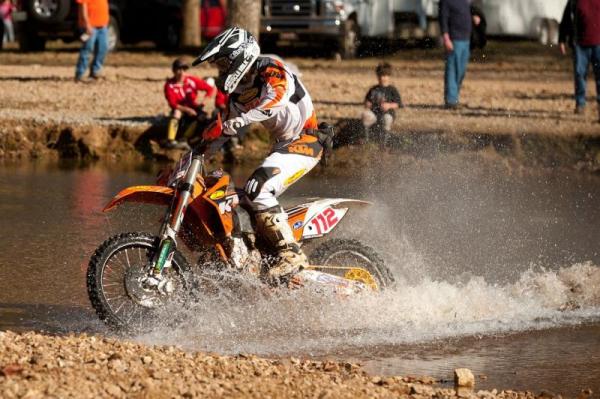 Mullins would set the fastest lap both days at Loretta's en route to his first career XC1 title.
Photo: Shan Moore