After a wild first two nights of racing at the annual Paris-Bercy Supercross in France, Eli Tomac and Kyle Chisholm stood tied for the overall win heading into the third and final race. The Chizz was able to get the start he needed and held off Tomac in the final Main Event to score the overall win—a huge win considering Chisholm still doesn't have a ride signed for 2012! Could this add some leverage? We talked to the new King of Bercy about the weekend and his future.
Racer X: Congratulations, man, you're the King of Bercy! Good ride, man. You know what the whole thing boiled down to for me? I just talked to Eli Tomac. He's like, "You know what? I pulled a good start from the sixth spot." And you went inside in the second row and it paid off.
Kyle Chisholm: Yeah, we both kind of got screwed. Mike hit the gate and maybe jacked it up a little bit in our second elimination race. It kind of held the gate, I think. I choose the second row in that one cause the inside is really key here. I was behind Nick and Eli. Their gates didn't drop, so we were all just stuck. So we didn't make it into the last bracket of the elimination, so we had like 6th and 7th gate pick. I was hoping that he wouldn't take that inside gate because I knew if you weren't in those first four gates, unless you got a massive holeshot, you weren't coming out right. Because even if you got there first on the outside, it was really slippery and all the guys will just go inside of you and roll the first jump, so I took it. I was hoping the gate would fall this time, even though Mike actually hit the gate again in the main. But it actually fell and I got around the outside and I wasn't sure where Eli was. I saw Justin out front and I thought it was maybe Eli. But by the time I got into third, Jake and Justin were gone and I saw where Eli was a little ways back, and I just rode smart. I knew by the time I got into third, Jake and Justin were already so far gone that I knew what I needed to do. I wish I could've started right with them. I wanted to win that last one, but I wasn't in a position to, so I did what I needed to do. It was good.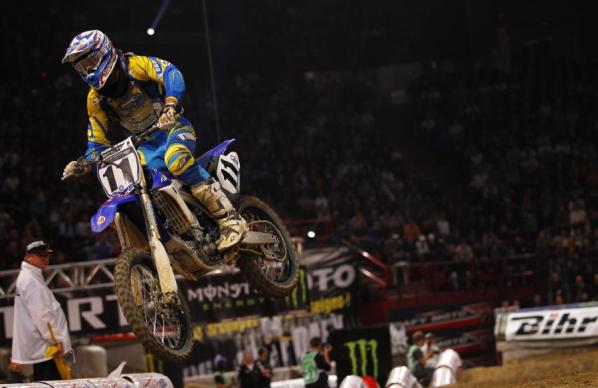 Chisholm was able to outlast Eli Tomac in the final race to take home the King of Bercy crown.
Photo: Sarah Gutierrez
How does it feel? You join a long list of legends that have won here. It must feel pretty good.
Yeah, it's awesome. I don't think it's sunken in yet, but maybe tonight we'll go out to a gay club or something and celebrate. [Note: That's a little inside joke the French promoters often play on the riders]
You might be the guy who won Bercy that brought the least amount of parts.
For sure. I brought an FMF pipe, Enzo hooked me up with some stock suspension, and I brought a pull rod to lower that baby down a little bit in the back. I also brought my handlebars and a sprocket. Oh, and a chain. The chain made a big difference.
Yeah, so it was good. The bike was awesome. The Yamaha stock is really good. I actually was racing one in 2010 the first few races before I rode for MotoConcepts. So I knew it was a good bike and that's what I've been riding for the past couple years and I've been comfortable with it, so it was good for me.
Maybe your price just went up for next year?
I hope so. Maybe I'll get a ride first at home, so for anybody listening, I'm looking for a ride. But hopefully that stuff gets worked out in the next couple of weeks. Hopefully this helps me for next year. I'll definitely come back and try to win it again.
Talking to Weimer and Tomac, the first time they'd been here, they both said it's a little different, a little weird. Last year was your first year and you were surprised because you almost won! Do you think you needed that experience last year to be able to win this year?
I think it helped a little bit, but honestly the format was a little different than it was last year. I was confused. By about the third day, you're like okay, I know what matters for gate pick—we do like four different things. We have practice, we have a heat race, we have superpole, we have elimination races, and then we have the main. And the main is all that really counts. It's pretty confusing, so it helped to just know the atmosphere and how everything is. Last year I was tied with Justin going into the final night, just like I was with Eli tonight, and Justin got the start on me last year, I started about fifth, and got within a few seconds, but ended up getting second. This year, I knew we were tied and I got the start on Eli and kind of just ended like that. So I would've definitely liked to have won it last year and it maybe helped a bit knowing that this year.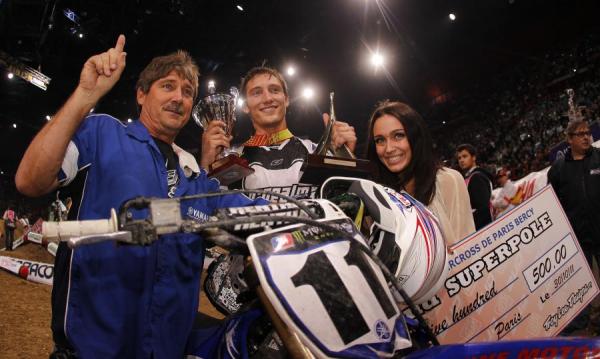 The 2011 King of Bercy, Kyle Chisholm.
Photo: Sarah Gutierrez