Downtown Des Moines, Iowa was going off for the weekend. Halloween parties framed the bar scene on Court Avenue, and there were young college students in wild outfits everywhere you looked—each costume more outrageous than the next. People watching reached a fever pitch, and we braced ourselves for whatever came next.
A few blocks away, inside the Wells Fargo Arena, the opener of the AMA Arenacross Series went off with similar interest. Two-time AX Champion Chad Johnson led the main event with Zach Ames right behind him. After years of showing flashes of brilliance, Ames looks on point this year, and he wanted to flex some muscle and pass the veteran champion, Johnson. Behind them sat Tyler Bowers, the defending AX Champion and overwhelming favorite to repeat. We braced ourselves for what's next.
You can the change the rules, the date, the schedule and even the riders in Arenacross, but the racing is a constant. You almost never see a snoozer at these races, and this one was going to get good. Ames kept setting up Johnson, trying to get close enough in a bowl turn to pull off a big block pass. By the ninth lap, he was close—maybe not close enough to make the pass, but close enough to try. When Ames pulled the trigger, he and Johnson collided and went down together in a heap! Bowers cruised by for the win. Then he got super jacked up by lapped traffic, and second-place Josh Demuth made a move. Demuth got within sight at one point, but he eventually hit the lappers, too, and Bowers pulled back away for the win. All in all, great racing and a great kick off for the series in Des Moines.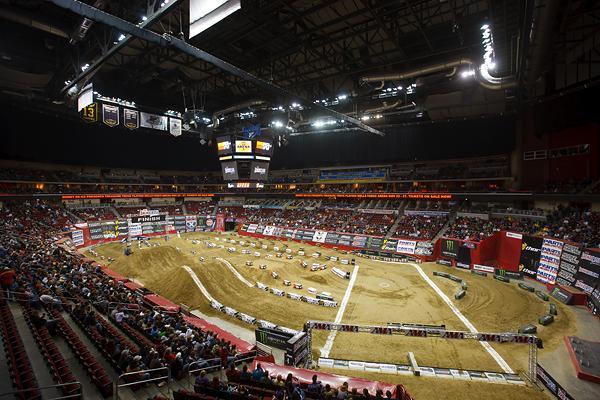 Des Moines hosted the opening round of the Arenacross Series.
Photo: Simon Cudby
Yes, Des Moines. Say it with me: "Duh Moyn." Not Dez. Not "Of Moines" like the Motocross of Nations either. If you're an insurance agent, sometimes you sell so well that the head office sends you on a cruise through the Bahamas as a bonus. But other times, the head office just sends you to the head office. In Des Moines, Iowa.
And you're probably thinking, "Des Moines? Really?"
Well, it's all business. I went to Des Moines because I've been announcing the AMA Arenacross Series on SPEED since 2005, but I haven't actually been to an Arenacross race since, well, 2005. We shoot 13 episodes a year at a TV production studio in Chicago, with a green screen behind us to make it look like we're there live. So this was my overdue check up on Arenacross.
Des Moines may not match up to the glitz of the Bercy Supercross outside of Paris (which took place at the same time). But it was much, much better than I thought. Economically, the place is thriving as a hub of insurance and banking, with Forbes magazine ranking it as "Best Place for Business" in 2010. Political attention is focused here, too, since the first Republican Presidential Caucus is coming here in two months. And while thoughts of insurance sales, politics, cornfields and cows don't exactly conjure up images of fun, a Saturday night on Court Avenue downtown for Halloween will. Eventually, I had a revelation—Des Moines is in a battle with TwoTwo Motorsports for surprising performance over the year. I never expected it to turn out so good!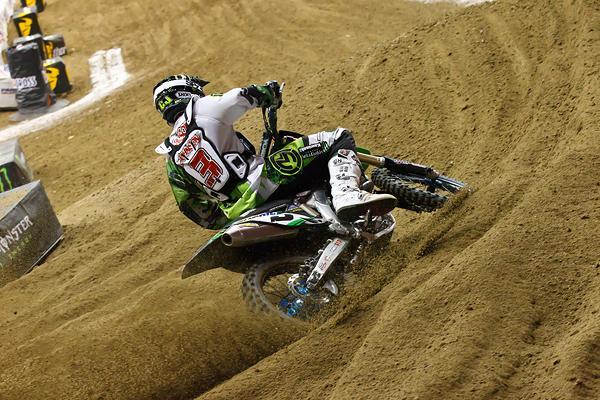 Chad Johnson would lead the opener early before getting tangled up with Zach Ames.
Photo: Simon Cudby
Arenacross is the same. It's not going to gobble headlines like Anaheim 1, but the series is fun. To many, the tour is searching for an identity after the glory days of the early 2000s, when Buddy Antunez, Denny Stephenson, Mike Jones, Josh Demuth and the rest seemed to turn the tour into a traveling rock show. Since then, the tour has gone through a myriad of changes. There was a split with promoter Mike Kidd in 2005 that led to the short-lived Bookoo Arenacross series. There were changes to the schedule, with the series at times moving from its traditional start in October start to beginning in January, like it did last year. Some years the series ran 250Fs, some years 450s. Sometimes the series runs double-headers with Friday and Saturday races, sometimes they just race on Saturday, like they did in Des Moines. But here's what I can tell—Arenacross is on the upswing.
The move back to the traditional October starting date helps. It gives riders and teams less time to prepare (especially if there's any sort of delay in the release of the latest model year bikes), but it also ensures every rider, no matter where they live, can find good enough weather for riding and training before the opener. That doesn't work when the tour begins in January. It also means the series gets to take center stage in the industry since Monster Energy Supercross is more than two months away. Indeed, there were quite a few heavies hanging around, surely more than showed up for last year's season opener in Tulsa, Oklahoma, which took place on the same night as Anaheim 1.
"Brian Fleck from Dunlop is here to work with us," said FMF Power/TUF Honda's Jeff Gibson. "We haven't gotten guys like that in years."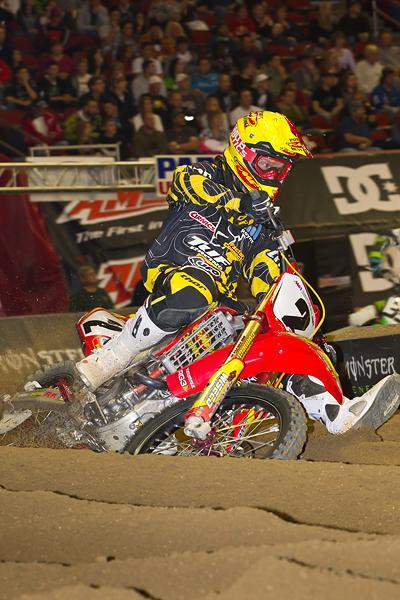 Jeff Gibson would finish third overall in Des Moines.
Photo: Simon Cudby
Also on hand in Iowa was the state's favorite supercross star, Justin Brayton. Brayton wasn't racing, but he did come out in opening ceremonies to pump up the crowd, and later signed a jersey and tossed it out to a kid in the stands. Brayton had two reasons to come back and visit. First, he started out racing as a pro in this series, and while it doesn't get discussed much, he is by far the most successful Arenacross alum ever. Second, he was born and raised in Fort Dodge, about an hour away. So it was homecoming in more ways than one for JB. The fans loved it.
And it's clear moving the series opener up didn't hurt the preparation of the riders. Last year Kelly Smith only finalized his deal with Team Faith about two weeks before the season began, so he struggled through the first few rounds before getting comfortable by mid-season and reeling off some wins. On Saturday, he told me he was in mid-season form. The TUF Team of Gibson and Cole Siebler were ready. Siebler told me he's still able to ride and train on his supercross track at home in Idaho. He'll move out to California and hang with fellow Idahoan Jake Weimer for the winter months, but he's able to prepare on his own terms when the tour starts in October.
The big powerhouse team of the moment is Monster Energy AMSOIL Babbitt's Kawasaki presented by Maxxis, which includes Bowers, Johnson and Demuth. Bowers and Demuth have won the last two AX titles, ending TUF's impressive streak of titles with Johnson, Danny Smith and Gibson. However, the Babbitts team was nearly set on its head with rumors that Bowers was looking to form his own team with his good friend Ames as a teammate. Instead, he resigned with Babbitts, but Ames is still on a Bowers team. He switched from the Spinechillers Honda team from last year to a Kawasaki, and Bowers' dad Tim is his mechanic!
The series also switched to 250Fs this year after running 450s for the last two seasons. Bowers shed 20 pounds from his "big for a motocross rider" frame to cope, and he said he would have no problems on the smaller bike. But Gibson won the last title on 250Fs in '09 and had to be considered a threat. Kelly Smith, too, could benefit from the 250F changeup, as K Smith had great success on those sized bikes in his supercross and motocross days.
As practice unfolded, Bowers was immediately the man to beat, with Siebler and Ames as his biggest threats. They looked fast and smooth. They both have the talent to win, but in Arenacross, it comes down to execution. Starts, passing and lapped traffic play a huge role in these races, more so than in supercross, I would say.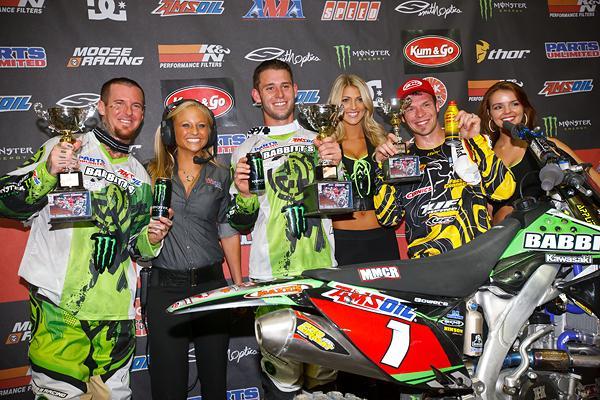 Tyler Bowers (center) would take the opening round win, Josh Demuth (left) and Jeff Gibson (right) would round out the podium.
Photo: Simon Cudby
Siebler knows it. In his heat race, he got plowed in the first turn and ended up on the ground. He was nearly a lap back before he got going (not hard to do with 27 second lap times) and didn't qualify through the heat. That sent him to the LCQ with a bad gate pick. He started poorly, and then crashed while working his way into the top five. After looking so good in practice, Siebler failed to make the main event.
I saw Siebler at the airport the next day. "I learned my lesson," he joked. "I ride with Damon Bradshaw at home, and he told me the year he raced Arenacross he didn't even make the main on opening first night. And I was like, "You didn't even make the main, what a goon!'"
As for Ames, he had the mojo working. He won his heat race (Bowers took the other). Then the top riders from both heats lined up for the Dash For Cash, with $400 in money from the fans on the line. Ames nailed the holeshot and took off for the win. He clearly came into the main event with confidence, and after riding behind Johnson for several laps, tried to force the issue. It didn't work. Worse yet, Johnson and Ames smashed their bikes in the wreck, so the duo went from first and second in the race to a pair of DNFs.
The veterans of Demuth and Gibson didn't seem to quite have the speed of Bowers, but they executed in the main and rode well enough to make the podium. They'll get better as the series goes on, I think.
Of course, as the series goes on, our attention will shift to glitzier events and venues like Monster Energy Supercross in Anaheim, or Las Vegas. But in the case of Des Moines and the series it hosted, don't knock it until you try it—they're way more fun than you might think.