Defending AMA Arenacross Champion Tyler Bowers scored the win at the season opener on Saturday night in Des Moines, Iowa. However, it wasn't as easy as it looked at the end. While Bowers was running a close third, second-place Zach Ames tried to make a hard block pass on Chad Johnson and ended up taking them both down in classic Arenacross fashion. Bowers cruised past to take the lead and the win. We talked to the Babbitt's Monster Energy/AMSOIL Kawasaki presented by Maxxis rider about it.
Racer X: Didn't you say something earlier about just relaxing at the races and having fun, and it seems like things can just fall your way at times?
Tyler Bowers: [Laughs] Yeah I did.
Has it ever worked out quite this way? The leaders took each other down and you moved into the lead.
I have! Not in that exact position and getting into the lead, but Arenacross can get crazy. I've had guys go from one lane into the other and take each other out, and maybe I was back in fifth and I went up into third or something. The night was good. I got off to an okay start, and I knew that while these are fast races, they're also 25 laps, so a lot can happen, too. And actually, I was planning on doing that to both of them in the next lap or two, so I'm glad Ames got in there and got to be the bad guy so I didn't have to! I just laughed and rolled past and just tried to ride smart with the lead after that.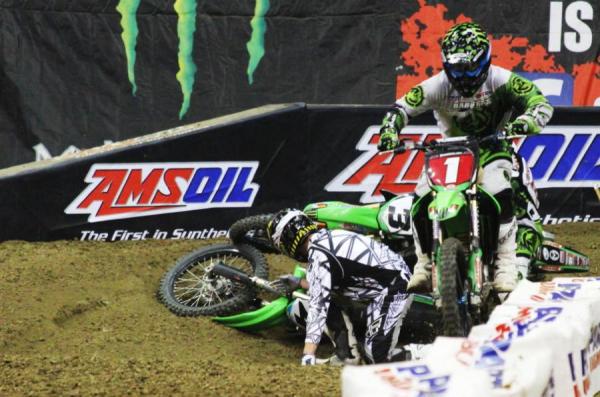 Bowers used a Zach Ames, Chad Johnson crash to propel himself to the opening round win.
Photo: Jenny Ludowese // Arenacross.com
Were you showing all of your cards yet or were you just hanging out early in the race?
No, for sure. I made the mistake last year of trying to do too much and trying to push myself too much early on. I knew whatever happened I needed to just get a comfortable lead at one point. But the competition this year is going to be tough. You know, Ames, Chad Johnson, Josh Demuth, and Jeff Gibson were all riding really well, so I had to be really strong all the way to the end.
You got into lapped traffic and it was really gnarly, you lost a lot of time to Demuth while working through there. Is it always that tough in Arenacross?
It's pretty much always like that. It was pretty nasty that time though, and I couldn't quite get the guys out of my way. I think it's early in the season and maybe guys aren't used to the flags or something, and a lot of them I'm sure were battling for position with each other so that made it tough. Also, we're on 250Fs. My signature move is to rev the crap out of my bike so they get out of the way, but obviously they can't hear it. I ended up having to roll the Catapult one lap and lost some time there. I just tried to stay smart and get through it—tried not to have any drama there.
So, two big changes in the series this year. First, they switched from 450s to 250s. Did that make a difference?
No, I knew it wouldn't be problem. Of course I'm big and heavy and everyone thinks it's going to be a problem. Indoors here in Arenacross or in supercross, it's not going to be a problem. I know I can ride a 250 really well, and I knew I could lean down, which I did. I'm not disappointed at all going to the 250F.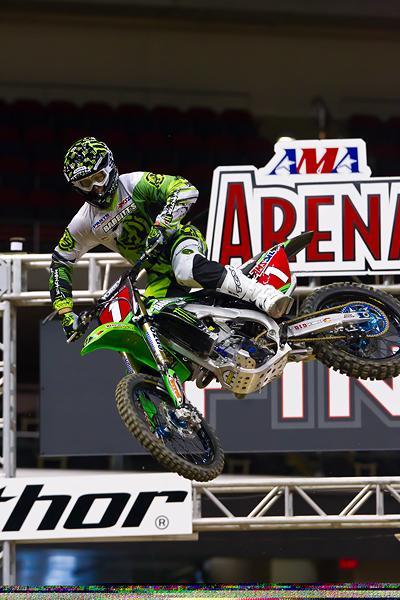 Bowers lost 20 pounds during the off-season to trim down for the 250F this season.
Photo: Simon Cudby
Did you really lean down? I know you said those new Moose pants make your waste line look smaller.
[Laughs] Yeah, the pants help. Thank you to Moose. But I actually lost 20 pounds. I was 210 last year during the season and this year I'm 190.
Wow! What's the secret to losing that weight?
I just stayed out of the gym actually. That's how it works. For me, I just stay out of the gym, and I start to get leaner. I had a lot of muscle on me that I didn't need for riding a dirt bike. So I just ride all the time, that's it. I ride all day, and when I'm done, I'm working on bikes to get ready to ride more the next day.
The other big change for the series was starting here in October like the old days, instead of starting in January like last year. Is it hard to get a gauge on the other riders when it starts earlier like this?
Yeah it can be. You come into the first race and see where you stand and see where you need to improve.
But for you it didn't have a big effect?
Yeah, it wasn't a problem for me. I just kept my program going all summer, in fact, I actually had to take a little break before the season because I had worked so hard all summer. I just kind of chilled out and got settled back in out in California and got ready for the year.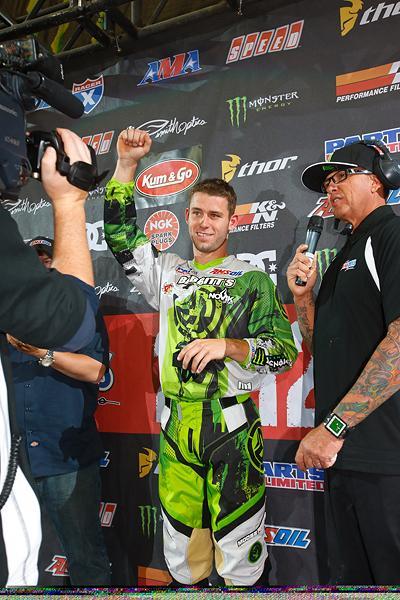 Bowers celebrating his opening round win.
Photo: Simon Cudby