Welcome to Racerhead.
First of all, get well soon, Jeff Kardas, from all of your friends and fans here at Racer X Online. Kardy was in a bad mountain-bike crash this week that ended with a broken femur. We're betting his close friend Rupert X. Pellett has already painted "Save Kardy!" on all of the water towers in Ohio.
There is some racing going on tonight (though it's probably over by the time this goes live) over at the Paris-Bercy Supercross, featuring defending King of Bercy Justin Barcia, his GEICO teammate Eli Tomac, and new MotoConcepts Racing rider Mike Alessi, plus some top French kids. Live results will be available on www.supercrossbercy.com, and Motors TV (www.motorstv.com) will broadcast the highlights on Friday and Saturday night and a live report on Sunday afternoon. We will try to post highlight clips as we get them.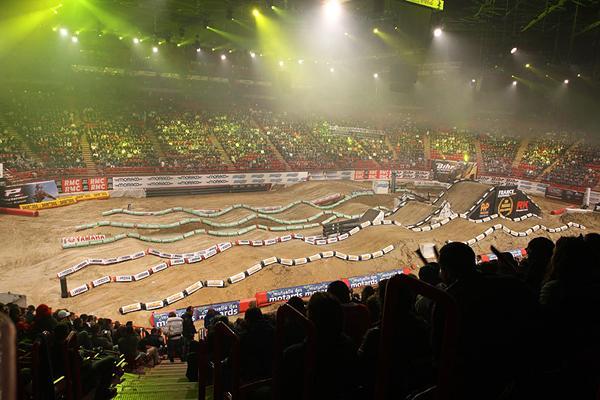 The annual Paris party known as the Bercy Supercross is taking off in France tonight.
There's also the opening round of the 2012 AMA Arenacross Series in Des Moines, Iowa. Jason Weigandt will have more on that later, but here's his preview.
Racer X/PulpMX.com's Steve Matthes is on the beat in Bercy (a neighborhood on the east side of Paris), so he's doing his best to tweet about it while not running his phone bill through the roof. Johnny O'Hannah is over there, too, with the JT Racing folks, and he has been sending pics. I'll bet 100 euros he somehow ends up in the opening ceremonies again!
One person who is not there is Marvin Musquin. If you recall, he got hurt there last year, injuring his knee and basically knocking him out of the 2011 Monster Energy AMA Supercross Series here in the U.S. Marvin wants to be ready and healthy come 2012, so he's skipping the race in Bercy.
Here's a question we're starting to kick around: Which coast will Musquin ride on, and which coast will his new Red Bull KTM teammate Ken Roczen ride on?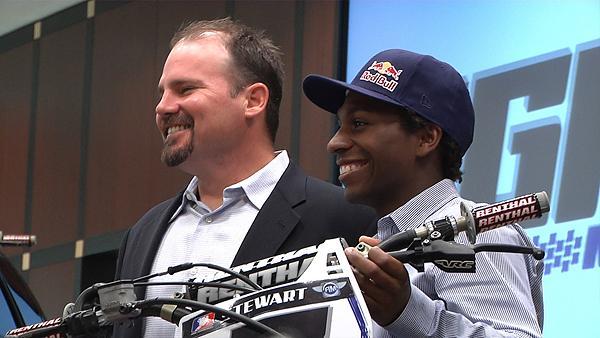 James Stewart is the latest motocross-NASCAR connection.
Photo: Jason Hooper
If you're tired of hearing about motocross racing's connection to NASCAR as a whole, prepare to get even more tired: More and more, the ties between the two forms of racing are growing. James Stewart signing a development deal to try out car racing while he's racing dirt bikes for the Joe Gibbs Racing MX team is just the latest. Young motocross racers learn about the racing life, testing, work ethic, and more in ways that are equal or similar to go-kart racing. They also bring a lot of the demographic that NASCAR covets to stock car racing, as they can use all of the younger trendsetters they can find right now.
And look at last weekend's results from Talladega. Ricky Carmichael finished a season-best fourth in Saturday's Camping World Truck Race, and then on Sunday Loretta Lynn's amateur motocross alumni Clint Bowyer, our own Andy Bowyer's little brother, won the Sprint Cup race. Even the guy who's won five straight titles (though a sixth seems to be in jeopardy), Jimmie Johnson, is a former Suzuki Amateur Support minicycle racer.
So who won in the James Stewart-to-Joe Gibbs Racing/Toyota Yamaha deal? First, I think James himself made a smart move joining up with such a focused and committed team owner as Coy Gibbs. That's not to say Mike Kranyak wasn't also focused and committed, but issues of ownership and running the team his own way, as well as the Larry Brooks saga, probably affected Stewart in 2011 and even '10. It's clear down in Charlotte who owns and runs that team. It also matches James back up with his old mechanic and friend Jeremy Albrecht, which should add more stability to his program.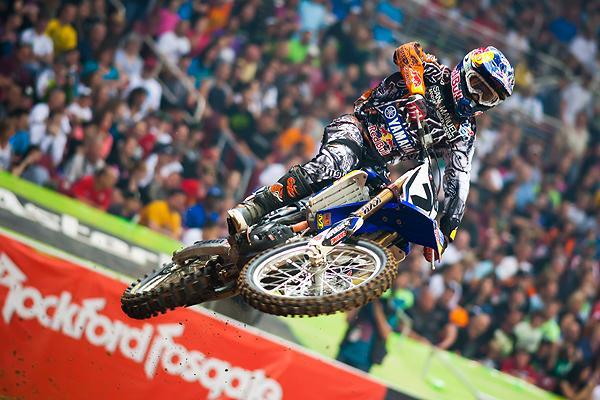 James Stewart ended up back on blue, but with a different team.
Photo: Andrew Fredrickson
Yamaha also won here. There were lots of whispers that Stewart wasn't liking the bike last year, but his signing with a blue team is a sign of approval for the motorcycle.
Here's a short film
on the whole press conference.
I also think American Motocross came out strong, simply because James Stewart has committed to racing outdoors again. His return is something everyone at MX Sports, Alli Sports, and the NPG have been working toward. Fans will get to see #7 back outside, chasing after Ryan Villopoto, Ryan Dungey, Chad Reed, and the rest of the guys. And Team USA now has three superstars to choose from going into the 2012 Motocross of Nations, which is at Lommel. With the exception of Ricky Carmichael, Stewart is the best American sand rider I have since seen since maybe Bob Hannah himself. In the meantime, let's make sure no one tells the Europeans they have sand in Florida....
Okay, here's Stephane Matthes:
Bonjour from Paris! I was just here at this very same Novotel less than a month ago after the MXoN, and here I sit again after practice of the Bercy SX, which is I believe Europe's longest-running SX. First off, I want to thank Xavier Audouard and Eric Peronnard for helping me get over here four years running. Those guys have been mainstays in this race over the years and I'm glad to be able to help them out when I can.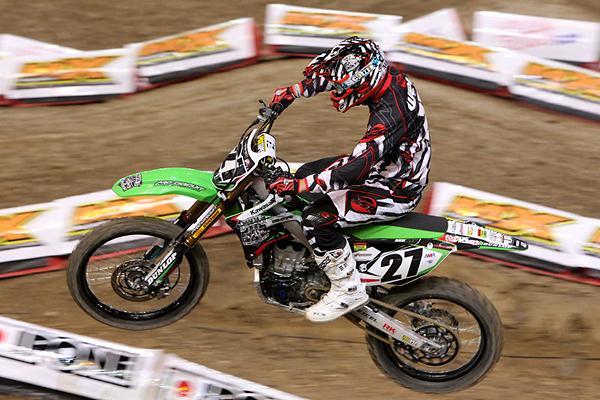 Nick Wey got the last-second call from Paris, with Matthes as the conduit.
Photo: Pascal Haudiquert
Now on to the racing.
Kevin Windham
was a last-minute dropout, which brought
Nick Wey
into the mix. It was funny because Xavier was trying desperately to get ahold of Nick to get him to the race (this was the day before he had to leave) and enlisted me to call him. As it was, Wey was out at the Kawasaki track with
Jake Weimer
burning laps and when I called him, he picked the phone up and just said, "Those Bercy guys get you to call me?" which made me laugh. So with about 12 hours notice, he was off to Bercy! He needed a mechanic for the weekend (and I have definitely hung up the wrenches despite taking him to a third overall in 2001 at this race) but I thought of my buddy Donk, who is down in California hanging out. And before you could say
bon appetit
, Donk was stripping down Wey's bike and on his way to Europe for the first time to wrench for Nick.
Along with Wey is Jake Weimer, 2010 champion Justin Barcia, Eli Tomac, Kyle Chisholm, and Mike Alessi, who is definitely racing for MotoConcepts on a Suzuki with his brother Jeff next year. Stamp it. I think.
Anyway, practice is over as I type this and Weimer was the fastest with Frenchman Gregory Aranda right behind him and then the Americans after that. The track is much better than last year (which had too many lanes and was too tight) and the guys are airing out a triple-triple dealio that is pretty big. Weimer, Barcia, and Tomac aren't fooling around in the fact they shipped their full-blown race bikes over here while Chisholm bolted on an FMF pipe, bars and suspension. Alessi brought a motor and has a few other goodies.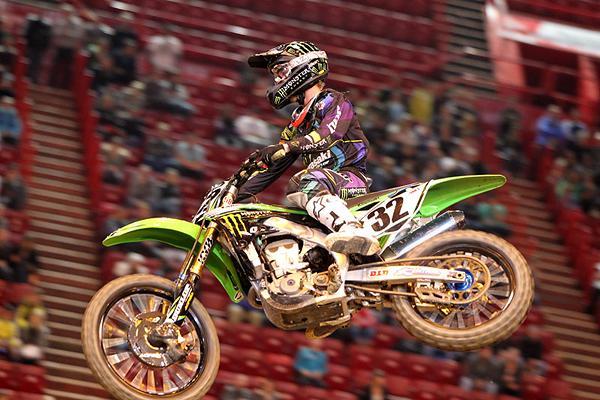 Jake Weimer had the fastest practice times in Bercy today.
Photo: Pascal Haudiquert
Always a good time to hang out at Bercy. The riders are more relaxed and we're all kind of stuck here, which provides a nice atmosphere for getting to know everyone a little more. For example,
Jake Weimer
and I are already debating on pretty much everything.
Also the rebirth of JT clothing is officially being kicked off this weekend with a press conference tomorrow and the legends of JT have been flown here. Jean-Michel Bayle, Broc Glover, Ron Lechien, Danny Laporte, Sebastien Tortelli, and Jacky Vimond are all here kicking it, telling stories and having a good time. All of these guys are going to be doing a little demo ride tonight for opening ceremonies as well. I had the pleasure of sharing a few cocktails with some of guys last night in the hotel bar. Look for some interviews with the guys later this week on Pulpmx.
We'll have race reports each night right here on Racer X and some more coverage next week as well. That's it for now, thanks for reading—there's a bearclaw with my name on it as we speak out on the Champs Elysees!
Before Matthes goes, check out some old-school Paris SX we spotted on YouTube, featuring a young Jeremy McGrath, plus Jean-Michel Bayle, Larry Ward and more.
And here's our list of the 10 Best Bercy SX riders in history.
Here's Ping
Who has a GoPro camera? I can't be sure but I think most of the moto population around the world just raised their hands. Well there is a cool new product out to class up your camera case a little bit. Check out www.sportscamerawrapz.com for all the different designs you can order to personalize your Go Pro. They even make a Racer X design!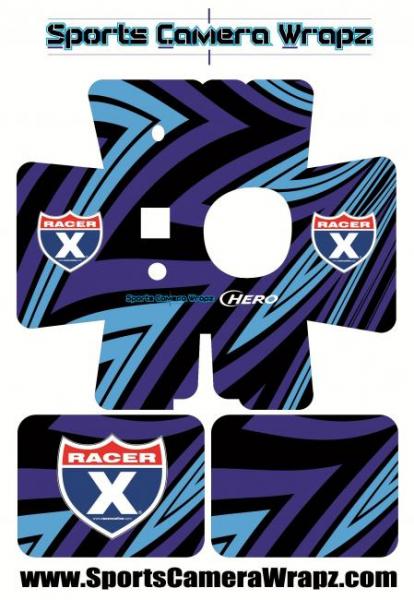 I heard that Davi Milsaps was at Pala Raceway this week riding a Kawasaki. I haven't heard much about where he might go, in fact, the last I heard he was hoping to stay with JGR. Maybe now that Stewart is there he has more say in who his teammate will be? Either way it is interesting to see Davi on a Kawasaki. Is he prepping for the Wardy/Kranyak team? I'm totally guessing there, folks. I'll let you know if I find anything out for sure.

Did you check out the Racer X 2012 Shootouts? They are both online for your viewing pleasure. Click HERE for the 250 shootout and HERE for the 450 video. Thanks to Ron Lechien, Micky Dymond, Grant Langston and Billy Laninovich for helping out and creating one of the most qualified test panels ever.

Although not all of the major players will be lining up this weekend the Bercy SX is always a good event. The French fans are loud and really excited about supercross coming to their part of the world. If you haven't been before you should add it to your bucket list. I'm sure the guy who sells chocolate crepes outside the stadium pumped his fist and said, "Yes!" when he saw Matthes roll up this weekend. Those things are delish and if Steve can't say no to a Tim Horton's how is he going to resist those amazing pastries?

Two months until A1.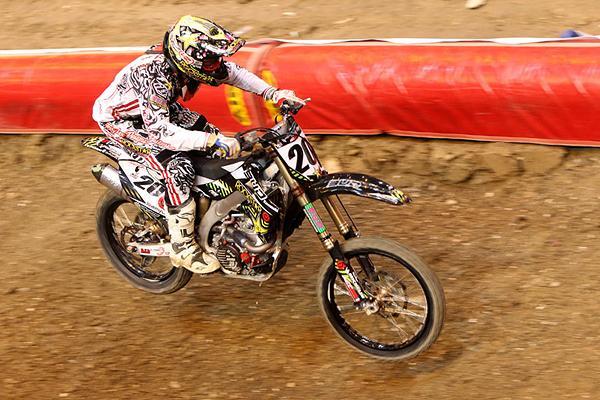 Frenchman Gregory Aranda looks to defend his home soil this weekend.
Photo: Pascal Haudiquert
Here's Jason Weigandt, reporting from Des Moines, Iowa, where he and Simon Cudby have met up for the first round of the 2012 AMA Arenacross Series
The JGR team sent emails to key media people last week inviting them to a big press conference on Tuesday. This meant they were signing
James Stewart
. The team asked to keep this news off the record so the PC would still have some punch, but we couldn't be a bunch of dorks and not at least leak some of the story. Most media outlets, including this one, broke the news that Stewart was going to JGR and left the details to the PC.
I expected that breaking the signing in advance would take most of the steam out of the announcement. It did not. Tuesday's presser was still a very big deal. In our world, Ryan Dungey moving from longtime backer Suzuki to the unproven KTM effort was actually a bigger shakeup than Stewart staying on Yamahas but moving to a new team. But Dungey didn't get to make his announcement in the massive JGR Sprint Cup Shop, in a sparkling conference room with NASCAR reporters, SPEED, and ESPN on hand. With that, you could feel the vibe the JGR team is capable of creating.
While no one can quite replicate that scene, other teams can take notes. KTM was smart to at least offer a media day with Dungey at their shop a few weekends ago. It's much better to announce things that way compared to just sending out a press release, which is what we're used to.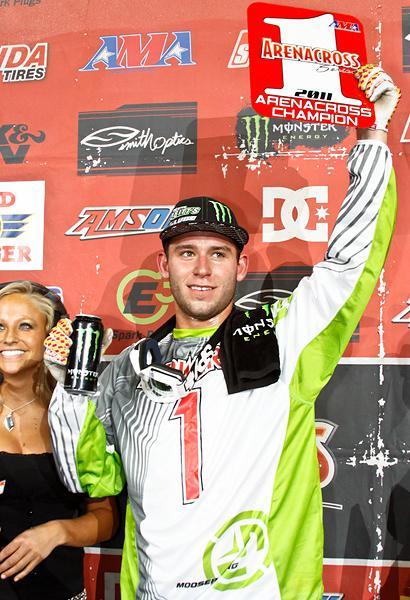 Tyler Bowers is set to defend his title this weekend in Iowa.
Photo: Arenacross.com
Via the press events, KTM and JGR just created two months of positive press, buzz, and attention. Just march Ryan and James out there in front of a hungry media and let them say the right things. Maybe, just maybe, those who buy bikes and gear and parts will get super pumped on the vibe and buy something. Before, the only way to create positive press was to win races. But that's hard to do. Stewart and Dungey could be failures on the track in their new homes—we don't know. We do know they now get to ride the positivity train for the next two months. Trust me, there was plenty of positive energy at the JGR PC, something made even more impressive when you consider how polarizing a figure Stewart has become lately.
Buzz could be up for other series, too. I'm off to Des Moines, Iowa, to catch Saturday night's season opener of AMA Arenacross. I'm teamed with Buddy Antunez again for the AX broadcasts on SPEED, and I'm pumped to see the races back to their old fall starting date after a few years of racing from January to March. This is good news for riders and teams in the series, because they'll be the main racing news over the next few months.
And next weekend I'm heading to Loretta Lynn's Ranch for the grand finale of the Can-Am Grand National Cross Country Series. I spent ten seasons as an announcer and PR guy for that tour, but I've never seen anything like what is planned for next weekend: a double-header to make up for a rained-out race in the spring. Bikes race Friday and Sunday with ATVs in between. We will also bring some of the favorite events from the Red Bull AMA Amateur Nationals to the GNCC, like a talent show in the Amsoil Arena. If you're going to have a longer event, you need to give the natives some entertainment!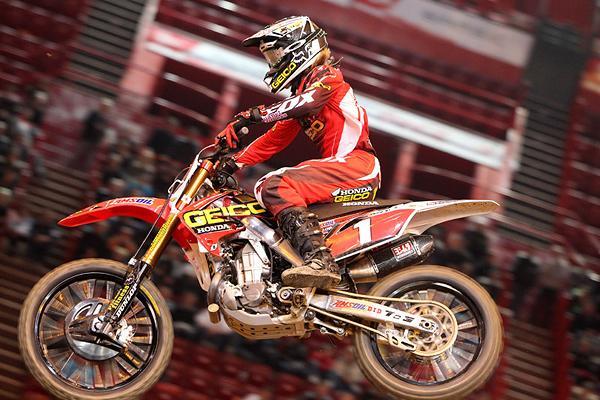 Barcia in Bercy ready to defend his title.
Photo: Pascal Haudiquert
In this industry, news like Stewart signing can gobble up months of headlines. For riders like defending AX Champion Tyler Bowers and GNCC points leader Charlie Mullins, they're hoping to get just a little spotlight over the next few weeks. So pay attention to this site during that time—these are exiting times for these series, as well.
Thanks to the Weege, enjoy the Land of Brayton!
Sadly, there was another high-profile racing tragedy last weekend when Italian MotoGP rider Marco Simoncelli crashed in Sepang and was hit in the back by the closely following Colin Edwards and Valentino Rossi. It was a gruesome crash, and just downright sad. Eric Johnson was a fan of Marco's, and he wrote an exceptional piece about it that was posted on a couple different sites this week. Take a moment to check it out this weekend.
Ever since Ken Roczen wrapped up his MX2 title, he's been gracing covers all over Europe. Along with Roczen, Villopoto also graced the cover of Race MC-Sport in Sweden.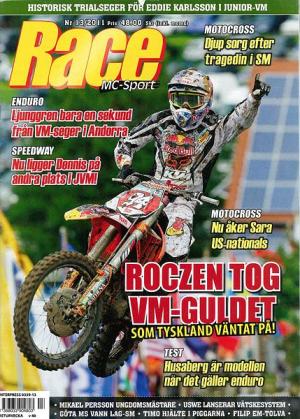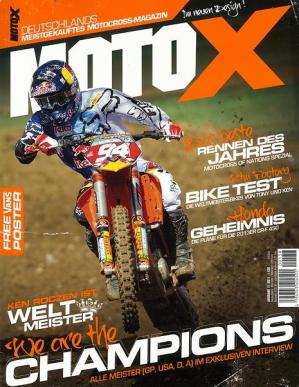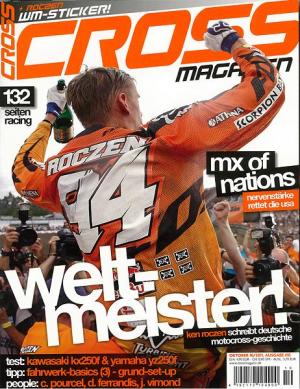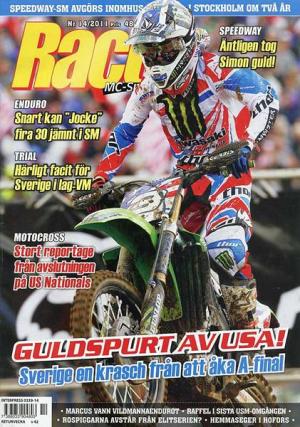 Our photo editor, Andrew Fredrickson, tried his hand at GNCC Racing this past weekend at the Ironman GNCC in Crawfordsville, Indiana. Let's just say things didn't go quite as expected. (As a result of the crash, he did end up breaking his scaphoid bone in his wrist, so keep that in mind while trying to control your laughter.)
Former pro Matt Walker is fighting the good fight in city hall in Monroe, Georgia, where he's trying to open a motocross school at an old ATV park. Walker is meeting resistance from neighbors who seem to have the wrong impression about what kind of "bikers" will be brining their business to the county.
The NBA and its players are going through labor-dispute hell right now, with a lockout/strike, depending on whether you're a player or a playa-hater. It's resulted in some of the players getting together and working out at local rec leagues, and also traveling the world as touring teams so they can play some, do some PR-massaging, and also take the higher road in this whole dispute—the we-just-want-to-play route and not the we-just-wanted-paid-more tag. Anyway, Jordan, the Nike sub-brand, came out with this really cool commercial recently. Check it out:
English artist Rob Kinsey has just completed this latest commission of English rider Mike George, who rode at the first Superbowl of Motocross at the Los Angeles Coliseum, promoted by the notorious Michael Goodwin back in 1972. Mike George was good friends with Dave Bickers and Stuart Nunn and got to tag along with them on their "Summer of '72 U.S. tour," when they were signed up to race Edison Dye's Inter AM Series, which included the first supercross race in its schedule. They raced almost-stock CZs supplied through the U.S. distributor. Mike remembers being slightly overawed at racing inside a stadium for the first time, but was able to bang bars with a host of imported European stars like Swede's Thorleif Hansen, Arne Kring, and Torsten Hallman. The winner, though, was a just-turned-16-year-old San Diego kid called Marty Tripes on his Yamaha, who took the overall victory. Look out for a future article in Racer X when we sit down with George, Bickers, and Nunn to recall their memories of the early years of American Motocross history.
Speaking of Mike George, here's a rare photo of him from the Wally Wallenberg archives!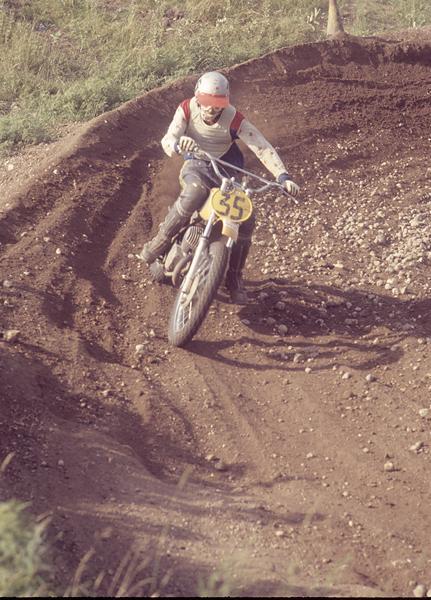 Back to our friend Jeff Kardas—his scary mountain-bike crash actually made his local news station!
We spotted a cool story in a local newspaper about a hare scramble in New Jersey. Check it out to get an idea of how this sport can be made to look like the fun, safe, family-oriented affair it really is when it's covered properly.
Here's the cover for Issue 16 of On-Track Off-Road.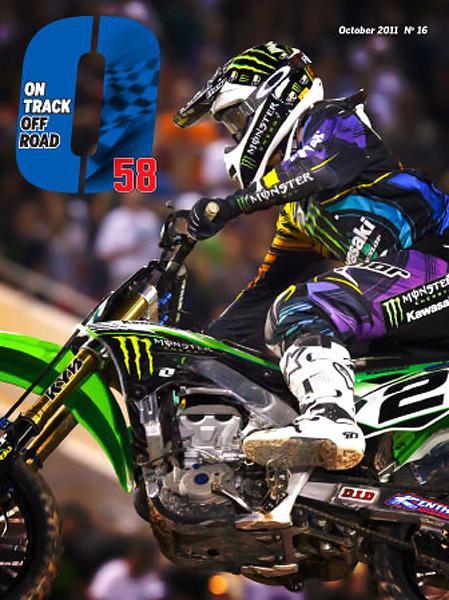 We mentioned last week the tragic plane crash following the Monster Energy Cup that took the lives of the Huseman brothers. Our friend Ken Faught of Pole Position Raceway sent us this unique story about how their surviving brother Danny Huseman built the caskets for his brothers.
Andrew Short
is back on the bike, and he's also back on video. Shorty
made this short film
called "Elbow Time" and posted it on YouTube (WARNING: Graphic facial hair).
It looks like longtime privateer Tommy Weeck will finally be getting some help for 2012. Check out this tweet he sent out earlier today:
"well i got my ride! 2012 SX Lites West coast Motoconcept!!!!!!!!"
Well deserved, Tommy. Good luck next season.
That's it for Racerhead. Thanks for stopping by. See you at the races.