The big boys of the small tracks get started this weekend with the AMA Arenacross Series opener in Des Moines, Iowa. Wait, Arenacross already? Yup. After starting in January for the past few years, the AX tour returns to its old schedule with the races in the fall, then a holiday break, and then a stretch run through January and February.
So just in case the season snuck up on you, here's a preview on the top title contenders:
Tyler Bowers (Babbitt's Monster Energy/AMSOIL Kawasaki presented by Maxxis): Boom Boom Bowers, Tyler "The Hitman" Bowers, The Assasin, call him whatever you want. But it's probably best to simply refer to this man of many nicknames as Champ, because he's carrying the number-one plate into this weekend's race. Bowers rides for the current juggernaut team in the sport, and he could very well start focusing on the AX record books soon, because he's only 20 years old and has the talent to dominate the series for many years to come. I'll be sure to check the mood on my AX broadcast partner Buddy "All Time AX King" Antunez to get a good read on just how far up the charts Bowers can go.
While quite a few Arenacross Champions were either ex-supercross stars or journeymen privateers, Bowers is as close as it gets to a kid born and raised to win this title. All the way back in 2005, at age 15, Bowers nearly bested Josh Demuth for the now defunct Bookoo Arenacross Championship. Bowers took a few shots at supercross, before coming back to Arenacross full time in 2010 and dominating the early portion of the tour. A massive injury—double femur breaks—while practicing cost him the crown.
Boom Boom returned to dominate last year. His only possible disadvantage this year? The series switches back to 250Fs after a few years on 450s, and Bowers is big for a little bike. It shouldn't be a problem. I saw Bowers a few weeks ago and he told me that he sucked at starts on a 450, anyway, so he won't be any worse now. As long as he can muscle through the whoops—which he can do on either bike—he thinks he'll be fine.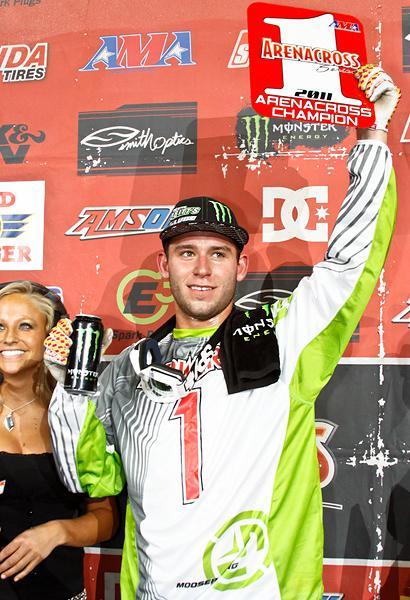 Tyler Bowers will begin his title defense this weekend in Des Moines.
Photo: Arenacross.com
Josh Demuth (Babbitt's Monster Energy/AMSOIL Kawasaki presented by Maxxis): No one has had more ups and downs in this sport as Demuth, but the bottom line is no matter what he has going on, he's always in the championship hunt. While Bowers did get hurt while leading the points in 2010, it's worth noting that Demuth was in the midst of a late-season charge and had paired the points lead down to just a few and may have been able to catch the kid before it was over. He locked up the title when Bowers went out. The luck went full circle last year when Demuth broke his wrist about a week before the season began and missed the entire year. He's back, and he has proven time and time again he can bounce back from injury or absence. However, the drop back to 250Fs could hurt him, too, since Demuth is also a big guy. And one of these years, all those years of racing have to catch up to him.
Chad Johnson (Babbitt's Monster Energy/AMSOIL Kawasaki presented by Maxxis): Johnson is a two-time champ who also has the stuff to win the title in any given year. What I find most odd about this powerhouse Babbitt's Kawi trio is that they pack three of the most successful riders in Arenacross history who just happen to also be three of the worst starters in Arenacross history. You'd think any multi-time AX champ would be a holeshot artist, but Chad Johnson has never been Mike Alessian over the gate.
But, he knows the ropes, he works hard and he can handle the pressure. Chad isn't as thick as Bowers or Demuth but he's a tall, lanky guy, so I'd think the switch to the 250 will hurt him, too. But on the flip side, Babbitts has deeper resources than most teams, so if this becomes a horsepower race on the 250s, they can make up the difference. And the Babbitt's team PRs are even saying that each of the three riders have lost 15-20 pounds before the opener!
Jeff Gibson (FMF Power/Poynt TUF Honda):
TUF Racing has to be the longest running and most successful team in Arenacross history, and before Babbitt's went on this 2010/2011 title streak, TUF was the one grabbing the crowns. And we should mention that the last year they won the title, in 2009 with Gibson, was also the last year the series' ran 250Fs. Gibson had an illness slow him early in 2010 and posted a solid year last year with some wins, but in my eyes he's definitely better on the 250. So he could slay those green dragons.
And good to see TUF finally get an energy drink sponsor with FMF. Last year the riders went to the podium with water bottles' labled "sponsors' name here." The billboard worked!
Cole Sielber (FMF Power/Poynt TUF Honda): Cole was a solid supercross privateer who jumped into Arenacross last year. Sometimes that switch works, sometimes it doesn't, but it definitely worked for Cole. He won a race early last season and was showing rapid improvement each week. But then he broke his ankle. I'm not sure how the 250/450 switch will impact him, but if he keeps climbing like he did last season, the man is a threat.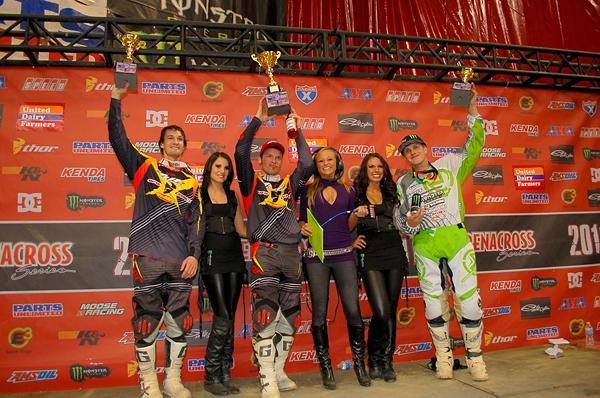 From left: Siebler, Gibson, and Johnson could all play spoilers to Bowers title defense.
Photo: Arenacross.com
Kelly Smith (Team Faith/FLY Racing/Pilot/Flying J KTM):
The Steve Matthes Historical Society will be pumped on this one! Kelly Smith, the man who took KTM to their first-ever AMA National victory back at
High Point
Raceway in 2000 (with Matthes' spinning the wrenches) is back on orange!
Last year Team Faith ran Yamahas and Kelly did pretty well on them. At about the same time Siebler went out with an ankle injury, Smith started finding his groove, took a win, and showed he had the stuff to challenge anyone on any given week. This guy will be better suited to the 250s, and he can pull starts with the best of them. If Kelly starts the season strong, he'll be a contender.
Kevin Johnson (Team Faith/FLY Racing/Pilot/Flying J KTM): KJ is a great guy and a fun interview, and just for that, everyone hopes he keeps racing forever. Unfortunately, some major crashes and injuries have sapped some of his potential out on the track. A few years ago they were calling him "Fast Lap" for his penchant for logging the fastest lap times of the night every weekend. We'll see if that speed can come back, but just having him at the races is always a good thing.
Nathan Skaggs (Foremost Insurance Spinechillers Racing Stormlake Honda): Skaggs is a great starter, and if he's able to get a lead and ride pressure free, he can win races. He sometimes gets into trouble when the pressure is applied, though, but don't be shocked to see this guy win some races.
Zach Ames (Bella's Cupcakes - Club MX Kawasaki): Bowers' buddy and another capable talent. Ames can pull starts, and when he's on he can come through the pack, too. Consistency sometimes holds up a title run, but one of these years, he could figure that all out. He has the tools.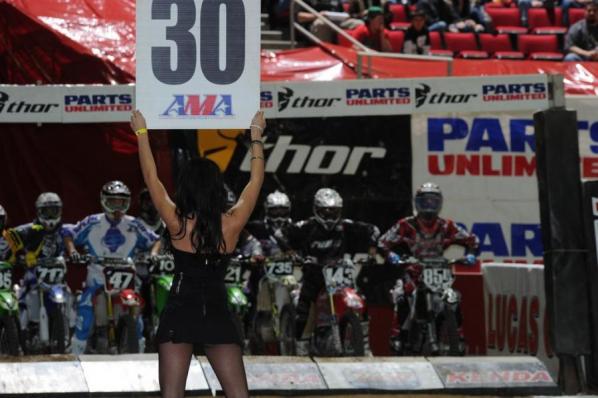 The Arenacross season debuts this weekend in Des Moines, Iowa.
Photo: Arenacross.com
Willy Browning (Foremost Insurance Spinechillers Racing Stormlake Honda): If you're Wild Willy, you're pumped. He'd probably be Arenacross Champion if they raced the series on minibikes. This year the tour cuts back 200ccs from 450 to 250. Chop of another 200 and Willy is looking at a championship come 2013!
Cory Green (C&J Racing): The Booty Shaker has won some AX Lites titles but is just a click or two away from being a threat for the premiere-class championship. Maybe this year he bridges the gap.
Daniel Blair (Airide KTM): Music and moto man Daniel Blair will give Arenacross another shot this year after injuries ended his bid last season before it really began.