Las Vegas, NV
Monster Energy Cup
Monster Energy Cup
I didn't attend the Monster Energy Cup. We had west coast dudes already in the area so there was no reason for me to spend the travel budget going—something my wife and kid were very excited about.
But after it was time to tuck the little one in, I shooed the wife away and got control of the TV remote. The Monster Energy Cup was about to air live on SPEED and I was ready to watch. Here's my running dialogue of the show.
The show begins with Ralph Sheheen welcoming us to Vegas, and then he throws it over to Jeff Emig and
Ricky Carmichael
. They want to make this show look different than a typical supercross, so the announcers get to wear cool shirts. I've been in that position before and it's not easy—because I have no clue what looks cool.
Jeremy McGrath gets a shot on the mic from the floor, and Erin Bates is down there, too. Seems like a pretty good atmosphere.
They report that Mike Alessi had a vicious crash and then show it—OMG that was a vicious crash! Mike had such high hopes coming into this race. What is it, Hangtown all over again? L'il Hanny goes down, too, and Kyle Cunningham. Ouch.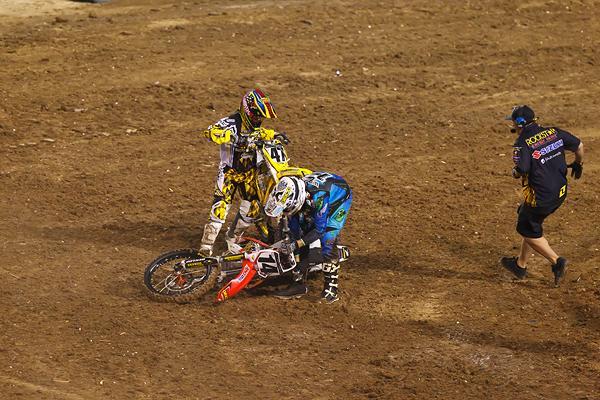 Windham had his troubles in Vegas.
Photo: Simon Cudby
The commercial proves it—this event is back next year, on October 20th. I like the concept of this race, doing something different. Even if every element doesn't work to perfection the first time out, I'm glad they're committed to doing it again next year. They'll iron out any kinks.
I see the back of Wes Kain, who is announcing the event. Wes is one of the all-time greats about finding a way to be seen and heard, but since he's just the live announcer for the stadium, I doubt we'll see him again on TV tonight….
Someone sends SPEED a joke tweet about Emig using huckabuck, but Emig sticks to his guns and says, "the sand whoop section will show you what huckabuck is all about." You can't stop the huckabuck, you can only hope to contain it.
First heat race: Windham goes down in turn one. One of the big fan favorites and a definite contender to win the race is in trouble—because Jason Thomas is down with him!
The track somehow has the combination of open turns, but no lines. It's the tightest wide-open track I've ever seen. Credit to the soil mixologists though, looks way different than the Vegas SX in May. They said it would be different, and it looks like it is.
Metty is leading the second heat and looks awesome picking his bike up through the sand whoops. Track is super slick, though. Metty looks like he has his old teammate Dungey beaten in this one…until he loses the back end on the slick stuff and Dungey sneaks past. Darn!
The TV show is a little behind the live call. I just saw a tweet that says, "Partridge makes a text book pass on 800." That's not good for Mike.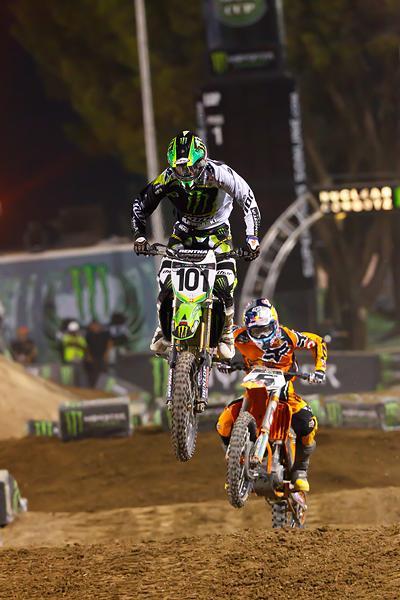 BT101 was able to hold Dungey off in race 1 for second place.
Photo: Simon Cudby
Now the heat race is underway. Not sure when Alessi is going to be passed by Partridge, because he's riding awesome early in this heat.
Whoa then all of a sudden Mike loses it and starts going backwards. Holy crap RV has picked it up. He is hauling! Mind me if I rewind this and watch him work his way into the stadium again—OMG! HAULING through those sand whoops.
Adam Cianciarulo wins Supermini. Then the semis begin and Windham is screwed again with a bad start. K-Dub is going to ride some laps tonight.
Cool shot inside the Red Bull KTM semi with the RDs (Dungey and DeCoster) watching the race as it happens. Dungey is shirtless. How about the "Ryan Dungey abs cam?" This one is clearly for the ladies.
I like seeing [Nick] Wey and Top Jimmy Albertson high five after their qualifier—they were teammates at Valli and are right in the running for "most personality" of any pro rider. And Wey is pitting out of a van! But check it, Kurt Rood from factory Kawasaki stops by for a high five. Everyone wants to help NYK because he's a good dude.
I've realized I have some advice for privateer dudes like Wey and the Eleven10 Mods team—don't paint your vans black! This is an outdoor sport and things tend to get hot. Maybe go for some silver next time.
Oh wait, we have figured out who is funding Wey's effort. Michigan mafia? The mob always has tons of money.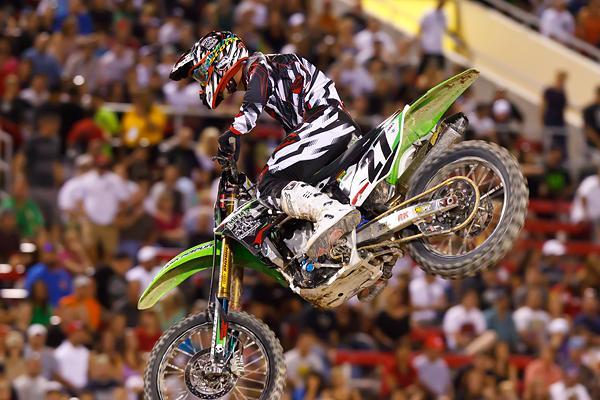 Wey and the Mighigan mafia had a solid weekend in Vegas.
Photo: Simon Cudby
Semi 2: Hanny got Hannied in the first turn—plowed wide. Long night for him, as well.
Great racing in this semi between Tickle, Paluzzi, Seely and Davalos—attack of the Lites riders on 450s! Also Tyler Bowers, the least Lite rider ever, is in the mix.
Alessi fading again. Can this be blamed on that mega-crash from earlier? Tickle makes an awesome pass on the last lap but Mike wasn't the same rider after three laps, anyway.
Zach Bell rules in the first Amateur All-Stars race. Looks good, but you can see the difference on how much cleaner the pros are. Bell has the jumps and scrubs down, that's for sure, but you really get to see how raw the kids are compared to the pros when you see them on the same track on the same night. I'm glad they let the kids race.
Okay, okay, here's the part where you can go nuts over only seeing a few laps of the Supermini and Amateur races on TV. I understand, I would have like to see them, too. I will point out that they showed every lap of the Heats, Semis, LCQ and all three main events without a commercial in between. So you've got to give them that. Just sayin.'
Oh no! NASCAR!!! Motocross' Twitter universe is set ablaze when the SPEED cuts to NASCAR Victory Lane from Charlotte during the show. I am seriously waiting for "NASCAR? Show Supercross!" to start trending on Twitter. Of course, the way these shows are set up, you're not going to miss anything. Remember how the TV show lagged a few minutes behind the real thing? Well, that's because they've engineered ways to plug these holes. The NASCAR show magically (and on purpose) actually never results in missing a single lap of MEC coverage. Just sayin'.
LCQ: Davalos makes it happen! Gets a win. Then Windham puts Friese down. "Windham for President," is now trending on Twitter.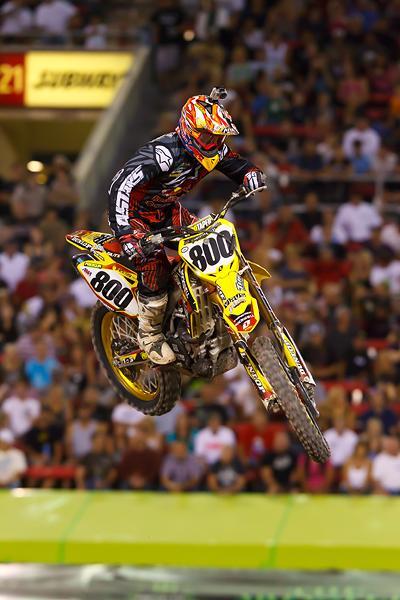 Alessi was strong early in each race, but faded towards the end.
Photo: Simon Cudby
A good scoop from Erin Bates: "Hanny only rode the bike for three days before the event," she says. She also says that due to his knee injury from earlier, he wasn't planning on racing, and he only did because Mitch Payton forced him to. Yeah, I get it, Hanny. Why would you owe Mitch Payton a full effort? What has he done for you?
Best Trick begins. Cam Steele comes in for the Best Trick competition with Beau Bamburg as the analyst. I really wanted to see if RC and Emig could handle it, though. I could hear it now: "You know I've never done anything like that but I've done some sick whips before."
Mark Monea!!!! Lands his Front flip 360 Carry On. Now he's starting to make it look easy.
Jordan Whitley handles the interview duties for Best Trick. But there's Wes Kain trying to sneak in and use the house mic in there, too! Wes, you are incapable of being incognito!
Is that Mike Alessi watching the Best Trick guys from down on the floor? Mike, I don't think this is your style. Have you ever even Mike Alessi throw a fist pump?
Kain is at it again trying to get the TV interview over the stadium microphone—and doing it so stealth. I barely even noticed this massive man with a perfect tan, tattoos, hat and glasses.
I don't know the guy at all, but Kyle Loza looks like one of those "I act/dress/look differently than everyone else so I can bait you into saying '"Wow that guy seems a little weird"" and then call you out for judging me. It's my life and I'm free to live it however I want!" kind of guys.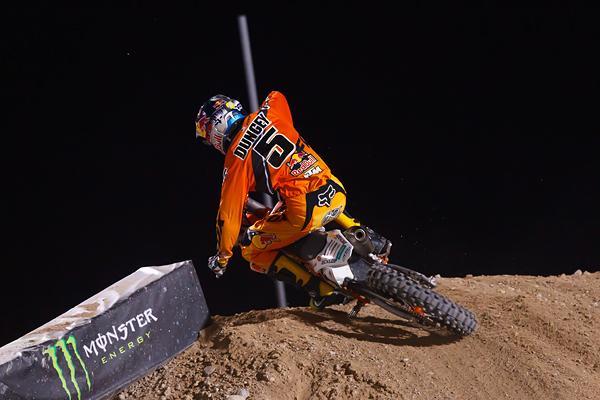 Although Dungey wasn't able to capture the victory, he still managed second overall in his KTM debut.
Photo: Simon Cudby
Main Event 1: RV is ridiculous. He's on fire. But how about BT101 in second! I mean, you'd swear the dude has been racing SX for the last five years. Dungey didn't push it—typical Dunge, he could have parked Townley in the last turn but decided not to. Townley finishes second, and I know, this track wasn't technical like a regular supercross track, and he got a start, but, what kind of odds would Vegas have put on Townley finishing second in this race?
JS7 is alive and well on Twitter! We're living in a whole new world when an athlete who is not at an event can cause a stir from home. Also, Chad Reed starts tweeting, but he seems to have forgotten this race is even going on, and is 100 percent focused on Casey Stoner and MotoGP. Reed couldn't possibly be tweeting about MotoGP and ignoring the MEC on purpose, right?
They're showing a silly season feature explaining James Stewarts' situation, mentioning how Chad Reed may not have decided on a bike brand yet, and even talk about Mike Fisher parting ways with Kawasaki. That's a solid feature.
Main Event 2: From what I can tell watching TV, Mike Alessi's mechanic is pro-wrestling legend Dusty Rhodes. Not surprisingly, Mike has to pull out of this moto when his shift lever falls off. The American Dream baby!
RV takes off again. Dungey starts closer to him but doesn't see him for long. Yes, I understand Dungey is just getting started on a new bike, but does it not seem like RC has gone to another level right now? Whoa, did I just accidentally type "RV" as "RC?" Hmmm.
Metty and Townley are doing well again until Townley pulls into the mechanics area with bike problems. Suffering a drought in your area? Hire Townley to come race there. The dark clouds will follow.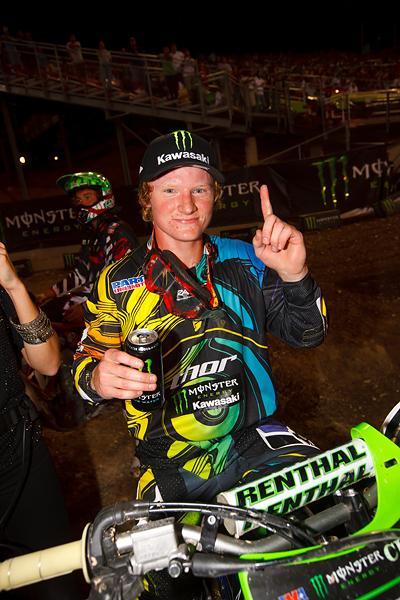 Justin Hill took the overall in the Amateur All-Stars race.
Photo: Simon Cudby
Eli Tomac is impressive in this race. He was pressuring Townley at one point and looking aggressive. Metty rides well for third, Dungey takes second. But second for Dungey is fine. Even with RV running the show, I still say it was worth the trip for the Dunge. Second is still good and they surely had to learn something about the bike here that they can use over the next two months.
The AMA has waved the production rule for this race. That apparently means that vuvuzelas are allowed in the audience.
Just showed a commercial for a chicken cordon blue at Denny's. I'm so heading there tomorrow.
In the second amateur race, Bell crashes and mixes up overall, Cole Thompson takes it…no wait Justin Hill takes the moto and the overall. Four riders tied for the top spot in this one, with Hill's second-race win serving as tiebreaker. I'm pumped for Justin Hill. He didn't seem as impressive when he was younger, but then all of sudden one year he went from pudgy to ripped and started, well, ripping. Way to go, Justin. Do it for Zach Bradshaw,
Jeff Alessi
and Tyler Villopoto!
Nissan shows a commercial for their Frontier truck that looks exactly like Toyota Tacoma commercials from a few years back.
Ah @JS7 and @CRTwoTwo have aligned themselves again on Twitter, letting everyone know the winner of the Monster Million only gets 500k up front, or 50k for 20 years. They love to stir it up.
It's on the line now. The Monster Million! I send out a tweet proclaiming things will get crazy with the money on the line. And….I am wrong.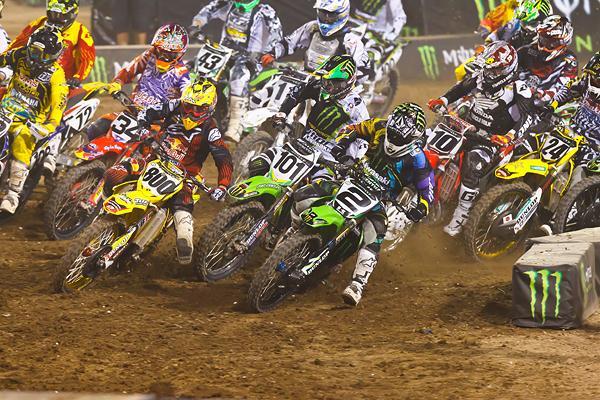 Alessi with the ridiculous start from the outside.
Photo: Simon Cudby
Alessi pulls a ridiculous start from the extreme outside—Dusty definitely had the shifter on tight this time. RV quickly gets around him, though, and this one is over. Villopoto is going to take the million! Alessi engages Dungey in a battle. Dungey passes him, then Mike gets him back and even shakes a finger (non-offensive one) at Dungey. Of course this does not incite Dungey to do anything crazy in retaliation, he just passes Alessi back and pulls away. As Jerry Seinfeld said, the best revenge is living well.
Metty puts his Suzuki into third, good enough for third overall. Really rode well but in typical Metty fashion somehow people aren't going to notice as much as they should.
Alessi with his three lap deal again. By lap four he starts going backwards.
SPEED has NOT cut to live F1 coverage, which is supposed to be starting now. Between the live MEC race, NASCAR ending, Reed providing MotoGP commentary via Twitter, and Formula 1 about to launch live in Korea, we're in the eye of a motorsports hurricane.
RV is CRUSHING it!
That's it; Villopoto gets the Monster Million, paid out in $50,000 installments over 20 years (thanks for the scoop, Reedy and Stewie, and sorry, IRS, you're not taking half via this installment plan). We need to arrange a Villopoto interview for October, 2031 to find out how he spent his money!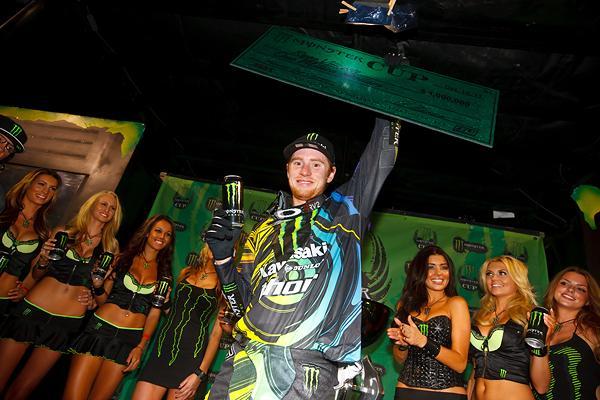 It was a memorable night for RV.
Photo: Simon Cudby
All in all, a good night. Remember this was the first time out for a radically different event, so you have to expect some hitches. Bottom line, the show was on live TV, it paid the riders good money, and gave the fans a chance to see something different. I'm all for it.
It's nearly 1:45 a.m. here on the east. Yeah, I know everyone in Vegas is going to go big tonight, but I can be a bad dude too. I'm just going to ZZZZZZZZZZZZZZZZZ.