Sam Boyd Stadium
Las Vegas

,

NV
Monster Energy Cup
Monster Energy Cup
Monster Energy Cup
Sam Boyd Stadium - Las Vegas, NV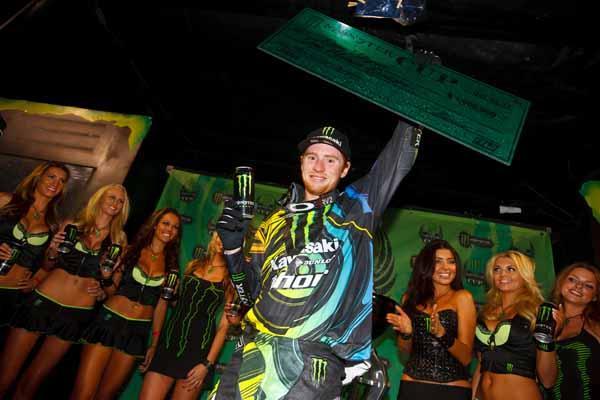 Villopoto went 1-1-1 for the overall and the million dollars.
Photo: Simon Cudby
SuperMini Overall
1. Adam Cianciarulo (1-1) Kaw
2. Copper Webb (2-2) KTM
3. Blake Green (3-3) Kaw
4. Bradford Young (5-4) Kaw
5. Mark Worth (6-6) Kaw
6. Ashton Hayes (7-8) Suz
7. Justin Hoeft (12-7) Yam
8. Shelby Peterson (10-10) Kaw
9. Chase Marquier (9-12) Suz
10. Andrew Pierce (4-18)
11. Tristan Miller (18-5) Suz
12. Chad Scogins (8-15) Yam
13. Jeremy Byrne (15-9) Yam
14. Austen Wiser (13-11) Kaw
15. Troy Graffunder (11-13) Hon
16. Rookie White (17-14) Suz
17. Robbie Wageman (19-16) Hon
18. Sam Redman (16-19) Suz
19. Jon Ames (14-21) Kaw
20. Andy Kost (20-20) Yam
21. Jantz Grodzicki (24-17) Suz
22. Cole Barbieri (22-23) Yam
23. Chase Bell (23-24) Kaw
24. Darian Sanayei (23-24) Kaw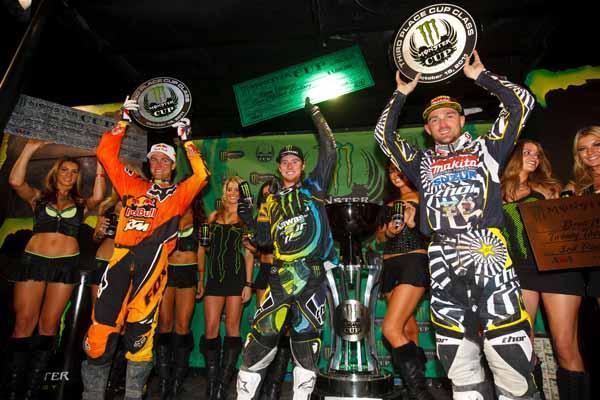 Dungey (2nd), Villopoto (1st), and Metcalfe (3rd) caped off the podium.Photo: Simon Cudby
Amateur All-Star
1. Justin Hill (4-1) Kaw
2. Austin Politelli (3-2)
3. Cole Thompson (2-3) Hon
4. Zach Bell (1-4) Hon
5. Jessy Nelson (5-7) Hon
6. Thomas Covington (8-5) Kaw
7. Vann Martin (10-8) Hon
8. Dillan Epstein (14-6) Kaw
9. Steven Tokarski (7-13) Hon
10. Zack Williams (12-9) Hon
11. James Gardiner (11-11) Hon
12. Chris Alldredge (13-10) Yam
13. Grant Ransdell (6-17) Yam
14. Brady Kiesel (9-16) KTM
15. Blake Savage (16-12) Kaw
16. Clay Chapiweski (15-15) Hon
17. Josh Mosiman (17-14) Suz
18. Alyas Wardius (18-18) Hon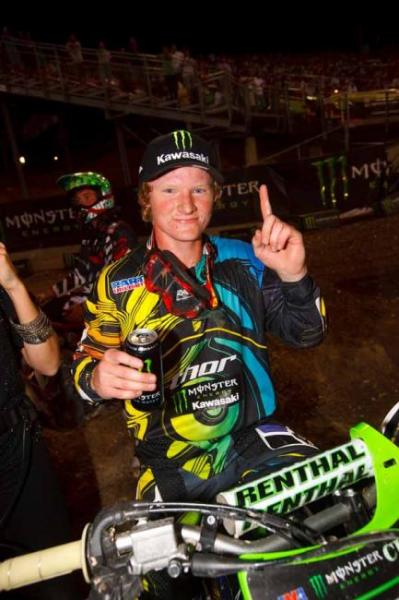 Justin Hill won the Amateur All-Star overall with a second moto win.
Photo: Simon Cudby
24th annual Suzuki Top Gun Showdown
Muddy Creek Raceway - Blountville,Tenn
250 Pro
1. Broc Schmelyun  Kaw
2. Kyle Bitterman Hon
3. David Butler  KTM
4. Luke Vonlinger  Kaw
5.  Adam Britt Yam
6. Joshua Hall Hon
7. Frantisek Smola Suz
8. Michael Docherty Kaw
9. Christian Telker Hon
10. William Hall Suz
450 Pro
1. Jacob Hayes Kaw
2. Tony Archer Suz
3. Luke Vonlinger Kaw
4. David Butler KTM
5. Frantisek Smola Suz
6. Kyle Bitterman Yam
7. Joshua Hall Hon
8. Dylan Cox Kaw
9.  Broc Schmelyun Kaw
10. Christian Telker Hon
Dade City MotocrossRealmotocross.com Sponsors Cup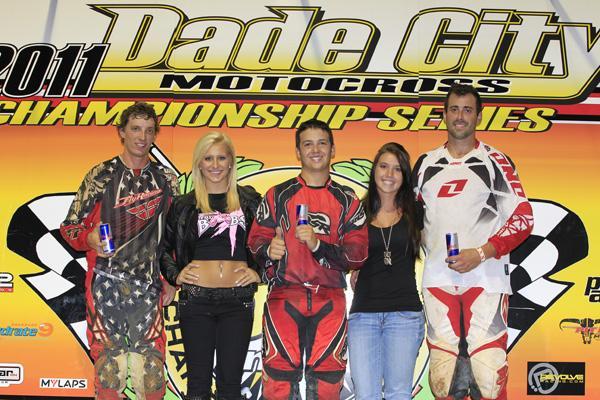 Dade City podium.
Photo: Randy Yoho
Can-Am GNCC Racing

XC1 Pro Standings
Charles Mullins 245pts. KTM
Josh Strang 219pts. Suz
Paul Whibley 213pts. Yam
Kailub Russell 180pts. KTM
Nathan Kanney 160pts. KTM
Cory Buttrick 120pts. KTM
Mike Lafferty 105pts. HSB
Jimmy Jarrett 98pts. Hon
Chris Bach 96pts. BET
Thad DuVall 96pts. Yam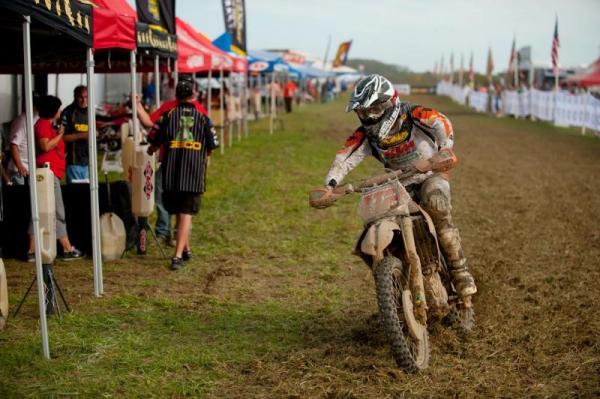 Charlie Mullins continues to lead the XC1 Class.

Photo: Shan Moore
XC2 Standings
Steward Baylor Jr 243pts. KTM
Jason Thomas
205pts. HSQ
Jordan Ashburn 196pts. Yam
Andrew Delong 193pts. KTM
Jesse Robinson 146pts. KTM
Scott Watkins 125pts. Hon
Morgan Moss 113pts. HSQ
AJ Stewart 108pts. Yam
Zack Smith 101pts. KTM
Steven Squire 91pts. Yam
AMA GEICO Powersports Endurocross Championship


EX Pro Points Standings
Taddy Blazusiak 150pts. KTM
Mike Brown
102pts. KTM
Geoff Aaron 97pts. Hon
Cody Weeb 91pts. BET
Justin Soule 85pts. Kaw
Colton Haaker 76pts. KTM
Gary Sutherlin 56pts. Kaw
Kyle Redmond 46pts. Hon
Kevin Rookstool 45pts. KTM
Bobby Prochnau 35pts. KTM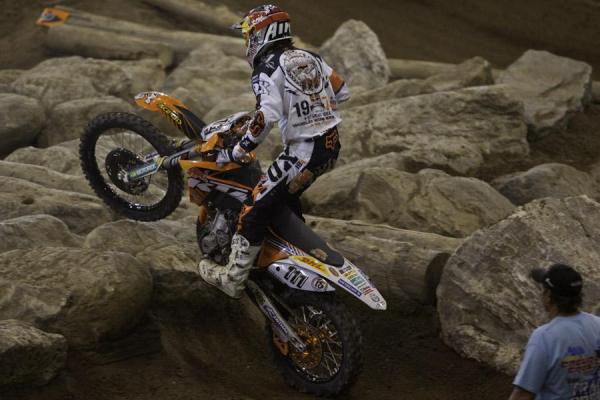 Blazusiak leads the EX Class.

Photo: Drew Ruiz