Sam Boyd Stadium
Las Vegas

,

NV
Monster Energy Cup
Monster Energy Cup
To refer to the Monster Energy Cup as a race would be inaccurate. From the $40,000 winner-take-all freestyle best trick competition, to the amateur racing, to the Monster/Falken/Ford Mustangs putting on loud, smoky drift demonstrations in the pits, the event was nothing short of a fantastic motorsports spectacle. But when a clear case containing $1 million in cash was hung right next to the starting gate during the opening ceremonies, it became clear that no matter how much extracurricular entertainment there was, there was no way it was going eclipse the racing action that was about to take place.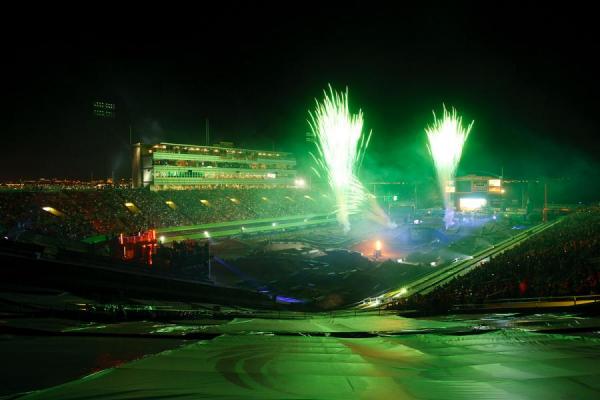 A unique track, format and classes--as well a first-time-ever million dollar bounty--made this an event to remember.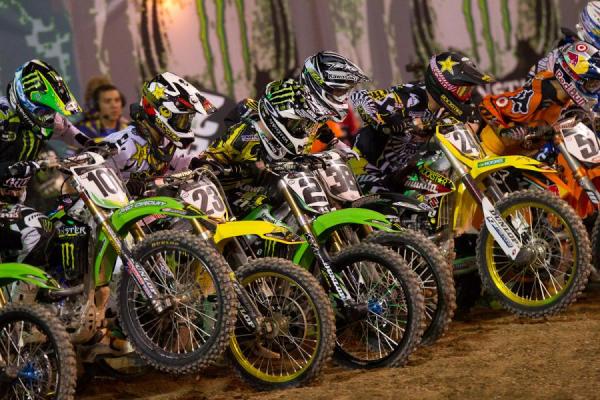 The track was long and fast, but didn't offer much passing. As a result, the start was critical, and Ryan Villopoto (2)  nailed a good one each time.
Simon Cudby photos
When the first main event gate dropped, it was Ryan Villopoto who ripped out in front of the pack, followed by Ben Townley, Mike Alessi, Brett Metcalfe and Ryan Dungey. Townley was able to keep RV in sight for a little while, but it wasn't long before Villopoto began motoring away. Meanwhile, Dungey was putting heavy pressure on Metcalfe, who was right behind Alessi. Then, at the same moment that Dungey put a move on Metcalfe, Alessi failed to jump a triple right in front of Metcalfe, and Metty had no choice but to back off. Just like that, Dungey passed them both and took off after Townley. With just a few laps remaining, RD5 caught Townley, and a terrific battle began to unfold. Dungey was showing Townley a wheel everywhere, but Townley expertly protected the inside every time. At times it seemed that Dungey was literally a single inch out of range to make any of his moves stick. The battle went to the wire, with Dungey attempting block passes in earnest in the final two corners, but Townley held his ground and hung onto second place. Elsewhere, Josh Hansen and Brock Tickle came together, with Josh Hansen getting the worst of it and going down. Hansen quickly popped up and gave Tickle a "friendly" gesture to demonstrate his discontent before pulling out of the race. Villopoto took the win, and since the only way to win the million was to win all three main events, he also took away everyone else's shot at taking home the cash.
Villopoto started the second race by immediately jumping into the lead again, but this time Dungey was right on RV's rear fender, and it looked as though the crowd would finally get the chance to see the Ryans go at it. Dungey simply couldn't match RV's pace, however, and the battle never took place. RV slowly started getting away, and it wasn't long before he had built another huge lead. Several positions back, Townley was forced to pull off the track with a mechanical issue that was traced to either his rear wheel or his rear brakes. Unfortunately, with the races being so close together, there simply wasn't enough time to fix Townley's bike, and he ended up missing the third and final race—a heartbreaker after finishing second in race one. Meanwhile, Villopoto went on to win this one, putting him just ten laps and one more win away from the $1 million purse.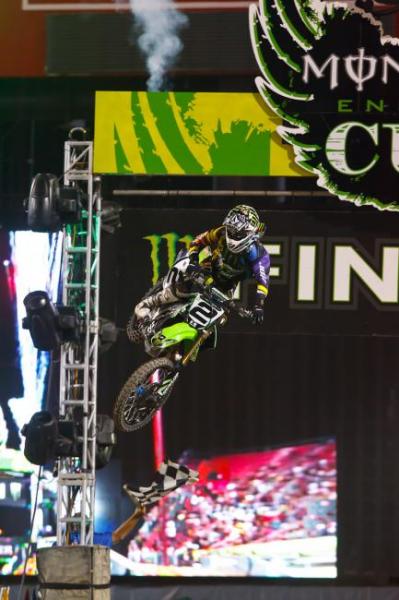 No one could match Villopoto's starts or speed--and after he captured the second 10-lap main event, gamblers would have had good odds on RV2 sweeping the event.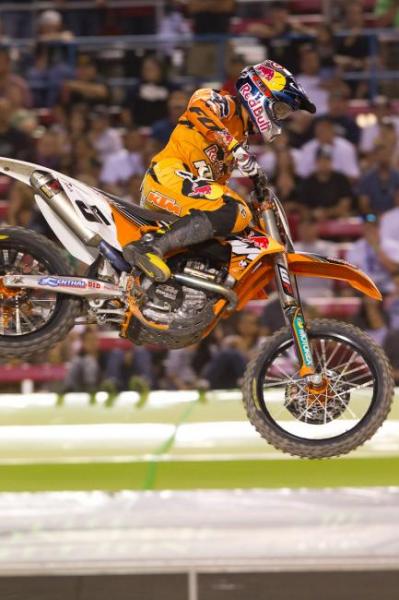 Ryan Dungey
made a last-minute decision to debut his new KTM at this race. He rode well and collected second overall, but was no match for Villopoto's speed.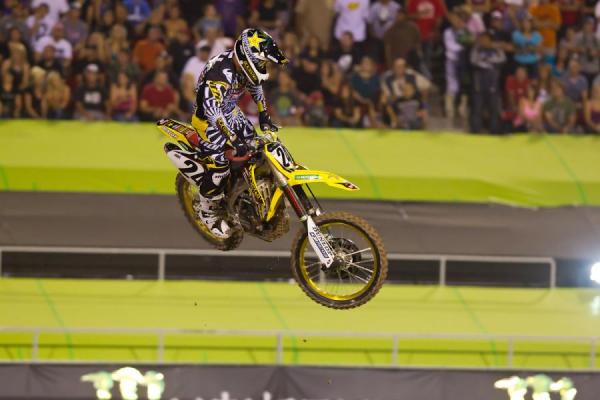 After missing the second half of the 2011 Monster Energy Supercross tour,
Brett Metcalfe
looked very comfortable at the ME Cup, taking third overall.
Simon Cudby photo
When the third race got underway, it looked as if RV was about to pull another holeshot and disappear. Then, Alessi came knifing in hard from the outside and took the holeshot, with Villopoto and Dungey in hot pursuit. With Dungey right behind Villopoto, and Alessi providing traffic out front, Dungey needed to get into the lead and make a break for it. It didn't work out that way. Instead, it was RV who quickly dispensed of Alessi, slicing inside at the end of the sand rollers and making the pass. Dungey had a tough time getting around Alessi's Suzuki. The two went at it for a while, and when Dungey finally did get into second place, Alessi quickly put a block pass back on him. A lap later, Dungey made the pass stick, but by then Villopoto had already built a massive gap that would easily hold for the remainder of the race. Alessi, who crashed extremely hard in practice, had been riding hurt all night, and faded back to sixth. The race came to a close with Villopoto taking the checkers, and with them, a cool $1 million, the largest purse in the history of the sport.
Ryan Dungey took second overall, winning $35,000, while Brett Metcalfe's 4-3-3 finishes earned him third place and $20,000. Geico Powersports Honda's Kevin Windham never quite found his groove. A first turn crash in his heat race sent him to the semi, where another bad start sent him to the LCQ. He went 15-14-12 for 13th overall. Another favorite, Hansen went down in practice, twisted his knee, and didn't perform to his potential. Hansen DNF'd the first, took 17th in the second race, and DNS'd the third race. His results earned him 21st overall.
In the Amateur All-Star action, you can certainly say the competition was close. Zach Bell dominated the field in the first race only to be forced to stage a come from behind ride in the second to finish fourth. That tied him for the overall with Justin Hill, who took fourth in the first race before dominating the second—and Hill won thanks to the tie breaker. Worse yet for Bell's, Austin Politelli and Cole Thompson, who went 3-2 and 2-3, also tied for first place, which bumped Bell all the way back to fourth place. Well done by Hill, who is Josh Hill's younger brother.
When the Super Minis took to the dirt, it was the Adam Cianciarulo show, as the Team Green prodigy led both motos wire to wire. New KTM recruit Cooper Webb, who missed a qualifying session after his motor died, did his best to keep AC honest, but by the time he had battled past Blake Green in the first race, Cianciarulo was gone. In the second race, Webb got a good start and was right on AC's tail, but the speed of AC proved to be a little too fast for Webb. Webb went 2-2 for second, followed by Green, who went 3-3.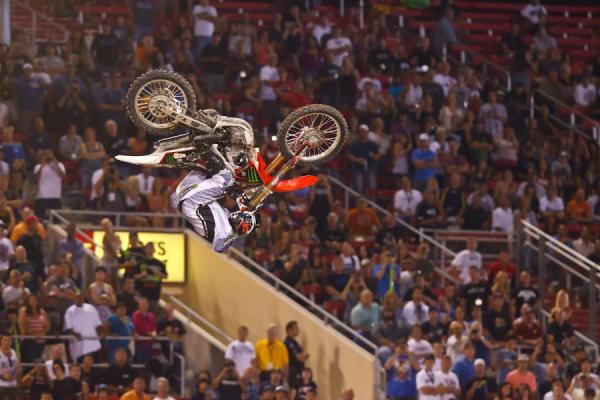 Mark Monea won Best Trick with his Carry On--it looks this crazy in photos.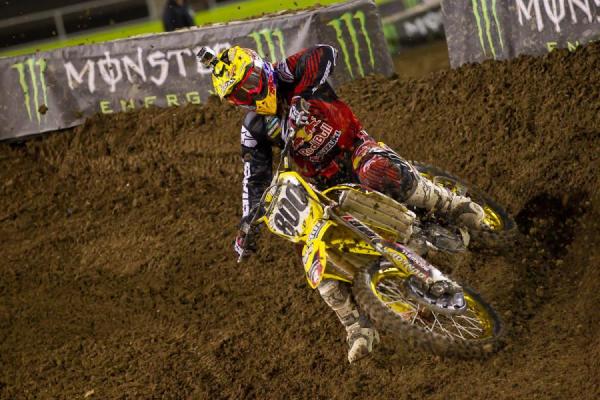 Mike Alessi came into the race with high expectations, but a hard crash in practice slowed his efforts at night.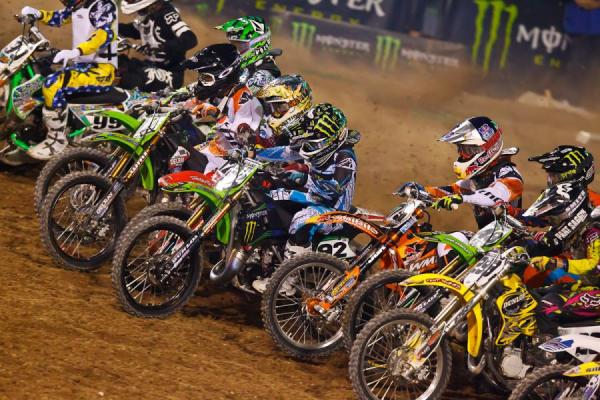 The Super Mini field blasts off, with Adam Cianciarulo (92 on green) and Cooper Webb )on orange) ready to battle. And yes, these are two strokes!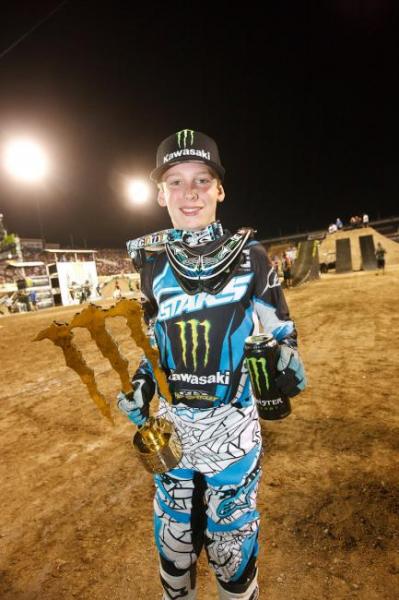 Cianciarulo was all smiles after taking both Super Mini main events.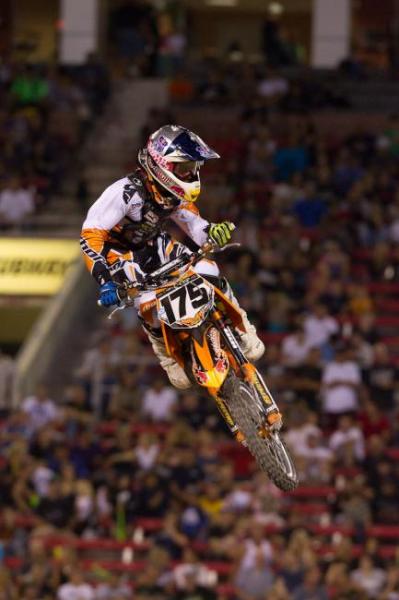 Cooper Webb is now on orange. He finished second in Super Mini to Cianciarulo both times.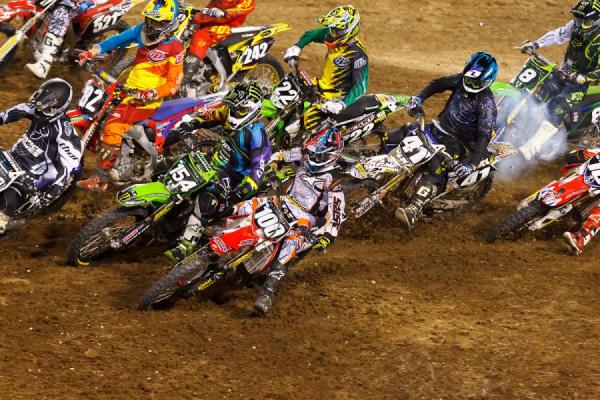 Zach Bell (100) and Justin Hill (154) split wins in the Amateur All-Stars races, but Hill took the overall with 4-1 finishes.
Simon Cudby photo
From the three-race format, to the innovative hybrid motocross/supercross track, to the massive purse, the event was unique, no matter which way you looked at it. Hats off to Feld Motorsports for thinking outside the box and creating this successful, one of a kind race. They're already showing TV commercials advertising next year's event on October 20, 2012. You'd have to  think Villopoto will be back!
1. Ryan Villopoto Seattle, WA, US 1 1 1
2. Ryan Dungey Belle Plain, MN, US 3 2 2
3. Brett Metcalfe Lake Elsinore, CA, US 4 3 3
4. Martin Davalos Cairo, GA, US 7 7 5
5. Eli Tomac Cortez, CO US 5 4 10
6. Kyle Chisolm Valrico, FL, US 9 9 7
7. Nicholas Wey Murrieta, CA, US 14 11 4
8. Jimmy Albertson Ozark, MO, US 11 10 8
9. Jake Weimer Rupert, ID, US 12 6 11
10. Mike Alessi Victorville, CA, US 6 21 6
11. Marvin Musquin Le Reole, FR 8 8 17
12. Justin Brayton Murrieta, CA, US 13 5 18
13. Kevin Windham Centerville, MS, US 15 14 12
14. Chris Blose Phoenix, AZ, US 10 16 15
15. Ben Townley Taupo, NZ 2 19 20
16. Broc Tickle Holly, MI, US 16 18 9
17. Cole Seely Corona, CA, US 21 12 13
18. Kyle Partridge Las Vegas, NV, US 18 15 14
19. Jarred Browne Nuevo, CA, US 17 13 19
20. Nick Paluzzi Riverside, CA, US 58 20 22 16
21. Josh Hansen Elbert, CO, US 60 22 17 21
22. Weston Peick Wildomar, CA, US 61 19 20 22