Sam Boyd Stadium
Las Vegas

,

NV
Monster Energy Cup
Monster Energy Cup
GEICO Honda's Eli Tomac had a good season if you look at it on paper—a close second in his rookie season of Lites Supercross, and fourth in AMA Pro 250 Motocross—two spots better than his 2010 debut. But in this sport, for whatever reason, standards are very high, and since many people expected Tomac to grab a bunch of wins and possibly the 250 MX Championship, it almost seemed like a disappointing season outdoors.
But that's up to him to decide—remember, Tomac only turned pro less than two years ago, so he has plenty of time to win. This weekend Tomac's back on the track, racing a Honda 450 in the Monster Energy Cup. We talked with him about that, and his thoughts on his 2011 season in general.
Racer X: Well I just got the news. All along I was building you up as the great 250 hope, but you're not riding the 250 this weekend. You're riding a 450.
Eli Tomac: Yup. Riding the four-fatty. Not the two-frisky. I'm out here at the test track in California. It's been good so far.
How long have you been on it? How long have you been doing this?
Well, I've been riding the 450 here and there all throughout the summer. So it's not completely new to me. But I've been on it solid for probably two weeks on a supercross track.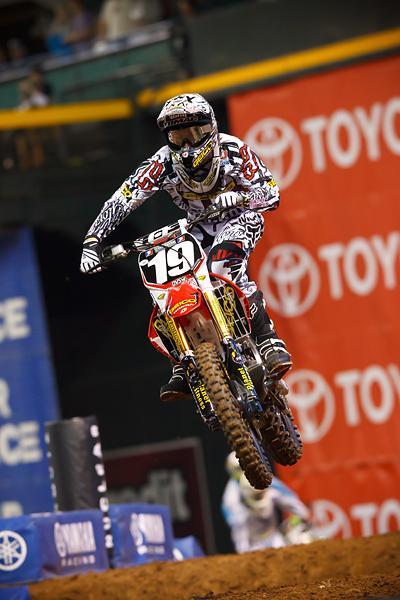 Tomac will be aboard a 450 at the Monster Energy Cup.
Photo: Simon Cudby
Do you have any idea what to expect on this track? Does anyone have any insider information on what this track's going to be like or are you just going to have to learn it when you get there?
We really have no idea. I think we're gonna start with the supercross set-up; suspension-wise. That'll be the base. But who knows. We might just have to throw completely different stuff on when we get there and see the track. It'll be interesting to see.
So take me through why you want to do this race. Some guys are in, some guys are out. Obviously you wouldn't be doing it if you didn't think it would help, so what's your plan here?
At first, after Pala, I was like no way. I wanted some time off. But I don't know. It seems like once I had some time off, I was just fired up to go racing again. I guess it's kind of that a million dollars is up for grabs too. I don't understand why you wouldn't race. So, that's probably half the reason also.
So do you feel okay on the 450? Are you ready to come in and maybe contend for that money?
Yeah, I would like to say so. It seems like I'm a little more of a 450 guy. A little more smooth, I'd like to say. I think my style fits the 450 well.
And we get to go back to the stadium where… We didn't talk to you after that one. I don't know if anyone really wanted to. But, I know that the race didn't quite work out quite the way you wanted it, unfortunately, last time we were in Vegas. Do you still think about that? I mean, in the end it was an awesome brand-new supercross year for you. Your rookie year, you almost won it. So what'd you think when you roll back into that stadium? Does that bug you, or do you not even think about that stuff?
I don't know if it'll bother me that much. But it's like you said. Obviously I wanted to win the whole thing. I can't complain about second place my rookie year and almost winning the whole thing. I think if anything, it'll get me a little extra fired up.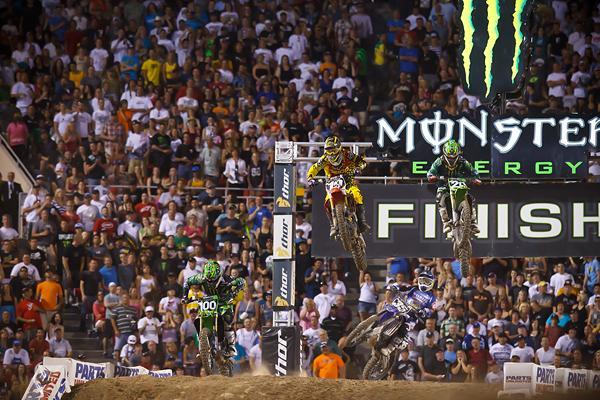 Tomac finished a close second to Broc Tickle in the 250 Lites West Class in his rookie season.
Photo: Simon Cudby
So what do you remember of the dirt and all that? That worked out pretty well for you.
Yeah. It's gonna' be a little more hard pack unless they bring a bunch of sand in or something, which I think they might do too. But I usually ride hard pack stuff good, so that should go well.
Now, the thing you're always up against is, unfortunately or fortunately, you won your first ever pro race, so it sets the standards so high, at least on the outside. I don't know if you felt that same way. How do you rate how your 2011 season went? In some ways, it was awesome, but then you came short of the supercross title and you didn't get a national win-–I'm sure you wanted one. How do you look back at this season?
Supercross was obviously as good as I wanted it to go and then outdoors was just an up and down rollercoaster. The whole time it seemed like it's a podium here and there and then something would go on the next weekend. It was definitely not what I wanted at all. And then I got those couple of podiums at the end. Then I didn't do well in Pala, so that kinda pissed me off 'cause I jacked up my starts. That was just not right. So the outdoor season was not good at all, you could say.
But it's weird in this sport because, I mean you did better than you did last year in points, for example. You did have some good races. It's weird how the standards get set in this sport. I mean once you win that first race, it's like almost every week you have people who are gonna ask, well why didn't you win again? Is that something you were prepared for? Or has that taken you by surprise a little bit?
Maybe a little bit. But I would get pretty satisfied with just getting on the podiums, 'cause usually if you get there, you've got a good chance of being in the points lead by the end of the championship series. So I would've just liked to have been on the podium more, really.
But, I'm sure at the same time, you must have learned a ton. It's not like you got hurt or anything really terrible happened, right? So you got to be excited about some things.
Yeah. You learn stuff every race. So you just take that in to the next race every time.
So this weekend. This could be a big boost. It's not like you're planning on racing a 450 anytime soon after this, right? This is just a fun thing?
Yup, I'll do this race on the 450 and then I'm going over to Bercy. So I'll be on a 450 until after Bercy. And then I'll go 250 after that.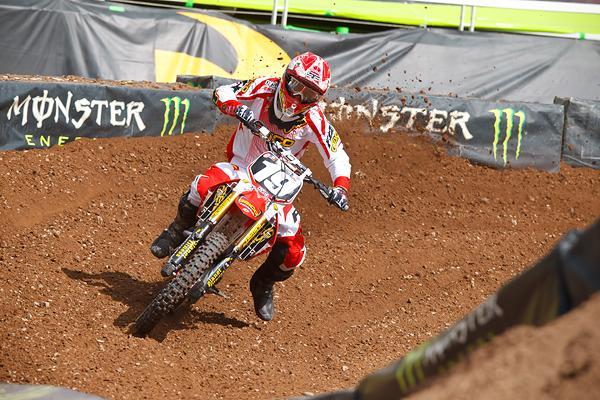 Will Tomac be able to contend in his maiden 450 attempt?
Photo: Simon Cudby
What was it that turned around for you so much in supercross? Those first three or four rounds you got much better every time. It was a ninth at round one, then it was a podium, then it was a win. I mean, what can you really point at that you learned?
Well the first round was the start. I'm not going to blame it all on the start. I was a little nervous, too. Second round… Middle of the pack starts just don't work unless you're like James Stewart or something. You have to do something crazy on the track to catch up. So you really just have to be in the top five if you want to have a chance at really winning because it just gets so spread out the first couple laps there. That's what I kind of figured out was just getting consistent starts and just getting more comfortable on the supercross track.
So with all that under your belt, you're looking to come back swinging as soon as the year begins this time.
Yeah. I'll definitely be ready first round this time.
Well, good luck this weekend. That's awesome being a 450. You have to be pumped!
Yeah, it's going to be fun for sure. I can't wait.