By Steve Matthes and Davey Coombs
Last week we profiled the best silly season signings ever, so it's only fair now that we count down the not-so-best ones. For a variety of reasons—injuries, bike problems, general malaise—things don't always work out for a riders and teams. Here are some prime examples, in no particular order.
10. Johnny O'Mara signs with Suzuki
The O'Show had a great season in '86—he scored a lot of podiums and was looked at as the third-best rider in the country. The only problem was the two best riders were his teammates, Rick Johnson and David Bailey! So with cuts at Honda looming, O'Mara got the news at the 1986 MXoN that he wouldn't be back with Honda for the next season and motivated by that, he went out and smoked everyone on a 125.
Johnny landed on his feet at Suzuki with a three-year deal worth $1 million, but unfortunately for O'Mara, the results never came together. Injured before his first season even began and saddled with bikes that weren't very good, he struggled until the last year of his deal when he almost won the '89 Anaheim Supercross before—wait for it—his bike broke. (For more on this, check out this Pulpmx piece and this podcast.)
9. Micky Dymond signs with Yamaha
The Mick made our list of best signings ever last week, and he also makes the worst. Dymond was a two-time 125 National MX Champion who was forced into the 250s via AMA rules. He was stellar in the off-season supercrosses and at times challenged at the front in the USA series, and was considered a future star.
With Honda unable to keep him, Dymond went to factory Yamaha in '88 and proceeded to lead the world in one category: Magazine covers! Dymond was expected to be the next Yamaha star after Broc Glover had endured some injuries, and for a little while, it looked like it everything was coming together. He ran up front at the 1988 Anaheim opener and finished second, but shortly after that he broke his hand and the downhill spiral began. A combination of lack of focus, too many Motley Crue concerts, and injuries conspired to make Dymond a bust on the white team. He never got another factory ride in the U.S.
But he did look sweet in his pink-and-black Answer gear with his hair hanging out of the back of his helmet. (For more on this story from Dymond himself check out this story, and this podcast.)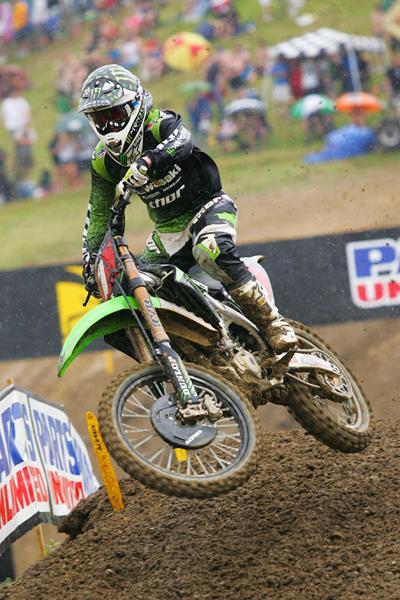 Reed and Kawasaki never gelled in 2010.
Photo: Andrew Fredrickson
8. Chad Reed to Kawasaki
This one still baffles people. In 2010, Chad Reed, the two-time supercross champion, was just coming off his first AMA Pro 450 MX Championship when he moved to Monster Energy Kawasaki to be paired with rising star Ryan Villopoto. It was thought to be a match made in heaven, but Reed and the green team never gelled.
A switch from Bridgestones to Dunlops required some time to settle in as well. Right after winning the motocross title, Reed was off to Australia to race that series. When that was over it was right into Anaheim. Disaster struck there when Reed's wheel came apart after contact from another rider. At the second round it was a crash with James Stewart and a broken hand for the two-two.
After that it just never came together for Reed or the team. He came back near the end of supercross but wasn't the same dominant rider. A season-opening win at the Hangtown National was an anomaly, with average results leading to an illness-related hiatus. This year, Reed proved he still had plenty left in the tank, but Kawasaki also proved they run a championship-level effort. It just didn't work out as a pairing.
7. Alessi and Honda
Honda was grooming Mike and Jeff Alessi in 2004 to be the new faces of their program, but just as the boys were set to turn pro, the deal didn't come together and the boys made did a surprising deal with KTM. They also changed their riding gear three times in the fall of 2004.
Mike certainly has enjoyed a decent career, but not the one many had expected of the much-hyped minicycle prodigy. The move angered Honda and more or less took Mike out of the running for ever being on a Honda-supported Lites satellite team. It also appeared to sour Mitch Payton on the situation, and as a result, Alessi never found his way onto the highly successful Monster Energy/Pro Circuit Kawasaki team, either. Number 800 never really learned to master AMA Supercross racing, likely a result of not being on such an experienced Lites team. He remains the fastest man in the sport since Steve Lamson not to win an SX main event in any class.
6. Kevin Windham to Suzuki
Kevin Windham was hot property coming into the 2001 season and Suzuki snatched him up with a big-dollar, multi-year deal and teamed him with Travis Pastrana. The future looked bright for the yellow squad. As a matter of fact, Windham and Pastrana ran 1-2 at some early supercross races that season. Windham made four podiums in supercross and won a couple of nationals as well that year, setting himself up for a great 2002. Unfortunately for Windham, 2002 turned out terribly, as he faded to the back in many races before eventually breaking his leg at the Atlanta SX.
Before his injury, he wasn't getting many results for the Suzuki squad, as his off-track life was affecting him on the track. After the injury, KW never raced for Suzuki again. He took more than a year off, returning on a Honda CRF450R and resurrecting his career. He's still one of the top riders in the sport today, but back then, the Suzuki signing didn't really work out for either side.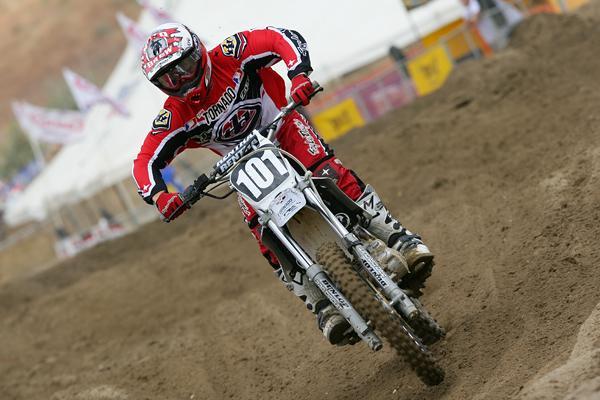 The Tornado was more hype than hope, as Ping quickly found out.
Photo: Simon Cudby
5. Gary Jones to Islo
After winning three straight 250cc AMA Motocross titles on—in order—Yamaha, Honda, and Can-Am, Gary Jones got hurt in 1975 and could not defend his title. His father, Don, had an idea that they could start their own motorcycle brand in Mexico, dubbed Jones-Islo (later AMEX). The machine sucked, Jones never won another major race, and the bike never made it on the market!
4. The Russians to Sweden
The USSR's Gennady Moisseev was one of the best riders of the '70s, and his teammate Vladimir Kavinov was right there with him. But following three world titles with KTM, his government handlers decided he should ride for a Swedish brand because they were paying more money. The bike was awful, Moiseev hated it, and the man who led the USSR to the '79 Motocross des Nations win (with all of their riders on KTMs) was never the same—nor was Russian motocross. In fact, it took until this year—courtesy of Evgeny Bobryshev—for a Russian/Soviet rider to win another major motocross race.
3. Stefan Everts to Husqvarna
Back in the early 2000s, multi-time World Champion Stefan Everts shocked the paddock when he signed with Husqvarna to campaign their new 450cc four-stroke machine in the World Championships. Everts was distraught by a few near-miss championship chases and was looking to switch it up. Then-manager Dave Grant pushed Everts to the Swedish brand in what looked like a bit of a desperation move for the Belgian star even then.
The deal blew up massively in every way possible with bike problems early in the preseason and then a badly broken arm for the #72. As the bike wasn't ready, Stefan waited until his arm was completely healed and exited the team at the end of the season. He then took a ride with Yamaha and got right back to the top step in the World Championships.
2. David Pingree to Tornado
It was a move many felt might bring together East and West, opening the vast U.S. motocross market to quality Chinese exports. But this was a Tornado, apparently based on the radical fusion of an old Kawasaki (three-wheeler) and an '82 Honda XR200. The Tornado was more hype than hope, less knockout than poor knock-off. It appeared unsafe at any speed, or any altitude, or even just sitting on a bike stand (if anyone could actually have lifted it onto one). Admittedly, Ping wasn't exactly a spring chicken at that point in his career, let alone General Tso's. The whole deal fell apart, as Ping himself recounts:
That was an emotional roller coaster for me. Not the fun kind of roller coaster where you throw your hands up in the air, yell "Wheeee!" at the top of your lungs and laugh so hard that you pee yourself a little. No, this was more like the ride where you eat a smoked turkey leg with a questionable green hue to it and chase that down with a Slurpee and a bag of cotton candy and then throw it all up on the 9-year-old next to you on the first drop. There's no recovering from that. I was really looking to make a return to racing at the elite level, and I thought I had found the perfect machine in the Tornado 250. At the time, China was really flexing their global muscle in the manufacturing realm, and who am I to question the quality of their work? I just knew that everything I bought around that time—and to this day, even—was made in China. How bad could it be? I was just stoked to be involved with a team that had significant financial backing. It was weird that I was asked to drop off my resume at the nearest Pep Boys, though.
I thought the bikes they had there were just display models with giant lead sinkers inside the engine to keep people from stealing them. Turns out the bike actually weighed that much. After a trying preseason, I had an epiphany. Unfortunately I had that epiphany halfway up Mt. Saint Helen at the famed Glen Helen circuit, as the bike I began referring to as "The Chinese Junk" came grinding to halt. I realized all the talk about the rider being the only thing that mattered in motocross was a bunch of crap. I'd like to see Bob Hannah ride that Tornado and then tell me that. He's a legend and all, but I've seen actual tornados that ranked high on the Fujita scale that were less dangerous than this motorcycle.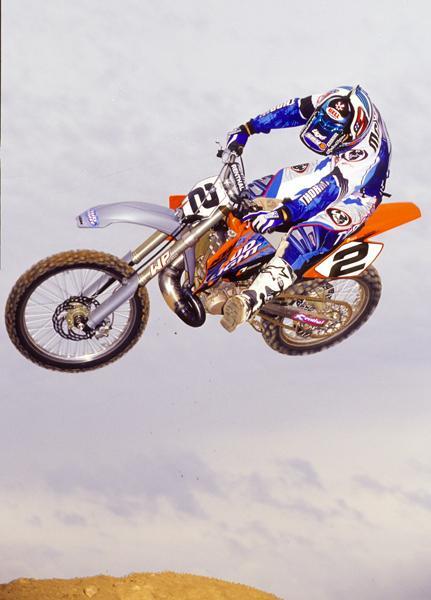 McGrath to KTM never worked out for the "King of Supercross."
Photo: Simon Cudby
1. MC to Suzuki/MC to KTM
Suzuki was in a no-win situation when Jeremy McGrath walked away from Team Honda just two weeks before the 1997 supercross season. When the "King of Supercross" comes asking for help, you say yes! But McGrath had been riding his trusty 1993 CR250 for three seasons—he was dialed into that bike—and had nearly won every single supercross main event in 1996. When he bolted for Suzuki, Roger DeCoster was only into his third year of rebuilding the RM effort, and the team wasn't ready. McGrath was nearly in a no-win situation, too, as he won just two races compared to fourteen the previous year. Later, Suzuki and McGrath proved they could win—just not together. But it wasn't McGrath's only unfortunate move. He relaunched his career with Yamaha and won three more supercross titles before getting bumped from the top spot in 2001 and 2002. Yamaha wasn't going to offer him big bucks anymore, so he switched to KTM for 2003.
This is the benchmark for all bad deals. KTM was not ready for Jeremy, and Jeremy was just about done as the greatest supercross rider of all time. He and the bike were just not working together, and the two races he rode in Europe—FIM World Supercross rounds in Switzerland and Holland—were honestly painful to watch, and he soon pulled the plug.
But the interesting thing is this: In the years after, McGrath got back on good terms with Honda—the brand where he realized his greatest success—and soon began working with them again on multiple levels. (He remains the last man ever to lead an AMA Supercross on a two-stroke, a CR250, via the '06 Phoenix Supercross, where he ended up fourth as a semi-retired test rider/racer.) Now McGrath and his old friend Larry Brooks, who joined KTM with him in the fall of '02 and stayed for a few years, have a new team with full-factory Honda equipment.