What if I told you winning both championships in AMA Supercross and AMA Motocross would cost you your job as team manager?
What if I told you that Ryan Dungey is already on a cover riding an orange bike?
What if I told you that the first Stewart to sign a deal was not the one you were thinking of?
What if I told you they were giving a million dollars away to any rider who can sweep three ten-lap main events, but some of the few riders who could actually do it probably aren't going to show up at the gate?
What if I told you they released the numbers for 2012 and it caused an "intervirtual" uproar because a new rider didn't get an old number that he may or may not even want?
What if I told you that Racer X Online is the official website of the off-season?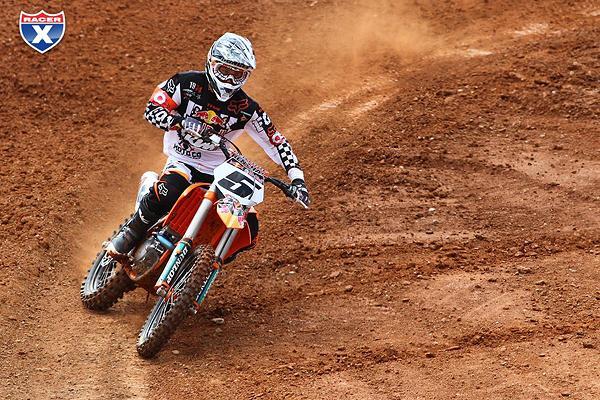 Racer X contributor BrownDogWilson was able to get the first images of Dungey on his new KTM.
Photo: BrownDogWilson
Do you ever watch those amazing ESPN 30 For 30 documentaries about sports stories of the last thirty years? They are simply amazing. The story of the death of Len Bias, the life of Jimmy the Greek, the real story behind "Invictus," star-crossed running back Marcus Dupree, and the incredible Two Escobars are all worth seeking out on iTunes, or even at Barnes & Noble in their DVD section. I bring it all up now because the commercials are always the same: "What if I told you...."
Let's start with Mike Fisher, the manager of the Monster Energy Kawasaki team that swept the 2011 AMA Supercross, American Motocross, and Motocross of Nations wins. He was terminated Monday over some kind of turf war that may or may not have involved FMF pipes, Pro Circuit's possible exploration of a 450 team, and NOT any actual results on the racetrack. Or at least that's what we think—no one is talking. But Fisher, eighteen years at the company, did send out this statement.
This is the part that gets me: "Although it may seem a surprise to some, for myself and those that have worked closely with me throughout the year, this unfortunate news was anticipated and expected. This past year has been the most challenging of my career, as well as the most rewarding."
When we find out the backstory here, we will share it, but right now it's as puzzling to me as seeing the coach of the Green Bay Packers, last year's Super Bowl Champions and 4-0 right now, terminated.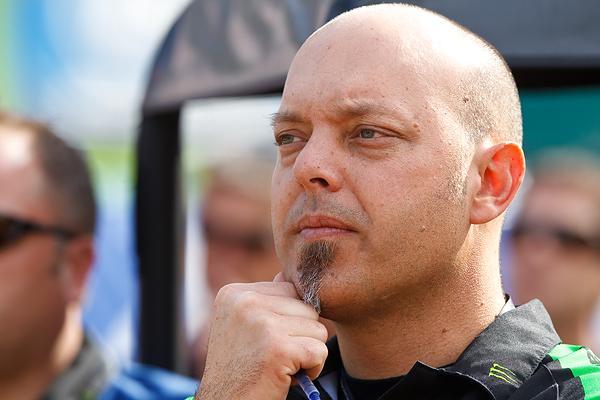 It was announced earlier this week that Mike Fisher was officially done at Kawasaki.
Photo: Simon Cudby
As far as the Stewarts go, I think it's great that Malcolm got a deal to ride an orange bike on the JDR/J-Star team next year. Malcolm was a pleasant surprise this summer, earning AMA Motocross Rookie of the Year honors in the 250 Class while riding for the ARMA Energy/Suzuki City team. He will also wear #37, which was pretty good for Darryn Durham this past summer.
If you're confused about the numbers, here's a cheat sheet Steve Matthes pulled together to get some of it explained.
As far as Ken Roczen goes, he's in the same situation Jean-Michel Bayle was back in 1989-'90. Bayle was handed #111 (usually reserved for visiting world champs like JMB, Roger DeCoster, Stefan Everts, Greg Albertyn...) for the eight races he did in '89, then when he came back he was told he had to switch to #22 because that was where he finished in points, even though he didn't do the whole season.
The same now goes for Ken Roczen, but rather than choosing #111 when he arrived, he asked for #194, which was close to #94, which he has used for most of his life. Ken rode a half-dozen or so Lites SX races, but they don't count toward your score here, as it's a regional series in that class. So when they added up his points, he earned #70. Now his fans in Europe are in an uproar because he was "disrespected" as world champion and not just given #94 (Cole Siebler has it for 2012). But there's no way Ken can get #94 until he gets in the top ten in the points on the AMA tour.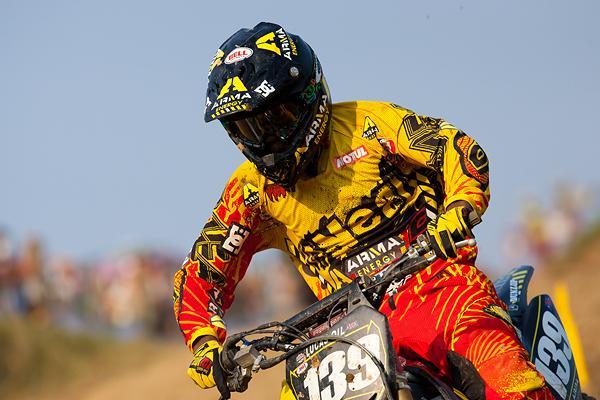 Malcolm Stewart signed with KTM earlier this week.
Photo: Andrew Fredrickson
Here's the kicker: He can be #111, if he wants. He just needs to see if the guy who has it right now, Michael Sleeter, will give it up. Sleeter won't be hard for Ken to find: He works at KTM!
You know what's cool about growing up in motocross family? Every now and then, cool stuff from yesteryear pops up in your garage, or on shelves, or in your desk.... And I'm not even talking about my family. Scott Wallenberg's dad was a very good amateur photographer, and from time to time Scott finds stuff from those days of racing nationals all over the country. This week he uncovered a batch of unmarked photos from a 1975 race that took place at my parents' old track, Appalachia Lake Motocross Park, near Bruceton Mills, West Virginia. Small world....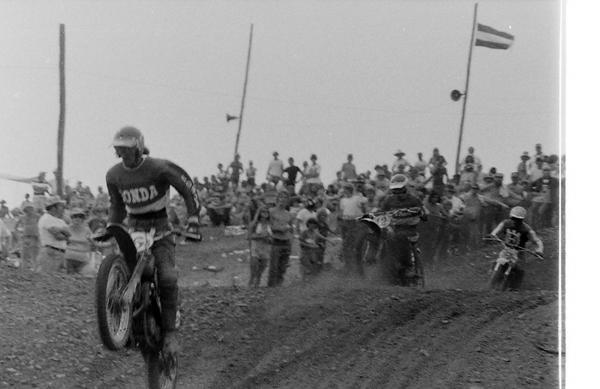 Photo: Wally Wallenberg
Not sure where the "WMX is getting axed" rumors are coming from, but Ashley Fiolek and Jessica Patterson and friends have nothing to be worried about: The WMX will be a part of eight rounds of the 2012 Lucas Oil AMA Pro Motocross Championship. What we're working on is a standalone TV deal for the girls, which was missing this past year and is a priority for MX Sports right now.
One of my friends sent me this photo of what looks like a daredevil jump a missing section of bridge. Does anyone have any info at all on this crazy shot?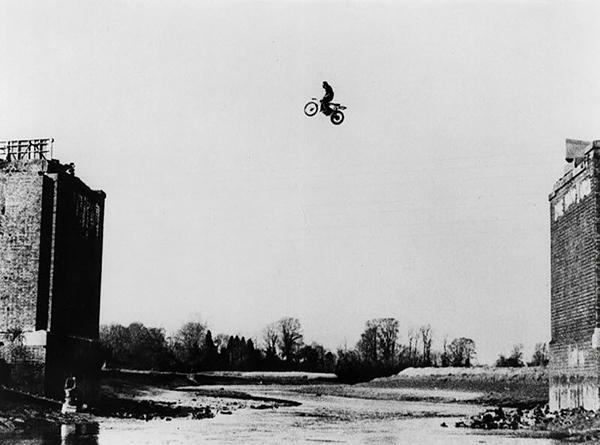 Finally, the Monster Cup. We're hearing and seeing lots of press releases about fast guys signing up, but so far we're not really sure if we're going to see James Stewart there (let alone which color of bike he'll be on, but lately everything looks yellow) or Ryan Dungey. Chad Reed is already out, as he's back home in Australia trying to catch up on some long-overdue rest.
As for Dungey, in my personal opinion, I really think he should sign up on his new KTM, just like Ricky Carmichael did when he switched to Suzuki in 2004. RC showed up at the U.S. Open and promptly got pissed off at a clutch problem with his new bike, going into one of his patented (and thankfully well-hidden) furies back in the rig. It got everyone at Suzuki's attention, and they immediately went to work on fixing the bike. I truly believe that real-life racing experience helped get him and the team on the right track quickly, and the result was four titles in two years—the '05 SX/MX titles and the '06 SX/MX titles.
Dungey, in my opinion, should forget about the million dollars, forget about how comfortable he is on the bike, and just go be on the team next weekend under racing conditions, see how they work, see how he feels, and give the team a trial run so it's not a first time for everyone at Anaheim 1.
But then again, I'm not the guy who just raced thirty times in the first nine months of this year, traveled around the world, and gave it everything I had each time on the track. Between Dungey and Roger and the rest of the KTM team, I'm sure they know exactly what they're doing.
And what about Stewart—no, the other Stewart? Let me turn it over Jason Weigandt here:
I tried everything to crack the code on the James Stewart 2012 story. That includes several visits to the Joe Gibbs Racing shop down the road from my house, and this time not only to get a free lunch! I took my lunch on Friday, and also listened in on the team's Monday bible session, in hopes that this would put everyone in an honest mood and lead them to spill the scoop. For weeks, I've been carefully maneuvering The Book toward Jeremy Albrecht's right hand, in hopes he'll accidentally put himself under oath. Hasn't worked. So this week I showed up again, on Thursday, under the disguise of "I have this beat-up old bike and maybe you guys can fix it up." With the bike as a decoy, I searched the offices hoping to perhaps "accidentally" stumble on a major contract signing.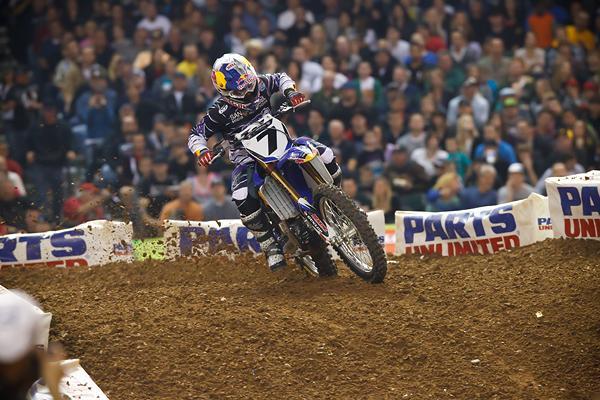 It looks like its down to Suzuki or Yamaha for James.
Photo: Simon Cudby
Not happening. I did learn this: The JGR team seems set to stay on Yamahas. And James is testing yellow and blue bikes. And I think this decision will drag on into next week, with more testing to be done. So we still don't have an answer, and without one, we don't know if James will race the Monster Energy Cup next week, or where other free agents, such as Josh Grant, Davi Millsaps and Mike Alessi, will sign.
Since so much hinges on this, I propose a new way to get an answer. James, how about you and I meet at a charity spot and I'll interview you, on camera, allowing you to announce your "decision" to the world? Worked out well for the last guy who tried it!
Most racing series have wrapped for the year, but the torrid battle for the 2011 Can-Am Grand National Cross Country Championship continues. This may be the tightest three-way points race ever in this series, with KTM's Charlie Mullins leading the way after grabbing two straight wins. Last year's champ, Josh Strang, has had terrible luck in the last two rounds to drop back to second, and Yamaha's Paul Whibley is right behind. Three races remain--that's nine hours of riding--so anything can happen. The boys are headed to St. Clairsville, Ohio this weekend, go to www.gnccracing.com to check out all the info, including live timing and scoring.
This weekend I'm off to Orlando to check out the 2012 Kawasaki Dealer Meeting. All of Kawi's superstar riders will be on hand to meet and great the dealers—nearly 800 in total—and Kawi will show off their 2012 product. On Sunday night, Kawasaki will pit all their riders against each other in a celebrity minibike supercross race (except for Ryan Villopoto, who is saving his racing chops for the Monster Energy Cup), which should be cool. I've never been to one of these dealer shows before, so it should be fun. Too bad Kawasaki is the only manufacturer that doesn't have any riders left to sign—I was ready to try to trick them, too.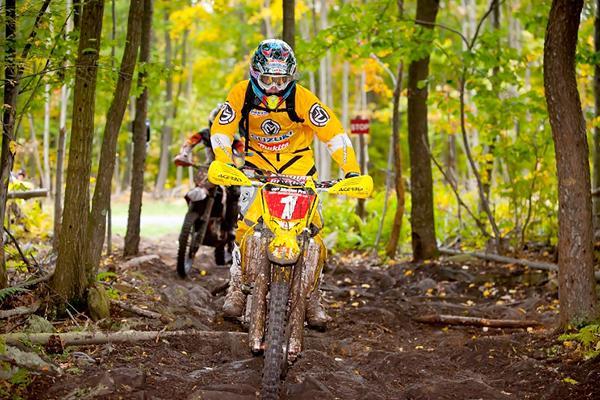 Can defending GNCC Champion Josh Strang regain the points lead this weekend?
Photo: Shan Moore
And speaking of Kawasaki, a big wedding shout out to longtime friends of Racer X (and ex-Morgantown natives) Ryan and Vanessa (soon-to-be) Holliday. Ryan used to work for us here in the MX Sports office, but today he is team manager for Kawasaki Team Green, the most powerful amateur team in the business. Congrats to Ryan and Vanessa, who are tying the knot this weekend in California. You two better party it up Morgantown style this weekend!
Now on to Matthes:
Well, it's the off-season and everything is in full swing. The silly season questions haven't all been answered yet, we're still officially waiting on what color Reed will be on (I hear red is done but he always calls me out on Twitter for saying this so maybe my source is wrong) and of course we're also waiting to hear about James Stewart.
To the smartass at Racer X who inserted the "Stewart signs with KTM" byline in the newsletter, thanks for making my Twitter, email and phone blow up. We all know it was Malcolm Stewart and not James but that seemed to escape a lot of people. Good job to whomever that was. I bet it was Fred. (Editor's Note: Matthes, It was Fred!)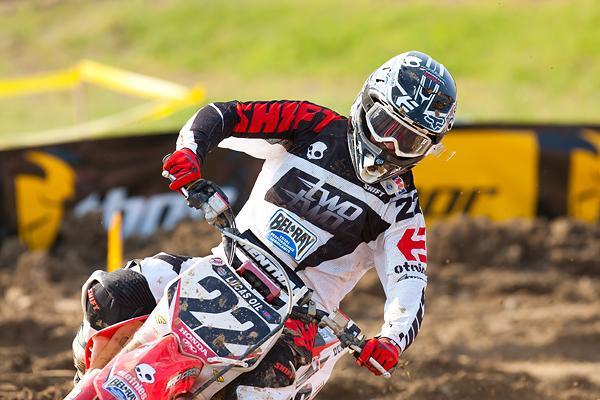 Will Reed stay on red for 2012?
Photo: Andrew Fredrickson
There are a lot of other fast riders that are still out there trying to find a home. Kyle Chisholm? I hear either back to MotoConcepts or the BTOSports.com BBMX Suzuki team. Tommy Hahn? Last I heard he was looking to do an outdoor deal only, but my source on that one was Kenny Watson so take that with a grain of salt. Kyle Regal? Trying to get that second spot on the Laremy McBrooks team. Josh Grant? I have no clue but everyone seems to link him to the Valli Yamaha/Metal Mulisha team, but I keep hearing that deal isn't happening and that Mulisha is now teaming up with Star Racing. I also hear that FMF Power Energy Drink is going to be a huge presence on Star this year. Jimmy Albertson? Last I heard from Top Jimmy he was traveling around the country doing local races to make enough dough for him and Gilbert the dog to eat.
We'll find out soon enough and I'm sure at next week's Monster Energy Cup we'll see some more deals go down. Everyone will be there to talk deals and try to get the 2012 plans settled.
As far as the Monster Cup goes, with a $1 million prize to the guy who sweeps all three main events, it's looking pretty good for Ryan Villopoto. RV was forced to skip his honeymoon to race this deal and I'm sure that chapped him a bit but he's got a real chance at winning all three races with his competitors that gave him the most trouble this year not looking like they're lining up. Usually for these types of things, the promoter would buy an insurance policy against the million-dollar prize but I heard from some sources that Feld was unable to buy the policy on this. So that means the million bucks is coming out of their pockets. It would be incredibly awesome and incredibly sad for Feld if they do indeed have to pay that cash to RV.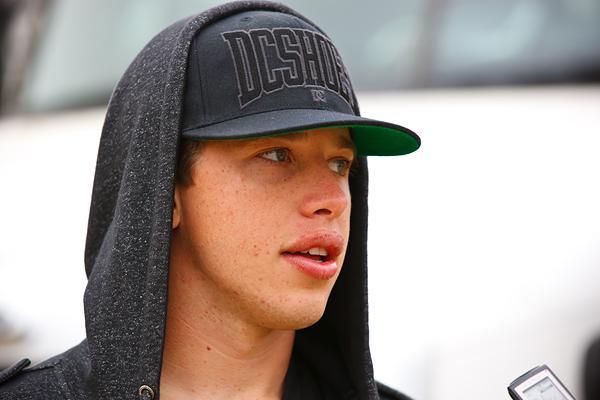 Will Regal be back with Larry Brooks for 2012?
Photo: Simon Cudby
To me, the thing that I'm looking forward to the most at the ME Cup is the Super-Mini class. This is guaranteed to be exciting and awesome all at the same time. Wonder boy Adam Cianciarulo is the favorite in this race but it's the carnage behind him with all the other amped-up-on-Mountain-Dew-and-gummy-bears 13- and 14-year-olds I worry about. Bright lights, some jumps and not enough horsepower equals pure enjoyment to me!
Last Saturday I headed over to Boulder City MX to watch the Vet World Cup race they were having. Vets such at Sebastian Tortelli, Doug Dubach, Jeff Matiasevich, Jeff Willoh and none other than the "Beast from the East" Damon Bradshaw showed up to do battle. It was a pretty cool race with Tortelli sweeping every moto but one. Bradshaw kept him honest for sure and also seemed very pissed at not being able to beat the Frenchman in typical Damon style. After the race I hung out with Damon for an hour or so while we talked racing, old friends and ate some chicken tacos. Good times indeed!
Just got a late-breaking text from someone that confirms Bradshaw is in for the ME Cup this Saturday! He had told me last week that he didn't think he could make it but I guess something changed between now and then. So look for Bradshaw on the Carl's Cycle KTM next Saturday night, where he is now immediately installed as the huge crowd favorite. Well, him or Kevin Windham, anyways.
Sad news in Canadian moto today via a press release announcing that Blackfoot Yamaha is pulling out of racing up north. The guys there did an awesome job at racing, first on Hondas and then in the last few years on Yamahas. They dominated the scene up there like no other team and have about 873 Canadian moto titles to their credit. It's too bad that Yamaha decided to cut back their racing efforts but it's a sign of the times I suppose. I also believe that the CMRC is not doing enough up there in its series to make it a viable racing series where the manufactures want to be involved. CMRC isn't real big on making it easy for media outlets that they don't own to help promote the series and maybe the OEMs saw this. Maybe they saw the coverage dwindling a bit and it made them feel like they could pull out and they'd be okay. But that's another column for another day. Blackfoot's announcement today is a huge blow to the series up there no doubt about it.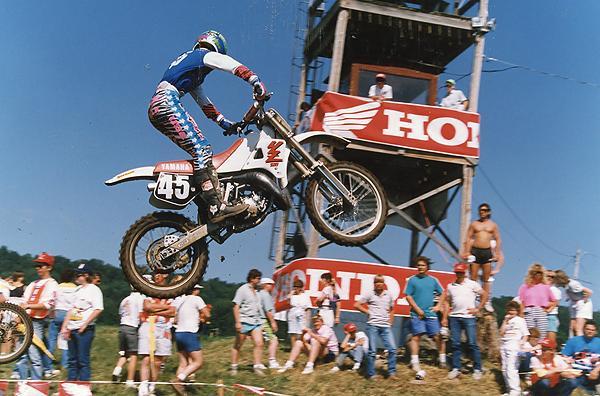 It looks like the "Beast from the East" is officially in for the Monster Energy Cup.
Photo: Thom Veety
Go to Pulpmx and check it out when you can. We'll be back this Monday night with the Pulpmx Show starring Kenny Watson and myself. We're going to be previewing the ME Cup all show and might even have Dave Prater on if he emails me back!
In other news:
Every year, we ask our readers to participate in our Racer X Survey. This year we have a killer prize for giveaway. The new RLC Track Commander retails for $1,099 + $195 Wi-Fi Racing. No more stopwatches! Instantly know your time anywhere on the track—100% GPS Lap, Split, Predictive Timing and accurate data logging. While on track, broadcast your GPS timing and sensor data to an iTouch, iPhone, and iPad. It's the ultimate coaching tool.
All you have to do is take a few minutes and complete our survey. We'll pick one winner in a couple weeks, contact you via email, and send you out your RLC Track Commander for free. Click here to participate.
It looks as if Christophe Pourcel won't be returning to the States for 2012. According to MXLarge.com, Pourcel recently signed with CLS Monster Energy Kawasaki Pro Circuit where he will compete alongside his brother, Sébastien, in the MX1 class.
Monster Energy will be offering bonus content for the 85cc race and the All-Star amateur event next weekend on Motoplayground Magazine's website. Check it out starting Thursday.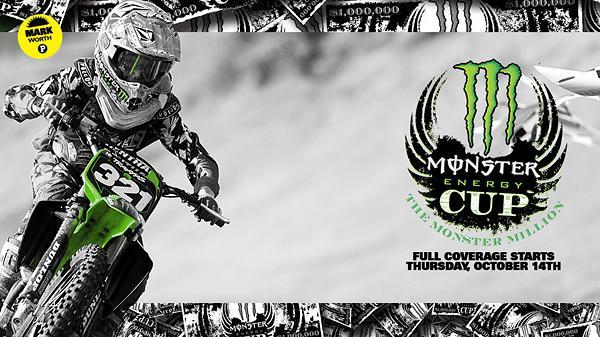 Didn't take long for Dungey to get his first cover on a KTM! "MX Geoff" Meyer has just posted the latest issue of Motocross Illustrated online. Included inside issue 10 is a feature on the Monster Energy MXoN, interviews with present and former MXoN heroes Chad Reed and Broc Glover, and a special feature on the Veterans' MXDN. There's also a test on the factory KTM bikes of Antonio Cairoli and Ken Roczen.
Also, three-time World 500cc Champion Dave Thorpe talks about his new Honda project, and there are some amazing Frank Hoppen images from Ryan Dungey on the KTM, plus they look at what it means for Dungey to be riding for the Austrian brand.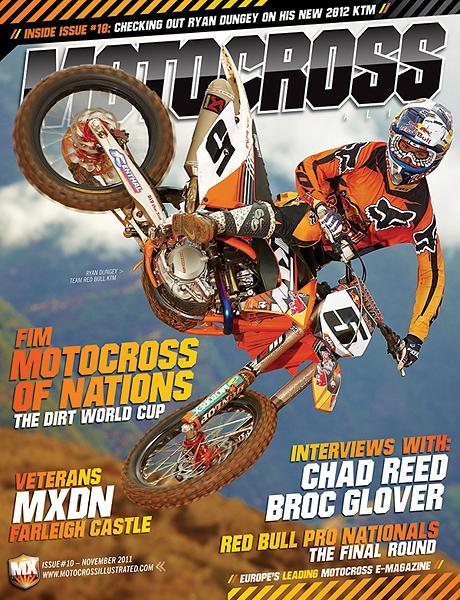 Issue fourteen of On-Track Off-Road is also now online, featuring:
-65th Motocross of Nations: pictures and opinions from France
-MotoGP from Aragon as series enters home straight
-AMA perspective from MXoN and St Jean D'Angely
-We're watching you…How MX makes it live onto your TV
-Blog, girls, photos and videos from all three racing sports
Click on the cover or the link to read or download OTOR 14 now.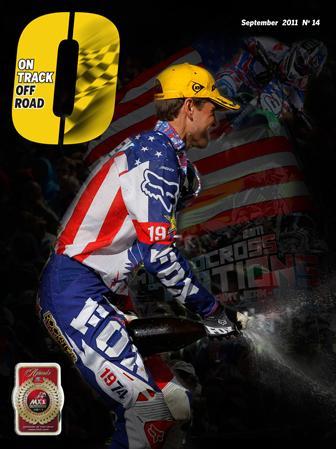 This installment of Racerhead is dedicated to Darwin Huckabee, the longtime Texas motocross legend who was killed in an accident at one of the local tracks in Houston. Huck was a pro on the national scene back in the '70s and was still competing at the age of 60. He was a tireless proponent of the sport, a great rider to hang with, and an excellent role model to all as a husband and father. He was quite the perfectionist, especially as a mechanic—a hobby we all benefited from—and a man who had an infectious smile, always lived in the moment, and would help anyone at the drop of a hat. He leaves behind his high-school sweetheart and love of his life—his wife, Eileen—son Ronny, daughter Wendy, six grandkids, and a litany of friends and fellow racers alike.
Services will take place tomorrow, Saturday, October 8, at Cypress Bible Church: 11711 Cypress N. Houston, Cypress, Texas 77429
Godspeed, Huck.
By the way, as I write this on my Apple computer, my son is using the iPad on the floor and my daughter is on the bed playing the Hello Kitty app on my iPhone and my wife is calling in on her iPhone from the gym. To say Steve Jobs has touched many lives is an understatement. Everyone who reads Racer X Online knows it was a sad day when Jobs lost his life.
Okay, I'm in California for my friend Ryan Holiday's wedding, so this seems like a good day to go check out the practice tracks. Thanks for stopping by and reading Racerhead. See you at the races.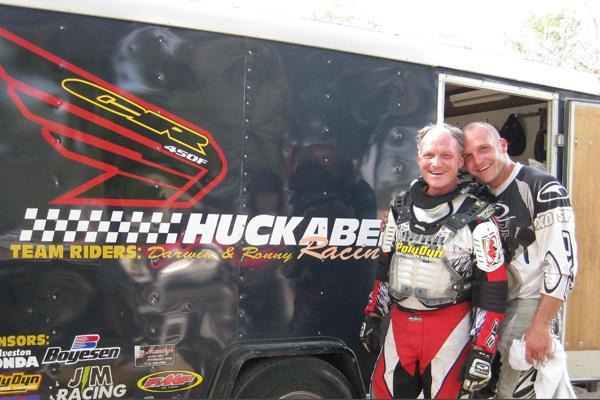 Godspeed, Huck.