KTM's Russell Bobbitt scored his fourth career AMA National Enduro Championship over the weekend in a dramatic, final-round showdown with Charlie Mullins, who took the crown away from Bobbitt last year. Mullins came into the final round in Matthews, Indiana, with a slim points lead, but Bobbitt bested Mullins for the race win and stole the title in the final round. We talked to the Georgia native about it.
Racer X Online: Congratulations on winning another title. Didn't this come down to you versus Charlie Mullins, whoever won the race won the title?
Russell Bobbitt: Well, whoever finished in front of whoever won the title. It was pretty nerve wracking the week coming into it.
You were champion in 2010, then Charlie got the crown last year. Did you have an injury before last season?
Yeah, a little bit, but I don't think that was the determining factor last year. I had a separated shoulder coming in, but I felt like I was riding good all year, I just didn't have the right set up at times. I don't know, I was just kind of lacking in some sections, especially when some of the GNCC guys—like Charlie—came into the races. That's part of the reason I'm doing so many GNCCs this year.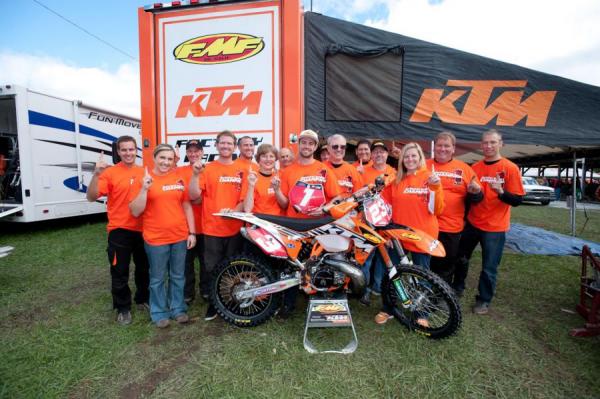 Bobbitt celebrating his fourth title.
Photo: Shan Moore
Where you more determined this year after coming up short last year? What else did you change?
Yeah, I definitely had to make a change. I didn't like losing! I changed up my program and tried to get more focused, more dedicated, and get back to winning more.
It wasn't major stuff—you ran the KTM 250 two-stroke both years.
Yeah. This year we had a new frame, but it was still the PDS chassis without a linkage. That's how I finished off last year, on a PDS [rear suspension] bike. But we changed some other things, like triple clamps, and doing more testing. I did more local races before the season to make sure I was comfortable. I think that played a big part in it, too.
You had a little bump in the road halfway through the year.
Yes. A week before the Arkansas National Enduro, I was at a family fun ride event, a fund raiser, and I fell and hurt my wrist. I didn't break it, but I was at the point of considering surgery because I had torn a ligament. It was really painful but I really needed to race. The guys at All Sport Dynamics helped me with a brace, and that helped me get through the race. But I did lose a bunch of points at that one. At times it felt my hand was going to come off the bar. It was tough, but if I hadn't raced it, I wouldn't have won the title. So it was definitely worth it.
So it comes down to you and Mullins into the last round. For those more familiar with motocross, explain how the National Enduros work. You don't actually race your competition handle bar to handle bar. You race against the stop watch.
Right. The pros actually start 20 minutes behind the first wave of riders, and there's only one pro on each row. So Charlie started on the first row with pros, since he won last year's championship, and I was on the third row with pros, since I was third in the championship last year. So I started behind him, so I'm not going to see him. You're just pushing through each section on your own, going as fast as you can and trying to limit mistakes.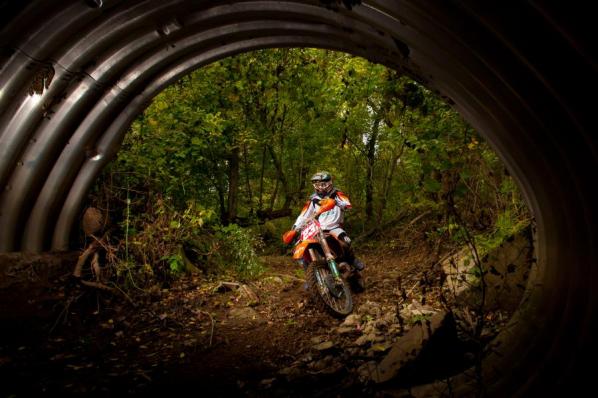 Bobbitt had to best Charlie Mullins at the final round to capture his fourth title.
Photo: Shan Moore
And at the end of each section, do you find out how your time matched up to his? Or do you not know where you stand until the end of the day?
We have some people that follow the times and get the times after each check, so we can compare times.
I see. And throughout the day, you were having a good ride. You won every single section!
I was feeling good and the bike was great at that race. I had a good setup, everything clicked. Even the weather was perfect, there was some rain coming into the race, but then it was a little windy on the race day and that helped dry it out some. It was perfect. I made minimal mistakes, only had a few small crashes, and had a great race to win it and get the championship.
Where you feeling any extra pressure since it was down to the last round?
You know, it's come down to the last race for me several times. I would say this one was one of the least stressful ones.
Really?
Yeah. I felt confident. The only thing bothering me was I was really anxious to get going. Once we were racing, I felt great. And to come back after my most dismal year, which was last year, it feels really good. The competition is really rising, more top riders and manufacturers are joining the series all the time. So to come back and make this one stick, it feels really good.