St. Jean d'Angely
St. Jean d'Angely

,

France
Motocross of Nations
Motocross of Nations
It wasn't always in the bag but Team USA did what it had to do in order to win the Peter Chamberlain Cup awarded to the winning country at the annual Motocross of Nations. Trailing home country France going into the third and final moto, Team USA riders Ryan Villopoto and Ryan Dungey put on a riding clinic as they went 1-2 to clinch the race. For the third year in a row, USA was trailing going into the last moto and for the third year in a row, the big guns of American motocross did what they had to in order for the country to win.
We caught up to a jubilant Ryan Villopoto, after he went 3-1 to win his class, to get his take on the day.
Racer X: Hey RV, looked a little bleak going into the third moto but you guys had a great moto to clinch the win for Team USA.
Ryan Villopoto: Yeah, we are not the last losing Team USA like you were on.
Your starts weren't there all day until that third and final moto where you came out second despite having the second Team USA pick on the gate.
I was way outside, I didn't pull the holeshot but it was ok. The way we were thinking was that Ryan (Dungey) had to race the best guys in his class so I gave him that gate pick but then Christophe Pourcel lined up next to me so the French guys were thinking the same way as us. They gave their moto winner (Gauthier) Paulin the first pick. I just knew that I had to jump Pourcel and get out in front of him. I had an awesome jump for sure.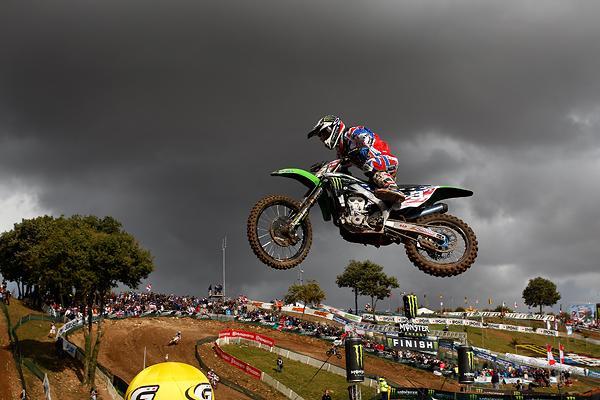 Villopoto helped lead Team USA to its seventh consecutive Motocross of Nations title.
Photo: Ray Archer
And you probably knew that Dungey was right behind you from the inside.
No, I didn't know right away actually. I did know after the first lap that he wasn't far behind me. I was thinking, before we went out that [Mike] Fisher had told us that a 1-2 would win it for us and I was in first so I was thinking Ryan had to get into second and we'd be good. I didn't know that Christophe passed him at one point but then Ryan got into second.
Going into the third moto, were you bumming on the team's position, or did you have confidence you could pull it out?
We knew where we sat. If we went 1-2 we were going to win. We knew we could do that or we would need some luck. We knew we could ride better. We did it all year. Once I got out ahead of him and after a lap, I knew he was there.
Your first moto, you didn't get a good start and then it started raining on and off. Not a good race for you.
I wheelied out of the line and it was a bad start. I rode tight or something, the track was really tough for us all day. Like I said in the press conference, they laid dirt on top of a rock sheet. It was total rock and it's something that none of us ever rode. We hadn't ridden here and [Ken] Roczen and those guys just finished racing here and they know the track and how it gets.
Any riders impress you today?
Roczen passed me back out there and a lot of these Euros don't look the part, but they can ride, man, they can really ride.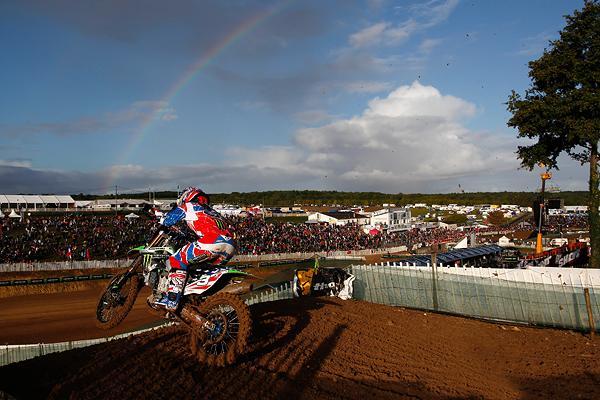 Villopoto is 4-0 at the Motocross of Nations.
Photo: Ray Archer
You're 4-0 so far in MXoNs, and Jeff Ward's record is in sight for you….
What's that?
He's 7-0.
Whoa, man, I don't know about that.
Is it possible to rank this MXoN for you out of the four you've done?
This is for sure the best one.
Are you just saying that because it's right after the moto and you have a beverage in your hand?
No. Because we were nine points down to the team and I'd never been in that situation before. We've always been ahead when I've raced, so this is different. Like in England when Stew [James Stewart] went down and Timmy came through for us. We've always been winning and haven't been down that many before.
Thanks for doing this, and I guess go Team USA!
Yep, not Canada. Go Team USA.