St. Jean d'Angely
St. Jean d'Angely

,

France
Motocross of Nations
Motocross of Nations
"The Man" continues to weave his magic wand over Team USA like some sort of moto-Dumbledore. At St Jean d'Angely, his advice to a young team and guidance of rookie Blake Baggett again helped the reigning champs overcome the odds.
Racer X: Roger, it seems like these events don't get any easier on the nerves.
Roger DeCoster: No! For the last couple of years it has been close, and last year we were seven points behind going into the last race, and this time it was nine. The good thing about the American riders is that they never give up and they work really well together. I think that is one of the biggest assets for the team. We have crews around with a lot of experience, and everybody takes care of his job. This is what makes us strong and still able to win when it is not looking so good. We will probably get beaten sometime, but it is seven years in a row now, and it would be nice to get up near the first string and manage thirteen.
Could you believe what you saw on Saturday with the guys going 1-1-1? You then warned against complacency in the press conference afterward.
Things went perfectly on Saturday, but that's what I said in these kinds of sports it can turn around really quick. Our riders are normally very good with starts but that didn't happen in the first two races. I think Villopoto was twenty-fifth out of the second turn and came all the way back to third place. It was pretty amazing what he did on a track that was not easy to pass [on]. It was wide but there was only one good racing line. He was the one that carried us.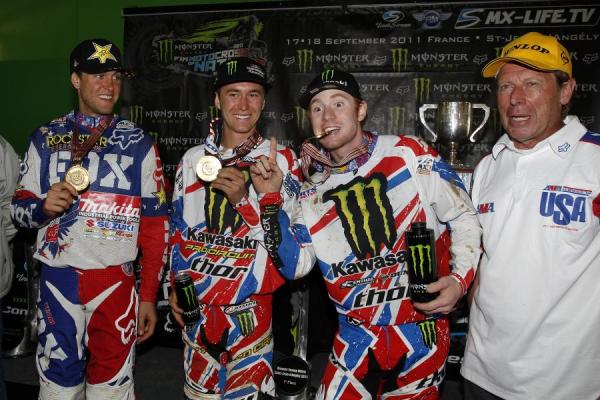 DeCoster once again helped lead Team USA to victory at the Motocross of Nations.
Photo: Ray Archer
When the rain came down last night, what was going through your mind?
I thought that the rain would be better than watering the track. The way the conditions were on Saturday, there were really slick spots, and if they had put water on it in the typical way, then we would have had a mix of dry areas and mud areas. I think it would have been worse than today, actually.
You must get asked every year, but how would you rank this winning team compared to previous groups? Is there one characteristic that stands out?
We have been spoiled, because we have had so many good teams and our riders have been very resilient. For me, with Villopoto today, that was one of the top comeback races. You have to rank it with the very best. With the track conditions not in our favor and the design being something that they are not used to … they learned to adapt and come out good. To rank them is difficult. Definitely a good lineup, but we have had a lot of those!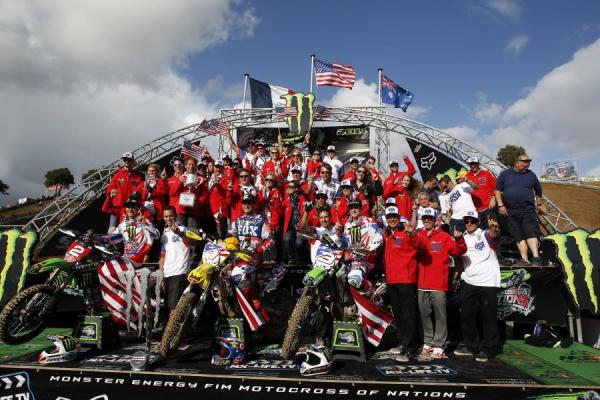 DeCoster and the rest of Team USA celebrate in France.
Photo: Ray Archer
The technical rules had some small changes. How did that affect things?
The rules of the two series are coming closer together. We were allowed to use the same fuel as in the U.S., and next season we will go to the FIM system for the sound control. I think it is good. And the manufacturers wanted to have the same rules on both sides of the ocean, and it makes the whole thing easier.
European race fans might continually see your job as something relatively easy with the embarrassment of riches you have to choose from. Or is it tricky to narrow down the best selection?
This year it was quite easy because the two Ryans were above the lot in the 450 Class, and with the Lites we picked the first guy that was American, and this time we had to look at third place, which was unusual. Blake is young, so it wasn't so easy because he doesn't have that much experience. This was the first time he raced outside of the United States, but on Saturday he was fantastic and really picked up his level. That was the best I've seen him ride. On Sunday he struggled to adapt to the different conditions. There is no track in the U.S. where there are that many rocks and that kind of soil, and at the same time the elevation changes were also more frequent than quite a few places in the U.S.