St. Jean d'Angely
St. Jean d'Angely

,

France
Motocross of Nations
Motocross of Nations
It seems that only the cruel hand of fortune can stop a Team USA seventh consecutive success at the Motocross of Nations as the trio of Ryan Dungey (MX1), Blake Baggett (MX2) and Ryan Villopoto (MX Open) left none of the packed, eclectic and rowdy crowd at St Jean D'Angely in doubt as to who is the strongest force in world motocross.
Three perfect starts in the qualification heats run over a dry hard-pack (that actually looks in better shape than it has done for a Grand Prix in recent years) gave the defending champions an ominous 1-1-1 scorecard. Only MX1 World Champion Tony Cairoli could hold a light to the "stars and stripes" as he pushed Dungey all the way to the chequered flag in the MX1 sprint.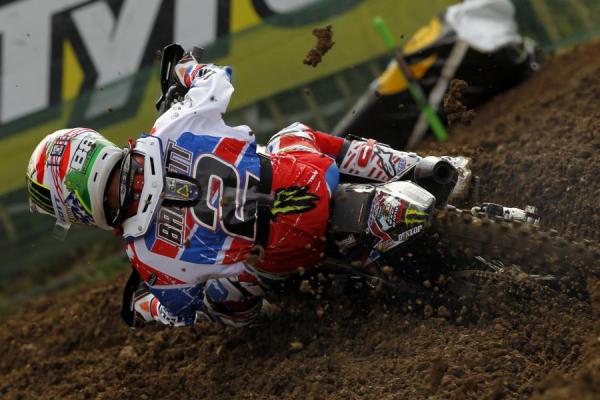 Baggett help USA go 1-1-1 in qualifying with a win in the MX2 class.
Photo: Ray Archer
It seems like it could be 'Cairol vs America' tomorrow unless the likes of Christophe Pourcel (distant third in MX1), Brett Metcalfe (slightly disappointed with his fifth in MX Open), Chad Reed (hovering in fourth in MX1), Dean Wilson (bad start in MX2, finished third), Marvin Musquin (more worried about holding Wilson off than shutting down Baggett) and Gautier Paulin (fourth in MX Open for the Italian MX1 GP winner last week), Tommy Searle (getting to grips with the 450), Tyla Rattray (same story) and Ken Roczen (slipped while second behind Baggett and took fourth) can up the ante.
St Jean was already bustling and radiant with colours and costumes in the only way the Nations can be, but even the mix of fans from seemingly fat-flung corners of the globe could not have totally predicted the shut-out that was on the cards today.
Most emphatic was Villopoto, in MX Open, who stretched a lead of three seconds in a little over half of the first lap. "I knew I'd be a bit better than most [riding open class] but that's not to say that tomorrow the others won't show up," he said before adding, "I was late off the gate so I need to improve that for tomorrow."
"He was definitely putting a bit of pressure on and we had a cat and mouse game going there," reflected Dungey, who had the hardest job of the day and was an impressive as his teammates but in a different way.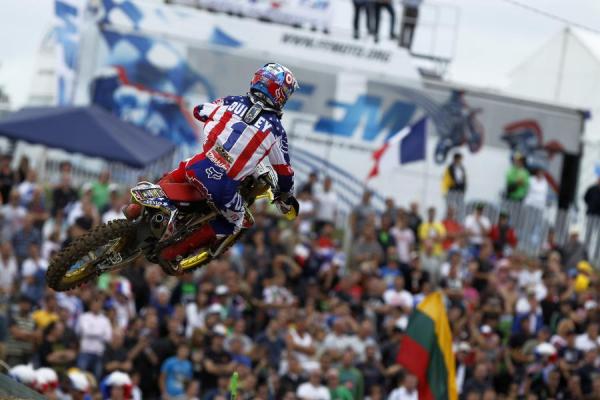 Dungey would outlast Cairoli in the MX1 class.
Photo: Ray Archer
Asked whether he was surprised by his win in MX2 Baggett offered: "Not really. I've raced Marvin and Dean all year so I knew what to expect. I got the best start of my life and that's not normally my thing. Dungey gave me a few pointers and line advice and Roger [De Coster] has been helping me out with the schedule and where I should be."
"There are a lot more people than I expected," he added, a little overawed by the occasion but it was heartening to see how the event was making an impact on a first-timer. "I could hear the crowd more than my own bike!"
In spite of the form and speed of Team USA looking very promising for tomorrow the old hand of experience, Team Manager Roger De Coster, warned against inflated expectations. "France rode well, as I expected, but I was surprised by Italy because I knew Cairoli would be good but Guarneri was also. It was only qualifying today and there is still a lot of work to be done so we shouldn't be over-confident."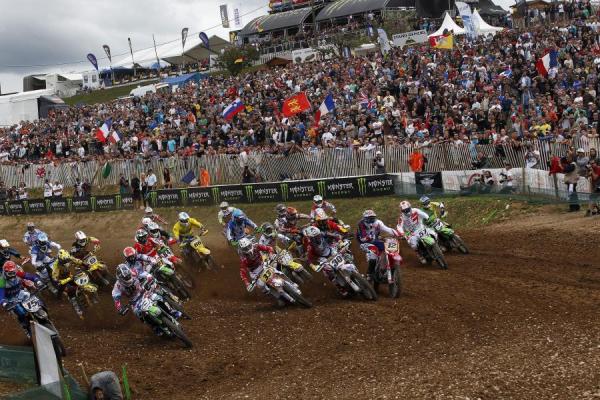 Villopoto dominated the MX3 class in qualifying.
Photo: Ray Archer
MX1
1. Ryan Dungey (USA, Suzuki), 23:46.461; 
2. Antonio Cairoli (ITA, KTM), +0:01.308; 
3. Christophe Pourcel (FRA, Kawasaki), +0:46.425; 
4. Chad Reed (AUS, Honda), +0:52.778; 
5. Tyla Rattray (RSA, Kawasaki), +0:54.664; 
6. Rui Goncalves (POR, Honda), +0:59.299; 
7. Tanel Leok (EST, TM), +1:01.397; 
8. Evgeny Bobryshev (RUS, Honda), +1:01.570; 
9. Tommy Searle (GBR, Kawasaki), +1:29.250; 
10. Jonathan Barragan (ESP, Kawasaki), +1:32.070;
MX2
1. Blake Bagget (USA, Kawasaki), 24:45.804; 
2. Marvin Musquin (FRA, KTM), +0:08.876; 
3. Dean Wilson (GBR, Kawasaki), +0:11.331; 
4. Ken Roczen (GER, KTM), +0:11.742; 
5. Joel Roelants (BEL, KTM), +0:35.043; 
6. Alessandro Lupino (ITA, Husqvarna), +0:55.250; 
7. Pascal Rauchenecker (AUT, KTM), +0:57.149; 
8. Stefan Kjer Olsen (DEN, Yamaha), +1:09.391; 
9. Jose Antonio Butron (ESP, KTM), +1:15.543; 
10. Stuart Edmonds (IRL, TM), +1:16.750;
MX Open
1. Ryan Villopoto (USA, Kawasaki), 24:46.792; 
2. Davide Guarneri (ITA, Kawasaki), +0:07.704; 
3. Gautier Paulin (FRA, Yamaha), +0:08.708; 
4. Kevin Strijbos (BEL, Suzuki), +0:09.677; 
5. Brett Metcalfe (AUS, Suzuki), +0:11.170; 
6. Gareth Swanepoel (RSA, Yamaha), +0:24.849; 
7. Jeffrey Herlings (NED, KTM), +0:26.038; 
8. Arnaud Tonus (SUI, Yamaha), +0:43.333; 
9. Carlos Campano (ESP, Yamaha), +0:45.547; 
10. Martin Michek (CZE, KTM), +0:52.961;