St. Jean d'Angely
St. Jean d'Angely

,

France
Motocross of Nations
Motocross of Nations
Hello, everyone, and welcome to the Rev Up. While the motocross fans of America are still kicking the sand out of their shoes, we prepare for one of the coolest races of the year. Over time, I've gained an appreciation for "world-class" competition. I played soccer through my junior year in high school and had a true passion for it, yet I only recently began watching the FIFA World Cup. I knew of Formula 1 and Moto GP since I was old enough to ride a bicycle, yet the names and icons I remember growing up surrounding said genres were Mario Andretti and "King" Kenny Roberts. Those guys were badass, but there was so much more. Moving along, I now consider myself an enthusiast of all three of the previously mentioned world-class sports. I suppose the late bloom is to blame by the way I was raised, and my entry into the American school system.
You see, we raise our children with a steadfast appreciation of patriotism and national pride. From the time we are old enough to read books or watch television, we are pressed with "Red, White, and Blue." In a healthy way, at that. Nazis we are not. Sure, it is cool to be "green" and "peace and harmony" and "one love," but the fact of the matter is, if you walk into a public setting in these United States and taunt with anti-American speak, you will have a bad day. If you do it in a bar that Old Glory watches over, you will get your ass deftly handed to you.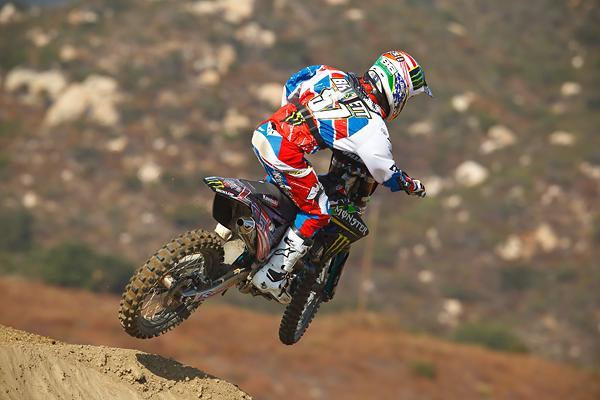 Baggett and the Ryans enter the weekend as heavy favorites.
Photo: Simon Cudby
Before I get into all of that flag-waving American action, I want to get back to my thesis that I am an American Motocross man and while I was uneducated on much outside the borders of America, I knew who Roger DeCoster, Eric Geboers, Dave Thorpe, and Jacky Vymond were since I was able to walk. As a grom twisting the throttle on a 1984 KX60, the most amazing entities in the world to me were Bob "Hurricane" Hannah, Mark "The Bomber" Barnett, and "The O'Show" Johnny O'Mara. They were the guys I saw on the walls at my motorcycle dealership, and while God-like, they all feared the aforementioned foreign names. And with good reason. The same reason we have to respect who will be pushing to the line against the home team in France this weekend.
To bring it to center, motocross was the first thing that made me aware of world-class competition. It's really made me want to seek out more about the rest of the competitive racing world. I was lucky to meet some intelligent friends that gave me some astonishing books that have broadened my horizons exponentially on global ass-kicking.
So, yeah, I know a little more about a lot more...
The best part of that point is that here in America we are the best motocross racers in the world because we have the Peter Chamberlain Trophy. That's right. And we've had it in our Kung Fu grip most of the time I've been alive over the past four decades. Because we know which side the throttle is on, son. And our boys don't let off. Ever.
Oh, do any of you want to debate this fact? Go ahead and take your hands out of the chips, go back to your TiVo remote and watch the conclusion of the 2011 Lucas Oils AMA Pro Motocross Championship. Ryan Villopoto and Ryan Dungey went off on a straight "scorched earth policy" through those motos. Please try to ride a dirt bike that fast. I dare you. Go ahead and be RV Park launching it out to the flats and blowing your throttle hand off the bars, then be only concerned with getting that hand back in the WFO position. Go ahead and be Ryan Dungey just floating around the track with an effortless finesse at fourth gear tapped. There isn't anyone in the world that can ride like our boys. Plus, my man, "Bad" Blake Baggett, is ready to carry the charge, and the flag, to war this weekend.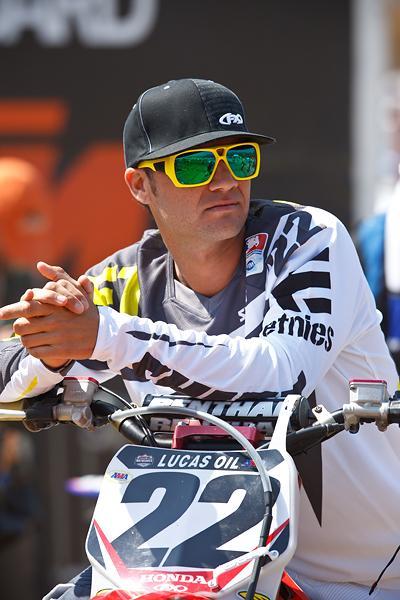 Don't count out Chad Reed and the rest of the Aussi's.
Photo: Simon Cudby
I don't get "redneck" about too many things. I scoff at uneducated rednecks more than anything in the world of living human beings. But the patriotism I have firing through my veins about American Motocross is 100 percent pure, tobacco spitting, Chevy truck driving, bars dragging around a Motocross 338 berm, "Bocephus." I'm 34 years old and I've done a lot of shit in my life. A lot of different jobs, experiences, and opportunities. Through all of that, the absolute best thing I can do is meet a fellow motocrosser. Any motocrosser. French, Australian, Belgian, British, Kiwi, whatever.... Motocross is a common understanding. Anyone that loves our trade loves everyone else that can share a fist bump or a head nod.
Ho, ho. But as an American fan and student of the trade, I crack the knuckles a little harder, and I don't head nod; I smile and wait for "them" to nod back because "we" have the trophy. We've kept her safe and sound and in a comfortable place. Villopoto. Dungey. Baggett. They are the gate keepers.
Be warned, my sons. The Aussies are coming. The Aussies have won virtually everything in the action sports world in 2011. On their flank arrives a very real threat in the form of a vendetta seeking Christophe Pourcel, a globally-respected Antonio Cairoli, and a downright salty, well, the rest of the world of ass kickers. There is a lot of them. I think there is more than there has been in my years as a motocrosser.
This may be our greatest challenge in a long, long time.
They're after our boys, but they better be ready. Our boys have the sand, son! This is what we do and we do it better than the world. This is motocross. We must protect this house. We will. Bring it home boys.
Thanks for reading, see you next week.