World Fire Police Games NY
September 15, 2011 1:35pm
By: Kevin Sleeth
I've always wanted to race an International race and this was my chance. There were racers from Japan, Belgium, Sweden, Canada, Norway, Mongolia (Yes, I said MONGOLIA!), Spain and a few more. Not to mention racers from quite a few other states from here in the good Ol' US of A.  The race was to be held in New York at Long Island MX, just a little south of the Hamptons on Long Island.

Our Team (31 riders from So Cal Police /Fire departments) had the Rockwell SX rig lined up to take the bikes to New York, but things being what they are, a last minute scramble had us looking for a rig just a couple of weeks before the trip. One of our riders, Kevin Arlotti and his dad stepped it up huge, rented a rig and drove it back East, arriving the day before practice.  They even had to sit outside of New York for a day as Hurricane Irene passed through.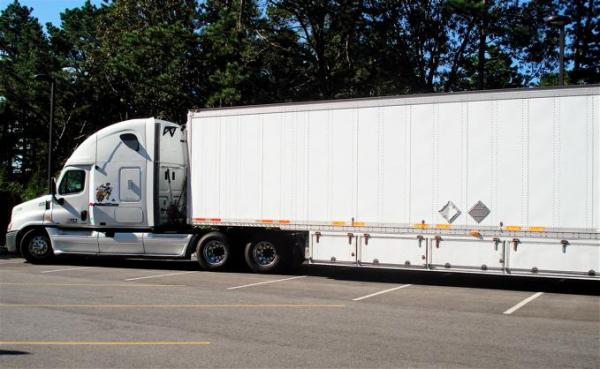 The rig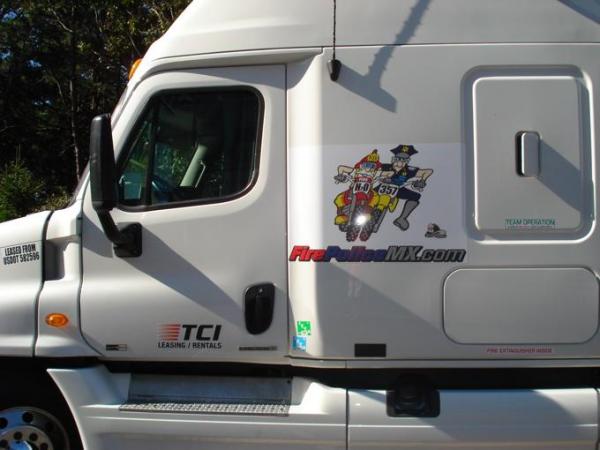 The logo helped them get out of at least one jam
.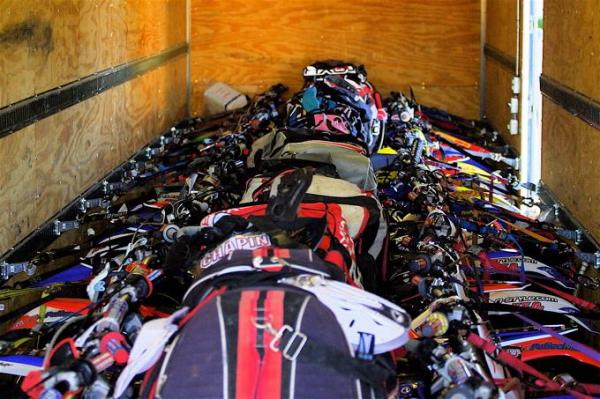 Bikes and all the gear.
Speaking of Irene--what a dealio that was...35+ of us, with most of us getting our fights canceled and left to our own devices on how to get to New York. Ed Wilson (pretty much the guy who makes it all happen) and I decided to fly into Buffalo and make the six hour drive down to Manhattan for the official race registration. What a frigg'n nightmare. All the highways going into New York City from Upstate were either flooded, blocked with debris or had sink holes. We made it, but it wasn't something I would want to do again.

The highlight of the adventure in getting to New York city was a stop just a few hours outside of Buffalo in El Mira at Braun's Pour House. Ed happens to be good friends with Erv Braun (The voice of SX/Erv Braun Entertainment) and Erv had just opened a Rib Smokehouse with his son the week prior.  We got a personal tour from Irv and had by far the best ribs I have ever had.  Had a few cold PBR's from tap as well.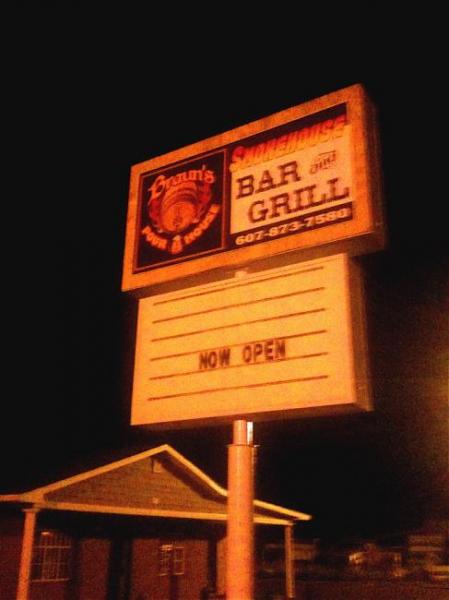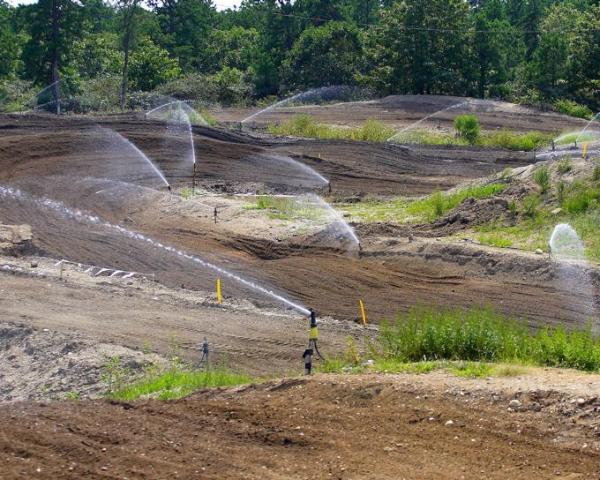 Got to the track for practice and it looked pretty good for a small sand lot track with rocks.  Irene left it alone and it wasn't under water.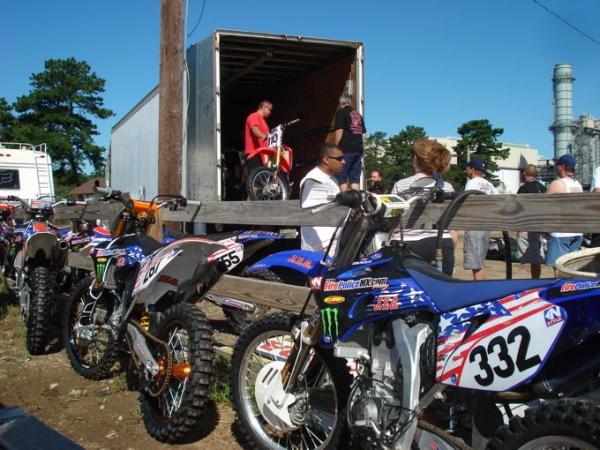 Unloading in the pits. Everything made it in perfect shape!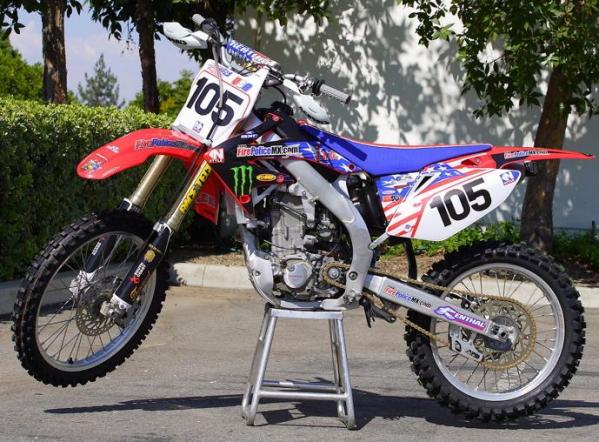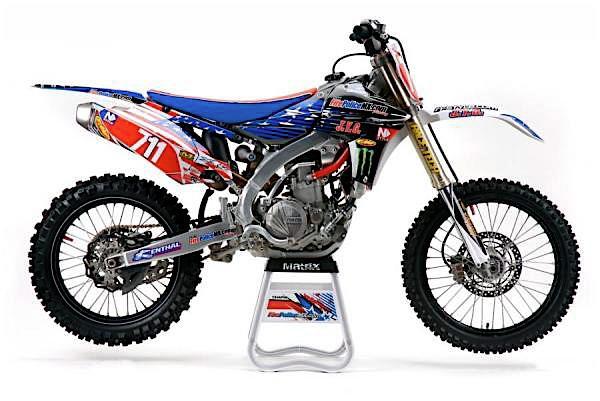 N-Style hooked us up with some cool graphics.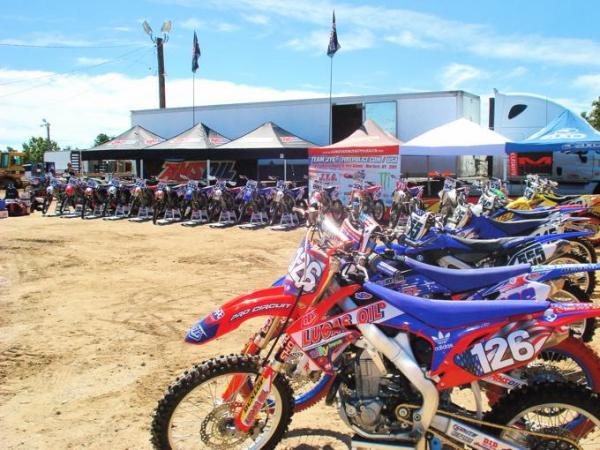 Team FirePoliceMX.com looked good and we showed them how we do it West Coast style.
Practice went well and the track was short with a few big hits, some tricky rhythm sections and a strange loamy dirt mixture of soil, wood chips, rocks and diesel fuel (The dirt had a weird smell of diesel fuel n some sections). We spent most of the time getting the jumps wired. I Tried the 90ft + quad twice in practice and came up a little short, and then opted for the triple, but decided if I HAVE too, I would bust out the quad in my race. I had too...

The night before the races we invaded a local pizzeria. They had a smok'n deal: $14.95 for a glass of red wine, salad, bread, pasta dish of your choice, cheese cake or Cannoli and a cup of coffee. Sweet! The price left $$$ for more wine. Lot's more wine...  The food was all homemade and second only to this little Italian restaurant I dined at in London.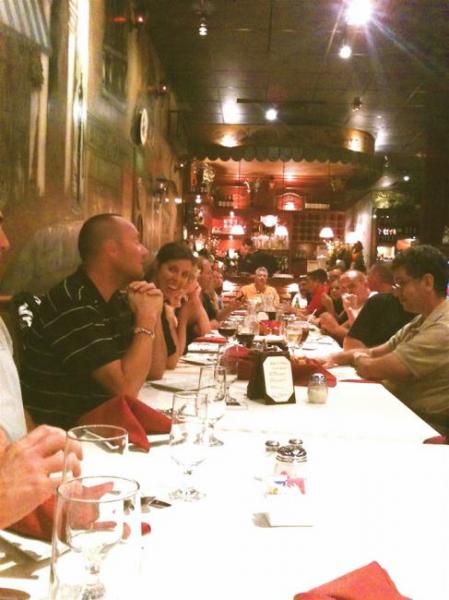 I had 15 guys in my race and the Belgians were moto studs. Gave me fits both races. Most of my race was bar-to-bar with Eddie Vanderzanden. Had to bust out the quad to get away from him both motos, but his corner speed kept him all over me. The other Belgian rider in our race, Eddy Nuyts was faaaast. I had nothing for him. I later found out that Eddy used to race the Pro class with Roger De Coster, Sylvain Geboers, Harry Everts, Gaston Rahier, André Malherbe, Graham Noyce, Brad Lackey, Heiki Mikkola etc.--so I didn't feel so bad. I finished one spot off the podium and got fourth, but the racing was epic. After finishing fifth in the first moto I knew I had to finish in the top three in the second moto to podium. The guys who finished in front of me in the first race were just plain faster than me so I hoped for a better start in the second race. No such luck. I started in the back and worked my way up to fourth.  Then I saw my chance when the local NY guy crashed his brain's out on the triple / double while in the lead.  I was now in a medal position, but living up to my go for the gold or go home style, I decided to go after the front guys and tried to close the gap. Hit the triple / double and grabbed fourth instead of third this time and with two laps to go I pinned it down the straight away.

Ooops...  Overcooked the turn and blew off the track in my go for broke style. Dropped two positions before I could get back on the track and gave the medal away. The good news was that my teammate was ahead of me and ended up getting the gold due to the local guy wadding up. Team So Cal was vindicated in our race!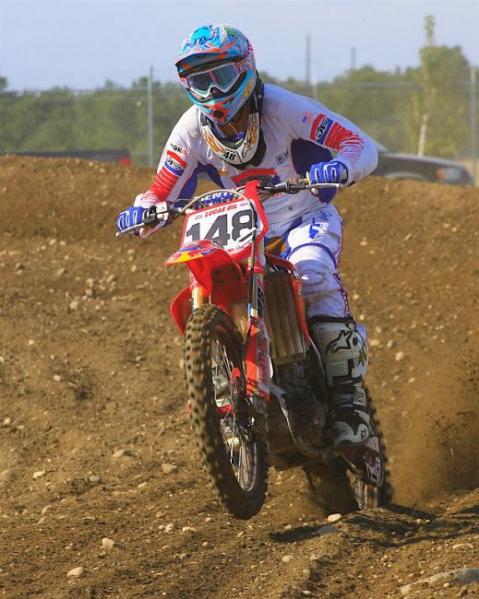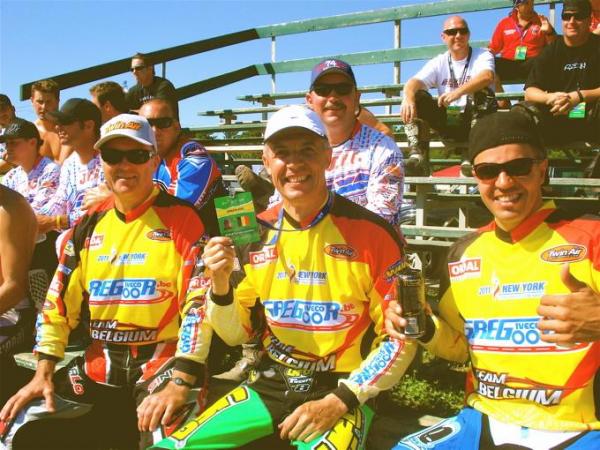 The Belgians. They work for the Belgian "Secret Police" as well as train the Iraqi police in Iraq.   Didn't look scary, but I wouldn't mess with these guys.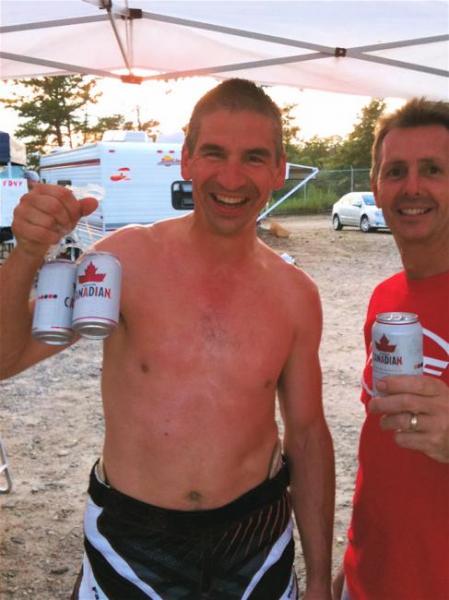 Right after everyone's last moto the party began! The Canadian's were first to bring the beer.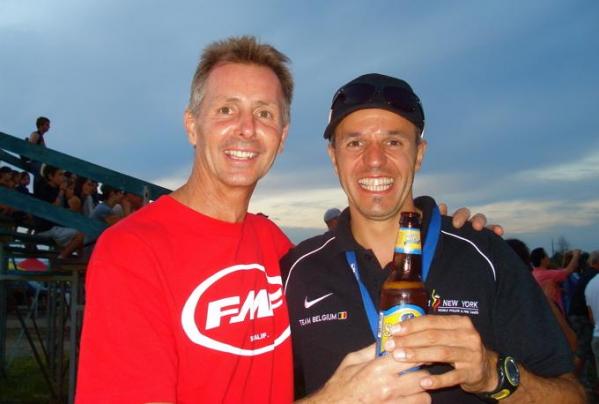 The Belgians loved Sam Adams and said for "American" Beer it was all right.  Belgians know their beer, so I would take that as a compliment.  This is Ben Benhaddou - we traded jerseys and now I have a place to stay in Belgium.  I am already planning my trip.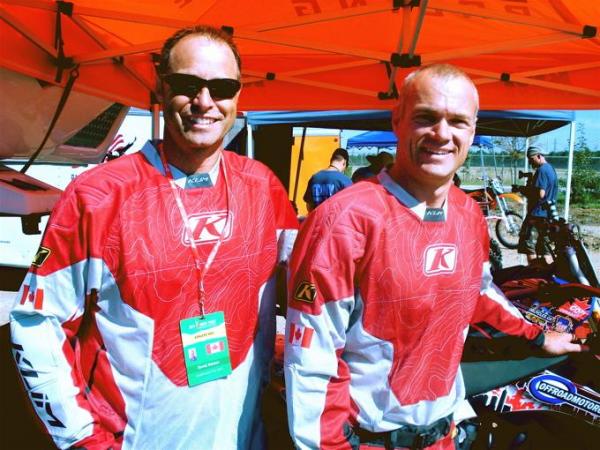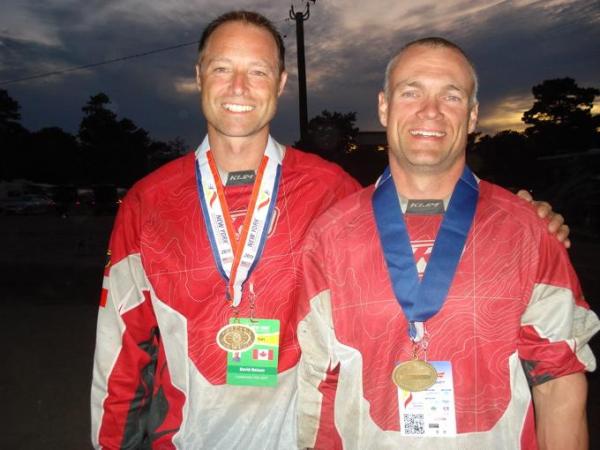 A couple of Canucks. Good guys. Both got medals. The Canadian's were fast too.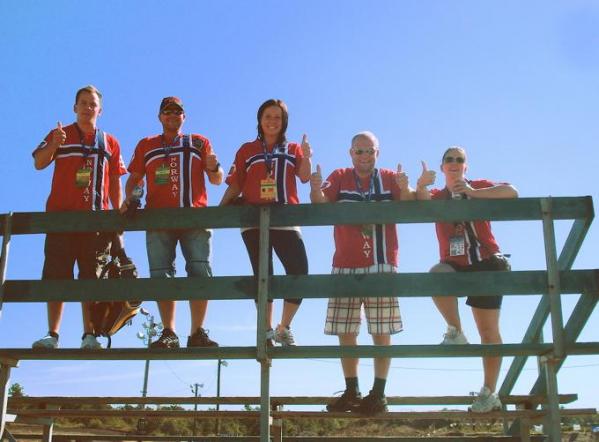 Team Norway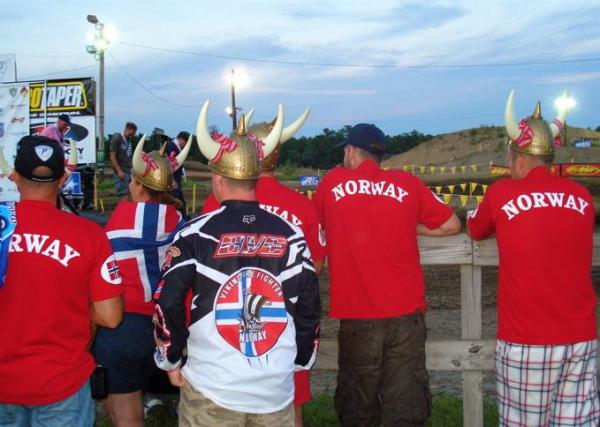 When the hats came out, the party really started to take off
.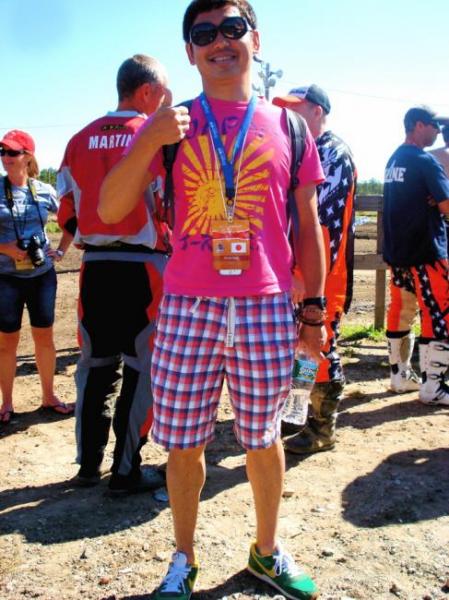 What can I say... Japanese are the style masters no matter where you go.
A little side story on this guy.  He showed up on race day all the way from Japan and pulled up into the pits via taxi.  Got out with his metal suitcase containing his gear, didn't speak a word of English, borrowed a clapped out 125 and won the gold in his class.  Gotta love it as he earned an immense amount of respect from everyone.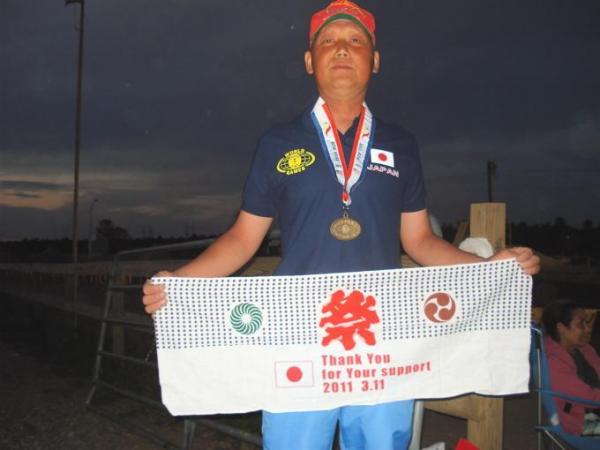 Another side story.  This guy is Jakob Löff.  (Yeahkob is how they say it).  Anyways, he bought a KTM from a guy in Arizona off of Ebay before he left Denmark.  Had it shipped from Arizona to New York and set it up on practice day and went racing.  First turn of the first moto and a dude cleaned him out on the inside.  The other guys bike fell on top of Jakob's bike and the handlebars wedged into Jakob's front wheel.  By the time Jakob got the bikes untangled, he was only able to complete one lap.  Jakob did OK his second moto, but his quest for a medal was over in that first turn.  Next time you go to the races and have a little bad luck, think about Jakob.

This picture was taken after that first moto and Jakob never stopped smiling.  He came up to me after the races and gave me his fireman's uniform shirt.  I gave him a couple of sets of goggles with tear offs in exchange, which I all but had to force on him as he refused to take them.  I now have a place to stay in Denmark too.  You can bet I will be hanging with Jakob.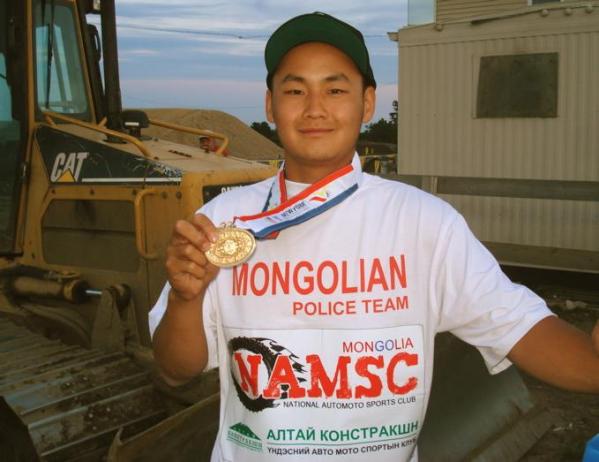 You can see it on his face. A moto win transcends all languages. Somewhere in Mongolia there is a motocross track. Who would have thought it...
Special thanks to the following who supported our team - JYG Concrete Construction, Rockwell Watches,  FMF Racing, AXO,  Renthal, N-Style, Jet boots, EKS goggles, Cirque Du Soleil, Thorogood Boots,  Pole Position, Monster,  South Coast Fire Equipment, BDC Backhoe and Crazy Otto's Diner.

And especially JT Racing for hooking me up with all the gear.