By: Chase Stallo and Jason Weigandt
10. THE NEWEST NEW KID
Overshadowed by the fellow Loretta Lynn's graduates Justin Bogle, Kyle Peters, and Chris Plouffe, Tennessee native Preston Tilford made his pro debut at Pala far from the limelight. But after an impressive 21-18 performance for twenty-first overall, topping both Peters and Plouffe, eyes around the industry were opened. In a "what have you done for me lately" industry, Tilford has left a lasting impression that could have some reconsidering their strategies for 2012.
9. CAREER REVIVAL
Raw talent. Proven winner. Contender right away. Those are some of the phrases being thrown around when 2010 Horizon Award winner Jason Anderson turned pro. But after dealing with personal issues for much of the season—and a lack of confidence—those plaudits quickly turned negative. The Rockstar Suzuki team sent Anderson home to rebuild his training program. Beaten but not broken, he returned stronger and provided a glimpse of what many were expecting to see from day one. Anderson capped a turbulent season with a eighth overall at Pala—which may provide a glimmer of hope to a season that started out so bright.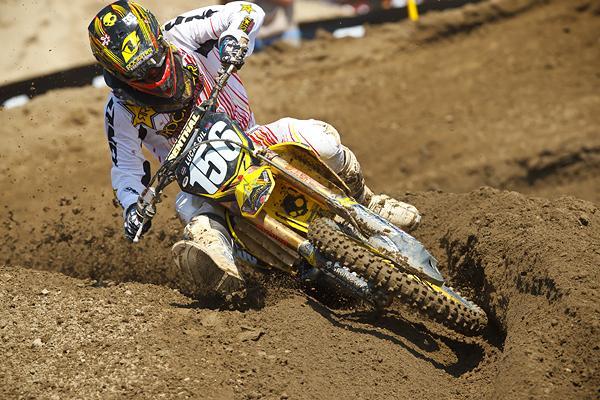 Jason Anderson capped a turbulent season with a eighth overall at Pala.
Photo: Simon Cudby
8. HE'S BOGLELICOUS
It's beginning to look like 2011 Horizon Award winner and current GECIO Honda rookie Justin Bogle is the real deal. After a sparkling debut at Unadilla, Bogle has shown flashes of brilliance coupled with rookie mistakes (which is expected). But at Pala, the Oklahoma native proved he could be a real force in the 250 Class next season. Bogle jumped out to a big lead in moto two before being hunted down by a surprisingly motivated Dean Wilson (considering he already had the championship wrapped up), eventually finishing a career best second overall. Throughout his brief stint in the pro ranks, Bogle has showed a poise and confidence that have many wondering just how far this kid can go.
7. WHAT BROWN CAN DO FOR YOU
Since retiring from professional motocross, Mike Brown has enjoyed quite the career in off-road racing. But every so often the wily veteran will return to show the young guns that this old dawg still has some bite left. After an impressive opening round at Hangtown (13-15 for fifteenth overall) and an even better performance at Budds Creek (12-13 for thirteenth overall), Brown returned for the final round of the championship at Pala. He ran into some problems in the first moto, finishing thirty-sixth, but rebounded in the second moto to finish fifteenth. At 39 years old, expect to see Brown fighting for top-tens next year, even at the age of 40!
6. MORE REGAL
As the Monster Energy Supercross season began to wind down, the word was that the San Manuel Red Bull Yamaha outfit of James Stewart and Kyle Regal would contest the first four rounds of the Lucas Oil AMA Pro Motocross Championship. That didn't happen, and Regal, much more accomplished outdoors than in, was looking for a way to get back to the races and perform for his sponsors. Making a surprise debut for the BBMX BTOSports Suzuki squad at Unadilla, Regal was left well behind the eight-ball. He had his moments but had yet to really show the prowess that made him a fan favorite last year. Pala proved to be the turning point for Regal, as he finished a season-best sixth overall via 6-8 scores. While racing only four races all season, Regal still managed to finish just outside the top twenty in points—two behind Ben LaMay for twentieth.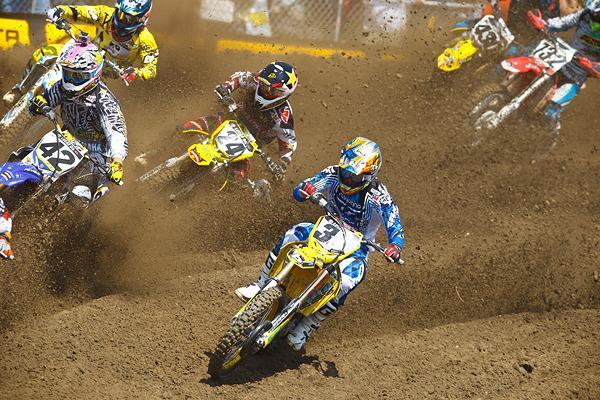 Regal finished a season-best sixth overall via 6-8 scores at Pala.
Photo: Simon Cudby
5. TOMAC IS TOPS
Top non-Kawasaki in the 250 Class, that is—which, this year, ends up being a fairly impressive stat. There was definitely something special going on under the Kawi tent this year, while the GEICO Honda team definitely didn't have the mojo they did last season. But Tomac kept digging and trying and kept Wilson honest at Unadilla and Steel City. At nearly every other race, bad starts killed him, and that includes Pala. The saving grace? His through-the-pack effort for ninth overall at the finale allowed him to hold off Kyle Cunningham for fourth by just three points. No worries for Cunningham—his huge improvement in consistency is something to be proud of.
4. YOU NEVER KNOW
The 450 championship scenario seemed pretty clear heading into Pala, and since Ryan Villopoto has been consistent all year, it didn't seem like there was much to worry about—until both he and Dungey got rammed coming out of the starting gate in each moto, leaving them to climb through the pack together while battling each other. It was fun to watch but produced a few wild moments for both. Yes, in this sport, even when the destination seems clear, getting there can look pretty scary.
3. WILSON OWNS PALA
Four 250 motos have been run at this track and Dean Wilson has won them all. It was tougher this year, though, with Blake Baggett and Justin Bogle giving him a run in each race. Baggett wasn't very happy after the first moto, but Mitch Payton had a meeting with Wilson and Bogle and calmed them down. (But we already knew Mitch knows how to handle this stuff.) Meanwhile, the Scotsman is definitely on a roll right now, and he probably wishes the series didn't have to stop!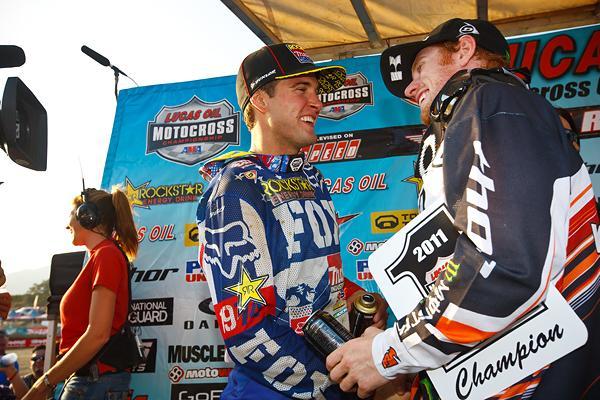 Sportsmanship at its finest.
Photo: Simon Cudby
2. BARCIA CAN WIN
First, Bam Bam proved he can mix it up with the 450 top guns, which was a surprise. An even bigger surprise was his improvement from week to week, culminating in his amazing run at Pala, where he nearly stole the overall win from title contenders Dungey and Villopoto. It's not going to be easy to stick this guy back on a 250 next year!
1. IT'S NOTHING PERSONAL
We spent the season building up Villopoto and Dungey's incredible seasons. They have shown heart and determination and the resilience to bounce back from adversity. What we didn't know is what kind of sportsmanship they would show when it was over, especially once Villopoto voiced some displeasure over getting the MX3 spot on the MXoN team, with Dungey getting the MX1 position. In the end, it was all good. The two Ryans smiled and congratulated each other on the podium, talking about the respect they have for each other and how strong they'll be as a team this weekend in France.