Ryan Villopoto claimed the 2011 Lucas Oil AMA Pro Motocross Championship via a third-place finish in the final moto of the season at the Traxxas Pala National in California. Afterwards, he seemed as relieved as he was happy, with a long season of close title fights finally complete—and both the Monster Energy AMA Supercross and Lucas Oil AMA Pro Motocross titles in his possession. He spoke about it in the post-race press session.

Racer X Online: Can you breathe yet?
Ryan Villopoto: Yeah it's been a hell of a year. One of the toughest. Every title I've won, up until these two, I wouldn't say they were easy, but they weren't hard like this. Supercross was a long season, and then we started off outdoors not very good. It finally started to turn around, but it was tough. So here we are, and I'm glad we're here.
At any point during the season did you start to wonder if you couldn't pull this off?
You know, like I said, we started the year outdoors a little off. If it weren't for Ryan's DNF at Texas, actually even now it would have looked a little shy for myself. But that's racing, those mistakes happen. The real turning point was around Unadilla when we were able to ride our new bike. We made a lot of progress at that point.
In supercross, you had a small points lead heading into the last race, so you didn't have to win it. But you tried and did lead for a few laps, anyway. Was that the strategy here? You went out and won the first moto.
Yeah, the first moto I felt good. I wasn't a huge fan of the track, only because it was such a high speed track. I think next year they definitely need to slow it down. And we raced pretty late in the second one, and the sun and shadows were pretty bad. So that was scary, too. I just wanted to stay out of trouble.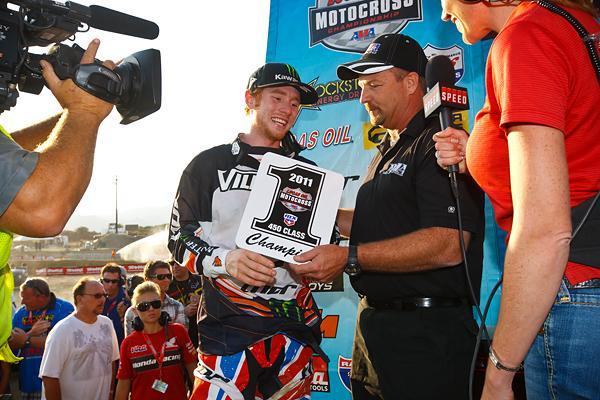 Ryan takes the number one plate from AMA Pro Racing's Kevin Crowther.
Simon Cudby photo
There was a super close call in the first moto when your hand came off the bars. What was that like?
I haven't seen it on video yet, but I lived it so I know what it must have looked like. I just overshot the double. Ryan was to the left of me and I saw him, he was a little bit lower than me. I went long, and I don't know what happened, but my hand slipped off the bars for some reason. I guess I overshot it by more than I thought. That's not really typical, when you overshoot a jump, normally your hand doesn't just come off the bars. I must not have been hanging on hard enough.
Was that scary?
Yeah! Ryan was next to me and he looked over, probably thinking "Is he going down?" It was definitely scary and I hope to never do that again.
You went through so much rehab and surgery last year with the broken leg. Did you have this in mind the whole time, or were you afraid at one point that you wouldn't be able to come back to this level?
I think, as one of the top riders, you feel like you're never really going to lose that speed. But you start to doubt yourself when you're sitting on the couch. You start to wonder. But then you start to do normal things again, you're standing and walking around, and then you start to train and ride. It comes back and you start to realize things are going to turn around sooner or later.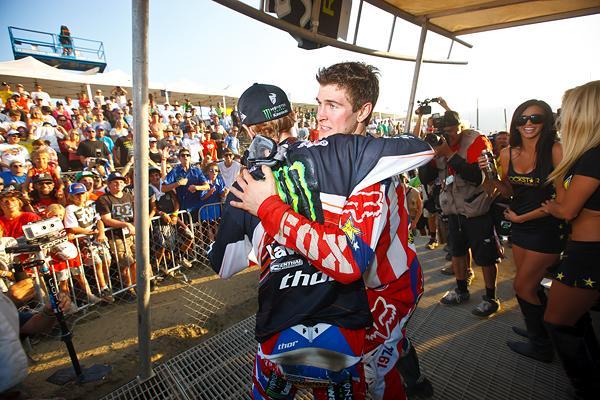 The tension between the Ryans seemed to release as soon as the second moto was over, and their season-long battle was finally settled.
Simon Cudby photo
Dude, the starts today. You and Ryan were getting rammed almost as soon as you came out of the gate. Take us through those starts, and what it was like to have to come through traffic with so much on the line today.
Yeah it was nuts. Me and Ryan lined up right next to each other on both starts. We were on the inside. In the first moto, Chad [Reed] must have gotten one hell of a jump and he came over on us immediately. It put me up almost into the banners. Then I dropped right down in front of Ryan, and then Chad slid out in the first turn, and it put us right into the middle of chaos. You know, everyone out there is out there trying to make a name for themselves, it's contract time, so they're all going for it. It was pretty hairball for about half the race.
Looks like we have a pretty strong team heading into Motocross of Nations.
Yeah, definitely. We get to let our hair down a little bit. I think for Ryan, too, it's been a long season for both of us. I don't think there's anybody faster than us. I think we have an awesome shot at winning. For Blake, he's definitely fast and he's won some races over here. As long as he looks at it like another race and approaches it as just another race, we'll be fine.
What do you have planned for the off season?
Well, there's not much of an off season for us. But it will be nice to not get on that plane every weekend.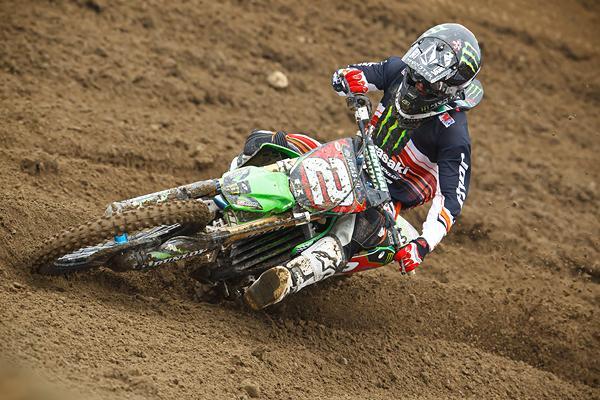 RV didn't just ride for the title at Pala. He launched a come-from-behind charge in the first moto to snag the win.
Simon Cudby photo
Seemed like in 2009 when you went out with a knee injury, you were almost relieved to finally get a break. It seemed like last year when you went out, you were more bummed out. You were so close in supercross and you didn't even make it to the outdoors. Was there a difference in the two seasons?
Yeah, definitely. The knee is a much easier injury. The leg, it was a big deal. I was on crutches a long time, and when you have that type of an injury, it really sucks. And to get hurt and not be able to finish supercross or race outdoors again, that was definitely a downside to me.
You and Ryan both seemed really happy on the podium. What's it like to finally have that pressure off? For both of you, every single race this year has had so much pressure, with the points being so close every week. You're finally away from that.
It's nice. It's good to really be yourself and not have to be so serious. Like I said, going into this next week, it's not about me, it's not about him and it's not about Blake. It's about all three of us.