Delmont, PA
Steel City Raceway
Lucas Oil AMA Pro Motocross Championship
Interviews by Steve Matthes and Jason Weigandt
Brett Metcalfe Rockstar Makita Suzuki 3-4 for 3rd Overall in 450 Class
It was a pretty good day overall, the track was really slick. In the first moto, it took me awhile to get up to him [Barcia], and then when I caught up to him I made a big mistake and I went off the track. I missed a double there and I lost a lot of time. I had to pull all of that gap back on him. Once I caught back up to him, a pass presented itself, and with Justin you need to take advantage of that. He was riding well. After the pass I was able to put some time on him so he wasn't able to put pressure on and retaliate.
Ryan Dungey Rockstar Makita Suzuki 2-2 for 2nd Overall in 450 Class
Track was pretty good, it was hard packed underneath. Once the lines came in it was pretty good, but it did seem like those lines just stayed there all day. Overall I think they did a pretty good job. At this point, for Pala, all I can ask for is to go there and give it my all. All we can do is our best. The thing to take, even from last week, is to think everything happens for a reason. You'll drive yourself crazy thinking this should have happened or that should have happened. Sometimes you get into that situation where you feel like you can't do anything wrong. I think we've all felt that. But it's tough going after a championship. We all knew that, it's tough. I'm really excited for Pala, it's a good track, it's tough, and I've ridden there before this year doing testing and I liked it.
How about the first moto with Villopoto?
I think it was good clean racing. At the top I made a little bit of a bobble, and as I was coming into the corner, a lapped rider was in the way, and I wasn't sure what way he was going to go I just kind committed to a line. I thought he was going to tuck under, but he railed around the outside and got a good momentum drive. It kind of caught me off guard. It was tough, but if you're gonna fight, I always say you need to fight for the whole race, and I did. It was a good hard race, and it was good for the fans.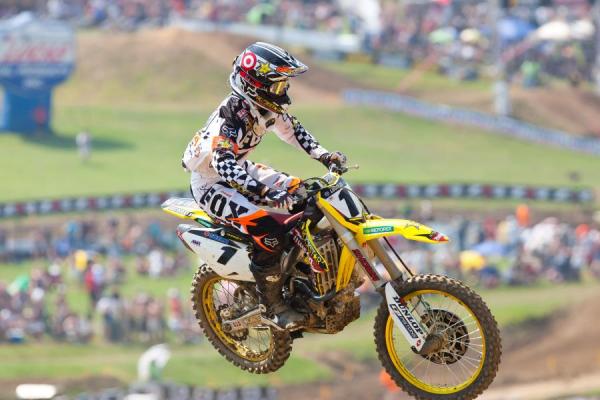 "I thought he was going to tuck under, but he railed around the outside and got a good momentum drive." - Ryan Dugney
Photo: Andrew Fredrickson
Second moto?
Coming into the moto we made some changes, took a little bit of a gamble, and it didn't quite work. I ended up fighting it a little bit, but hey, it's racing, no excuses. We definitely gave it our all today.
Was that first moto the most intense moto you've been in all year?
Yeah, I believe it was. I got into the lead and it was intense. There has rarely been a moto with us that it went all the way down to the end.
As the race was wearing down to the end, I knew some of my lines weren't cutting it. I ended up finding some good lines, but that last turn, the inside was good and the outside was good. I knew with the inside you could carry some momentum and the lappers were out there, so I went for it, and it bit me.
Marvin Musquin Red Bull KTM 3-3 for 3rd Overall
Yeah I felt pretty good. I worked really hard with my team and trainer since Bercy last year when I tore my ACL. I missed the whole supercross championship, and then in the outdoors I got another injury at Freestone. It was like a bad dream! But it's getting better and better since Washougal. Had a bad race at Washougal and Unadilla—it was top-ten, but I was not happy. The riders here are really aggressive and also we did some work on the bike. Finally this weekend I had a good feel for my bike and for the track, it was really good. I had a lot of fun. I had a good holeshot in the second moto, and to go 3-3 for third overall, I'm happy for the team.
Do you feel the others are going faster than they were earlier in the year?
I think so. Maybe they are going faster. I rode pretty good at Hangtown and at Freestone I led for like, part of a lap! But I just need to get a holeshot. The last few races were not good for me but I am feeling better now.
Compare the racing here and in Europe.
In Europe, I remember if you have a KTM you can get the holeshot! I had a lot of holeshots the last two years. Here all the bikes are good and strong. And all of the riders are very fast and aggressive. I think that's because they race supercross, I think.
Eli Tomac GEICO Honda 2-2 for 2nd Overall in 250 Class
That was definitely the best one of the year for me. Especially with the heat and humidity. I even got to lead some laps, too, which is the first time actually since Hangtown this year. This was good, and I like Pala, it should be good, too. I ride out there a lot.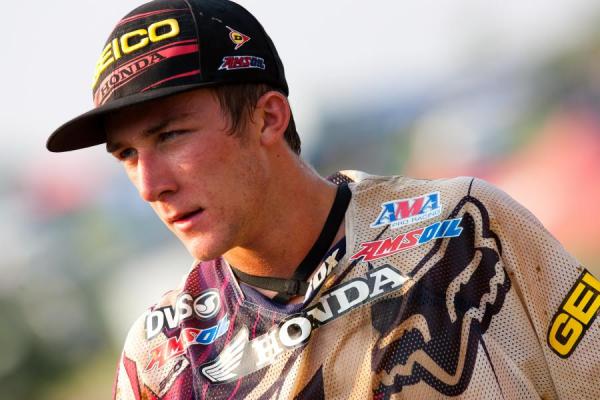 "That was definitely the best one of the year for me. Especially with the heat and humidity."    - Eli Tomac
Photo: Andrew Fredrickson
Pro Circuit has won all the races this year. How bad do you want one?
Obviously we want to get a win, but they've been on their game all year. It kind of sucks that I'm just now getting on my game. Before Unadilla we made the bike a lot better, and it seemed to give me a lot of confidence. I was just super bummed about Southwick, that was just a horrible day in the motos, after being fastest in qualifying.
What happened in the second moto? You had the lead for awhile but then Wilson got you back.
Um, yeah, I guess I made a few mistakes, and that made a difference because our pace was very similar. I did kind of let him go by me pretty easy, and I wasn't too happy about that. But it was good to at least lead some laps.
Mike Alessi, Red Bull KTM 450 class 8-5 6th overall
It was an ok day. I struggled in the first moto with a bad start and was fighting the bike. I ended up eighth and I guess that was decent. Second moto we changed a bunch of stuff on the bike like the tire and the suspension. I got a good start and was fifth. No one really challenged me the whole race. Jake Weimer was just behind me and Brett Metcalfe was just in front of me the whole race. So we'll take it and go to Pala and finish this thing out.
I've been in Florida for the last little while and the heat didn't really affect me all that much. It was hot but I guess I'm used to it. I just want to thank all my sponsors, Red Bull KTM, Alpinestars, Airoh helmets, X Brand Goggles, Rockwell, EVS--everyone's doing a great job for me.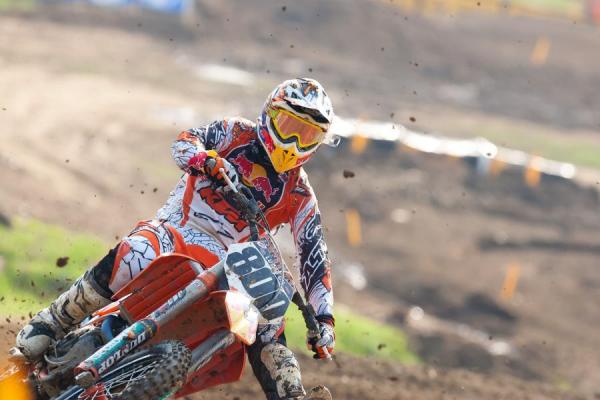 "I've been in Florida for the last little while and the heat didn't really affect me all that much." - Mike Alessi
Photo: Andrew Fredrickson
Kyle Chisholm, Motoconcepts Yamaha 450 class 12-11 11th overall
I ended up somewhere around tenth or eleventh overall today, not bad but not what I wanted. I sort of waited for Ryan Villopoto to get by me at the finish but he didn't come fast enough so I did a whole other lap by myself out there. It was a cool-down lap!
I didn't get a good start in the first moto, I ended up twelfth or something like that. Second moto, better start and I was around seventh or so. I got by Brayton and was up there with Weimer for a bit. At twenty minutes, I was done and that was it. I guess it's not too bad considering it was only my twelfth day back on the bike but I wanted to stay up there. Last year that would have been my spot so it's frustrating for sure. I guess I'll take it with what little time I have on the bike.
Colton Facciotti, TLD Honda 450 class 10-13 12th overall
I thought it was good, everything went pretty well. The bike was great but the rider wasn't so great. I had some good starts and tried to put it together but it kind of fell apart there in the middle of the motos before I picked it up again. It was just an all right day. The first moto I felt like my fitness came into play, I'm in pretty good shape and was able to get some guys at the end of the moto. I'm still trying to figure out the bike a bit out there. I was more comfortable out there as I went on.
The adaption to the Honda wasn't that bad. The way that Christian Craig had his bike set-up was pretty good, I moved the brake lever and that was about it. A few clickers here and there and it was good. I could just focus on the bike. I'm ecstatic to ride for these guys, it's all I wanted to do. I would've liked to get them some better results and we'll go to Pala and try to do better.
Kyle Regal, BTOSports.com/BBMX 450 class 9-8 8th overall
I crashed in the first turn in the second moto, I lost my rear end and went down. The bars were tweaked and the number plate was hanging. I made it back to eighth and it was good. The first moto I didn't ride that well, we had some set-up issues on the bike but we fixed those and the second moto went well. The number plate flapping was sketchy. It was flapping around and I just wanted to finish this race because I've been here twice and never finished a lap. I just wanted to get through it.
The adjustment to the nationals have been ok. I'm riding good, the results aren't there for me. Jumping on a different bike is tough, I've been riding and training back home and trying to get better. I'd rather be racing though then watching from the sidelines.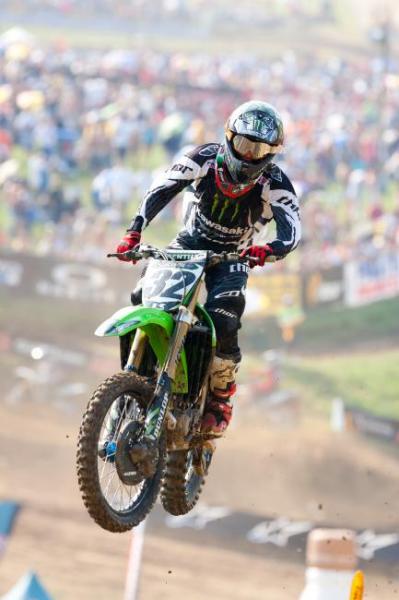 "Fifth overall is my best so far, I'm solid but I'm just not fast enough." - Jake Weimer
Photo: Andrew Fredrickson
Jake Weimer, Monster Energy Kawasaki 450 class 6-6 5th overall
I rode with Chad (Reed) that first moto a bit and I'm happy with the day. Fifth overall is my best so far, I'm solid but I'm just not fast enough. My second half of the motos are ok, so I think I need to work on the first half speed and we'll be ok. I wasn't doing that much passing but it seems like the track was not good for passing.
For sure this track wouldn't have been that great for the 2011 bike. The 2012 bike is way plusher, less feedback to the rider and it worked great here today. The switch to the new bike had helped me, I have more confidence and getting on the new bike was a little breath of fresh air for me. It got me motivated again and it's definitely helped.
Tarah Gieger Lucas Oil Troy Lee Honda 2-3 for 3rd Overall in WMX Class
I had two really awesome starts. Seemed like the last few races I figured something out. I took the lead for a little bit in the first moto, but I made a mistake and Jessica got around me. I ran that pace as long as I could, but it's pretty hard to maintain that pace that long. But I ran it for longer today and hopefully it will keep getting better. Ever since Millville I started staying in California instead of Florida, just training and riding with the team, and that seems to be paying off.
I was right behind Jessica for a little while and I made a mistake in a rut, and then I did it again, the rut just had a hook in it. In the second moto, I stayed pretty close to Jessica and Ashley was right behind me, and I made another mistake. I guess that's what happens when you're running that pace.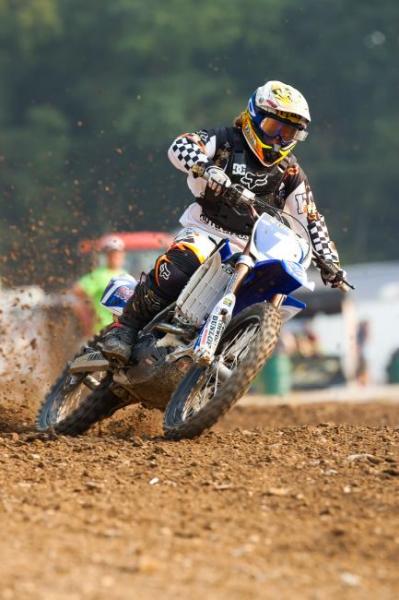 "You could pretty much say I handed her [Fiolek] these last couple of races." - Jessica Patterson
Photo: Andrew Fredrickson
Ashley Fiolek American Honda Racing 3-2 for 2nd overall in WMX Class
I was really glad to get both holeshots, it helps a lot especially on a track like this that is super one-lined. Patterson was riding awesome today and holding a really good pace. I was just trying to ride smart, but I did go down in the first moto when I tried to pass Tarah, I just slid out. The track was pretty gnarly.
I try not to think about the championship too much, I'll just try to do my best and see what happens at Pala. I really like that track, it's a lot of fun and the dirt is really good.
Jessica Patterson DNA Shred Stix/Star Racing Yamaha 1-1 for 1st overall in WMX Class
You could pretty much say I handed her [Fiolek] these last couple of races, and that's pretty much the only reason I'm down this far in points. But those were mistakes I made and that's on me. It's something else I've learned. I'm just trying to take it moto by moto now and whatever happens, happens. I told Trey [Canard] that I'm hoping for a miracle [at Pala] like he had last year. We'll see.
It was super slick, so we tried a few things, on the bike and with tires, and it worked. I just tried to ride in control. I like Pala a lot, the dirt is really good, and it gets pretty nasty there, and rough. I'm just going to try to put a solid race in there and hope for the best.