Tony Cairoli lifted a celebratory t-shirt with a 'High 5' logo emblazoned on the front in reference to his fifth FIM Motocross World Championship confirmed at Gaildorf in Germany for the Grand Prix of Europe. Ken Roczen was hoisted in his skinny entirety by a mix of team, family, friends and supporters as he became the youngest ever world champ through grasping the MX2 crown (at seventeen beating Seb Tortelli by a few months). The factory Red Bull Teka KTM team raised both championship trophies for the second year in succession and are the dominant entity in the FIM series (claiming European MX2 and Women's series' to-boot). Overall it was a pretty decent weekend for the Austrians.
With an 82-point lead Cairoli needed only a fourth position if Monster Energy Yamaha's Steven Frossard won the first moto to confirm his third set of MX1 spurs on the spin. Frossard actually tumbled out of the race, and the GP (although was cleared of a possible punctured lung and should be fit for the final round of the season this coming weekend in Italy) while holding third place—Cairoli was sixth at the time—so the counting down of the laps at this old-school and restrictive track was a formality. With results of 3-2 Cairoli bagged his sixth win from fourteen in 2011 and 'made sure' in style.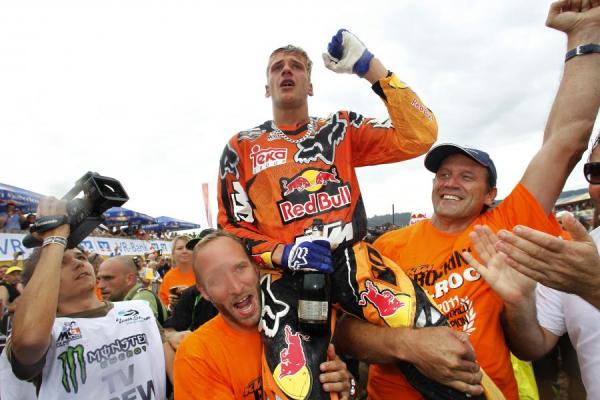 Roczen celebrates his first career MX2 title.
Photo: Ray Archer
At the heads of both motos were Honda World Motocross' Evgeny Bobryshev (cleared to race again by Belgian specialists after his neck injury in the same Belgian Championship spill four weeks ago that ended Clement Desalle's season) and CLS Kawasaki Monster Energy Pro Circuit's Christophe Pourcel. Having taken his second pole position on the bounce on Saturday, Pourcel flipped out of the first moto with a hefty crash but was able to re-enter the gate in the afternoon and emerged with the holeshot and a straightforward win; his second in two meetings. The Frenchman is now heavily rumored to be seriously considering a full attempt at the 2012 MX1 series with CLS with whom he is currently resurrecting his career with—on a stock Kawasaki.
Bobryshev lost hope of a remarkable overall triumph (it would have been his second on German soil this season) in the second moto when he ran wide, collected fencing in his rear wheel and lost his brake, conceding positions from third to eighth. Joining the Russian and Sicilian on the overall podium for the first time was Kawasaki Racing Team's Xavier Boog. But this was Cairoli's day and he commented on his continuing motivation: "It is just an amazing feeling to win a race and I think I am very lucky to be able to ride motocross. I ride for fun. If I want to train one day then I do it; it I don't then I don't. I don't care about schedules. I just ride my way and it has worked until now so I'll keep going like this."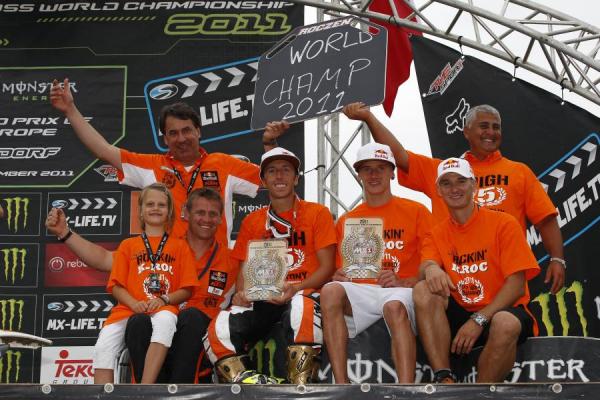 It was a big day from KTM in Germany.
Photo: Ray Archer
For reasons difficult to pin down, 2011 has highlighted the diversity of circuits in the series and Gaildorf was another shining example of the different conditions a Grand Prix rider has to face from one week to the next. After the lines, choice and liberty afforded by Matterley Basin two weeks beforehand, Gaildorf—a GP venue again for the first time since 2005—presented a different kind of motocross. Tight turns, dusty hard-pack, off-cambered corners; the reversed and altered German layout was tricky and slippery.
The MX2 class were the first to find this out on race day and slips by Roczen and Herlings in a complicated first moto saw positions swapped at a rate not frequently seen in the 250 class this season. Roczen would go from fourth to first in one lap after Herlings dumped his KTM on the ground through a deep rut where the German had clipped a neutral four laps beforehand. "I pretty much screwed up the last two rounds," said Herlings. "I thought I could go for two wins here."
Roczen's nineteenth chequered flag from twenty seven increased the temperature at an already hot and humid circuit and the gap between him and his teammate/nemesis Herlings stood at 52 with 75 left. CLS Kawasaki's Tommy Searle was arguably the fastest, most aggressive and most creative rider on the track all day and the Briton at last nailed a decent start in the second moto to join the KTMs and present the crowd with the sight of the three best MX2 riders of the year going at it hammer and tongs. Roczen would hit the ground again through losing the front wheel on a greasy rise adjacent to a large section of his fan club while trying to demote leader Herlings. The crowd went wild when Searle capitalized and then quickly passed the Dutchman; it meant that Roczen in third was champion. Searle won his second event of 2011, which was only the second time a KTM has been dislodged from the top step. "I'm happy to get it done again," he said. "It has been a long year and not many [GPs] have 'gone' for me. We did a good job with the team and this is one of the best weekends I have ridden." Roczen was drained and overcome and was carried to the podium in some of the most intense title-winning scenes witnessed in recent memory. "After I came over the line it was pretty emotional and I didn't think it would be that bad because I seriously cried like a baby. It was OK because it was a big moment, and I guess I showed my soft side!"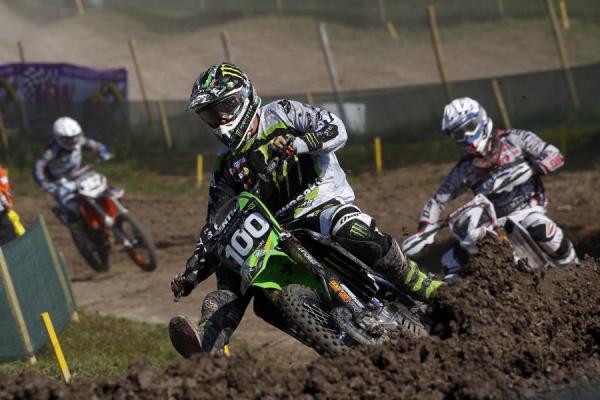 Tommy Searle won the MX2 overall in Germany.
Photo: Ray Archer
"I am happy I can leave [for America] with the title and I think it actually motivates me even more because you know the feeling. It is the best ever," added the teenager who commented that his AMA adventure starts on October 18th with his move across the Atlantic. "Everything will be new and exciting but I will have more confidence."
Michael Leib was back on the factory Husqvarna after rumors that the American had returned to the States were proved false. "I just want to enjoy these last two races," he admitted before adding that he would consider a third year as a Grand Prix rider if the right opportunity was presented, otherwise Leib is likely to be back on the AMA scene for 2012. The first moto in Gaildorf saw him seal a seventh position and a best of the year so far.
With the MX2 top four decided (Roczen, Herlings, Searle and Paulin in that order) and MX1 pretty much set (Frossard is 33 points ahead of Nagl in fourth, Desalle is third and out of play) the season-closing Grand Prix of Italy this week will be playtime for quite a few of the protagonists as thoughts begin to intensify for the 65th Motocross of Nations.
MX1 Moto1
1. Evgeny Bobryshev (RUS, Honda), 40:06.778; 
2. Xavier Boog (FRA, Kawasaki), +0:00.354; 
3. Antonio Cairoli (ITA, KTM), +0:09.171; 
4. Maximilian Nagl (GER, KTM), +0:12.185; 
5. Kevin Strijbos (BEL, Suzuki), +0:16.518; 
6. Rui Goncalves (POR, Honda), +0:33.809; 
7. Davide Guarneri (ITA, Kawasaki), +0:40.387; 
8. Gregory Aranda (FRA, Kawasaki), +0:41.969; 
9. Tanel Leok (EST, TM), +0:45.443; 
10. Anthony Boissiere (FRA, Yamaha), +0:47.522;
MX1 Moto2
1. Christophe Pourcel (FRA, Kawasaki), 39:34.517; ; 
2. Antonio Cairoli (ITA, KTM), +0:43.529; 
3. Anthony Boissiere (FRA, Yamaha), +0:46.324; 
4. Rui Goncalves (POR, Honda), +0:52.126; 
5. Kevin Strijbos (BEL, Suzuki), +0:55.870; 
6. Xavier Boog (FRA, Kawasaki), +0:57.195; 
7. Shaun Simpson (GBR, Honda), +1:05.920; 
8. Evgeny Bobryshev (RUS, Honda), +1:09.531; 
9. Gregory Aranda (FRA, Kawasaki), +1:10.368; 
10. Maximilian Nagl (GER, KTM), +1:20.780;
MX1 Overall result
1. Antonio Cairoli (ITA, KTM), 42 points; 
2. Evgeny Bobryshev (RUS, Honda), 38 p.; 
3. Xavier Boog (FRA, Kawasaki), 37 p.; 
4. Rui Goncalves (POR, Honda), 33 p.; 
5. Kevin Strijbos (BEL, Suzuki), 32 p.; 
6. Anthony Boissiere (FRA, Yamaha), 31 p.; 
7. Maximilian Nagl (GER, KTM), 29 p.; 
8. Christophe Pourcel (FRA, Kawasaki), 25 p.; 
9. Gregory Aranda (FRA, Kawasaki), 25 p.; 
10. Shaun Simpson (GBR, Honda), 24 p.;
MX1 World Championship standings after 14 of 15 rounds
1. Antonio Cairoli (ITA, KTM), 596 points; 
2. Steven Frossard (FRA, Yamaha), 472 p.; 
3. Clement Desalle (BEL, Suzuki), 461 p.; 
4. Maximilian Nagl (GER, KTM), 439 p.; 
5. Evgeny Bobryshev (RUS, Honda), 425 p.; 
6. Rui Goncalves (POR, Honda), 404 p.; 
7. Xavier Boog (FRA, Kawasaki), 309 p.; 
8. David Philippaerts (ITA, Yamaha), 308 p.; 
9. Jonathan Barragan (ESP, Kawasaki), 288 p.; 
10. Ken de Dycker (BEL, Honda), 268 p.;
MX2 Moto1
1. Ken Roczen (GER, KTM), 40:44.246; 
2. Tommy Searle (GBR, Kawasaki), +0:08.406; 
3. Arnaud Tonus (SUI, Yamaha), +0:13.049; 
4. Gautier Paulin (FRA, Yamaha), +0:23.816; 
5. Jeffrey Herlings (NED, KTM), +0:42.918; 
6. Nicolas Aubin (FRA, KTM), +1:00.372; 
7. Michael Leib (USA, Husqvarna), +1:18.185; 
8. Joel Roelants (BEL, KTM), +1:19.485; 
9. Jake Nicholls (GBR, KTM), +1:21.598; 
10. Max Anstie (GBR, Kawasaki), +1:24.541;
MX2 Overall result
1. Tommy Searle (GBR, Kawasaki), 47 points; 
2. Ken Roczen (GER, KTM), 45 p.; 
3. Jeffrey Herlings (NED, KTM), 38 p.; 
4. Arnaud Tonus (SUI, Yamaha), 38 p.; 
5. Gautier Paulin (FRA, Yamaha), 33 p.; 
6. Max Anstie (GBR, Kawasaki), 27 p.; 
7. Joel Roelants (BEL, KTM), 27 p.; 
8. Nicolas Aubin (FRA, KTM), 27 p.; 
9. Alessandro Lupino (ITA, Husqvarna), 23 p.; 
10. Antonio Jose Butron Oliva (ESP, KTM), 19 p.;
MX2 World Championship standings after 14 of 15 rounds
1. Ken Roczen (GER, KTM), 635 points; 
2. Jeffrey Herlings (NED, KTM), 585 p.; 
3. Tommy Searle (GBR, Kawasaki), 526 p.; 
4. Gautier Paulin (FRA, Yamaha), 458 p.; 
5. Arnaud Tonus (SUI, Yamaha), 391 p.; 
6. Max Anstie (GBR, Kawasaki), 369 p.; 
7. Zachary Osborne (USA, Yamaha), 295 p.; 
8. Harri Kullas (FIN, Yamaha), 287 p.; 
9. Nicolas Aubin (FRA, KTM), 269 p.; 
10. Joel Roelants (BEL, KTM), 253 p.;