Delmont, PA
Steel City Raceway
Lucas Oil AMA Pro Motocross Championship
8. 2007, 450 Class: James Stewart crashed out of the series and Ricky Carmichael retired at Millville—someone else was going to win the AMA Motocross Championship. Steel City was the first race without either Stewart or RC on the entry list, and Tim Ferry, Andrew Short, Grant Langston and Mike Alessi were all close in points. Langston pulled out a clutch win--literally beating Alessi in the second moto by a few feet. He seized the momentum and went on to capture the title two rounds later.
7. 1994, 125 Class: Doug Henry pretty much had the 125 National title locked by the finale, but that didn't stop the drama. Ryan Hughes felt he owed Doug one after getting taken out at Washougal, so he rammed Henry. They went down, and came up fighting. Classic stuff between two of the all-time kings of heart and desire.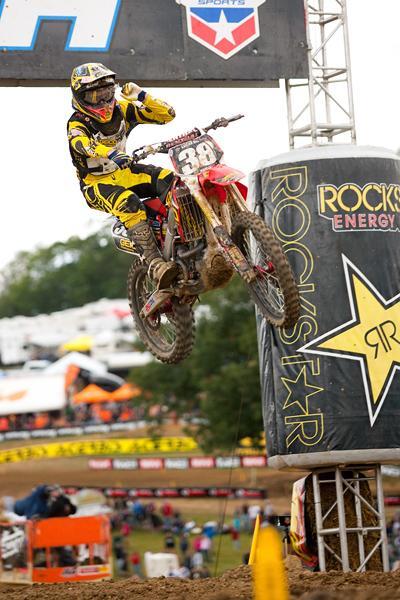 Canard took the pivotal win in 2010.
Photo: Andrew Fredrickson
6. 2009, 250 Class: Christophe Pourcel lost his points lead after a DNF at Southwick, so Ryan Dungey just needed to ride cool and calm to win the crown. Pourcel did what he could to rattle him, getting in front and then riding slow in both motos, purposely trying to get Dungey to race him and bait him into a mistake. Dungey didn't budge; he took second, and claimed the title.
5. 2010, 250 Class: This wasn't even the finale, but it was pivotal. Trey Canard kept closing the gap on Christophe Pourcel, but he needed a 1-1 to get within striking distance for the Pala finale. And he and Pourcel waged two epic battles, wheel to wheel in both motos, with Canard making the pass and getting the nod each time. Turns out he didn't need max points, since Pourcel crashed out the next weekend, but at the time, this was as clutch as it gets.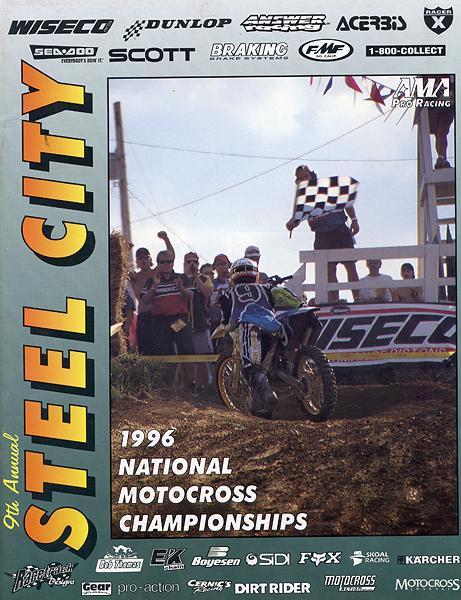 Ryan Hughes never gave up in 1995.
4. 2000, 125 Class: A very underrated finale. Stephane Roncada owned the class for most of the summer, but a knee injury and a surging Travis Pastrana drew the points close for the final round. Pastrana needed to go 1-1 to win the crown, and he won moto one easily. In moto two, he grabbed the holeshot with Roncada right behind him, the perfect one-on-one battle. And Travis rose to the occasion, pulling away to grab the points lead and title in the final moto. Yes, Travis used to be that solid in motocross.
3. 1995, 125 Class: This one is legend. Ryan Hughes and Steve Lamson were fighting over the 125 title with Lamson mounting a furious comeback after a knee injury early in the season. But Hughes won the first-moto showdown at Steel City, setting up a winner-take-all final moto of the season. Lamson got the early lead and Hughes moved to second with ground to make up. He tried everything, but Lamson's lead wouldn't budge. Hughes hung it out harder, pushed further, and finally went so hard that his chain broke on the last lap. Lamson crossed the finish with a clutch moto win and his first AMA title. Hughes pushed his bike uphill to the finish, beaten, but not defeated.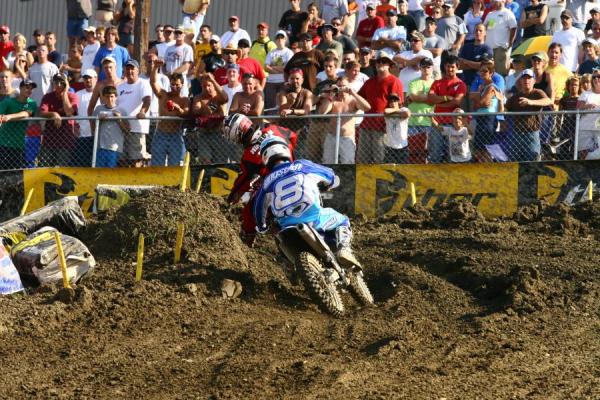 Grant Langston pulled out a clutch win at Steel City in 2007.
Photo: Matt Ware
2. 2001, 125 Class: Hard not to give this one the top spot on The List. Grant Langston and Mike Brown had literally chased each other around the world in pursuit of 125 titles, and it came down to Steel City. Crazier yet, Ricky Carmichael dropped into the class that day to get one more win and break the all-time 125-career win record. All hell broke loose. Brown won moto one over Langston and flipped him off at the finish. RC started last and got to third. Then RC checked out in moto two, Brown fell, and Langston had the title in hand. Until his rear wheel broke. He DNFed, Brown moved forward and stole the title, Langston and KTM were crushed, RC got the overall win and the record, tears were shed, hearts were broken....you get the idea.
1. 1996, 250 Class: One fan walked into Steel City in 1996 with a banner that said it all. The banner read,  "#1 versus #2. It doesn't get any better than this." It was true. Jeremy McGrath, the defending AMA 250 MX Champion, dominated the early part of the MX tour, but Kawasaki's Jeff Emig, #2, surged through the second half, and when McGrath injured his foot at Millville, Emig picked up a ton of points. MC healed up and beat Emig 1-1 at the penultimate round in Binghamton, NY, leaving him just two points down (and with a ton of confidence) heading into the Steel City finale. Emig grabbed the first moto holeshot, McGrath made a pass, and then Emig passed him right back and logged thirty minutes of flawless riding, holding MC off for the win. In moto two, Emig holeshot and checked out, while McGrath got a bad start and was never able to challenge. This one came down to a winner-take-all championship showdown between two rivals. It doesn't get any better than that.