The Wick 338
Southwick

,

MA
Moto-X 338
Lucas Oil AMA Pro Motocross Championship
Man, the drama at the 'Wick was overflowing this weekend. From the Ryan Dungey bike situation, to Justin Barcia and Gareth Swanepoel winning their first career motos (in their respective classes), to Brett Metcalfe getting that eight-year monkey off his back and finally winning his first overall, and oh yeah there was a hurricane breathing down the east coast that halted the travel of half the industry. Southwick by far provided one of the wackiest, flat out bizarre weekends in recent memory. But you will hear plenty about all this "drama" throughout the week so let's see how it all broke down with this week's Motion Pro Sign of the Lap Times.
Moto 2
Yes, Ryan Dungey did set the fastest lap of moto one with a 2:00.892 on lap 2, but we all know the real story of the weekend regarding Dungey. The man put in a ride that will probably go down in the history books in moto two. He stared down the barrel of adversity and burned a hole through it. We all know the back story by now so I won't bore you with that, but sometimes you have to beat a dead horse and give credit where credit is due. He also logged the fourth-fastest lap of the moto and did it on lap four, when he must have been mired in traffic.
Overshadowed by the "Dungey Dilemma" was Justin Barcia laying the wood on the rest of the field in moto two. Not only did Barcia win his first career 450 moto, not only did he set the fastest lap of the moto, but he did it by putting down a lap that was a full four seconds faster than his next closest competitor!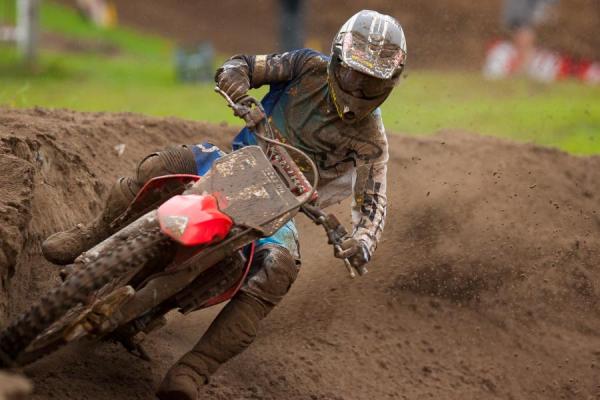 Barcia set the fastest lap in moto two en route to his first career 450 moto win.
Photo: Andrew Fredrickson

250 Class
Moto 1

Moto 2
Monster Energy Pro Circuit Kawasaki's Tyla Rattray proved once again he is a man among boys in the 250 class at Southwick. While Rattray did lose moto one to fellow South African Gareth Swanepoel when he stalled his engine while leading, he still managed to set the fastest lap of the moto with a 2:05.154 on lap 2. He did the same in moto two when he tracked down Eleven 10Mods Alex Martin en route to his second consecutive overall at Southwick. But A Mart proved he wasn't just lucky with a holeshot, his second-best lap time of the moto shows how fast he can go. Well done by rookie Justin Bogle in the second moto, as well.
Raise your hand if you thought Gareth Swanepoel would be the rider to break up the Pro Circuit streak...anyone? While Swanepoel has challenged for a podium spot on a few occasions this year I don't think anyone thought he was due for a moto win. But the Star Racing rider battled with the top-two Pro Circuit bikes and came out on top. A feat like that cannot go unacknowledged.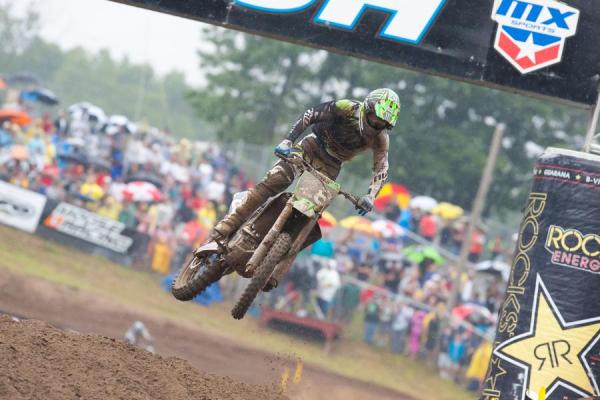 Rattray set the fastest lap in both 250 motos.
Photo: Andrew Fredrickson