The Wick 338
Southwick

,

MA
Moto-X 338
Lucas Oil AMA Pro Motocross Championship
Hello, everyone, and welcome to the Rev Up. As Bill and Ted once said, "Strange things are afoot at the Circle K." We've been inundated with apocalyptic propaganda since the turn of the millennium, but only recently have I really began to raise a stern eye brow. I suppose the kicker with this was the freaking EARTHQUAKE I felt as I was walking across the street in Greensboro, North Carolina. No more than thirty seconds before I felt what I had only previously felt in California, I was watching the news story of Hurricane Irene as she was on the war path. I brushed off the Hurricane, then when the damn ground shook and pounded I had to, as they say in The South, "Take a step, backards."
It's been the hottest summer I can remember, the full moons have been weird, we have the aforementioned tree bender and building shaker, and it's a mere ninety days before 2012 flips up on the calendar. All this has your pal Hattica a bit weary as you read.
Ah, who cares? The NFL is just around the corner and we have the final three rounds of the Lucas Oil AMA Pro Motocross Championships set to stretch the throttle cables.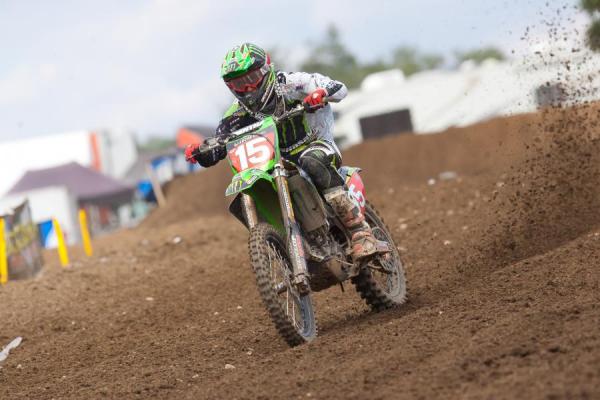 Wilson leads the 250 Class as the series heads to Southwick.
Photo: Andrew Fredrickson
Break time is over. With the gnarliest course on the tour in our cross hairs, there is a lot that is going to go down. The sands of Southwick offer no quarter. The only way to ride the sand is with your right arm at your rib cage and your balls deftly placed on the gas tank. Her granules will reach places on rider and machine mother nature or mechanic never intended. Southwick is where series points leads go to die and those still in the hunt go to breathe fresh life.
We have two summer dreams yet to grow to fruition. We have some boys wearing momentum and we have some that need to show up this weekend ready to vanquish and conquer. Period. There is a lot of static out there right now, folks. But the real mind bender is the four gate drops that have us all ready to mash the fast forward button to Saturday afternoon. And let me tell you, I've been waking up sans alarm clock at 4:30 a.m. every day this week. You see, it's Bristol week for my tribe and unless you've been there for the night race, you just don't know. It's the real deal Holyfield, Jack.
But, I digress.
250 Class
With Dean Wilson leading the charge in the 250 Class, he has to keep it together through the weekend and then he can play defense through the last two rounds. He was my guy preseason, and while "Bad" Blake Baggett has been the heat this summer, I think 2012 will be his year.
That said, Motocross 338 has not been kind to Mitch Payton's ass-kicking machine. Be that as it may, the Monster Energy/Pro Circuit brigade has been fairly safe the last couple visits, and if anyone knows how to make the machine last, those guys...ahem, what am I saying? That damn team is bulletproof. If anything goes wrong with Dean, Blake, Broc, or Tyla, it won't be the bike.
450 Class
Now it gets sticky. The Thunder hasn't been heard since he saw God at Millville, and well, that's OK. He's still in the hunt and for some reason I still think that Chad Reed is going to pull this thing together. If he is going to, he has to win this weekend. 1-2, 2-1, or something really close to it. Plus, the RV Park Express has to come off the tracks.
What do you have to say about ole "wild thing?" Remember how fast Justin Barcia was at Southwick on a 250F? Ho, ho. Wait till you get a load of the long hair hessian on that nasty CRF450R on Saturday. I say that he wins a moto at the very least this weekend. The only thing that slowed the kid down at Southwick was the lack of horsepower. Go ahead and scratch that off the list as there will be no bogging for #17 this time around. No damn bogging at all. He's going to be scary fast. Hope he can hang on!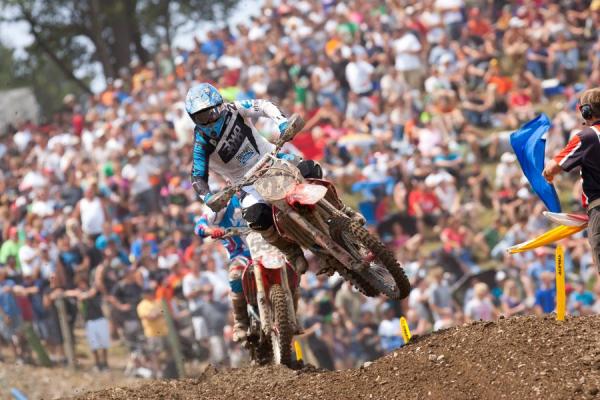 Can Reed bounce back at Southwick?
Photo: Andrew Fredrickson
Ryan Dungey and, of course Villopoto are going to be stronger than ever.
It's on. It's so on, my son.
So, strange days may be upon us, but as I like to say, "When the going gets weird, it's simply time to get weirder." Oh, you'll be able to see a plethora of weirdos along the treeline at the 'Wick this weekend. Motocross 338 has a salty platoon of fans that are ready to bring the noise this weekend, rain or shine.
It's going to be a good one, guys. Here she comes.
Thanks for reading, see you next week.