The Wick 338
Southwick

,

MA
Moto-X 338
Lucas Oil AMA Pro Motocross Championship
Les Smith has been around the block this season. He began the year racing for Jimmy Weinert Racing on a Honda where he enjoyed a career best season in the East Lites class. Smith was then scheduled to join the now defunct Team Chaplin Kawasaki/Performance Tuning aboard a 450 for outdoors, but that deal fell through just before the start of the season. Stranded and scrambling to find a ride, Smith found a home at Muscle Milk/Toyota/Joe Gibbs Racing filling in for the injured Justin Brayton. A few rounds later Brayton made his comeback and Smith was left searching for a ride again. In stepped Rockstar Suzuki who was looking for a fill in for rookie Jason Anderson, so Smith rode a few rounds in the 250 Class for the team. Once Anderson made his return, Smith was once again was left on the outside looking in. But a familiar name came calling, as JGR was now looking for someone to fill in for the injured Davi Millsaps. It's been a rollercoaster ride for Smith this season, but the laid back South Carolina native continues to push through the adversity and turn each moment into a positive.
Racer X: You have gone through a lot of changes this year; switching teams, bike brands and classes. How hard has it been for you to adjust to not only a new team but also a new bike and sometimes a new class?
Les Smith: Yeah it's been really tough switching back and forth between bikes. Obviously it has made it tough for me to be 100 percent where I want to be. But not having anything at the beginning of the season it has made me that much more thankful for every opportunity that I have gotten this season. Pretty much in every situation I have been in I have been so happy to have that and that is what has pulled me through. I'm so thankful that I've had these different people step up and help me, especially with [Coy] Gibbs and the JGR guys. They have definitely put in a lot of work and time trying to make sure that I'm comfortable, and that means a lot. So I have been trying to ride a lot more and get as used to it as I can.

During a turbulent 2011 season, Smith has found a home at JGR.
Photo: Andrew Fredrickson
Prior to the beginning of the outdoor season you had a deal lined up with Team Chaplin Kawasaki/Performance Tuning, then rather quickly that deal fell through. How hard was it having to adjust to thinking you had a ride lined up, to thinking you might not have a ride at all?
It was really tough. I had a little bit of momentum coming off the supercross season; I got several top-tens and finished off at Vegas with a ninth. I was looking forward to starting that new deal, but I kind of got put through the ringer on that. But I try to look at everything and turn it into something positive. It really made me appreciate everything so much more. Especially right now having this opportunity with JGR after knowing where I was at the beginning of the season when I was left in the dark, I'm so thankful for it. Now I go to bed every night excited as can be to get up the next morning and get back on the JGR bike. I think at the time it was tough, but in the end it made me stronger and made me want it a little bit more and work a little bit harder and appreciate everything I get.
You grew up in York, South Carolina. In a season filled with some many ups and downs, how nice is it having that home base right down the road from where you train?
It really is. It's amazing being with JGR and a lot of it, like you said, is just because of the fact that their shop is forty minutes from where I live and have lived all my life. With that being said, I already knew several guys on the team and already had somewhat of a relationship. It's comfortable being at home when everything else is changing. It's perfect for me, it's right up the road and all the guys are super nice and super helpful and they work really hard. That eases the situation a lot more. It's just an ideal spot for me.
You have been a privateer for your first couple seasons as a professional and now you're under one of the bigger factory tents. Can you give the readers some insight on the differences of being a privateer, where you are basically hucking it to the races in a truck and trailer, to being on a factory backed team?
It's absolutely amazing. The first couple of years I did it as a privateer and I kind of had to worry about everything and it made it really tough to focus on what was number one—which was training and riding. I had a lot of other things I had to worry about; obviously how I was going to get to the race, what I was going to do when I got there and those sorts of things. It really takes some much weight off your shoulders. Right now the only thing I have to worry about is my riding and my training. I've been telling my friends how amazing it is that all I have to worry about is getting better. I don't have to worry how the bike is going to be, or how the bike is going to get there or how I'm going to get there. It's amazing to go into the shop and see fifteen or so guys working all week to make sure that me and the other rider are set for the weekend. All these people are working so hard to make sure that I'm good to go for the weekend and it just provides that much more motivation. It has definitely allowed me to work harder than I ever have in my life and to work on trying to get my fitness where it needs to be and those sorts of things.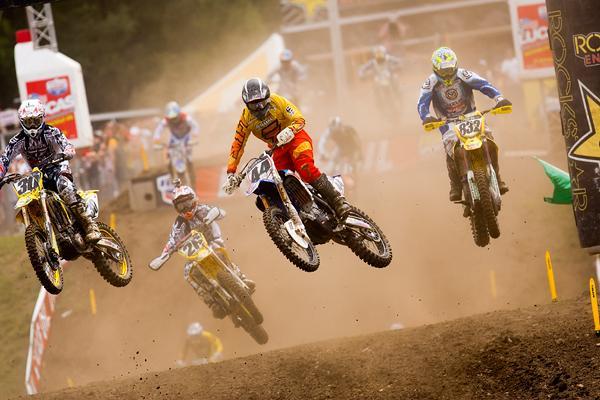 Smith currently sits inside the top-30 in points in both the 250 and 450 Class.
Photo: Andrew Fredrickson
Are you signed with JGR for the remainder of the outdoor season?
I'm not real sure yet. It depends on how Davi [Millsaps'] comeback goes. I would hope that it would be for the rest of the year, but I don't want Davi to be hurt. Davi and [Justin] Brayton both have been great to me. When I was on the team at the beginning of the season I was riding with Millsaps and he was always helping me out and giving me pointers here and there and telling me this and that—he's just been great.  Now the second go around its Brayton. Me and Brayton already rode together quite a bit last summer and it's the same thing with him. Both of them are always pulling me aside and saying, "Hey you should try this or you should try that," and it really means a lot to me because we are racing the same class now, and that those guys aren't saying that he's my competition and or keeping their nose in the air if I need to talk to them. They are both very helpful and I can tell that they both want to see me do well too. All of their input is very helpful and I just try to listen as much as I can, and it really makes it that much easier.
What adjustments have you made to deal with the sand of Southwick this weekend?
As far as off the bike training it has pretty much stayed the same. I'm still working really hard at that. As far as on the bike I've been going down to Club MX and riding down their quite a bit in the sand. It's been a lot of fun because I grew up riding in the sand and I've really been enjoying getting to go down there and ride. That's pretty much all we have changed, just doing a little bit of sand riding.
You grew up racing in the sand a lot as an amateur. Do you feel that experience gives you an advantage heading into the weekend?
I think so. I'm going to look at it that way. I love riding in the sand and I would say I always do better in the sand just because I'm more comfortable with it. I know all the guys I'm racing with are professionals and they can all step up to the plate in any condition, but I want to look at it through my eyes, that it is an advantage for me. Hopefully we can get out there this weekend and put it up there.
You have overcome a lot of adversity this season. Do you feel that you have met your own expectations outdoors?
No I really don't. I have showed some good speed I think and have been in the top-ten several times, unfortunately crashes have not let me finish there, but that is part of the race. It was my fault, that was me and that is one thing I'm working on. I think now that I've got the team surrounding me working so hard and everything, I'm putting some much pressure on myself to make sure that I do good for them. Like when I'm in the top-ten and when I'm riding like that, "I'm like I got to keep going and I got to hang it out," and that has kind of bit me in the butt a few times. That's one thing I have really been working on is kind of easing it down a little bit and not being so out of control and just trying to ride my speed, which I think is good enough. The big thing for Southwick is to be consistent and try to walk away with a top-ten and try to build from there.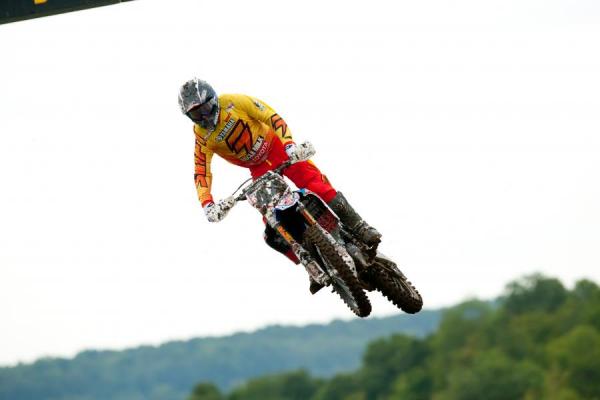 Smith's experience in the sand should prove beneifical this weekend at Southwick.
Photo: Andrew Fredrickson
What are main goals to make sure you close out the season on a strong note?
Ultimately right now the main goal—and what would make me happy—is to walk away from Southwick with a top-ten. I definitely think that I have the speed and with a good start I can do a little better than that. There are a lot of gnarly dudes in this class that a lot of people underestimate. But I really think with a good start I can run up there with those guys. I really want to get up there with them and run with them and get some experience, that's my main goal. I want to finish inside the top-ten and build from there. We have to crawl before we can walk. The main goal right now is once we can get that solid top-ten under our belts and get a little bit of confidence; we can build from there and get up there a little further before the end of the season.
Thanks again Les. Who would you like thank for helping you out this season?
I have got to thank the whole Muscle Milk Toyota JGR Team. It's amazing to me to go in there and see all those guys working all week long just to make sure everything is right for me. I have to give it up to all those guys; Coy and J-Bone for the opportunity, or the second opportunity I should say [laughs]. I'm not going to let them down this time so I just want to thank all those guys. And of course my family and friends for sticking behind me. They got me through some of the tough times and like I said we just try to turn that into motivation and keep pushing forward. So I have to thank all of those people in my corner.