At the end of the 1988 season, there was no doubt who was going to represent Team USA at the annual Olympics of Motocross, the Motocross des Nations. Three riders dominated all year indoors and out: Rick Johnson, Jeff Ward, and Ron Lechien. Two of the three were on Kawasakis, and Ward volunteered to race the 125—his first time on one in five years.
Lechien, on the 500, had a glorious day, going 1-1 to win his and the overall. The race took place in France (just like this year's race), and although the French fans cheered on hometown kid Jean-Michel Bayle, he was no match for Lechien on this day. We spoke with Lechien about that historic race.
Racer X: Ronnie, I guess you being named to the MXdN team in '88 wasn't a big surprise, right?
Ron Lechien: It wasn't really a surprise that year—we were the best three guys. I was stoked to get picked for the 500, though, because I got to run the #1, and also, RJ won both outdoor titles the year before so he could've got his choice of what to ride. I think they figured that I was a bigger guy. I rode the 500 well and RJ wanted to ride the 250. So Wardy went to the 125s—he was a smaller guy. The bikes in '88 were good. I think our 500 was better than the Honda, to be honest.
The track was a little hilly, so with Ward being smaller, the 125 worked for him and we all got along well with our bikes that day. Like I said, I was pumped to ride the 500. I always rode those bikes good. Having the #1 and leading the team was awesome. Anytime you go to the MXdN, you give it all that you have.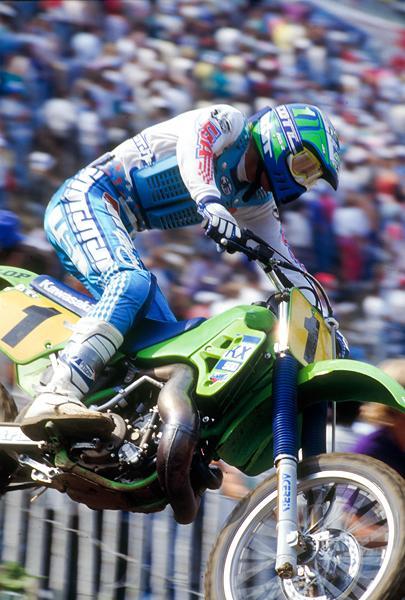 Lechien went 1-1 at the '88 MXDN.
Photo: Racer X Archives
They could've stuck you on the 125—Johnson and Ward probably were a bit faster than you in 1988.
Yeah, it's possible, but at some point I guess they all got together and decided this was best for the team. And it worked out for everyone. Wardy got stuck on a bike here and there that he didn't want to ride, but he did what it took for the team. We knew the track wasn't going to be great for me on a 125. I would've been a toad. It was a perfect track for me—it was like a lot of stuff that I rode in El Cajon. It was hilly and hard-packed and I couldn't have asked for a better track to suit my style, to be honest. It worked out perfectly for me.
And you smoked them on the day, going 1-1, in what might have been one of the best rides of your life.
Yeah, pretty close, I'd say. Having Ricky and Wardy on my team and not racing against them was a relief. I knew the other guys in the 500 class--the Europeans--and I figured I had them covered pretty easily. There wasn't a whole lot of pressure on me other than don't go down and stay clean. It worked out cool, though. Going 1-1 and leading the USA team to victory is cool, but it wasn't the hardest race for me.
JMB was on it that day on the 125, right?
Yeah, he was. I'm glad I didn't have to really deal with him, but everyone else did. I was keeping my eye on him out there. If he had gotten some better starts, I might have had to race him a bit. He would've been nipping on my heels, but as it was, I was alone out front and keeping a comfortable pace.
That 1988 Kawasaki KX500 must have been a pretty good bike for you.
Yeah, it was my bike from the nationals. We shipped all of our bikes over there, which is a big help—I was comfortable with it. Like I said, I think we had the best bike in the class. It was great.
In the race you have these gigantic Dogger stickers on your bike and helmet. What's the story behind those?
Well, we all know it was my nickname, but it was actually also the name of a casual clothing company. This guy had gotten a hold of me and sponsored me with some stuff. It was nice-looking. There really wasn't much out there back then besides the Life's a Beach guys. So I had some stickers from the guy—it was my nickname and I put it on my helmet and bike. I'm surprised that Kawasaki let me put it on the front fender like that. Or maybe they didn't and I did it anyways [laughs].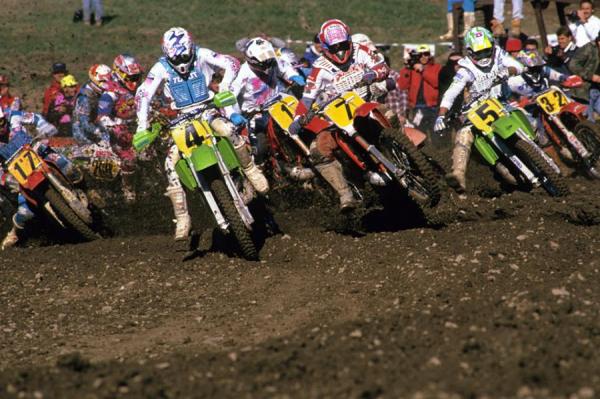 Lechien at Binghampton in '88.
Photo: Paul Buckley
In the Motocross Action story from the race, they say you were not going to get hired back by Kawasaki until you dominated the MXdN. Was this really what happened? Did you know this at the time?
Yeah, I know that's what they said—I have the story in a frame behind my desk here at Maxima. "The Resurrection of Ronnie" is what they call the story, but I don't really know. It's hard to say, to be honest. I know that even after I broke my femur in '89, Kawasaki offered me a tryout and a deal for the '90 500 nationals, which I didn't take due to my personal problems and all that. Even with all that stuff, they still wanted me on the team in '90. So I'm not sure if that's true or not. I think they wanted me back in '89 anyways. I was one of the top three guys.
I didn't take that shot they offered in 1990, and I regret it to this day. I just wasn't ready, both on and off the track. That's a whole other story. The race in '88 at the MXdN was good for me but I don't think it was a turning point or anything like that. I really had a great shot at the '89 500 title, especially after Rick [Johnson] got hurt, but if circumstances had been better, I'd have won. My private life ruined it for me, but I was fast.
Now back to the MXdN in '88. It's true that you were up most of the night before the race, right?
[Laughs] Yeah, I met this girl over there and it was a long night. They had my room right at the front of the hotel over there so I could just get out quickly and try to get a couple hours sleep, at least! It was a fun three weeks for me. We started it off in Amsterdam for a supercross, then it was the MXdN in France, and then from there it was a race in Maggiora, Italy. It was a fun three weeks and one I'll never forget.