The Wick 338
Southwick

,

MA
Moto-X 338
Lucas Oil AMA Pro Motocross Championship
The Eleven 10Mods team has had a breakout season in 2011 as their two thoroughbreds—Darryn Durham and Alex Martin—sit tenth and twelfth in points as the Lucas Oil AMA Pro Motocross Championship heads to Southwick. A rising team with two promising young riders, Eleven 10Mods has quickly become media darlings as they continue to challenge the Goliaths of Monster Energy/Pro Circuit Kawasaki and GEICO Honda. But behind every successful team are mechanics who burn the midnight oil to ensure that every detail is attended to. In his first year wrenching for Alex Martin, Cameron Rodriguez has made a quick transition from rider to right-hand man. We caught up with him at the Eleven 10Mods shop in Uniontown, Pennsylvania, earlier this week.
Racer X: Can you give us some insight into how you became a mechanic?
Cameron Rodriguez: I have been racing my whole life. I did the nationals and supercross the last two years and did pretty well. I made some night shows and my best finish was a twentieth or twenty-second outdoors. Then earlier this year, right before supercross, I hurt my shoulder pretty bad and had to get surgery. I've been working on my own bikes since I was a little kid. I started doing transmissions on my own bike when I was 13, so the transition to becoming a mechanic—while I'm down and not riding—was pretty easy.
How did the relationship with Eleven 10Mods come about?
I came over here back when I was racing the outdoor series in '09 and stayed at Chad [Sanner]'s house for a few weeks between Steel City, Southwick, and Unadilla. I ended up showing Chad a video of this supercross track at my house and he was super pumped on it and asked who built it, and I told him that I had built it. So I ended up staying out here an extra month and building him a supercross track at his house. So that's how the relationship got started.
I called Chad at the beginning of this year and told him I wasn't going to be doing anything this year and was looking for work and he had me come out here to primarily work at the shop and help him with R&D and machining stuff. Then Alex [Martin] needed a mechanic, so I've been doing that on the weekends. And this is actually my first year working for a rider.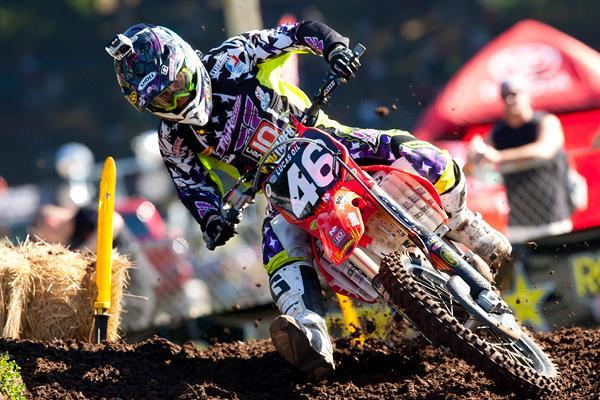 This is the first year Rodriguez has been Alex Martin's mechanic.
Photo: Andrew Fredrickson
So how is that going? Is it nerve-wracking, this being your first year?
Not really. I see people get nervous, but it's way less nerve-wracking than trying to race. I'm just happy I don't have to go out there and try to do the first race [laughs].
Alex is known for being one of the most genuine guys in motocross. Has that made the transition easier for you?
Yeah, he's real cool. He's really chill and is really determined. He works hard off the bike and he's not too picky, and I try to help him out the best I can with my riding experience for the bike setup. It seems to be working pretty good. It's fun because we get to go and walk the track together and I can point out a line here and there, because I actually raced. I was never up to his speed, but I try to help him the best I can both mechanic wise and riding too.
What are your responsibilities during race day? Do you have a routine you and Alex like to stick to?
Before race day on Friday we get tech done and then Alex and me try to walk the track together if we can. Then on Saturday I start to get the bike ready and prepped for practice, depending on whether it's muddy or dry, and do any small settings to the bike that it might need for that track, like sag or suspension settings or tires. Practice is pretty easy. I'll scrape the bike off so that we can wash it between motos, then I'll wash the bike, change the oil and air filter, and change the tires before the moto and between motos if needed. Then I just make sure everything is tight and 100 percent for the day. I kind of think that race day is an easier day because you're at the race and get to walk around a little bit and you don't have to do too much major work—it's just a little bit of strip maintenance and making sure everything is tight. Saturday is more show day; you're just there making sure the bike works well. All the tough work comes during the week. At RedBud his bike blew a motor in the first moto, so that was a big scramble for me that day....
When something goes wrong like it did with Alex blowing his motor at RedBud, what goes into to making sure the bike is 100 percent for the next moto?
It's really pressed. Usually I'm pretty pressed for time and all I have to do is wash the bike, change the air filter and oil, maybe put on new grips, put fuel in it, and some miscellaneous checking. I usually only have about forty-five minutes between motos, so that day when his motor blew I had to take the whole motor out and drop the spare motor in there and then do all the other stuff on top of that. And the spare motor doesn't have a race clutch in it, so I had to put a new race clutch in. So it was pretty crazy, I was definitely hustling that day [laughs].
Alex has arguably had his best season of his career this year. It must make you feel good knowing that in your first year your rider has made such strides.
Yeah, I'm real fortunate to mechanic for a rider that is doing this well for my first time. He is doing really well, and he is super pumped to be getting top-ten finishes outside of his home track. He got a sixth at Washougal and a sixth at High Point. He's been a little bit under the radar, but he's doing really well this year and I'm really happy for him.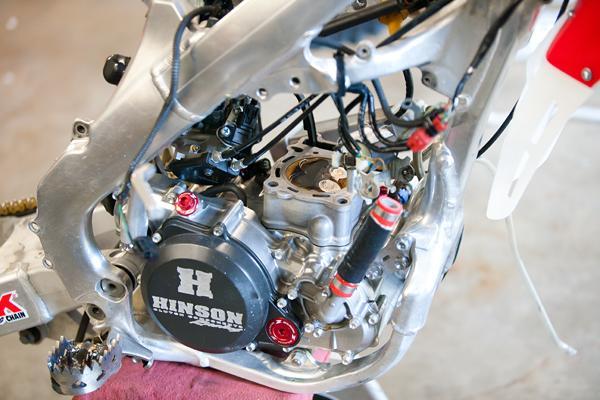 Getting Martin's bike ready for Southwick.
Photo: Andrew Fredrickson
The series heads to the deep sand of Southwick this weekend. Obviously, you have to make adjustments to the bike to compensate for such conditions. What kind of changes do you plan on making?
Obviously, we'll put on different tires when we get there and maybe address the sag a little bit so that the bike is a little more choppered out. We will have to tame the engine down a little bit because he's going to be running so hard on it and it needs to make it through the motos. We'll run a little more heavy-duty oil so that the bike doesn't break down as much. Obviously, we will oil the filters better so it doesn't suck in any sand. We'll have to change the fuel tanks a little bit because it takes more fuel to get through those motos.
What's your experience with prepping a bike for sandy conditions?
I've prepped bikes for myself. I just try and take as much knowledge from that and everyone else as I can—basically just try and do things that I think will make the bike run better. Running the sag a little lower to keep the front end high and maybe we'll stiffen up the suspension a little bit to handle some of the bigger bumps.

What are your plans for the future? Do you still have that itch to get back on the bike, or do you plan on staying on the other side of the industry?
I plan on definitely being in the industry working as a rider/mechanic or doing some kind of motor mods or working here [at Eleven 10Mods]. I really like doing motor stuff and building the engines up and being a rider's mechanic, but I also like riding too. I would like to hit a few more nationals and get some more points before I get old and fat [laughs].