By: MX Large's Geoff Meyer
Red Bull/Teka KTM factory rider Antonio Cairoli is just days away from picking up his fifth FIM World Motocross Championship. The little Italian will join Roger DeCoster, Eric Geboers, Georges Jobe, and Joel Smets as five-time winners of the world crown, with only Joel Robert (six titles) and Stefan Everts (ten) ahead of him. We spoke with him about his victory at Matterley Basin in England last weekend.
Racer X: Antonio, what can you say about that circuit last weekend?
Antonio Cairoli: The weekend was good. I mean, the track was awesome—after Lommel, it's the best track for me for the season. I struggled a little with the setup of the bike, but luckily we got an okay setup for Sunday, because the track is so fast and we are not used to this type of track. Many lines and so fast.
What about your motos?
In the first moto I had an okay start, but I went off the track and I lost some time. I got back in eleventh place and I tried to just come back as fast as I could. I got to third place and this was okay. Considering the mistake I made at the beginning, I was happy with third place.

Cairoli went 3-1 for the overall at Matterley Basin.
Photo: KTM Images

That second moto you got a little lucky, didn't you?
The second moto I had a bad start. I was on the inside and maybe it wasn't such a good place to start with the 350—the sand was a little too loose and I struggled a little bit. I had a bad start, but in the first three corners I passed a lot of guys and I was fifth. I was following [David] Guarneri trying to make a pass and he made a small mistake on one corner, and I was so close I hit him and I crashed. Then I started in fifteenth place and it was hard to pass. I [got up to] ninth but was struggling a lot, then the crash happened [when Billy Mackenzie landed on Tanel Leok] and they stopped the race with the red flag.
It's not the way you would have liked to have gotten another chance, though, was it?
For me it was good, but for Tanel and Mackenzie, I am glad they are now okay. Then for the restart I changed gates and I went more to the center and I got the holeshot, and then it was easy. I tried to pull away and I got the moto win and the overall, so that was good of course.
Another world title awaits in Gaildorf, Germany, and another title not won in Italy. How do you feel about that?
It is a shame, because I never win in Italy. I always win the title somewhere else. All over the world I win it, but I would like to win in Italy sometime. I hope a lot of people come to Gaildorf and support me. We can make a big party together. It would be the end of a good season—not one of my best, but in the end I found a good balance.
Do you have something special planned for your fans?
For sure, we do something special. I am making a clothing line for AXO, which is special for me because they never did that with anyone before, and I am hoping I can ride with my gear in Fermo, which would be nice. Also Red Bull will be doing some cool stuff for the GP, so there will be some cool things happening.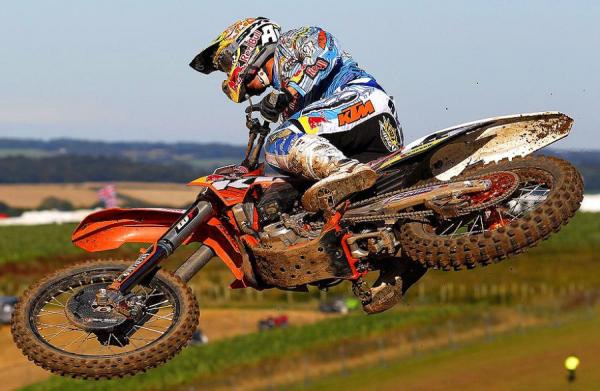 Cairoli is looking to win his fifth FIM World Motocross Championship this year.
Photo: Ray Archer
And then it's the Motocross of Nations. How are you preparing for that?
Somebody asked in the press conference. I think I won't train for, like, two weeks or something. We have a lot of injuries and stuff.... No, I am just kidding [Laughs]. I think if I have my head on the right way and just train like I did the whole season and be fit for the MXoN, this is my goal now.
Any chance of seeing a #1 on your bike in 2012?
No, I will stick with #222. It's like a brand for me now, and it's impossible to have a #1 on my bike.
Ken Roczen mentioned he is off to Lloret de Mar in Spain to party a little before Gaildorf. Are you going to join him, or do you have other plans?
I don't think I'll go there—he's a little too wild for me! I hope to go on some type of holiday, just go somewhere near the beach, maybe back home in Sicily or somewhere in Italy where it is nice. But for sure the beach.