By: Allison Kennedy
When you're sitting 10th in the 250 AMA points with three rounds remaining, it's a gutsy and ambitious venture to head north on a precious off weekend. But that's what Eleven 10Mods rider Darryn Durham chose to do. With the final round of the Canadian National series in Walton, Ontario coinciding with a break, Durham headed north for a taste of the Canadian competition, a change of scenery and hopefully, a battle for the win.
Things looked rosy when Durham arrived at the track—which had just hosted four days of Loretta Lynn's-inspired amateur racing—but those pristine conditions started to wash away Saturday afternoon with relentless rain dominating Sunday's races. To be clear, we're not talking showers here…we're talking about a torrential downpour with horizontal rain and pea-sized hail. An F3 tornado touched down just minutes up the road, right as Durham's final moto of the day was wrapping up.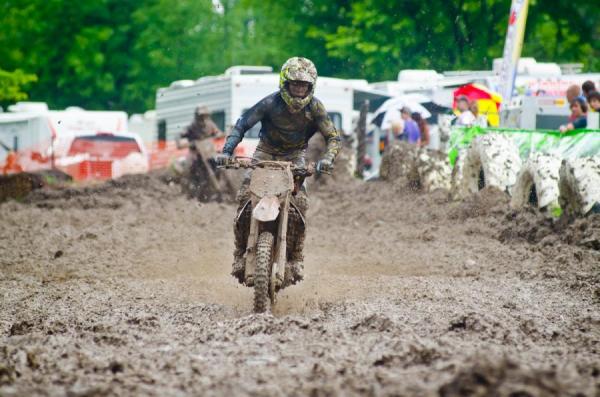 Durham went 2-DNF for 8th overall in muddy conditions at Walton.
Photo: Allison Kennedy
Durham had literally walked into a tempest. Despite the thick, pervasive mud, he found himself up front in both motos—posting the fastest lap times in each race. But pitted against a worthy opponent in defending MX2 champion Tyler Medaglia, a series of mud-inspired mistakes while battling with the champ cost Durham the win in both races. Medaglia—determined and riding a high after the birth of his son earlier that morning—clinched his second MX2 title with a 1-1 sweep while Durham was relegated to a 2-DNF for 8th overall.
They say mud is the great equalizer, and despite the brutal conditions, Medaglia and Durham had some amazing battles. Come north again, Darryn. We'd love to see you on a dry track.