New Berlin, NY
Unadilla Motocross
Lucas Oil AMA Pro Motocross Championship
After a two-week break in the series, the 2011 Lucas Oil AMA Motocross championship picked back up at the historic Unadilla circuit in New York. A long time ago, Unadilla was everyone's favorite track, and then it became no ones' favorite track. But now, the facility has made a nice comeback in the fact that some dirt has been trucked in and the track hasn't been used as much.
The track has got some history and that's always a good thing. Iconic obstacles like the Screw-U and Gravity Cavity are always welcome in my books and it wasn't that long ago that The Jammer and Short Stack battled it out over the very same obstacles that Chad Reed and Ryan Dungey rode this past Saturday. The pits are much better than they were, the promoters have built a new tower and added to the infrastructure over the years. But I don't like how they filled in and leveled off the starting line all those years ago. The down and up of the old start was kind of cool.
Hey did you hear that Racer X's Jason Weigandt choppered in and out of the Unadilla track at the '87 MXDN? Yeah, I guess we have indeed all heard that one. He never stops telling it.
With Ryan Villopoto's past outdoor performances were taken into account before this outdoor season started, many people assumed that the 2011 450 Title was RV's  for the taking. Villopoto is already amongst the greats of the outdoor motocross series with all of his 250 wins and before the year, he had raced one 450 outdoor healthy and destroyed everyone. But yet this year, it seems that he'd been a bit off all season. The previous two races, he'd been caught from behind in the second moto by Ryan Dungey (himself no slouch) and he didn't look, well, Villopoto-like.
Here's what I wrote after Washougal: Maybe it's a bike issue and Ryan needs to do some testing. Here's the telltale sign as to whether or not he's working on a bike problem. If he goes out to Southern California or if Kawasaki guys head to Florida, we'll know that he's not happy and more testing.
Well guess what happened? RV went to Southern California to test with his team, the factory Kawasaki squad and came back this weekend with the all-new 2012 Kawasaki KX450F and had, in the words of his team manager, Ryan turned in his best ride of the year. The team didn't have many parts (only one spare airbox) and had to burn the midnight oil to get RV and teammate Jake Weimer the bikes but looks like the work paid off in spades.
The whole thing with the 2011 bike is that the riders were feeling everything through their legs and body. The bike was hard to ride fast and be comfortable at the same time. No matter what the guys did with suspension settings, the harshness of the chassis just wouldn't go away. So what did Kawasaki change on the 2012? Well they took the frame and reinforced it at the steering stem and gave it more flexibility in the rear section. It was exactly the sort of thing that the guys wanted to do but were unable to do with suspension, clamps, linkage rods, etc, etc.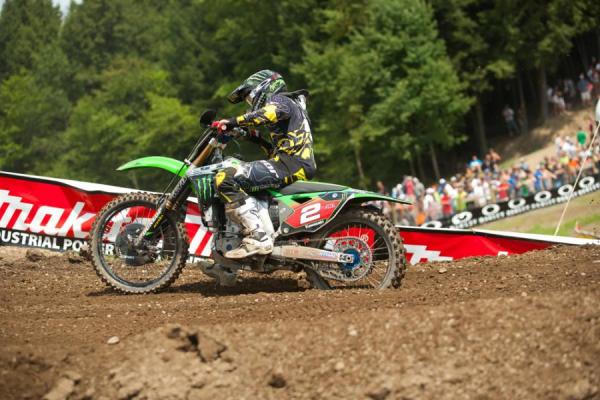 As you can see, there's less harshness on the new KX thanks to a more flexible rear frame section.
Andrew Fredrickson
The team put the 2011 plastic on the 2012 frame, slapped on the exact same suspension from Washougal and sent Ryan out to try it out. After one lap and a pretty slow (for him) pace, Villopoto pulled in and said that whatever he was feeling was gone. The changes that Kawasaki made in production cured what he was feeling. Remember folks, this aluminum frame thing of the last decade or so is still getting figured out. You would be amazed at how little gusseting (or lack of gusseting) it takes for the riders to notice a change in the way a motorcycle works.
Anyways, the bike was much better and when they put the 4mm thinner plastic bodywork of the '12, the riders were much happier. Props to the team for pushing this thing through and working hard to get these bikes ready to go. I've been there on a team where your hard work is rewarded with better results and riders being happier. It's a nice feeling as opposed to a guy that's whining about the bike, you're changing everything you can to make him happy and his results are still sucking. Trust me, the flip side to this is much, much better.
So RV's 1-1 rides gives him six points on Dungey and seven in the title chase. This thing is far from over to be sure but it has to give Villopoto some confidence going into Southwick.
And it's funny how this sport works because as much confidence as Ryan Dungey had after a couple of great rides, he's got to be a little bit bummed at the way Unadilla went for him. The new kid in the class, Justin Barcia, almost beat him in the second moto and he never really got a sniff of RV and his new magical mystery green machine. If you want to look at the flip side, it's only a six point loss for Dungey on this day although it could've been worse had he not blitzed it by Barcia on the last lap. The riders made contact with Barcia going down pretty hard. Afterwards, Barcia tried to apologize to Dungey but Ryan wasn't having it, having some harsh words for Barcia right after the race. And then in the press conference, he took the kid to the verbal woodshed as well.
I wouldn't read too much into it really. It's a sign of frustration by Dungey and I'm sure he realizes that Barcia wasn't really at fault for the collision. He took the same line he'd been taking the whole moto and the two came together. Dungey's rail around the outside proved to be successful. I like to see some emotion from Dungey, too many times we're wondering what he's thinking about and wanting some more candid answers so when he finally gives some, I'd be a hypocrite to come down on him now.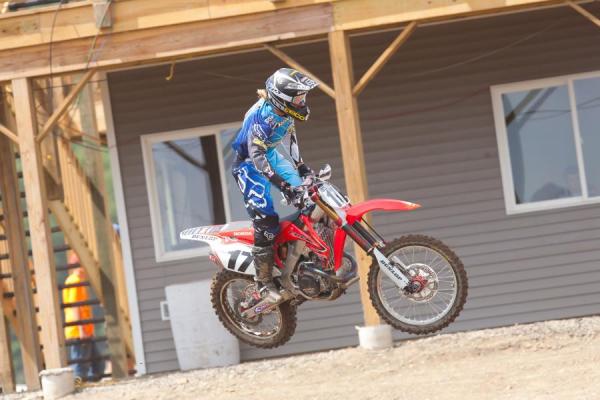 Here's Honda's new rider on Canard's old bike going past one of
Unadilla
's new towers.
Andrew Fredrickson photo
Speaking of Barcia, wow- what a ride! The kid was great start to finish and almost came away with a second overall. The 450 seemed to smooth him out and he surpassed everyone's expectations and mine as well with his ride. In talking to the Honda guys, it's funny, but the bike he rode was Trey Canard's. Like, everything about it was Trey's. The suspension, the motor- everything. Nothing was changed and it seems like it worked pretty well!
For more on what I thought about Barcia's ride, check out this RXI piece from earlier in the week- /2011/08/16/insight-justin-barcia
I'm gonna' go to the archives again to talk about what I wrote after Washougal and yes, right about now you're probably wondering why I think I'm so smart. I don't but I just wanted to expand on some things I wrote about Dean Wilson: To me though, I sort of subscribe to the "Moto Gods" theory, as any regular reader of the column knows. In that everything comes around at one time or another and you finish where you're supposed to in the end. The breaks of life all equal out one way or another and you get what you deserve let's say. Where I'm going with this is that Wilson hasn't won an overall but has been all over the bulls-eye all season without hitting one. In short, he's due. And I believe that he'll start getting some wins here shortly and start to extend that points lead.
I believe that. I really do. If Wilson can have the points lead without winning a race but yet show obvious speed, then the moto gods will reward him. That's the way that racing works. In the end, things work out, more or less, the way they should. And at Unadilla, Wilson went 1-1 in a dominating display of speed just like Ryan Villopoto did. And he's going to keep this going in my mind, no doubt about it.
Wilson credited the win to staying at Chad Reed's the last couple of weeks to get ready for Southwick. He's been having fun, he's out of the SoCal rat-race and it showed at 'Dilla. Great ride for him and he's got a moto lead in the points right now.
His teammate, the man who had won the second most races this season, Tyla Rattray, most likely saw his title hopes go out the window with a crash and DNF in the second moto. Rattray, who crashed in the same spot that ex-teammate Christophe Pourcel did last year (which started his downward spiral in the points), tried valiantly to fight through the ringing in his head but did the smart thing and pulled off when he started vomiting in his helmet. Rattray's been great all motocross season and he's shown some serious speed but it looks like the friendly South African's chase for the title is over.
Speaking of Rattray, I always just thought he was going back to PC for 2012 but he's seriously being shopped around to different teams. The problem is for Tyla is that he wants a 250SX/450MX ride and there's just not that many of those around. I think he'll be back under the Pro Circuit next year but there is some talk among the teams.
Speaking of talk, what about Mike Alessi to Factory Honda? There definitely has been some of that talk thrown around out there. Apparently Mike has an offer on the table from the Motoconcepts Yamaha team as well, only they are supposed to go to Honda next year. Alessi has also been linked to Chad Reed's team if they go ahead and get enough funding for a second rider. Justin Brayton (who shares Alessi's agent) has been talking to Honda as well. Here's where it gets tricky for an agent because Brayton and Alessi are really the same guys. One is better in SX (JB) and ones better in MX (Alessi) so what do you tell Honda when you're sitting on the other side of the table? How do you "sell" one guy over another? Interesting debate for sure and not one that I would want to be part of.
Well, well, well- look who showed up and raced in the 450 class? None other than Kyle Regal who was, at last glance, racing for JSE/San Manuel Yamaha in the supercross series. Well it appears that Regal, who is a better outdoor rider than indoor rider, got a release from the JSE team and trekked outdoors. And he did pretty good with an eighth. Definitely a strong showing but we knew that anyways right? Regal's a great motocross rider and it was curious when he signed with a SX-only team but hey, a guys got to eat right? Regal got on the BTOSports.com/BBMX Suzuki team for the last four and amid the Barcia hype, flew under the radar.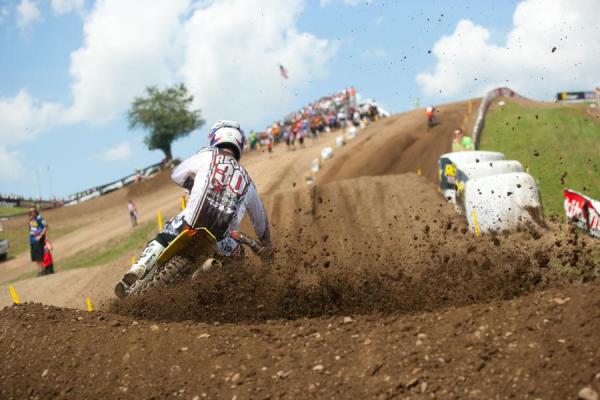 Kyle Regal still knows how to twist it.
Andrew Fredrickson photo
From what I hear, the deal came to be because well, Regal probably knew that there was no chance he's coming back with JSE (does anyone know what is going on with JSE next year? Seriously, I've heard everything from coming back with exact same team to Suzuki's to no San Manuel sponsorship to the team folding completely to James retiring to become a lumberjack. Well maybe I didn't hear that last one) next year and needed to get his name back out there in front of all the potential team managers for next year. So once the terms of his JSE deal were not able to be met by the team (four nationals), he sought out his release and got it. Although Yamaha was trying to place him back with Valli Yamaha team (can you imagine this happening? Remember Regal-Gate a year ago? I don't get this crazy, silly sport sometimes) but Kyle and his step-dad Mark went in the BBMX direction.
No matter how it worked out, it's good to see him back and he rode well to an eighth. That's the bottom line for Regal and the BBMX team.
Let's take a look at the results shall we?
250 Overall Results
1. Dean Wilson (1-1) Kaw
2. Blake Baggett (2-3) Kaw- Baggett has got to get better starts, he's got the speed but you don't have to be Donnie "Holeshot" Hansen to see that he needs to get better starts.
3. Eli Tomac (5-2) Hon- Eli's best race of the year (maybe Hangtown was better, I could go with that) and he was much better than he has been lately. How much had to do with the new kid on the block? I'm not sure but whatever it was, he was on it.
4. Kyle Cunningham (8-4) Yam- Cunningham gets another fourth place trophy for his mantle. What's that? They don't give trophies out for fourth? Still, Kyle's been very good this outdoor season, he's figured everything out and is keeping it on two wheels.
5. Justin Bogle (6-6) Hon- This is the new kid on the block. Loretta Lynn's Horizon Award Winner Bogle rode well both motos and he seems like the real deal. It's too bad we don't get more excited for a guys 6-6 finishes at his first race. Definitely saw that after 20 minutes, Bogle bogged down (future Cycle News headline chancibility? 100%) but he'll figure it out.
6. Marvin Musquin (7-8) KTM
7. Martin Davalos (14-5) KTM- Why is Davalos listed as on a KTM in the results? I have no idea but he once was on a KTM. No matter, a good second moto for Davalos.
8. Gareth Swanepoel (4-16) Yam- And a great first moto for Swanepoel! He was on it for sure, remember he also rode this track on a factory Kawasaki a few years back. I'm not saying that's why he got fourth, I'm just saying it to make me look smart.
9. Alex Martin (10-10) Hon- The Ewok warrior has been getting better and better this summer as everyone else begins to feel it. Martin is consistently the highest placing guy with the worst ride and beats many other guys who are making salaries and have better machines. And I mean this in the nicest possible way to the Eleven-10 Mods team who I'm sure are working their butts off.
10. Cole Seely (9-11) Hon- Nice looking gear and nice looking whips from Seely this weekend. Decent results as well.
11. Tyla Rattray (3-36) Kaw
12. Ryan Morais (12-12) Suz- Mo is back! Good first ride on a track that I wouldn't exactly say suits his style.
13. Nick Paluzzi (18-7) Suz
14. Gannon Audette (15-14) Yam
15. Malcolm Stewart (34-9) Suz- Mookie was much better in the first moto but his machine let go late in the race. He battled hard second moto. Star Racing is what I heard about him next year.
16. Jason Anderson (11-23) Suz
17. Matt Lemoine (13-20) Kaw- Lemoine was up there in the first moto for a while and a 13th is nothing to sneeze at for a guy in a van.
18. Broc Tickle (38-13) Kaw
19. Jimmy Decotis (19-15) Hon- Decotis made his return this week and it's been since SX for him. He'll get better in the last 3 races and that Brotocross dude will be happy about that.
20. Travis Baker (16-18) Hon
450 Overall Results
1. Ryan Villopoto (1-1) Kaw
2. Ryan Dungey (2-2 ) Suz
3. Justin Barcia (3-3) Hon
4. Chad Reed (4-5) Hon- Looks like the Millville crash hurt Reed more than just some physically. He's a different guy out there right now. Oh how a season can turn…
5. Mike Alessi (7-4) KTM
6. Jake Weimer (5-6) Kaw- Best ride of the season for Weimer who was really searching before this. He wasn't agreeing with his bike and he also loves the 2012 Kawasaki. For more with Weimer and a bunch of other guys, listen to these post race podcasts. http://www.pulpmx.com/podcasts/unadilla-pulpcasts
7. Justin Brayton (8-7) Yam_ Brayton was on fire in the second moto and on his way to a great finish before he crashed. He was really charging. But then again, Reed, Metcalfe and Weimer can all use the "before I crashed" line and they would be correct.
8. Kyle Regal (10-9) Suz
9. Jimmy Albertson (12-11) Yam- Top ten for Top Jimmy! Puerto Rico's own Jimmy Albertson, come see him now, folks.
10. Jake Canada (11-14) Yam-Doing it for his country. Good ride for Jake.
11. Nick Wey (14-13) Yam
12. Brett Metcalfe (6-25) Suz- Metty had a 6-5 day under control until he came together with Weimer in the second moto and had to figure out his handguard was holding his front brake on before he could get going.
13. Ricky Dietrich (18-10) Yam- RD finally had a good moto this week with his second moto 10th. From what I hear, his off-track arrest was thrown out of court which had to have been a relief for him.
14. Andrew Short (37-8) KTM- Shorty derailed a chain in the first moto and then rode strong in the second one to an eighth. Then yesterday, while testing supercross for the team had a good get-off and broke both arms. He's done for the year and that sucks poo. Heal up Shorty!
15. Christian Craig (9-22) Hon-Craig came back from injury this week and ran up front early in the first moto. Craig's got a cool riding style for sure, he looks good on the machine. Second moto his goggle lens got knocked out by a rock and he had to pull in to get changed.
16. Lowell Spangler (13-18) Hon –I couldn't figure out who this was in the first moto as he rode around the top ten. Great ride for Spangler and I'm pretty sure his best pro national of his career as well.
17. Michael Byrne (40-12) Suz- Byrne's awesome season continued when he got a rock in the front brake line early in first moto and he was rewarded with a DNF and the 40th gate position for the second moto.
18. Tye Simmonds (19-16) KTM
19. Ben LaMay (21-15) Yam
20. Shane Sewell (17-19) Yam- I don't care which one it is but I'm happy to see a flying Sewell Brother inside the top twenty. Shane beat the lower-national-numbered Travis this week but Travis rode well also.
You may have seen the Racer X Privateer Profile a while back with Kraor Meats Evgeny Mikhalov who is a Russian gentlemen over here racing the nationals with some help from a Russian trading company in Florida. Well I do get a kick out of his all-white helmet as well as his graphic-less RMZ450 but I had to do something for the guy. So with the help of Pulpmx Show sponsor Tech One Designs we got some cool graphics made, I got him some X Brand goggles and Fly Racing stepped up and helped out our Ruskie friend. Mikhaylov seems to finish just outside the points every moto in the 450 class but at least now he's doing it in style. Pulpmx and friends, we give back!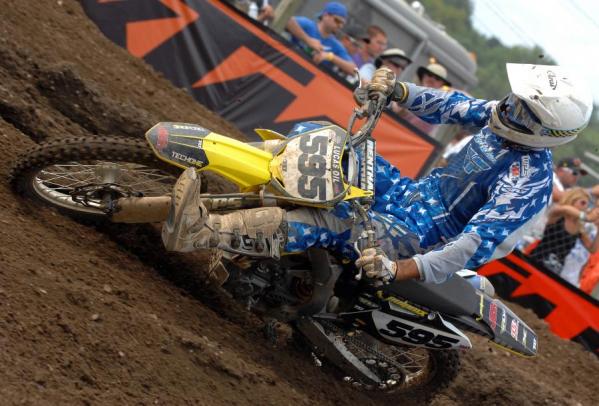 Evgeny leads Team Pulp! Next up: helmet graphics.
Carl Stone photo
Thanks for reading, send me an email at matthes@racerxonline.com if you want to chat. See you at the Wick in two weeks!