Unadilla MX
New Berlin

,

NY
Unadilla Motocross
Lucas Oil AMA Pro Motocross Championship
Andrew Short made a big move in between 2010 and 2011 when he left long time employer Honda and moved on to the newly revamped Roger DeCoster helmed Red Bull KTM team to race the new 350SX.  In his own words, the 29 year old admits he may not be having quite the season he hoped for, but his recent fifth overall at Washougal has now moved him into sixth in points.  As a perennial front runner, Andrew's racing career speaks for itself, but it's his awesome personality that always shines through.  Always friendly and smiling, and willing to spend time with his fans, Andrew is truly is one of this sports great ambassadors – both for the sport in general, and his sponsors.  Now residing in Texas with wife Jackie and two young children, we caught up with Short in Boise, Idaho where he was attending a Western Power Sports/Fly Racing National Sales meeting.
Racer X: Andrew, with the recent break in the motocross series, what have you been doing with your time off?
Andrew Short: Actually it's been anything but time off; honestly it seems like it's a little more relaxing when I'm racing!  I went from my home in Texas to Washougal, and then right after that I flew to California to test with KTM - preparing for the next season.  After that I went to Loretta Lynn's to check it out for KTM and to see the kids, and then ride the 2012 bikes.  I then was home for just a few days, and now I am here in Boise for Western Power Sports and Fly Racing where they will unveil their new product.  I've had a great time, but it's also been a very busy time; it's almost like I need to get back to racing just to relax some!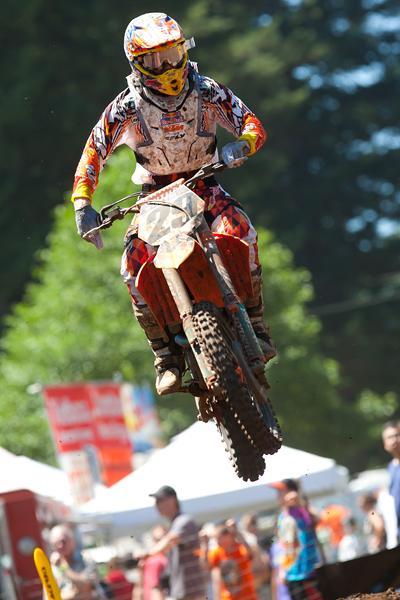 Short is still looking for his first podium of 2011. Will he reach his goal at Unadilla?
Photo: Andrew Fredrickson
Let's talk about your outdoor series to date. Are you happy with it?
Well, it has been a bit of a struggle; definitely not how I envisioned it would be going.  But we have made a lot of progress since round 1 at Hangtown, and we keep on building week to week.  I personally feel as if I have been adapting better to the 350 all the time, but, as I said, it's not where I wanted to be as far as on paper results.  We are getting closer all the time, and I look forward to finishing out the season strong – and making up some of the ground that I had lost at the beginning of the series.
I'm interested in hearing about the whole 350 versus 450 deal.  Your teammate Mike Alessi moved up to the 450 while you've remained on the 350.  I would imagine that there are both advantages and disadvantages to racing the 350 in the 450 class.
Hands down Jim, I sincerely believe that this is the best bike for 99 percent of the riders out there – especially to riders that are not limited to a displacement rule.  It's been great, and a lot of fun to ride it. But for me, we have had to work hard on getting the engine tuned up to be able for me to ride it to my abilities – at times I have struggled with acceleration.  You can go fast on this bike, however from coming from a 450 I have learned that I cannot always take the same lines that I may have used on a 450 – I need to carry a little more momentum on this bike.  Of course there are advantages to racing it; as far as the excellent handling and feel, and the fact that it is easier to ride at the end of a moto.  I just have to learn, as I have been doing, to take full use of the advantages of the bike.  It has been a little difficult to adapt to it after racing a 450 for so long, but I have enjoyed it a lot, and I definitely believe that it is making me a better rider!  To have this opportunity from KTM, with racing the bike, and growing with it has been awesome.
You had been with a Japanese Team (Honda) for so many years. How is it to race for a European based team like KTM?
It's been really fun, because Honda was so corporate, and KTM is a bit different than that.  I did enjoy the people at Honda; especially the people in Japan – they were always so supportive, and passionate about racing.  At KTM it is very similar in how passionate, and into racing they are; it's just less structured and maybe not as formal at KTM.  They have a lot of fun here, but also work extremely, extremely hard.  KTM is really growing the racing efforts in America, and it is truly a very exciting time to be with the company.  KTM is making a big push; they have that drive to win races - and championships. They want to get to the level of racing success that they have had in Europe.  Right now it's just the tip of the iceberg for KTM; they have a long term plan, and they are just getting started.  It's been awesome to work with Roger (DeCoster).  As I said, for me it's been a very exciting time to be with KTM!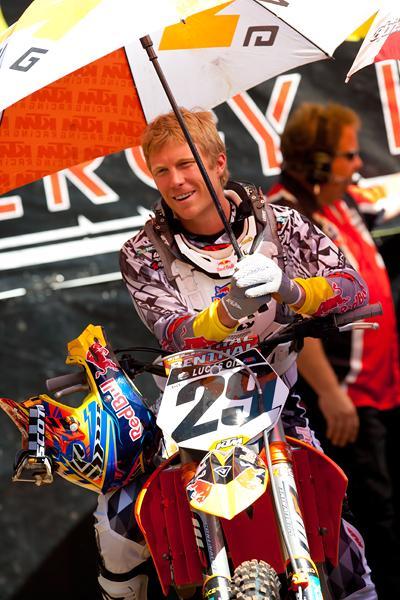 Will Short stay with KTM for 2012?
Photo: Andrew Fredrickson
You earlier mentioned something about testing at KTM to prepare for next year. Does that mean you'll be back with KTM for 2012?
I'm not sure at this point right now; my contract is up.  This time of the year is very interesting as there are a lot of possible transfers going on with many rider contracts up.  Obviously right now the biggest rider on the market is Ryan Dungey – he's kind of controlling the market right now.  We have all probably heard lots of whispers as to where he is going, but I don't know if anything is settled yet.  He's the top dog this year and deservedly so!  So, I think that once he signs, and it's made official, that it will set off a domino effect, and you'll see a lot of other signings.  So many people will play musical chairs this year, and it's no exception for me.  There are a few riders that have another year on their contracts, but right now I don't know where I will land – I could remain at KTM which would be great.   I'm really happy to just be out racing dirt bikes – I love it!
Andrew, any final thoughts?
I'm just really happy to be involved with the people in racing that I have; I'm truly blessed to have this life.  To get paid to race is one thing, but to get paid to follow your passion is another.  I've been involved with so many great people like the people at Fly Racing (this past year Andrew signed a Lifetime Contract with Fly Racing), and the gang at KTM this past year.  My season may not have gone exactly like I wanted but I've learned a lot from the staff and people within the team.  I look forward to the upcoming years knowing that it won't last forever  - so I'm going to be happy while I can and make the most of it!