Loretta Lynn Ranch
Hurricane Mills

,

TN
AMA Amateur National Motocross Championship (Loretta Lynn's)
Amateur National Motocross Championship
It wouldn't be Loretta Lynn's without a good old-fashioned downpour. It's inevitable that every year at some point during the week, Mother Nature will unleash her fury on the Loretta Lynn Ranch, but it has come to be one of the many traditional ways of this historical race. Despite Wednesday night's power-threatening thunderstorms, the racetrack was in prime condition come Thursday morning race time. The rain mixed well with the newly added sand on the track, making for the pefect mixture of soil, sand and moisture on the ground.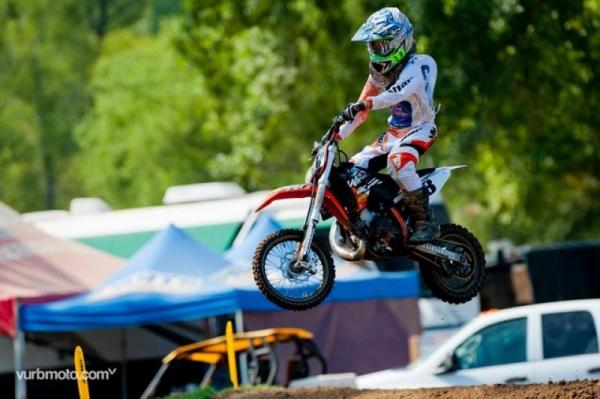 Chase Fasnacht finished just behind Logan Stokes in 65 10-11 Stk in 8th.
Photo: Brent Stallo / Vurbmoto.com
At this point in the week, championship runs are starting to shape up in several classes as a majority of the second motos have been completed and things are starting to sort out. The heat is definitely playing a factor in the latter part of these motos and riders are quickly realizing the importance that hydration and fitness are going to play in the last set of motos this weekend.
In 25+ racing action, Barber Cycles/Factory Connection's Clark Stiles holds the overall after going (1-2) in the first two motos. In the second moto, Stiles rode a patient race behind Reynard Mods/Fox Racing/Yamaha's Robbie Reynard, knowing that finishing second behind Reynard would give him the overall going into the final moto. Reynard went on to take the moto two win, but it's going to be difficult to dig himself out of the moto one DNF. Indiana's James Povolny didn't make the top ten in moto one but charged hard in moto two, taking home a fourth in the moto, putting him into seventh place overall heading into moto two.
Zach Bell won 250B Stk.
Photo: Ryne Swanberg / Vurbmoto.com
Schoolboy 1 moto two saw XTreme Rockstar Suzuki's Jace Owen out front early on with Monster Energy Kawasaki Team Green's Nick Gaines right there. Gaines went high on a berm and slid out, losing quite a few positions. Owen lost his lead after going down on the tabletop, but managed to stay inside the top five. Rock River Yamaha's Aaron Plessinger has put in a consistent (5-6) score, giving him fourth overall after two motos. Owen rounds out the top five overall with (9-4) finishes.
After cleaning up both Supermini first motos, Monster Energy Kawasaki/Pro Circuit's Adam Cianciarulo wasn't able to find the same ease in the second set of motos. AC got the Supermini 2 moto 2 holeshot and cranked out the fastest lap time of the moto before going down on the fourth lap. Gaines took the moto two win, redeeming himself from the Schoolboy 1 spill he took on the berm just before the Ten Commandments. Sharp Moto/JMS Performance's Josh Osby maintained third place for most of moto two until Rockstar Suzuki/MTF/Factory Connection's Jordon Smith contested him in the final laps. Cianciarulo still holds the overall with (1-2) finishes and Gaines is in second with (3-1) for second.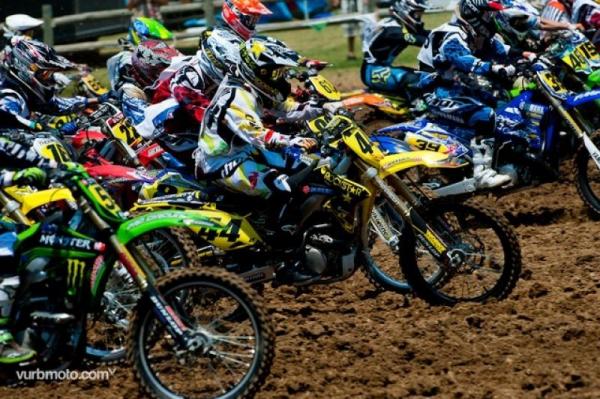 Jeremy Martin and Zach Bell put on a show in the second 250 B Stk moto.
Photo: Brent Stallo / Vurbmoto.com
Nassau Powersports/DHR Suspension Jazzmyn Canfield is the girl to beat this week in the Girls (9-11) class. New to the lineup this year, the (9-11) class runs as a staggered start with the Girls (12-15) class, giving some of the more advanced younger girls a chance to run with the older age group. Moto Armor/Fly Racing's Kaylee Darby was cruising in moto two as she made her up to the third position, but a crash set her back to seventh, giving her (5-7) finishes a fourth overall heading into moto three. Duroy Racing/Twice Production's Eve Brodeur put in a solid day of riding as she posted a podium position in moto two, giving her second overall heading into the third moto.
Triangle Cycles Yamaha's Kyle Peters continues to put in good rides as he chalked a second place finish in moto two of the 250A. Red Bull Honda's Jessy Nelson was all over Peters for the first five laps and then dropped a few spots back after crashing on lap four. The real story here, though, is amateur sensation Justin Bogle, who got a sixth place start and rode the wheels off his Factory Connection Honda to catch and pass the leader Kyle Peters at the end of the moto. Bogle currently sits in first overall in the 250A and has a (1-1) score in the 450A class as he guns for a three-race sweep at his last amateur event before moving to the pro ranks.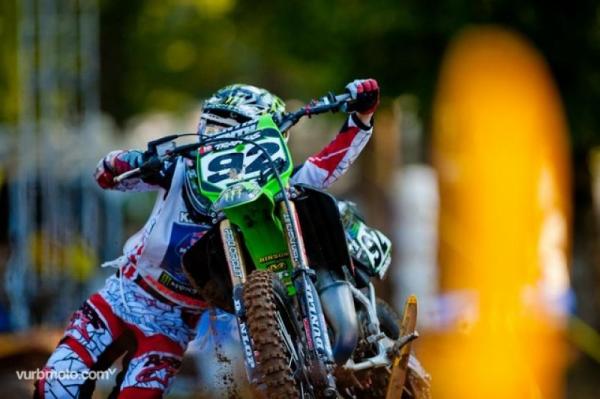 AC would pick up his bike in 40th position and put on an amazing charge to 3rd and is tied with Jordan Smith going into the final moto.
Photo: Brent Stallo / Vurbmoto.com
Friday will wrap up the second set of motos beginning at 7:30 a.m., and then 8:30 a.m. kicks off the final set of motos at this year's Red Bull AMA Amateur National Motocross Championship. Sixteen Champions will be crowned tomorrow at the 30
th
year running of the Loretta Lynn's Amateur National. To follow Live Timing and Scoring from the event, click
HERE
. Follow us on Twitter
@LorettaLynnMX
for unique updates that you won't find anywhere else! Click
HERE
to find results, lap times and anything else you need to find from today's racing.