Loretta Lynn Ranch
Hurricane Mills

,

TN
AMA Amateur National Motocross Championship (Loretta Lynn's)
Amateur National Motocross Championship
Welcome to a very busy week for Racerhead—busy if you're into the X Games, amateur motocross in Oklahoma or Tennessee, Grand Prix motocross in Belgium, or working in the industry somewhere in between all of those big events. Racerhead is coming to you from Hurricane Mills, Tennessee, for the 30
th
Annual Red Bull AMA Amateur National Motocross Championships. Hard to believe it's been three decades—two-thirds of my life—spending my summer "working" vacation here. But thank goodness my dad came here, at the advice of his friend and future business partner Paul Shlegel, in August of 1981 to scope it out.
Loretta Lynn's is a motocross race, an action-sports festival, moto-family vacation—even homeschool homecoming week! (That's a Pingree joke I stole, I think.) The place is already filling up, and when the NMA Grand Nationals at Ponca City, which are going on right now, wrap up and everyone heads east on the interstate, the ranch home of the famous country singer will be packed deeper than ever. As my very good friend (the presently sidelined) Simon Cudby likes to say, "It's MILF Week at Loretta Lynn's!"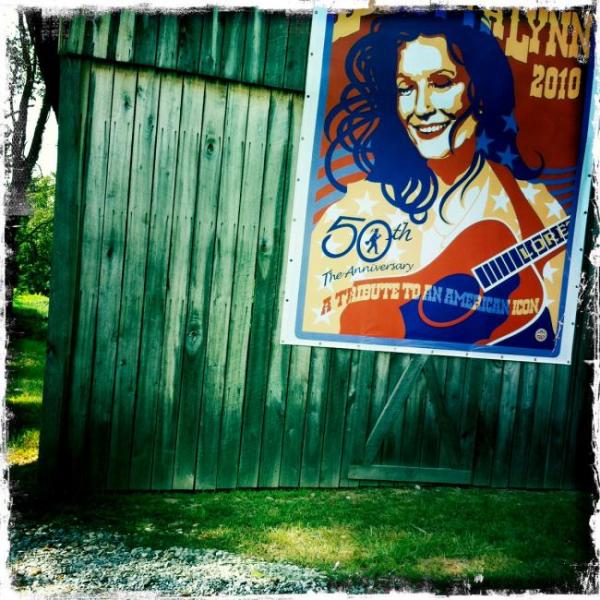 Photo: DC
If you want to start a real buzz online, think of a topic you have some good insight on, and then build a list of the "10 Best" in that category, and then try to back it up with some info and bench-racing ammo. That's what we did with Maxima's List of the 30 Best Loretta Lynn's Riders of all time. Check it out, and then let us know what you think.
You can check out all of the action from Loretta Lynn's on Racer X Online and Racer X Films and Motorcycle USA's daily MX SportsCenter, as well as all of the big amateur sites in moto. Vurbmoto.com worked with Red Bull and MX Sports on a really, really cool History of Loretta Lynn's piece, and Wes Williams and his band of merry videographers will be on the gas all week long. Also check out www.motoplayground.com and www.insidermx.com, and I am even planning on doing some field reporting for GuyB and VitalMX.com.
And here's a big one: For all of the Trackside Live Timing and Scoring, courtesy of Amsoil and beginning at 7:30 a.m. Tuesday (Central time), keep this link close by.
I was not at the X Games, but I did see Travis' crash. It was not pretty, and it was not good for the "Pastranathon" that was to culminate with his racing in the Nationwide Series debut. It was Travis being Travis, but I'll let the other guys get into that further down. I do hope he gets back on his feet soon, though they were saying on ESPN this morning he has a broken foot and ankle.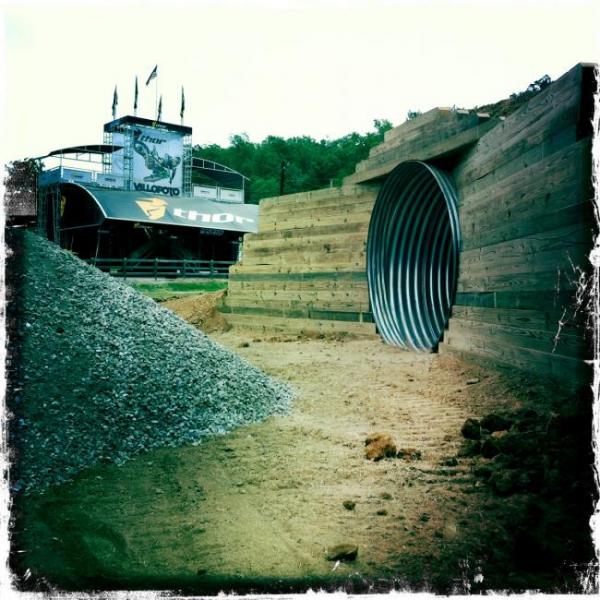 The new tunnel jump at the Ranch.
Photo: DC
There is no more X Games Super-X, or whatever they called the SX race in the Coliseum, so one group it's not busy for is the top riders of the Lucas Oil AMA Pro Motocross tour. Not only is there no X Games for them, they get the next two weekends off so they can rest up for the stretch run, which begins on Saturday, August 13, at the legendary Unadilla circuit in New York. The first motos of that race will air live on FUEL, as will the second 450 moto on NBC.
I also just learned this morning that tragedy struck our sport again, and once again in a cruel and unexpected way. A young female racer from Nebraska named Isabell "Izzy" Koob tragically lost her life after a terrible first-turn crash in a 125cc Non-Pro Two-Stroke heat race at Ponca City's NMA Grand Nationals. Our thoughts and prayers go out to Izzy and her whole family, as well as the entire NMA and Ponca City staffs. Everyone is working hard and trying hard to prevent these terrible accidents from happening, but sometimes things happen so fast and so hard that all you can do is react, and do the best you can to prevent it.
Last year we suffered similar, completely unexpected tragedy when teenaged Ashlee Sokalski lost her life at Loretta Lynn's when she collided with another rider off one of the infield jumps. It was a tragic racing accident that can often come with close-quarter motorcycle racing. We've been talking about the crash and thinking about Ashlee and her family ever since, and hoping there are lessons to add to everything we've already learned in twenty-nine years of AMA Amateur National Motocross racing here at the ranch.
I spent most of this morning—and will likely spend most of the week to come here at Loretta Lynn's—on the infield of the track with Marc Peters, Jeff Russell, and Jerry Masterpool. Peters is the track architect here now, and Jeff is the track manager. Jerry is the father of Jesse Masterpool, the top young prospect who lost his life in a crash at Lake Whitney early in 2010. Since then Jerry and I have become friends, and we spend a lot of time talking about motocross theory, safety precautions, and life in general. I invited him to come to the ranch and work on the infield with the rest of us as an extra set of eyes and hands to help out and keep the event moving forward safely.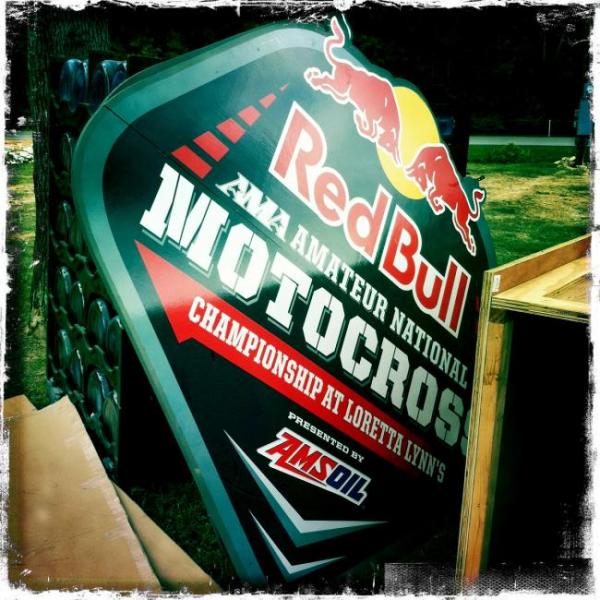 A sign of the times.
Photo: DC
The ranch is also going to host the Godspeed 811 Foundation, which was set up in honor of the late Josh Lichtle, who passed away following the RedBud National. Josh's brother Billy and the rest of his family are dedicating themselves to educating riders young and old about the dangers of dehydration, hyperthermia, and overexertion in the heat. I hope all the riders and their families who attend this race will take the time to go visit with the Lichtle family.
With the heat in mind, Racer X's Virtual Trainer Tim Crytser got together with some of the top trainers and physical fitness experts in motocross for this list of smart tips to beat the heat.
Every year the ranch opens its arms to the motocross industry, including the alumni who once raced here as kids before going on to bigger and better things. Ricky Carmichael is coming, and so is James Stewart. Jeff Emig will be on hand for Fox Racing as well as the 30th Anniversary of the event. We also have Mitch Payton on the list, plus Coy Gibbs and executives from all of the OEMs. We're even going to have a Craig Morgan concert as part of Team Green's 30th Anniversary celebration on Thursday night (yes, they started the same year as Loretta Lynn's).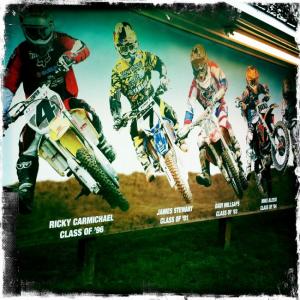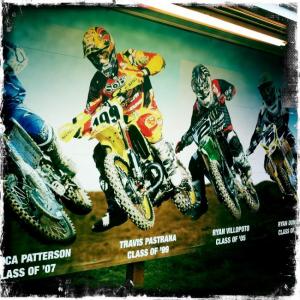 The past stars of Loretta's.
Photo: DC
Okay, I need to get back out on the infield, so let me turn this over to the rest of the guys—beginning with Ping, who is still a little miffed that there's no Supermoto X anymore....
X Games is this weekend, and while I'm looking forward to the new Enduro X event, I'm scratching my head about some of the others. I'm not sure why they would get rid of men's Super X but keep the women's event. And what kind of "Super X" track can you fit on a basketball court, anyway? The Staples Center is fantastic for watching obscure riders from the Midwest wearing hockey jerseys and gardening gloves double backflip their way into the limelight, but how are you going to race in that little space?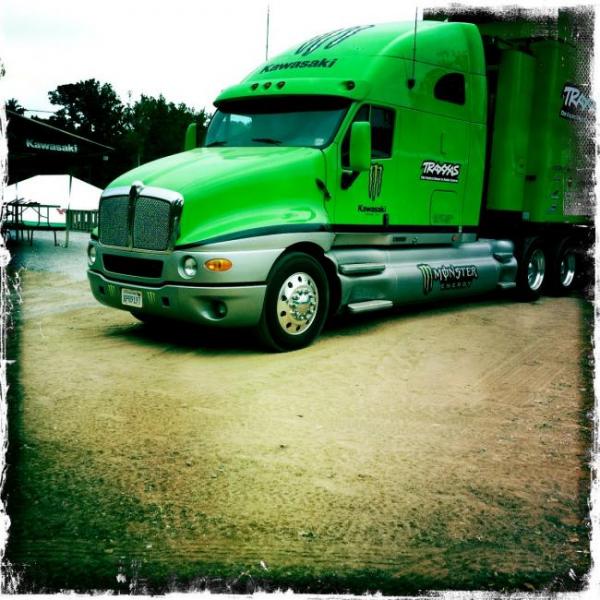 Team Green coming in early.
Photo: DC
And how can you have a racing event that is judged to decide the results? Yeah, I'm talking to you, Speed and Style. I can't imagine if next weekend's motocross national was judged instead of scored. "Yeah, Dungey won the motos, but I didn't like the way his ass looked in those pants. I'm giving the win to Reed for his awesome Team TwoTwo color combos and the way he threw a little whip out of gravity cavity on the parade lap." Something tells me the Hill People would revolt and flip the AMA trailer over on its side.
And speaking of whips, what about Best Whip? The only thing worse than a judged event is one judged by a general public that doesn't even know what a whip is. They ought to call this event what it has turned into: "The Turn-Back Jump Contest." Because doing a 180 and then bringing it back is awesome, but it isn't a whip. If you want to see what a whip looks like, reference that old picture of RC flat as a pancake off of a rutted supercross triple. Or look at any number of Ronnie Renner jumps.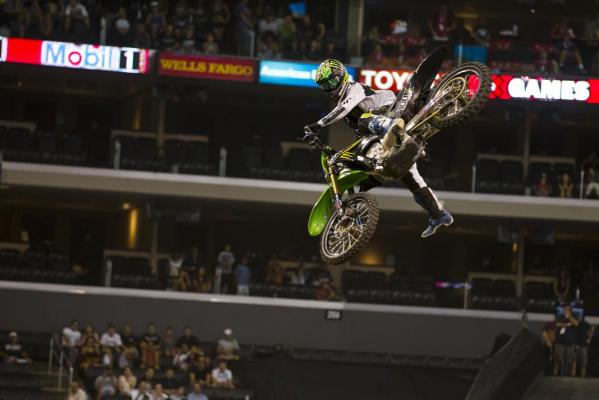 Josh Hansen was part of the Best Whip at X Games 17.
Photo: Garth Milan
This, of course, brings us right back around to the interpretation of what a certain type of jump is, and that is the root of the whole problem. It makes Step-Up one of the more respectable events at X because it's very black and white: you either make it over the bar or you don't. They can't screw that up, can they? Oh, wait. They have. Well, there are always reruns of Seinfeld over at TBS.
People in the industry know Shawn Norfolk from his days at Renthal and TLD, but he recently made a jump over to Ironclad Performance Wear in April. If you don't know anything about Ironclad, they are the first company to offer task-specific performance gloves for the "Industrial Athlete." The company consists of a bunch motocross guys and they have some really cool products. I spoke with Shawn this week and he mentioned that they are having a RACE TO 5000 on their Facebook page, giving away $750 worth of stuff once they hit 5,000 fans. This $750 package isn't only their products; they also have stuff from Snap-on, Coleman, and Realtree. So, "Like" their fan page here and you will be entered automatically to win! Shawn's a talented guy and its cool to see him applying his skills in a new arena.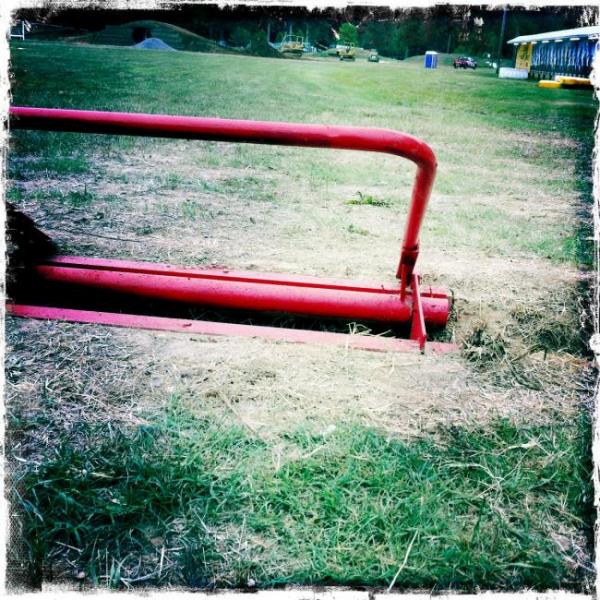 The inside gate at Loretta's.
Photo: DC
I'm stoked for David Bailey to land back with one of his key sponsors, JT Racing. I was starting to wonder what happened to JT Racing … again. They made this big announcement months ago and debuted all their new gear and then it went a little quiet. I haven't seen any of the gear for sale or heard any talk about it. Now it sounds like they're getting serious, and they have a good teammate with The Icon. Bailey is about as professional and committed as they come and he'll do a great job over there. Congrats, DB!
Finally, if you haven't seen this Yamaha video, you need to check it out. It's for Yamaha's 50th anniversary of GP road racing and it's pretty good. Keith McCarty's bit is epic.
Here's Steve Matthes...
With a two-week break in the AMA Motocross series, I just couldn't stand to be home for that long (and I'm sure the feeling is mutual with my wife), so I decided to pack up and head for "waffleland," otherwise known as Belgium, for the Lommel Grand Prix this weekend. Lommel has a few things that were appealing to me. One is that it's a historic track that is deep sand (nothing would thrill me less than heading over here to watch a manmade psudeo supercross track built around a road race facility, which is what they used to like to do over). Deep sand is just fun to watch.
And two, Lommel is the site of next year's Motocross of Nations. So I'll be here this weekend checking out America's future MX stars (Kenny Roczen, Jeffrey Herlings) and some very fast GP stars (Antonio Cairoli, Clement DeSalle) plus doing some scouting for Roger DeCoster and Team USA.... Oh wait, DC just told me DeCoster is actually from Belgium, so he knows the ropes. So I will be scouting for Team Canada, if they go.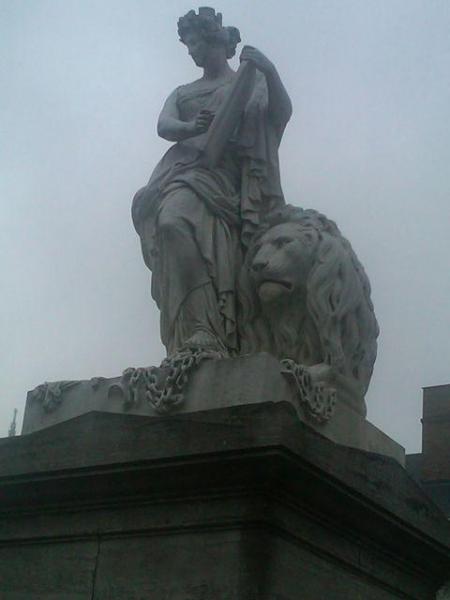 Photo: Steve Matthes
Look for some interviews here on Racer X next week as well—I'll be doing some Twitter updates for @racerxonline and @pulpmx all weekend long. I'm very interested to see Herlings and what he can do in the sand. The Dutch kid is teamed up with Roczen to give KTM a hell of a one-two punch in the MX2 class this season. And simply because he's Dutch, he hauls ass in the sand. Cairoli is the favorite in the MX1 class, as even though he's Italian and they're more known for their hard-track prowess, you don't get to be four-time World Champion like AC222 for not being able to adapt.
Yesterday morning we landed in Brussels, and because the worst thing for the time change is to go to sleep (that always results being up at 3 a.m. staring at the ceiling), we headed to our hotel right downtown and proceeded to walk around. Brussels is like any major city here in Europe: there are tons of old churches, houses, cobblestone streets, and it's just a history lesson every five feet. Because I'm a coffee hound and I collect those Starbucks city mugs, we had to search out a Belgium Starbucks, which we did. About 763 kilometers away from where we started out but we did eventually find it. Mission accomplished!
We had some lunch at a little Italian place, had some french fries with mayo, drank some expresso, and generally fit in pretty well. As I write this now, we're headed out to the track which is an hour or so away where we will start to get into GP mode for the weekend.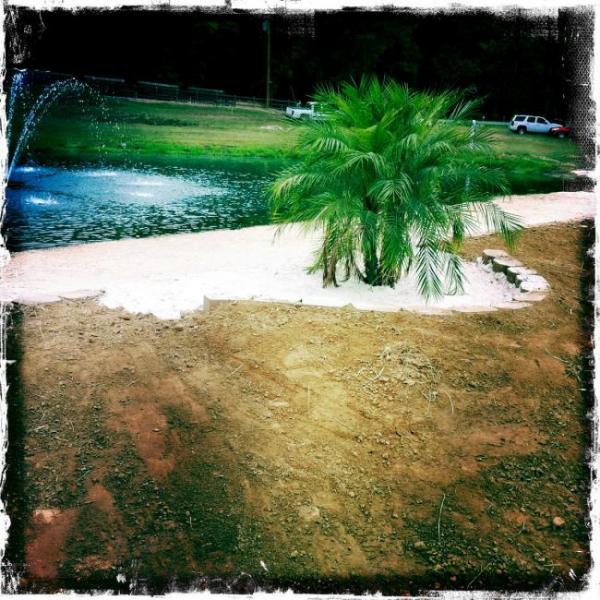 The new fountain in the infield.
Photo: DC
Some other thoughts:
—With no supercross in the X Games, my interest in the event itself just dwindled to about 0.07%. I've been to a bunch of Endurocross events, and I'm sure my buddy Eric Peronnard will do a great job with it, but it's going to be a short race and I think TV won't do it justice.
—Best Whip voted on by fans? Zzzzzzzzzz. Speed and Style inside an arena? No, thanks. Travis Pastrana attempted something crazy last night, and I do wish I had seen that, but I'm sure it will be shown time and time again in the coming weeks.
—If you're on Twitter, you've seen Carey Hart tweet about how things are coming together for his team next year, and the rumors are that the Hart & Huntington race team has secured a big casino sponsorship for next year.
—Malcolm Stewart to Star Racing Yamaha? Yep, seems like that deal is coming together for next year, which would leave me and a bunch of people shocked who would have just thought Mookie was going to move on over to the JSE team owned by his brother James Stewart. MOOKIE FEVER! His 8-8 at Washougal was his most solid and consistent day as a pro.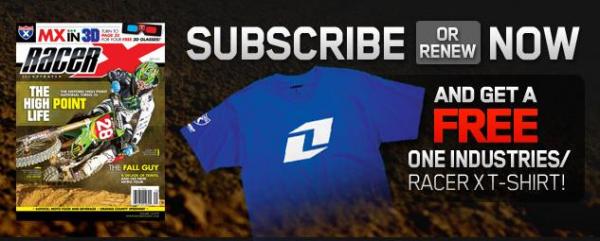 Okay, Weege is working X Games, so we will close out with some random notes:
A friend and fellow fan from Brazil is looking for a copy of Inside Motocross #1 to add to his collection. He's already got the other three magazines in the brief, brilliant catalog that came and went in 1993. Anyone wants to help or has a spare one for sale, contact us: letters@racerxonline.com.
Unadilla is going to make two lucky Facebook fans into Inner Circle Superfans! All you have to do is visit our Facebook page and Like us and you'll automatically be entered into a drawing to win an Inner Circle VIP prize pack!
Here's the prize list:
2 Inner Circle VIP tickets, which get you access to the Inner Circle VIP viewing area, food, drink, two all-day pit passes, live timing and scoring feed, two programs, and an Inner Circle VIP parking pass.
2 Racer X Digital subscriptions
2 40th Anniversary American Motocross T-shirts
Winners will be chosen at the end of Wednesday, August 10, and notified via Facebook.
And help name the newest section of track at Unadilla! Go to www.facebook.com/unadilla to throw out your ideas.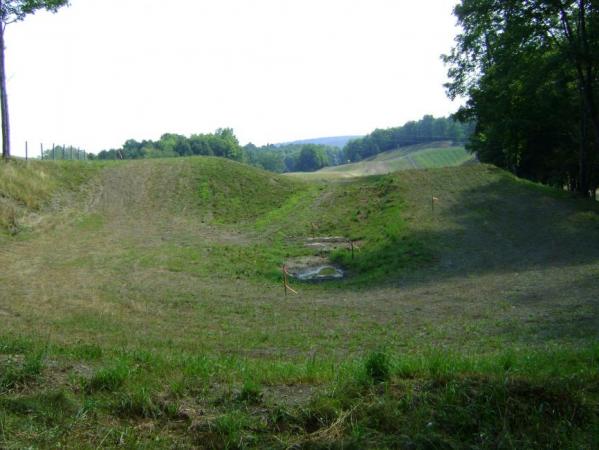 Check out Alli Sports' cool video of a day spent with Alex Martin at Millville.
Of course Spring Creek is the Martin family's track, but then after his solid top-five ride there, Alex went to Washougal and grabbed a sixth in the second moto on his Eleven-10 Mods Honda! Well done. We're also hearing that little brother Jeremy is absolutely blowing minds with his speed out at Ponca City, where he's vying for Intermediate titles while laying down times that have people scratching their heads. John and Greta rose those boys to be fast!
Check out the Blake Wharton autographed jersey listed on Ebay by On Track School. On Track is continuing to try and raise funds for their scholarship program, in hopes to reach out to student athletes and help them receive a high-quality education while still pursuing their athletic dreams! The winner of this years scholarship will be announced at the Red Bull Amateur Nationals at Loretta's Ranch next week. For more information on the scholarship, donations, or On Track School you can contact program director Andrea Leib at andrea@stayontrack.net. You can also find out more by visiting www.ontrackschool.com, www.facebook.com/ontrackschool or www.twitter.com/ontrackschool
Finally, my friends down at Chet Burks TV Productions just got the second season of Cafe Racer together and you have to check this fun TV show out:
That's it from the ranch for now. Please check back tomorrow, and the next day, and the next.... And then the racing actually starts on Tuesday! Here's hoping for a safe, fun, and competitive week for all.
Thanks for reading Racerhead. See you at the ranch!