Loretta Lynn Ranch
Hurricane Mills

,

TN
AMA Amateur National Motocross Championship (Loretta Lynn's)
Amateur National Motocross Championship
Author: The staff of Racer X
Thirty years ago Mooney and Loretta Lynn opened their ranch to America's fastest young motocross riders, giving them a unique opportunity to gather on a neutral track and race for the right to be called the best amateur rider in the country. Since then the ranch has hosted practically every top young rider to rise up through the ranks as Red Bull AMA Amateur National Motocross Champions. But what if you lined them all up together in their prime? That's what we did at the Racer X offices for this bench-racing bonanza! With apologies to the vet riders and the girls, who get their own special mentions here, these are the 30 fastest young men our panel of longtime Loretta Lynn's race-watchers have seen over the years at Loretta Lynn Ranch.
1.) JAMES STEWART: If you were on the infield or along the fences to see this kid blaze on by on his Team Green minicycles, you know why he's #1 on this list. James "Bubba" Stewart was truly an astonishing talent as a youngster, carving up this track with the precision of a skilled surgeon—and that was on 80s. His last visit here as a 125cc Schoolboy was the icing on the cake. While his professional career may have had its ups and downs, James' amateur career was exceptional across the board.
2.) RICKY CARMICHAEL: This may be the only motocross list where you will ever find our sport's greatest of all time ranked second! RC possessed other-wordly speed, but he also crashed his way out of several class titles here—especially each time he graduated to a bigger bike. But once he graduated and his parents turned him lose on the pro ranks, he never lost a single AMA Motocross Championship, winning ten consecutive titles outdoors, plus five in AMA Supercross. Hard to believe it all started in a Yamaha Tri-Zinger down the Sunshine State!
3.) RONNIE LECHIEN: The Dogger only won two titles at Loretta Lynn's, but that's because he only raced here once—the first year in 1982—as an amateur. He dominated. Then he went straight to the pros and became a 16-year-old AMA Supercross winner—and that was in the premier class! Lechien was well known in California as a kid, but what he unleashed on the rest of the country at that first race here at the ranch was extraordinary.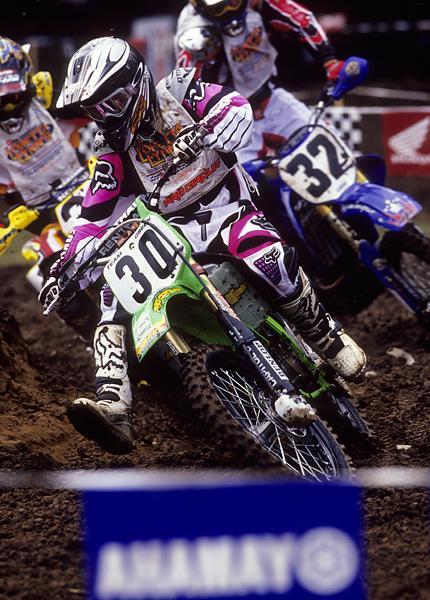 Stewart in 2001 at the Ranch.
Photo: Simon Cudby
4.) KEVIN WINDHAM: The style you see now on TV is the same perfect, fluid style that K-Dub used to race around the ranch on his KX80s and 125s. He ended his amateur days with a streak of 18 consecutive moto wins at the ranch, which means he didn't lose a single moto for three straight years.
5.) DAMON BRADSHAW: With a constant scowl on his face and an all-business demeanor, Bradshaw was already earning the nickname "Beast from the East" by the time he started winning at Loretta's. Backed by Yamaha and Fox Racing, he was a one-man gang in battling the Team Green and R&D Suzuki juggernauts of the eighties. His last battle here with Jeff Emig was one of the all-time great Loretta Lynn's match-ups.
6.) ROBBIE REYNARD: Racing out of Oklahoma on Team Green bikes fine-tuned by his father, Reynard was a quiet kid with beautiful, effortless style. He remains the youngest pro ever to win a AMA Pro Motocross National, but his true potential was never realized due to injuries.
7.) TIM FERRY: He never possessed blinding speed as a kid, but when Ferry—another fast Team Green rider from Florida—got on 125s, he reeled off six titles in a row over three years. His professional career was epic in length, if not titles, and he continues to be a role model for young athletes who want to know how to act, work, train and live right.
8). MIKE ALESSI: We all remember the hype, and Alessi was worthy of much of it. But he was never a dominant champion at the ranch, spreading 11 titles across nine years here. He's had similar success as pro, winning here and there but never quite dominating as a champion.
9.) DANNY STORBECK: In the first first two years of Loretta Lynn's, this Yamaha rider from Texas won three 85cc titles, two 125cc Schoolboy titles, plus the 125 A class—1983 was the one and only year people could race three classes. Storbeck would earn undeserved infamy as a pro for colliding with Ricky Johnson one year at the Gatorback National, but his minicycle and amateur career was legendary.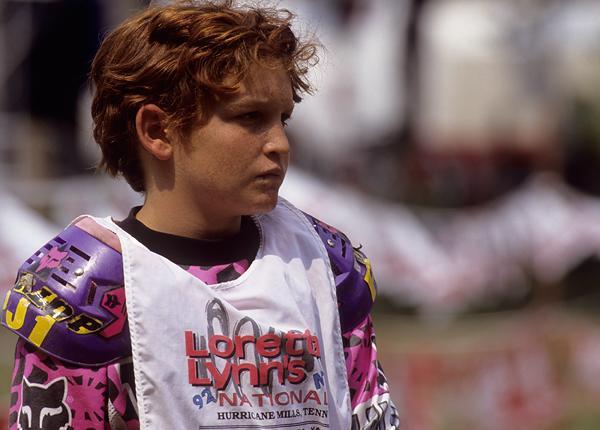 RC before he became the GOAT.
Photo: Fran Kuhn
10.) BRIAN SWINK: A remarkably fast Team Green rider from Michigan, Swink engaged in 85cc battles with California hotshoe Buddy Antunez that were the stuff of legend. He turned pro and became a member of Mitch Payton's first Pro Circuit Honda team in 1991, winning the East Region 125 Supercros title two years in a row.
11.) DAVI MILLSAPS: Another fast young prospect from Florida, Millsaps grew quickly and on was on bigger bikes at a younger age. He racked up nine titles in eight years before turning pro the day he turned 16.
12.) ELI TOMAC: The Colorado-born Tomac was just a solid rider at every level, beginning his amateur career with a 65cc title in 2004 and ending with double-class sweeps his last three years. He then became the first rider in AMA Motocross history to win the first outdoor national he ever entered—it was his first pro race!
13.) TRAVIS PASTRANA: The tall Pastrana was always big for the 85cc, and that led to a spat of knee and ankle injuries that would plague him well into his short-but-spectacular pro career. But Travis was a force of nature even as a 15-year-old, and his Schoolboy battles with Ernesto Fonseca were epic.
14.) EZRA LUSK: Legend has it that Ezra Lusk was the first kid to jump the old infield tabletop on a 60. Well it's true, and "Yogi" would go on to dazzle for much of his amateur career. But a broken leg ruined his graduation race at the ranch and likely cost him two titles in 1991.
15.) JOSH HILL: A super-fast, super-nice kid from the northwest, Hill starting taking titles here on 65cc Kawasakis and finished on YZ250Fs when he swept both his A/Pro Sport classes. His nine titles include double-class sweeps his last three years as an amateur.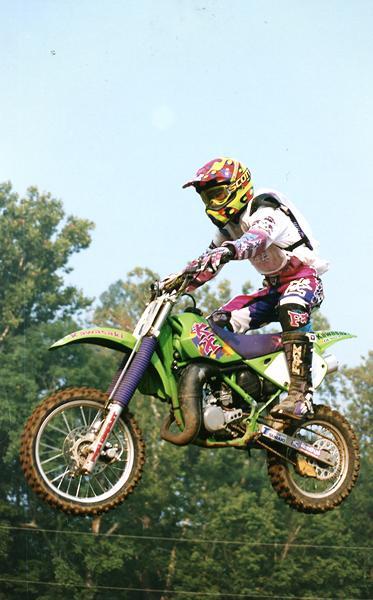 Michigan Mafia's own Nick Wey.
Photo: Thom Veety
16.) NICK WEY: A proud member of the Michigan Mafia, Wey was a Team Green standout as a kid, winning eight titles here over seven years in the nineties, including double-class sweeps in '94, '96 and '97, when he won the AMA's Horizons Award.
17.) EDDIE WARREN: Already an 85cc champion in the pre-Loretta Lynn's years, "Fast" Eddie Warren was on 125cc motorcycles here in '82 and '84, winning four titles. The Michigan rider turned pro the next year and become the first 125cc East Region AMA Supercross Champion.
18.) JEFF STANTON: A big kid, Stanton moved off of minicycles early, so he didn't get much time at Loretta Lynn's before turning pro at age 16. Already lightning quick, his epic 100cc class win over Donny Schmit and Fred Andrews in 1983 came down to a last-turn battle for the three of them, with Stanton in the right place at the right time—something that would carry him far as a professional.
19.) JEFF EMIG: Emig hailed from the midwest and had more success at other big amateur races, as luck never seemed to be on his side here. But after his Hall of Fame professional career, he came back and added four more titles to his career haul
20.) JIMMY BUTTON: Riding for Honda factory support from the time he was on 60s, this fast kid from the desert won six titles growing up, then turned pro as soon as he turned 16. The hotter the afternoon, the faster Button, who hailed from Arizona, seemed to go.
21.) JEFF MATIASEVICH: Part of the mid-eighties' Team Green class that included many other riders on this list, as well as future world champion Donny Schmit, Matiasevich enjoyed his best year here in 1987 when he swept the 125 and 250 Pro-Am classes.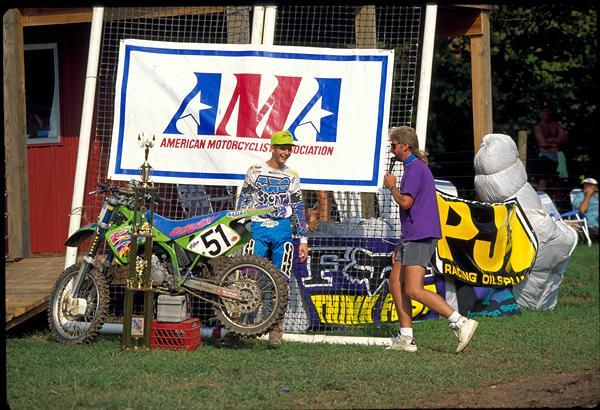 A young K-Dub.
Photo: MX Sports Archives
22.) ERNESTO FONSECA: After moving up to Florida from Costa Rica to pursue his motocross dreams, Fonseca proved to be a force in his BSY Yamaha, winning four titles between '95 and '97 and then becoming a pro motocross sensation. He remains the only rider in history to win the first four pro races he entered.
23.) NICO IZZI: With support from Suzuki, the Michigan-born Izzi was always in the mix here at the ranch. He lost a full year of riding due to knee injuries when he stepped on to the bigger bikes, but he was especially fast on minicycles—he won six titles on them here.
24.) KEITH BOWEN: Another blast-from-the-past, as in the very early years of Loretta Lynn's, Michigan's Bowen won three A class titles in the first two years here before turning pro and immediately becoming a thorn in Bob Hannah's side. After his pro career, Bowen returned and added four vet-class titles here at the ranch.
25.) TREY CANARD: This late-bloomer from Oklahoma didn't really hit his stride until he got on big bikes, and then he reeled off four titles in two years before stepping right into a GEICO Powersports' Honda ride, on which he would win the first three AMA Supercross Lites races he entered.
26.) RYAN MORAIS: For three years in the late nineties, California's Morais may have been the top prospect at the ranch. He rode smart and hard and was incredibly fast in any conditions—and we get all kinds of conditions here! An injury in practice at his first-ever SX races as a pro slowed his momentum before it ever hit full stride.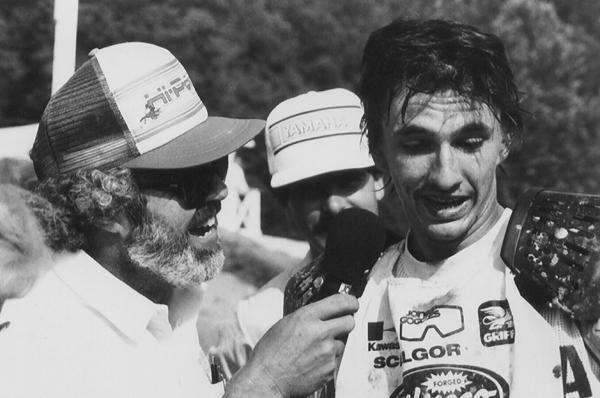 Keith Bowen at the Ranch in 1982.
Photo: MX Sports Archives
27.) JUNIOR JACKSON: Hailing from Illinois, Jackson was a can't-miss kid with lots of talent and determination as a young amateur. He won four titles in super-competitive classes in the mid-eighties, but then a series of wrist injuries ruined his shot a decent professional career.
28.) GREG RAND: A very fast and stylish Suzuki support rider from Ohio, he looked and rode a lot like Travis Pastrana—and that was before Pastrana came along! He won five classes between 1990 and '93 (plus an exhibition class) but for some reason he could never find his rhythm as a professional.
29.) BROCK SELLARDS: Another fast young man from Ohio, Sellards was also in contention for titles, but he was often matched up against the likes of Ricky Carmichael, Charley Bogard and more.
30.) LOWELL THOMSON: Whatever happened to the fast young Yamaha rider from Idaho that won a bunch of 85cc titles as a kid here, then pretty much disappeared from the scene? Like Eddie Hicks, Hayden Richards, Eric McClear, Ben Riddle, Billy Fosnock, the Melton brothers and more, Lowell Thomson is an amateur motocross legend now.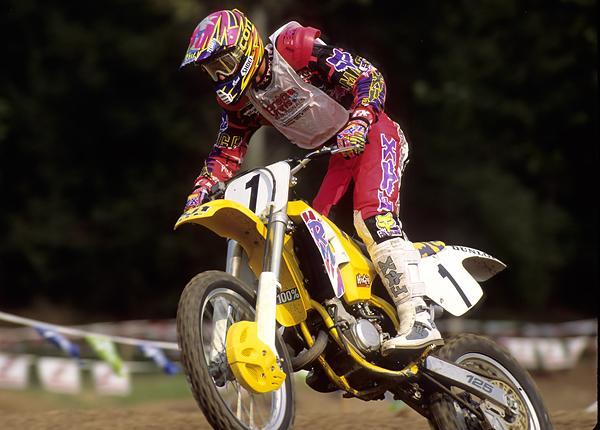 Greg Rand had an incredible 3 year stint at Loretta's in the early 90's.
Photo: Fran Kuhn
BEST OF THE VETS
1.) KEVIN WALKER:
His 14 titles—all in the older age divisions—are a record that may never be broken.
2.) KEVIN FOLEY: He was fast when he was a soon-to-be AMA Rookie of the Year in '82-'83, then came back a decade later as a formidable annual contender.
3.) DOUG DUBACH: Another former pro who came back when his SX days ended, he's had lot of success here.
4.) ROBBIE NEELEY: The first vet-class star of the ranch, he even beat former three-time pro champ Tony DiStefano once here.
5.) STEVE LEWIS: An amateur icon a generation ago, Lewis was a solid rider well into his 50s.
BEST OF THE GIRLS
1.) LISA AKIN-WAGNER: The first truly fast girl at the ranch, she and Mercedes Gonzales had some epic battles here—post-baby for Wagner in their last great showdown.
2.) MERCEDES GONZALES-NATVIG: The California Team Green standout was the other half of the greatest girls' rivalry of all time. She and Akin-Wagner belong in the AMA Hall of Fame.
3.) JESSICA PATTERSON: JP$ won here three times and piled up a ton of moto wins, bad luck cost her a few more titles. Also, modern women's pro's like Patterson are able to pursue the WMX pro route and X Games instead of focusing exclusively on Loretta's.
4.) SARAH WHITMORE: The Michigander always seemed to step up at Loretta's, taking four titles here and engaging in some epic battles. She was probably due a few more if not for some bum luck here and there.
5.) KRISTY SHEALEY: She took four titles in the '90s during a superb run.