Loretta Lynn Ranch
Hurricane Mills

,

TN
AMA Amateur National Motocross Championship (Loretta Lynn's)
Amateur National Motocross Championship
Authors: Chase Stallo, Billy Ursic
10.) 30th ANNIVERSARY
Not only is the actual race itself celebrating it's 30th year, so is the historic Kawasaki Team Green program, which has groomed just about every top motocross star after 1982. In fact, our own Davey Coombs was one of the first riders signed by Team Green, and since then they've sponsored such riders as Jeremy McGrath, Ricky Carmichael, James Stewart, Mike Alessi, and many, many more.
9.) THE ROAD
It didn't take long for Red Bull to ramp up a cool video project about Loretta's. The energy drink giant tabbed Vurbmoto.com to produce The Road To Loretta's video series, which covers several of the top amateur racers in the country in their quest to make it through their respective qualifiers and onto the forty-two rider gate at Loretta's. In addition, the final three episodes will feature real time footage of the event as it takes place. The entire nine-episode web series can be viewed on Redbullusa.com and Red Bull's YouTube page, as well as on Vurbmoto.com.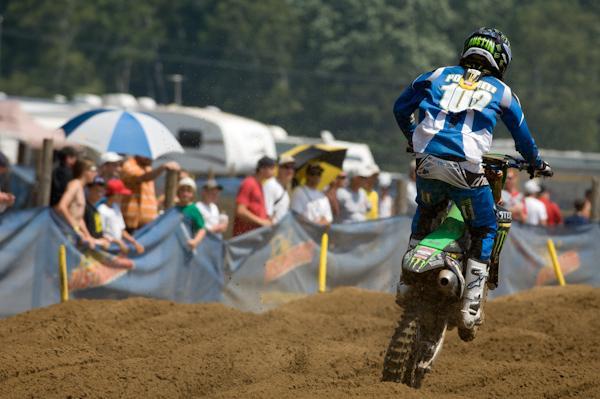 Politelli took his first career overall in the Canadian Nationals at Gopher Dunes.
Photo: James Lissimore / DMX
8.) PAINTING THE TOWN RED (BULL)
As with everything they do, new title sponsor Red Bull is going above and beyond with this event, surely making it one to remember. This race has so many cool special events, it's just as fun attending and not competing! From the Oakley Golf Cart Parade to the Red Bull Mini Moto for Mechanics, Red Bull Air Force Moto Team, Thor Race of Champions and the Industry Pit Bike Invitational, FMF Karaoke, James Stewart's "Inside the Helmet Performance Workshop," Nitro Circus Las Vegas Premier, 2012 Kawasaki intro ride, and concerts by Ten Man Push and Craig Morgan, there's definitely no shortage of off-track entertainment at the Ranch.
7.) TAKING A DIFFERENT ROUTE
Kawasaki's Austin Politelli has taken a rather unusual route to the 2011 Red Bull AMA Amateur National Motocross Championship. Politelli is currently racing in the Canadian Motocross Nationals in the MX2 Class where he currently sits third overall in points, while also taking his first career win in Round 5 at Gopher Dunes. But next week Politelli will put the Canadian Nationals on the backburner to compete in the Open Pro Sport and 450 A classes at the Ranch. Can he use the momentum from his success in the great white north to challenge the likes of Bogle, Hayes and Peters?
6.) MIA
One of the heavy favorites heading into Loretta's in the Schoolboy classes was Vermont's Dakota Alix. After battling tooth and nail with Cooper Webb last year in the Supermini class, Alix, along with Jace Owen, Weeb, and Anthony Rodriguez, among others, were ready to duel it out for Schoolboy supremacy. But after suffering two big crashes during qualifying, Alix will not be heading to the Ranch. It's a big blow, but probably a breath of fresh air for Webb and Owen seeing as they no longer have to deal with the feisty Red Bull rider.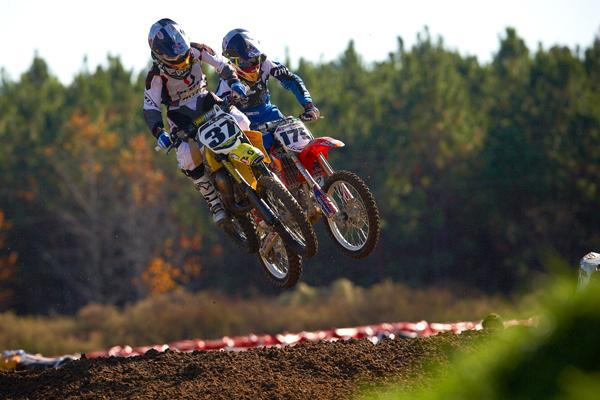 Dakota Alix (#37) will not be at Loretta's to battle with Copper Weeb (#175).
Photo: Jeff Kardas
5.) THREE TO TANGO
Kawasaki's Jacob Hayes, Yamaha's Kyle Peters and Honda's Gavin Faith are the only three riders that have beaten Justin Bogle in the 250 and 450 A classes at World Mini Grand Prix, Oak Hill and the Spring Classic. Hayes and Faith would steal an overall in the 450 A class at World Mini--Hayes would also top Bogle in the 450 A class at Oak Hill--while Peters garnered the top spot in the 250 A class at Oak Hill. If Bogle is going to be stopped next week at the Ranch, the most likely roadblocks will be Peters, Faith and Hayes. This should be one of the more competitive classes to watch all week, so make sure you line the fence when these classes take off.
4.) FULL NELSON
Red Bull Honda's Jessy Nelson looks to rebound from a disappointing 2010 campaign at the Ranch, that was marred by injuries and mechanical problems. Nelson has failed to beat long-time rival Justin Bogle this year, who absolutely dominated the World Mini Grand Prix and the Spring Classic. Will Nelson be able to break his 2011 win-less streak at the Ranch?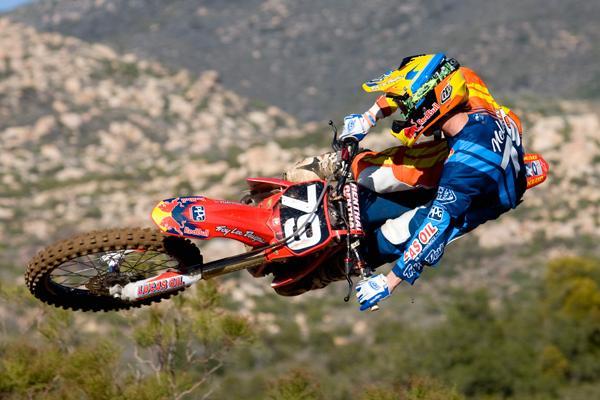 Jessy Nelson looks to bounce back from a dissapointing showing at the Ranch last year.
Photo: The Medium Group
3.) HEAT WAVE
The entire Southeast is in the midst of one of the hottest summers on record. When it's 110 degress in Central Park you know it's a hot summer. Loretta Lynn's has always been known to test the riders physically and mentally with the demanding weather, but 2011 looks to provide some relief. According to weather.com, the temperatures will be in the low 90s all week—a welcome surprise to all those attending the event.
2.) HAVE FAITH
Gavin Faith has become a regular in the top five at amateur national races across the country, and has even won pro titles this year at Mill Creek and the World Mini Grand Prix. The Honda-backed rider from Iowa has yet to exhibit the dominance that some of his fellow racers have however, and if he keeps with his current plan of turning pro next year, Loretta's will be his last chance to impress the industry higher-ups before making his pro debut. Faith took two third overalls (250 A/Pro Sport and 450 A) at Loretta's last year. Can he improve on that and land a solid ride for 2012?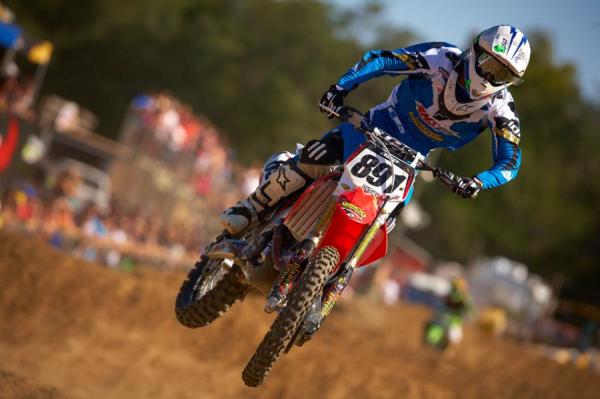 Will anyone be able to stop Justin Bogle?
Photo: Jeff Kardas
1.) AC REDEMPTION
Adam Cianciarulo would rather forget last year. The Team Green prodigy—a favorite to win every time he lines up—didn't win a single moto in 2010. In fact, he only finished three of the six motos before packing up and heading home. His scorecard read 8-DNF-DNS in the Super Mini 1 class and 2-5-DNS in Super Mini 2, so you can count on Adam looking for some sweet redemption next week.
1A.) JUSTIN TIME
Will Justin Bogle live up to the hype? Here's how the next few weeks should play out for the soon-to-be GEICO Powersports Honda factory rider. Win all six motos in Tennessee, collect the AMA Horizon Award, then head to
Unadilla
and finish in the top ten. No pressure, Justin.